Few luxuries sound more exciting than a trip to an all-inclusive resort located in a beautiful locale. Where else can you lounge by the pool with endless food and drink options at the ready?
However, before you lose yourself in the shrimp cocktail and rum drinks, ensure you've done the legwork to keep your vacation from going sideways. This includes both before you travel and when you are on-site.
Avoiding the following mistakes can help you avoid wasting money on your next vacation.
Going during the wrong season
Few things are better than jetting off to a tropical resort, but make sure to book your stay during the right time of year. Otherwise, you can end up vacationing during the rainy season, potentially putting a serious damper on your beach ambitions.
Also, research any local and national holidays so you don't end up fighting crowds for the entire stay.
Presuming everything is included
It may stand to reason that everything will be paid for ahead of time at a resort that's branded all-inclusive, but that's not always the case. Some places may have upcharges for things like top-shelf liquor, spa treatments, transfers, and more.
Do your research so you don't wind up with an unexpected bill after a high-end meal, or end up on the hook after a lengthy massage.
Forgetting to budget for tips
While you should check the fine print to see which gratuities are included in your booking price, don't forget to budget for tips. 
For example, you definitely want to tip the folks who help you get to and from the resort and who may not be on the resort payroll. Plus, tipping in general is good practice.
You may not need to tip everyone you encounter, but reward good service with a bit of cash.
Spending on items you don't need
Make sure you book the right package at your all-inclusive resort so you're not paying for things you don't use. For example, alcohol can be a big portion of your bill. So, if you don't drink, don't get a package that includes cocktails.
You can even consider opting out of all-inclusive packages if you're not planning on using a lot of amenities, or won't be ordering a lot of steak and seafood dinners.
Pro tip: Before booking your next vacation, look for some ways to generate extra cash so your trip won't put you into debt.
Booking the wrong kind of resort
While our idea of heaven is an all-inclusive resort on a tropical island with a full bar and an infinity pool, that's not everyone's cup of tea. So, double-check that you are booking the right kind of resort with options you enjoy and activities you'll actually be interested in.
After all, you don't want to end up at a family-friendly resort if you're looking for a romantic getaway, or at a singles resort with the kids in tow.
Not understanding resort protocol
While going to an all-inclusive resort takes most of the work out of planning, find out the procedures for scheduling things like meal reservations and activities. Can you book everything beforehand or do you have to sign up daily?
It's also wise to keep tabs on when restaurants and facilities — such as the fitness center and pool — are open and available for use.
Not exploring your booking options
Ever since the launch of Expedia, there have been more ways to make a reservation at a hotel or resort. Do some comparison shopping when it comes time to book, including exploring direct booking, using credit card rewards, or opting for a travel agent.
One method isn't always better than another, so check each one to see which will score you the best deal, save you the most money, and add on extra bells and whistles.
Getting hustled by a sales agent
All-inclusive resorts know that when you're on the premises, you're on vacation time and likely enjoying yourself immensely. That's why many will employ gregarious folks who can chat you up — and try to sell you something — while you're chilling in the lap of luxury.
So, buyer beware. Otherwise, you can end up at a timeshare presentation or forking over cash for spa treatments you didn't plan for.
Poor packing and preparation
Just because you're going to an all-inclusive resort doesn't mean you don't have to pack anything. If you're headed to a tropical location, for example, bring sunscreen and appropriate beach clothing.
But don't just throw bathing suits and sarongs in your suitcase and call it a day. You may need formal attire for dining out, for instance. And if you plan on catching local attractions, bring the right footwear for leaving the grounds.
Not exploring outside the resort
Arguably the easiest mistake you can make when taking an all-inclusive vacation is staying at the resort for the entire duration of your trip. 
We get it — the food is good, the drinks are strong, and the beach is downright dreamy. But there is more to experience if you know where to look.
Spend at least one day exploring the nearby city, and spend your money to support the locals. Take in an authentic meal at a restaurant and check out any cultural attractions. You'll be all the more enriched for it.
Not trying new cuisine
All-inclusive resorts are known for having tons of dining options, and since many, if not all of them are paid for, you can go a little wild. Why not sample some new seafood you've never tried, for example?
So, in addition to venturing out to local restaurants, make a plan to try as many restaurants at the resort as you can. You might even find a new favorite food.
Overindulging
Last but not least, just because you're on vacation doesn't mean you have carte blanche to eat everything in sight and start drinking cocktails at 9 a.m. 
You want fond memories of the time you spent there, after all, not bad memories of hangovers. And you should keep your health in mind as you hit the buffet.
Have fun, and throw some of the rules out the window. But be careful to find the right balance between having a good time and taking care of yourself and your family.
Bottom line
Heading to an all-inclusive resort for a vacation can be the highlight of your year. But be warned that there are common mistakes that can put a damper on your fun while abroad.
To that end, make sure that the all-inclusive option is right for you, as you may fare better at an Airbnb with local flavor or a regular old hotel in some circumstances.
It's all about which options will give you the best vacation ever at a price that also will leave your bank account in good shape.
Easy-to-Earn Unlimited Rewards
Earn 25,000 online bonus points after you make at least $1,000 in purchases in the first 90 days of account opening - that can be a $250 statement credit toward travel purchases
Earn 1.5 points per $1 spent on all purchases
Longer intro APR on qualifying purchases and balance transfers
No foreign transaction fees
Earn unlimited 1.5 points per $1 spent on all purchases, with no annual fee and no foreign transaction fees and your points don't expire.
25,000 online bonus points after you make at least $1,000 in purchases in the first 90 days of account opening - that can be a $250 statement credit toward travel purchases.
Use your card to book your trip how and where you want - you're not limited to specific websites with blackout dates or restrictions.
Redeem points for a statement credit to pay for travel or dining purchases, such as flights, hotel stays, car and vacation rentals, baggage fees, and also at restaurants including takeout.
0% Introductory APR for 15 billing cycles for purchases, and for any balance transfers made in the first 60 days. After the intro APR offer ends, 18.24% - 28.24% Variable APR will apply. A 3% fee applies to all balance transfers.
If you're a Preferred Rewards member, you can earn 25%-75% more points on every purchase. That means instead of earning an unlimited 1.5 points for every $1, you could earn 1.87-2.62 points for every $1 you spend on purchases.
Contactless Cards - The security of a chip card, with the convenience of a tap.
This online only offer may not be available if you leave this page or if you visit a Bank of America financial center. You can take advantage of this offer when you apply now.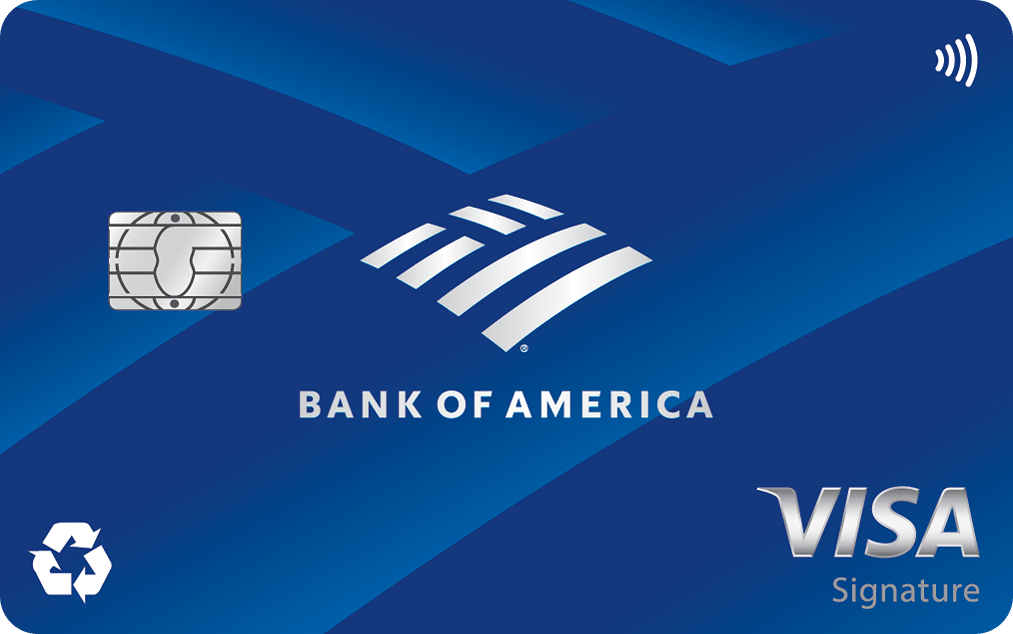 4.1
FinanceBuzz writers and editors score cards based on a number of objective features as well as our expert editorial assessment. Our partners do not influence how we rate products.
Apply Now
on Bank of America's secure website
Read Card Review
Intro Offer
Earn 25,000 online bonus points after you make at least $1,000 in purchases in the first 90 days of account opening - that can be a $250 statement credit toward travel purchases