Mother's Day is only a few days away. There isn't much time left to find the perfect gift, unless, of course, you have Amazon Prime. 
While overnight shipping isn't a guarantee for all products, you shouldn't have a hard time finding ways to save at Amazon complete with fast shipping.
Not sure how to start narrowing down Amazon's millions of products to find the perfect item for the mothers in your life? Check out our 16 suggestions.
Burt's Bees Mother's Day Classics Set
Burt's Bees is well known for products with high-quality natural ingredients that soothe sensitive skin and go easy on the environment. 
With all-natural lotion, lip balm, cuticle cream, and repair salve, this Burt's Bees gift set bundles the brand's best-selling products in one handy tin so your mom can enjoy an at-home spa day any time she wants. The set costs $25.
Kindle Paperwhite
Does your mom love to read? With a Kindle Paperwhite, she can take hundreds (or even thousands) of books with her wherever she goes, all of them accessible on a glare-free screen with a warm-light feature for cozy nighttime reading. 
The newest version of the Kindle Paperwhite is waterproof, which makes it ideal for moms who love to read at the beach, by the poolside, or in the bath. The current Kindle Paperwhite sells for $139.99.
Audible or Kindle Unlimited subscription
Is your mom more of a listener than a reader? Since the Kindle is an Amazon product, it syncs with Amazon-owned Audible, a subscription-based audiobook and podcast service. A subscription costs $14.95 per month.
Alternatively, consider gifting a Kindle Unlimited subscription to allow your reader access to three million magazines, books, audiobooks, and more. 
The monthly fee for each Amazon service is worth it if your gift recipient is an avid reader (or listener). The service is $9.99 per month.
Wooden Family Birthday Reminder Calendar Board
If you have a big family with dozens of kids, grandkids, nieces, nephews, cousins, and great-grandkids, you know how hard it is to keep track of everyone's birthdays — not to mention their anniversaries and other special dates. 
This customizable wooden calendar can serve two purposes: Quell your mom's worries about missing important dates while giving her a decorative daily reminder of the people she loves. The board costs $11.99.
Aamikast-brand long-sleeve pajama set
Give your mom the gift of a cozy night's sleep with a new set of pajamas. These jersey-knit long-sleeve pajama sets come in 14 colors, including classic colors like pink and white, and eye-catching hues like purple, green, and red. 
The pajamas are 95% modal and 5% spandex, which practically guarantees these will be the most comfortable clothes in your mother's wardrobe. The set costs $44.99.
Pickleball Paddle Set
Has your mom been looking for a new warm-weather hobby? Pickleball is easy to pick up and play while offering a real workout and plenty of fun. 
As the sport's popularity continues to explode, more and more pickleball courts are being added to city parks and community gyms across the country. There's never been a better time to help your mom get involved.
This Vinsguir-brand paddle set is perfect for beginners. It's approved by USA Pickleball, which is the sport's regulating body and comes with two paddles, four pickleballs, and a carrying case. The set costs $45.99.
Lavender-scented Draizee five-piece home spa gift set
Turn any day into a spa day with an at-home spa gift set from Draizee. The set comes with lavender-scented bubble bath, shower gel, body lotion, and body butter, along with a purple, flower-shaped loofah. 
If your mom doesn't care for floral scents, Draizee sells home spa sets in more than a dozen other scents, including eucalyptus, vanilla, white tea, and citrus. The set costs $22.99.
Organic bath bombs gift set (50-count)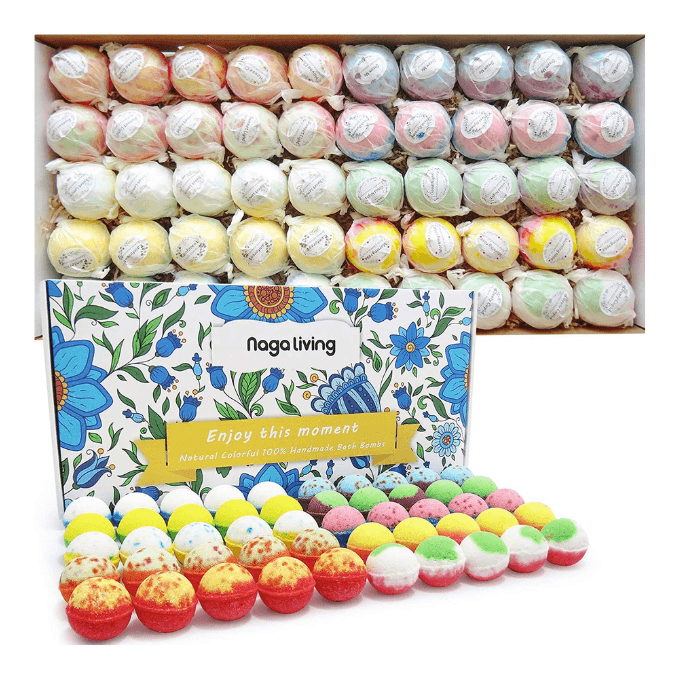 Does the mother in your life prefer sparkly, fizzy bath bombs to scented shower gel? This set of 50 bath bombs includes 10 different types of bath bombs, each one handmade and packaged without plastic. Scents include mint, rose, lemon, and lavender. The bombs cost $35.99.
Taylors of Harrogate assorted specialty teas box (48-count)
Taylors of Harrogate is a century-old, U.K.-based specialty tea company that produces high-quality teas. 
This particular set of teas includes six bags of eight different types of tea, from peppermint herbal tea to spicy Assam tea. 
The teas are certified organic and carbon-neutral certified. Plus, the company is a member of the Rainforest Alliance and the Ethical Tea Partnership. The tea box costs $12.49.
Customizable mugs
Any tea drinker needs a perfectly sized go-to mug. While you could always buy a generic mug online or at the nearest big-box store, why not choose a more personalized option?
Amazon's microwave-safe, dishwasher-safe customizable mugs let you upload your own message and image, choose your preferred font, and select a mug color. Each mug is $15.90.
Johanna Basford coloring books for adults
Coloring has become a favorite pastime for adults who want a soothing, distracting activity that promotes relaxation. 
Johanna Basford's coloring books for adults helped set the current standard of detailed, high-quality books that will be enjoyed by beginners and seasoned artists alike. 
Basford's many themed books include gardens, the ocean, and holiday workbooks, so it's not hard to find one that matches your artsy mother's preferred landscapes. Prices vary depending on the book and cost between $10 and $15.
Crayola Fine Line Colored Markers for Adults (40-count)
Any adult illustrator needs a good set of markers to work with. This set of premium markers from Crayola comes in 40 bright colors. 
Since the pens are fine-tipped and don't bleed through paper, they pair perfectly with a coloring book, sketchbook, or bullet journal for the creative mom in your life. A box costs $12.16.
Bonsai gardening kit
Bonsai gardening is the careful cultivation of a miniature version of a tree in a small container. 
It's a delicate art that can feel intimidating for beginners, which is why a bonsai starter kit — complete with a thorough instruction manual, several types of seeds, pruning tools, and growing pots — can come in handy.
Plants in this kit shouldn't grow higher than 25 inches, and first-time gardeners can choose from Norway spruce, bristlecone pine, Black Poui, and flame tree seeds. The kit costs $14.99.
See's Candies dark chocolate box
Valentine's Day doesn't have a monopoly on chocolates — at least, it shouldn't, especially if you're shopping for a confessed chocolate lover. 
The See's Candies company is based in California and sells handmade chocolates, peanut brittle, toffee, fudge, and other tasty treats both in person and online on Amazon.
This one-pound box of dark chocolates with melt-in-your-mouth centers includes 24 pieces of chocolate in flavors like raspberry cream, lemon, vanilla buttercream, and marzipan. The box costs $37.70.
Cotopaxi Taal Convertible Tote
Each durable Cotopaxi bag is brightly colored, made from recycled nylon, and unique — no two bags have the same color scheme. 
While Cotopaxi's backpacks and totes are usually associated with hiking, their bags' durability and carrying capacity make them just as ideal for everyday use as for overnighting in the woods. The tote is $60.
Owala FreeSip Insulated Stainless Steel Water Bottle
Reusable water bottles are infinitely better for the environment than single-use plastic bottles. They're also much more fun, especially the Owala brand of water bottles, which come in vivid colors. 
They're also the ideal surface for decorating with stickers and personalized accessories. Since the lids include both a spout and a straw, they're more versatile than most other reusable water bottles. The bottle costs $26.50.
Bottom line
Thanks to Amazon Prime, thinking ahead doesn't have to mean planning a gift months in advance. 
With a top credit card and your Amazon Prime membership, you can find the perfect Mother's Day gift and have it delivered in the nick of time — though to err on the side of caution, make sure to place your order as early as possible.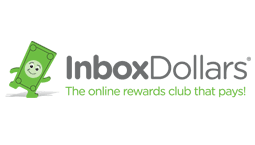 Inbox Dollars Benefits
Get a $5 bonus when you register with your email
You could earn money by taking surveys or making online searches
Over $80 million paid to members so far - how much can you earn?