Whether you had an exciting month in Italy planned this summer (raises hand) or simply wanted to drive home to see your parents, almost all of us have seen plans put on hold in 2020. As if canceled itineraries weren't frustrating enough, many of us are also paying high annual fees on travel rewards credit cards — but we can't even use the benefits those cards offer.
Many of us opt for premium cards when we compare credit cards because they typically offer benefits and rewards centered around travel. But because no one is able to do much of that right now, it might feel like a waste to have these cards. After all, have you been getting your money's worth?
With all of that in mind, the question then becomes what you can do about it. Should credit card issuers be offering annual fee credits and other perks to keep cardholders happy until things settle down?
The argument for annual fee credits
Each year, I happily fork over the hundreds of dollars in annual fees that my favorite credit cards require. Why? Because over the course of my travels, regular spending, and hobbies, I manage to more than make up those costs throughout the year.
Unfortunately, though, 2020 is going to be a bit trickier in terms of recouping annual fees. The bulk of my benefits over the course of the year come from travel rewards and related benefits. I spend every penny of my airline credits, enjoy every luxe lounge I can, and accumulate all of the travel-based cash back possible.
If you're like me, you might usually take advantage of the $200 Amex airline fee credit and up to $200 in annual Uber rides with the Platinum Card from American Express. Or perhaps you look forward to using the $300 travel credit each year with the Chase Sapphire Reserve. When added up, these benefits can easily dwarf even the largest annual fees.
But this year, nearly all of it is off the table for cardholders.
Why annual fee credits make sense
In response to the coronavirus pandemic, travel in our country essentially locked up for six months. This canceled long-awaited trips and made many folks uneasy about even setting new plans.
Staying home all year meant losing out on valuable travel rewards, airline credits, travel protections, and point redemption bonuses. Even if you have been able to travel, many of your usual benefits are unavailable, such as airport lounges that have temporarily shuttered their doors as a precaution.
The one thing that doesn't seem to have been affected by COVID-19 is the charging of annual fees. Yes, everyone is hurting right now; businesses large and small have felt the effects of this unexpected virus. But if a cardholder is prohibited from enjoying the benefits that were offered when they signed up, many argue that charging full price for the card isn't fair.
To help soften the blow of these annual fees in 2020, some card issuers have begun offering credits. For instance, Chase Sapphire Reserve members whose accounts were set to renew between April 1 and July 1, 2020 saw an automatic $100 credit added to their accounts. This one-time credit was intended to help offset some of the benefits that weren't accessible to cardholders this year.
Other issuers have been willing to give credits, but you have to call and ask. For example, when our Amex Platinum Card renewed this summer, I gave customer service a call to chat about the many benefits we were unable to use. As a courtesy, American Express offered me and my husband a 30,000 point bonus, no strings attached. Depending on how we spend these Membership Rewards points, they could be worth up to $600.
Other things issuers are doing to offset annual fees
Even if they aren't offering monetary or points credits, some of the best travel credit cards are still trying to take care of cardholders during the coronavirus pandemic.
Actions credit card issuers have taken include:
New benefits and partnerships with grocery delivery services — For example, the $50 credit and bonus rewards for Instacart purchases on the Chase Sapphire Preferred
New points categories for meal delivery services — Bonus miles on Uber Eats purchases with the Capital One Venture Rewards Credit Card
Extra points or credits on streaming services — Chase Sapphire Preferred is offering bonus rewards points on Netflix and Spotify spending
Credits for monthly wireless bills charged to your card — American Express Platinum Card has an offer for up to $20 per month on U.S. wireless services
It's important to note that, like the pandemic, these offers won't be in our lives forever. Because they're meant to offset COVID-related impacts, many of these temporary perks are scheduled to end in December 2020 or January 2021.
How to ask for an annual fee credit or offer
If you haven't automatically been given a credit (especially on a high-annual-fee card) and feel you aren't able to get enough value out of your card even with the new, temporary benefits, you can always call and ask whether the card issuer is willing to help. After all, the worst your issuer can say is no, and any offer it makes can help.
For a better chance at successfully being offered a credit, take the following steps:
Do your homework. Before you call, take a moment to do the actual math. Accounting for any temporary perks, see how much you're losing out on this year compared to the benefits you would have used. Calculate how much you were able to recoup in years past too.
Know what you want. What is your ideal solution here? Would you be happy with some extra points in your account or do you want an actual fee credit? How much seems reasonable and helps to balance out your lost benefits for the year?
Call customer service. The best number to call first is the number on the back of your card. Be sure to have your account number handy so the representative can access your account quickly. If the first person you speak with is unable to help you — or you would prefer to downgrade your card — you can also call your issuer's retention department. You can do this by Googling the number or simply calling the primary number (from the back of your card) and asking for retention.
Be nice. As my grandma always says, you get more bees with honey than vinegar. It's important to keep your cool and be kind to the representatives you speak with. After all, the pandemic is no more their fault than yours, and the options they are able to offer may be limited.
Get details. If you're given a one-time offset offer, you'll want to ask for some details. When will this credit or bonus appear in your account? Does it have a minimum spend requirement or other requirement attached? Are there any limitations?
Although not everyone will be able to get an annual fee credit — especially if your account's renewal date isn't mid-pandemic — it never hurts to ask, and these steps may help your odds of success.
What to do if you can't get a credit
If your card representative(s) simply cannot help or are unable to offer you any more than the issuer already has, you have some decisions to make. You can either grin and bear it this year, you can downgrade your credit card, or you can cancel the account altogether.
By downgrading your card, you are often able to keep many of the same benefits and rewards redemptions while lowering your annual fee. For instance, by downgrading to the Chase Sapphire Preferred from the Chase Sapphire Reserve, you'll retain all of your Ultimate Rewards points, keep many of the same travel protections, and save yourself hundreds of dollars in annual fees along the way.
If a downgrade doesn't work for you, you can always cancel your credit card. Just be sure you understand the implications of this decision first (such as how it will affect your credit score and what will happen to your earned rewards).
Bottom line
It's hard to tell when the travel world will open back up and we will be able to move freely again. In the meantime, many credit card issuers are doing the best they can to not only make cardholders happy but also provide a bit more bang for their annual-fee buck, especially if their account is renewing mid-pandemic.
Some lucky cardholders are already enjoying automatic fee credits and temporary new benefits. Even if you're not, you can always call and see whether an annual fee credit is on the table. It never hurts to ask.
Easy-to-Earn Unlimited Rewards
Earn 25,000 online bonus points after you make at least $1,000 in purchases in the first 90 days of account opening - that can be a $250 statement credit toward travel purchases
Earn 1.5 points per $1 spent on all purchases
Longer intro APR on qualifying purchases and balance transfers
No foreign transaction fees
Earn unlimited 1.5 points per $1 spent on all purchases, with no annual fee and no foreign transaction fees and your points don't expire.
25,000 online bonus points after you make at least $1,000 in purchases in the first 90 days of account opening - that can be a $250 statement credit toward travel purchases.
Use your card to book your trip how and where you want - you're not limited to specific websites with blackout dates or restrictions.
Redeem points for a statement credit to pay for travel or dining purchases, such as flights, hotel stays, car and vacation rentals, baggage fees, and also at restaurants including takeout.
0% Introductory APR for 15 billing cycles for purchases, and for any balance transfers made in the first 60 days. After the intro APR offer ends, 18.24% - 28.24% Variable APR will apply. A 3% fee applies to all balance transfers.
If you're a Preferred Rewards member, you can earn 25%-75% more points on every purchase. That means instead of earning an unlimited 1.5 points for every $1, you could earn 1.87-2.62 points for every $1 you spend on purchases.
Contactless Cards - The security of a chip card, with the convenience of a tap.
This online only offer may not be available if you leave this page or if you visit a Bank of America financial center. You can take advantage of this offer when you apply now.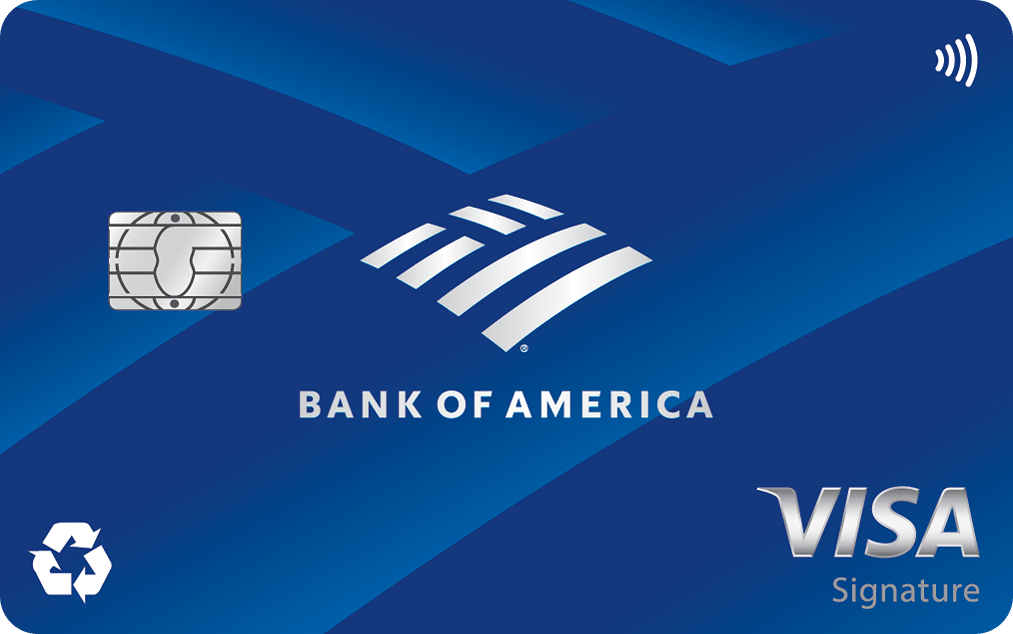 Apply Now
on Bank of America's secure website
Read Card Review
Intro Offer
Earn 25,000 online bonus points after you make at least $1,000 in purchases in the first 90 days of account opening - that can be a $250 statement credit toward travel purchases