Credit cards charge interest if you don't pay back your full balance by the due date at the end of each billing cycle. If you plan to carry a credit card balance, it's important to know your interest rate and look for a card with the most reasonable interest costs possible.
After all, the higher the interest you're charged, the more expensive your debt is — and the harder it is to pay it back.
Different credit cards come with different interest rates, so if you're not sure where you stand with the card you have — or if you're trying to decide if a card you're considering charges a reasonable rate — it can be helpful to know the average credit card interest rate.
In most cases, what you'll actually compare is the APR, or annual percentage rate. APR takes into account both the interest you'll pay on your credit card balance as well as any fees you may owe on the account. This can give you a more accurate idea of the cost of borrowing money.
This guide will tell you all you need to know about credit card interest rates, including the average APRs on different kinds of cards as well as how to compare rates from one card to the next.
Average credit card interest rates
The Federal Reserve tracks average credit card interest rates across the United States. The table below shows the average rates for the past several years; the middle column shows the average APR for all credit cards from reporting banks, and the right column shows the average for cards where users carry a balance and actually pay interest on purchases.
The average APR in the right column is higher because the data excludes cards where no interest fees were charged.
Year
Average APR for all credit card accounts
Average APR for credit cards that carry interest
2020
14.52%*
15.78%*
2019
15.05%
16.98%
2018
14.22%
16.04%
2017
12.89%
14.44%
2016
12.35%
13.56%
2015
12.09%
13.66%
*Average rates for the second quarter of 2020

Source: Federal Reserve
How do APRs differ among credit cards?
Looking at the average APR is useful because it gives you an idea of what rate is reasonable to pay. But it's also important to know that various kinds of credit cards tend to charge higher rates than others. That's because different cards cater to different customers.
Some cards are aimed at people with imperfect credit. These cards usually charge higher interest rates because the card issuer is taking more of a risk by loaning money to people who have made borrowing mistakes in the past.
Other cards are marketed specifically as low-interest cards, so they'll naturally have a lower rate than others. Rewards cards are usually targeted at well-qualified borrowers who care more about earning points or miles than the interest rate they'll pay, so those will often have higher rates than cards meant for more price-conscious consumers.
The table below shows average rates across different kinds of credit cards, so you can get a better idea of how card type could affect the rate you pay.
Card category
Average APR*
APR rank
Rewards
17.58%
Medium
Cash back
17.68%
Medium
Student
17.79%
Medium
Business
15.61%
Low
Airline
17.59%
Medium
Balance transfer
15.59%
Low
Bad credit
25.33%
High
Source: CreditCards.com

*Averages as of July 3, 2019
FAQs about credit card interest rates
Now that you have a better idea about average credit card interest rates across all card types, as well as average rates available on specific types of cards, it can also be helpful to understand some basic facts about how interest rates work. Here are answers to some of the most frequently asked questions people have about credit card interest charges.
What does APR mean? Is it different than the interest rate?
A card's APR is different from interest rate. The interest rate is the rate of interest you pay when you borrow funds. The APR is the interest you pay when you carry a balance, as well as the fees paid for borrowing. APR is a broader and more accurate way of measuring the costs of borrowing.
How many types of APR does my credit card have?
Many credit cards don't have just one APR. Instead, there are various APRs for different transactions you make with your card. For example, your credit card could have:
A purchase APR: This is the APR you're charged when you buy things with your credit card. If you use your card online or swipe it to pay at a store, you'll be charged the purchase APR on the items you bought if you don't pay them off when your statement comes.
An introductory APR: Some card issuers offer a low APR for a limited time after you open your account as a perk. For example, you might get a credit card offer with a 0% APR on purchases for the first 12 months. This means you could buy something on that card and pay no interest on it at all for a year.
A balance transfer APR: Some credit cards allow you to move a balance over from other cards. For example, you might have an old card you owe $1,000 on and another old card you owe $500 on. You could transfer the entire $1,500 balance to one new card.
The balance transfer APR is what you'll be charged on any debt you transfer over. It's common for cards to have low balance transfer APRs for a limited period of time to encourage you to transfer your balance over.
A cash advance APR: Many credit cards allow you to access cash; this could be through a withdrawal at an ATM, by requesting a check, or via direct deposit into your bank account. Cards often charge a higher cash advance APR on the money you accessed as cash than they do on purchases you make by swiping your card.
A penalty APR: If you fail to pay as promised, exceed your credit limit, or otherwise violate your cardmember agreement, you could be charged a penalty APR that's higher than your standard APR. Under the CARD Act of 2009, your creditor can only charge your penalty APR for a limited time. If you make six on-time payments, your APR must return to normal.
How is my APR set?
Credit card companies have a standard APR range that applies to all accounts — but where you fall within that range will depend on your own personal financial profile. Customers with a strong credit history and a good income may qualify for a card at a lower APR than customers who have imperfect credit or a short credit history.
Can my APR change?
Card companies could charge a fixed rate APR, which means the rate always stays the same. But most charge a variable APR, which means that your APR is linked to some financial index (such as the prime rate) and can move up and down. If the index your APR is tied to shifts, your card's APR could change — and this would increase or decrease the interest you pay.
How can I avoid interest fees?
Avoiding interest fees on a credit card is simple: You just need to pay off your bill in full each billing cycle. When you receive your credit card statement each month, pay off the entire balance by the due date. If you do this, you won't owe any interest on purchases you make with your card.
How can I lower the APR on my credit card?
Lowering the APR on your credit card may be possible if you just ask. Call up your creditor and request a lower APR. They won't always say yes, but if you pay on time and are a good customer, they might. This may be especially true if you have a competitor offer at a better rate.
You could also use a balance transfer credit card to lower your APR. This would mean opening a credit card offering a 0% introductory APR on balance transfers, then moving the balance owed on your current card over to the new card. But be aware that the 0% APR on the balance transfer card won't last forever — the promotional rate is in effect only for a limited time.
Some credit cards also advertise low APRs all the time as one of their key features. If you want a card that will charge you the lowest rate to borrow, you may want to apply for one of these low-interest credit cards and use it to make your purchases going forward.
Lucrative, Flat-Rate Cash Rewards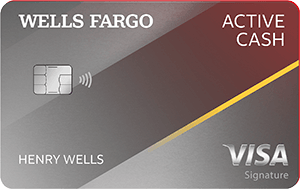 5.0
FinanceBuzz writers and editors score cards based on a number of objective features as well as our expert editorial assessment. Our partners do not influence how we rate products.
Current Offer
$200 cash rewards bonus after spending $500 in purchases in the first 3 months
Rewards Rate
Earn 2% cash rewards on purchases