As the cannabis market has expanded with legalization in many states, you might be considering how to invest. There is potential for growth, especially if the federal government decides to decriminalize medical and recreational use. And, as with any relatively new industry, there are also investment risks.
To put together this list of the best cannabis stocks, we considered the stock price, the size of the company, its earnings, what experts think of the stock, and how profitable it's been.
Our top picks are:

Scotts Miracle-Gro (SMG)
Trulieve Cannabis Corp. (TCNNF)
Green Thumb Industries Inc. (GTBIF)
Curaleaf Holdings Inc. (CURLF)
Innovative Industrial Properties (IIPR)
Cresco Labs Inc. (CRLBF)
Tilray (TLRY)
Cronos Group (CRON)
GrowGeneration (GRWG)
Scotts Miracle-Gro (SMG)
This is the only company on our best cannabis stocks list that isn't expressly a part of the cannabis supply chain. However, Scotts provides products that are often used in the growing process.
The company was founded in 1868, but its main contribution to the cannabis industry comes from its 2018 purchase of hydroponics company Sunlight Supply. Through the years, Scotts points out that it has become one of America's most trusted companies.
Originally listed on the NASDAQ, Scotts is now listed on the NYSE. It has a share price history going back to the early 1990s. As of Aug. 31, 2022, SMG is priced at more than $68 per share. Over time, this represents an overall increase of more than 517%.
As with most stocks, the trendline has been positive over time with a spike in 2021 and a drop along with the rest of the stock market in 2022.
Trulieve Cannabis Corp. (TCNNF)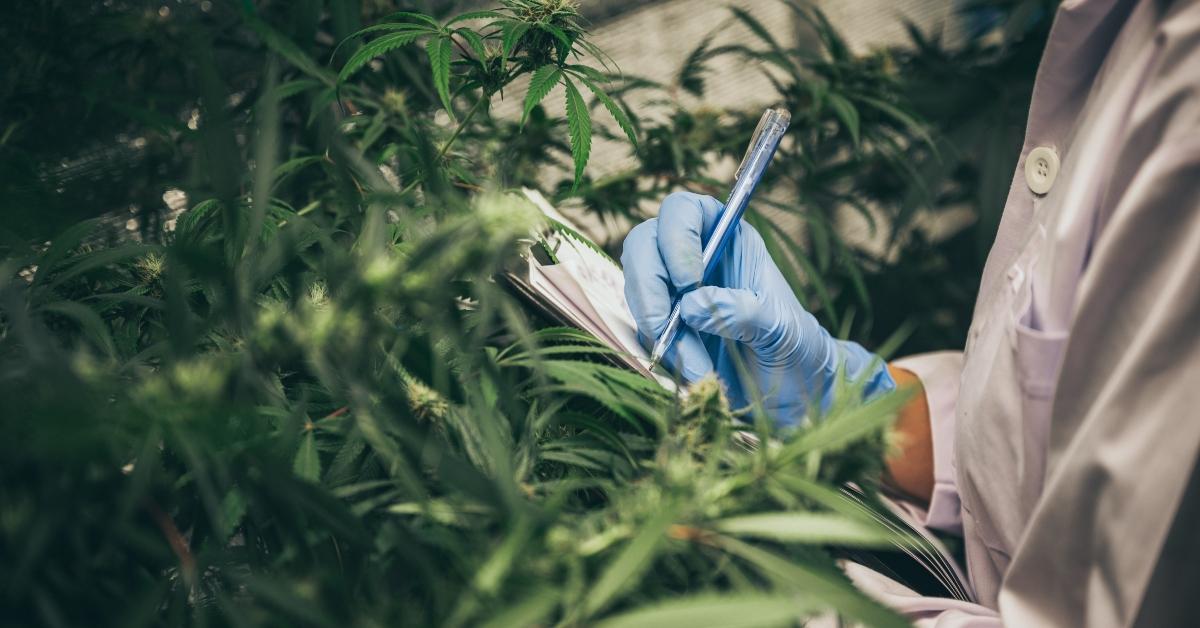 One of the best cannabis stocks available, Turlieve is building out using a hub model. It started in Florida, where there are more than 100 stores. The company now operates in 11 states, working to build out as it goes.
As other companies on this list, Trulieve is vertically integrated, including aspects of growing, extracting, manufacturing, and distributing products. In addition to its own retail locations, Trulieve also provides products to others through its brands.
As far as investments in a cannabis company goes, TCNNF might be one of the better bets. As with others, it's only available via over the counter markets because federal banking law isn't compatible with cannabis-based businesses. However, even with these difficulties, TCNNF is up over time and is at $14.24 as of Aug. 31, 2022. As with many other stocks, this one had a surge in 2021, but has since pulled back.
Green Thumb Industries Inc. (GTBIF)
As with some of the other best cannabis stocks on this list, Green Thumb manufactures and distributes products under various brands.
Green Thumb is available in 15 U.S. markets, across 77 retail locations. Additionally, there are 17 manufacturing facilities. The company was established in 2014.
As with many direct growers and manufacturers of cannabis and cannabis products, GTBIF stock is listed on the OTC markets rather than on a major exchange.
Its price growth was pretty flat until 2021, when it benefited from an overall stock market boost and the speculation that Congress might change banking laws.
Since then, the price has fallen, but it's been mostly in line with the overall stock market decline. As of Aug. 31, 2022, GTBIF is at $13.06 representing an increase of more than 63% since 2018.
Curaleaf Holdings Inc. (CURLF)
Curaleaf Holdings is another vertically integrated cannabis company that grows cannabis and creates products from them. Curaleaf has more than 25 cultivation sites and operates in 22 states out of 134 locations. The model of understanding the product and providing information provides a strong base in the event that cannabis becomes widely available.
In November 2018, CURLF was above $8 per share. The company stock reached a low below $3 a share in March 2020, but recovered along with the market, and murmurs from Congress that it may allow banks to deal with cannabis companies.
However, the stock has had a choppy ride in recent months and is at $6.30 as of Aug. 31, 2022.
Innovative Industrial Properties (IIPR)
Rather than being a grower or manufacturer, Innovative Industrial Properties is a real estate investment trust (REIT) that focuses on the regulated cannabis industry. When you invest in this REIT, you get access to properties that have the potential for producing income.
Basically, Innovative Industrial Properties owns some of the lands that are used for growing cannabis and manufacturing products and leases it back to marijuana companies. This company specifically focuses on facilities related to medical marijuana use, which has a high acceptance rate.
By investing in real estate through this REIT, you could have exposure to potential gains as real estate increases in value and as cannabis becomes more widely used for medical purposes.
The company is listed on the New York Stock Exchange, which also helps some investors feel safer about their investments. As of Aug. 31, 2022, IIPR is $93.48 a share and is up, overall, more than 406% over time.
Cresco Labs Inc. (CRLBF)
Cresco Labs says it's "on a mission to normalize, professionalize and revolutionize cannabis." The company is vertically integrated, which means it controls various aspects of the growing, manufacturing, and distribution process. It has different brands, owns retail locations in the U.S., and also distributes to hundreds of dispensaries.
By growing its footprint, Cresco Labs hopes to position itself for widespread cannabis acceptance and could potentially grow in value over time.
However, it is currently a penny stock. Additionally, it is at $4.17, as of Aug. 31, 2022, which is lower than its initial price of $5 in late 2018. Even though the company is building what appears to be a solid strategy, its price has been volatile, even during better markets.
Tilray (TLRY)
Tilray offers products in Canada, the United States, Europe, Australia, and Latin America. The stock is listed on the NASDAQ exchange as well as on the Toronto Stock Exchange. Although the company is based in New York, much of its business is Canadian.
Tilray stock is one that lost a lot of value early on. In 2018, the stock went from $27 a share all the way up to almost $150 a share before the price crashed.
TLRY has remained fairly flat over time, and is currently at $3.73 per share as of Aug. 31, 2022. For speculative investors who think that TLRY could become a player in the future, this might be a good price to get in at. On the other hand, the historical performance has been dismal, so it might feel a bit too risky.
Cronos Group (CRON)
Cronos Group says it's "committed to building disruptive intellectual property by advancing cannabis research, technology, and product development." Cronos Group has a brand portfolio that is known worldwide that includes adult-use cannabis, edibles, and CBD products. One of its selling points is that it focuses beyond the U.S. market and is interested in being a global company.
For those interested in a low-priced stock, CRON could be a reasonable choice. It's listed on the NASDAQ exchange, and as of Aug. 31, 2022, is at just under $3 per share. For an investor looking to get in at a low price point, this can be an opportunity.
The stock was trading at less than 30 cents per share in 2016. However, CRON still remains volatile in price and there is no guarantee that it will take off later.
GrowGeneration (GRWG)
Rather than being directly involved with the process, GrowGeneration sells supplies to growers. It claims to be the largest hydroponics supplier in the country, offering equipment to both home and commercial cannabis growers.
Its products include lights, containers, nutrients, and other items needed to be successful at growing. In addition to providing growing products, GrowGeneration also offers consultations to commercial growers.
The stock is listed on the NASDAQ exchange, which makes GRWG a possibility for those who prefer companies that meet the requirements for listing on major exchanges.
Keep in mind that rather than investing in cannabis, you're investing in the people who sell to the cannabis growers. The stock price of GRWG is $4.80 a share as of Aug. 31, 2022. This represents an increase of 109% since 2016.
What to consider before buying cannabis stocks
When considering investing in cannabis, it's important to take into account various aspects of the marijuana industry. First of all, there are varying degrees of legality across the U.S. In some states, only medical cannabis use is allowed; in others it's available recreationally.
However, even though the U.S. House of Representatives introduced a banking bill to decriminalize activities related to cannabis, it stalled in Congress. Cannabis remains illegal at the federal level.
However, there is a possibility that it will be decriminalized at some point or become more widely accepted. If that's the case, it's possible that these marijuana stocks will increase in price down the road. Getting in now, while prices are somewhat low, could lead to big gains later. On the other hand, trying to choose individual stocks can be tricky, as there's no guarantee that all of them will benefit, even if regulations loosen.
For those interested in exchange-traded funds (ETFs), it's possible to gain exposure to a wider swath of the cannabis industry without trying to pick individual stocks. ETFs such as MJ, YOLO, and THCX are all available. However, these ETFs are actually down over time, unlike some of the individual stocks or real estate investment trusts (REITs) related to cannabis that are up overall.
In some cases, it might make more sense to look into companies that support the industry rather than investing in the growers themselves, depending on your own risk tolerance and portfolio goals.
FAQs
What is the best cannabis stock to invest in right now?
The best cannabis stock to invest in depends on your own goals, risk tolerance, and portfolio strategy. However, Trulieve is one of the few individual companies that is currently up as well as seeing historical price growth.
What cannabis companies have stocks?
A number of cannabis companies are listed on exchanges. In the U.S., many of these stocks are on OTC markets due to regulatory constraints. But companies such as Trulieve, Curaleaf, and Cresco Labs all offer stocks to investors.
What is the best way to invest in the cannabis industry?
The best way to invest in the cannabis industry depends on your risk tolerance and portfolio goals. For those who want access to the industry as a whole, ETFs can provide a way to diversify across different types of companies. However, there are individual companies that are vertically integrated and are involved in all aspects of cannabis.
Bottom line
When trying to figure out how to invest money, looking into the best cannabis stocks can be one way to buy into a fledgling industry. Many investors are looking for the "next thing," and cannabis offers an opportunity to get in on the ground level of what might be an up-and-coming industry.
However, it's important to be careful when risking your money in this way. Consider researching different companies before moving forward.
One way to limit your exposure to risk is to choose one company or ETF you think has promise and use dollar-cost averaging to buy a small amount each week. Make sure your other goals — a tax-advantaged retirement contribution, emergency fund, and debt paydown — are well in hand before you risk your money on an emerging industry.
Disclosure: The author has positions in some of the stocks mentioned in this piece, including MJ, TCNNF, and IIPR.
Our methodology
In determining our ranking of the best cannabis stocks, we looked at several popular companies. We did not evaluate all companies in the category.
FinanceBuzz ranking criteria include:
Stock performance
Company earnings
Market capitalization
Target price
Expert recommendations
Profit margin
Public Benefits
Get $3-$300 in free stock when your account is approved*
Invest in 1000s of stocks and ETFs with fractional shares—no account minimums
Follow friends in a social feed and learn from a diverse community of investors
* Free stock offer valid for U.S. residents 18+. Subject to account approval.