When you're applying for a credit card for the first time, it's important to choose the right one. The right credit card can help you start building credit, learn about personal finance, and potentially earn rewards. The wrong card, on the other hand, could cost you a bunch of unnecessary money.
Fortunately, there are many different credit cards that cater to newbies. Some are focused on easy approval and low fees, while others allow you to earn cash in rewards or save on purchases. The key is to consider each type of card, decide what's most important to you, and pick the best first credit card for your financial situation.
This guide will help you explore different options for starter cards so you can find the perfect card for any situation.
How to pick the best starter credit card
People have different priorities when it comes to credit cards, and picking the best first credit card will be different for everyone. If you don't travel much, for example, prioritizing the travel rewards you could earn with a card likely makes little sense for your situation.
However, there are certain features and card details that everyone shopping for a credit card should take into consideration:
Key factors to look for
Annual fee: Some card issuers charge you just to be a cardholder. Annual fees can be worth paying when the card gives you generous perks you'll actually use or allows you to earn enough rewards to make up for the fee. But there are also lots of free cards out there, and if you aren't a huge spender in need of perks, they may be a better choice — especially for a first credit card.
APR: If you think you will carry a balance on your credit card at any point, focusing on a low regular APR (annual percentage rate) is extremely important. The interest rate you're charged when you carry a balance is likely to far exceed even the most generous rewards program, so looking for low interest options — or even a card with a temporary 0% promotional APR — could be your best choice. Just remember when that intro APR ends, your remaining balance will become subject to a higher variable APR.
Rewards: Some cards allow cardholders to earn cash back, travel miles, or points that can be redeemed for gift cards or merchandise. Rewards programs vary from one card to the next, both in terms of what you can redeem points for and how points are earned. If you're interested in spending responsibly to earn rewards, make sure to investigate and compare rewards rates across various cards.
New cardmember welcome offers: Many cards allow you to earn extra miles or cash back if you spend a certain amount of money within the first few months of opening your account. If maximizing rewards is important to you, think about whether you can safely meet the spending minimums within your current budget.
Cardholder perks: Many cards offer additional benefits besides the chance to earn rewards. This could include a free checked bag if you fly on a certain airline, concierge service, an extended warranty on products you buy with your card, or car rental or travel insurance.
Fees: Some cards charge fees for different actions, such as a foreign transaction fee if you use your card outside of the U.S. Most cards also charge late fees or over-the-limit fees, but not all do.
Accessibility: It's more and more the norm that a credit card issuer will also provide a mobile app along with its credit card product. But if this is important to you, make sure you check in advance before you apply for a new card.

Your credit score: Some credit cards require you to have excellent credit, while others are more forgiving of short credit history or of past borrowing mistakes. Knowing your credit score can help you apply for cards you're more likely to be approved for. You can check your credit score for free on sites like Credit Sesame or Credit Karma.
Best credit cards if you have a short credit history
Many credit card companies prefer to lend to borrowers with a long history of responsible borrowing behavior. Having a long borrowing history can help raise your credit score and show creditors a more complete picture of your payment history.
Many people getting their first credit card haven't been able to establish a long, positive credit history yet. If your goal is building credit, you'll need to look for a card you can qualify for despite being new to the world of credit. Obtaining your first credit card can be one of the best ways to improve your credit score since you can begin developing your history of on-time payments.
Here are some of the best cards to consider if you have a short credit history.
Discover it® Cash Back
Discover it Cash Back is a great first card because of the easy underwriting process and credit-building tools, such as free access to your FICO credit score. It also offers generous rewards and you aren't charged to be a cardmember.

Annual fee: $0
Welcome offer: Automatically get an unlimited dollar-for-dollar match of any cash back you've earned at the end of your first year

Chase Freedom Flex℠
The Chase Freedom Flex requires some credit history, such as car payments or student loan payments, to qualify — but underwriting may not be as difficult as some other cards. The card also offers a generous rewards program based on rotating categories, as well as a welcome offer.

Annual fee: $0
Welcome offer: Earn a $200 Bonus after you spend $500 on purchases in your first 3 months from account opening
Best credit cards if you're a student
Students often have limited incomes — or no incomes at all — and many haven't yet had time to build credit. Since a lot of card issuers want a long credit history and proof you have enough income to pay off the card, qualifying for a card can be hard while you're in school and have a limited credit history. However, your school years can be a critical time to build credit, and graduating from a debit card to a credit card can be a great way to start.
Fortunately, there are some cards specifically meant for college students trying to build credit. Here are the best credit cards for students that want to get started building credit.
Discover it® Student Cash Back
The Discover it Student Cash Back card offers generous rewards and even offers a statement credit for good grades, making it an ideal choice for students to focus on both financial health and their GPA.

Annual fee: $0
Welcome offer: Discover matches all cash back earned during the first year after you've been a cardholder for 12 months

Bank of America®️ Customized Cash Rewards Credit Card for Students

This Bank of America Customized Cash Rewards for Students card provides access to your FICO score, is aimed at students so it's easier to qualify for, and offers cashback rewards.

Annual fee: $0
Welcome offer: $200 cash rewards bonus after spending a $1,000 on purchases in the first 90 days
Best credit cards if you have poor credit
Creditors will check in with one or more of the major credit bureaus before issuing a card: Experian, TransUnion, and Equifax. If you've made borrowing mistakes in the past, creditors may be wary of lending to you out of fear you'll have similar problems in the future. But there's good news — there are cards out there that specifically cater to people with a poor credit profile. Often, these come in the form of secured credit cards.
A secured credit card differs from an unsecured card (which is the standard credit card) because you have to put down a deposit to serve as collateral, and your credit limit is usually equal to the deposited amount. 
Here are some of the best cards for people with bad credit, including options for secured cards.
Discover it® Secured Credit Card
The Discover it Secured charges no annual fee and is one of the few secured cards to provide rewards for spending. With this secured credit card, you'll also get free access to your FICO score so you can monitor credit improvements.

Annual fee: $0
Refundable security deposit

Welcome offer: Discover matches all cash back earned during the first year after you've been a cardholder for 12 months

Citi® Secured Mastercard®
Citi charges a minimum security deposit of just $200 and there's no annual fee for the Citi Secured Mastercard.

Annual fee: $0
Welcome offer: None

Capital One Platinum Secured Credit Card

The Capital One Platinum Secured bases your security deposit amount on your credit — and you get an increase to your line of credit after five on-time payments.

Annual fee: $0
Welcome offer: None
Best credit cards if you want to earn cash back
If you have at least fair credit, and ideally good or excellent credit, you may want to look beyond cards that are easy to qualify for and instead focus on cards that reward you for using them. Cashback cards will reward you for use — and they are a great option because you can earn money back on your purchases. 
Cash back is usually given as a statement credit, although you may be able to have it deposited into a bank or investment account depending on the card you pick. Here are some top cards if you want to earn cash back on every purchase you make.
Capital One Savor Cash Rewards Credit Card
The Capital One Savor rewards credit card offers a generous rewards program, including 10% cash back on purchases made through Uber & Uber Eats (through 11/14/2024); 8% cash back on Capital One Entertainment; 4% cash back on dining, entertainment, and select streaming services; 3% at grocery stores (excluding superstores such as Walmart® and Target®), and 1% cash back on all other purchases.

Annual fee: $95
Welcome offer: Earn a $300 cash bonus after spending $3,000 in the first 3 months

Chase Freedom Unlimited®
The Chase Freedom Unlimited offers a simple cashback rewards program, a 0% intro APR on purchases for 15 months (then 20.49% - 29.24% Variable) to help you avoid interest costs, and no annual fee to be a cardmember.

Annual fee: $0
Welcome offer: Earn an additional 1.5% cash back on everything you buy (on up to $20,000 spent in the first year) - worth up to $300 cash back

Blue Cash Preferred® Card from American Express

Although the Amex Blue Cash Preferred does charge an annual fee, it comes with a generous rewards program, especially if you frequently shop at U.S. supermarkets.

Annual fee: $

0 intro annual fee for the first year, $95 per year thereafter

Welcome offer: Earn a $250 statement credit after spending $3,000 on purchases in the first 6 months. Terms apply.
Best credit cards if you want to earn travel rewards
If you're a regular traveler, you may be looking for something more than cash back. Instead, consider a rewards card you can use to offset the cost of flights, hotel stays, or other travel expenditures. Travel credit cards can give you generous rewards that make traveling the world cheaper. Plus, they often come with other perks, such as free checked bags or travel insurance.
If you're interested in a card that will help indulge your wanderlust, here are some of the best cards for earning travel rewards.
Chase Sapphire Preferred® Card

The Chase Sapphire Preferred rewards credit card offers 5X points on travel purchased through Chase Ultimate Rewards®; 3X points on dining, select streaming services, and eligible online grocery purchases; 2X points on all other travel purchases, and 1X points per $1 on all other eligible purchases.
Plus, new cardmembers can earn a 60,000 welcome offer after spending $4,000 within the first 3 months. You'll also have access to travel insurance that could help protect you if something goes wrong on your trip, along with a slew of other perks.

Annual fee: $95
Welcome offer: Earn 60,000 bonus points after you spend $4,000 on purchases in the first 3 months from account opening
No foreign transaction fees


Capital One Venture Rewards Credit Card
Capital One Venture Rewards cardmembers earn 2 miles per dollar on every purchase, every day and 5 miles per dollar on hotels and rental cars booked through Capital One Travel.

Annual fee: $95
Welcome offer: Earn a one-time bonus of 75,000 miles once you spend $4,000 on purchases within 3 months from account opening
No foreign transaction fees

What about store-branded credit cards?
Each of the cards listed above can be used with most stores and service providers both inside and outside of the U.S. But you don't have to stick to these major credit cards — you could also apply for a store-branded credit card. Many of these store cards are issued by banks like Synchrony and Comenity.
Store-branded cards offer perks and discounts for shopping at a particular store. The specific benefits you receive depend on which store card you sign up for, but you can often get generous discounts on purchases, free shipping for online shopping, or cash back for purchases.
These cards may be easier to qualify for than regular credit cards, but the APR on store cards is often higher. Plus, some store credit cards only work at the store that issues them (and sometimes partner stores, such as a Gap card working at Banana Republic).
In most — but not all — cases, stores report your borrowing behavior to credit reporting agencies. That means these cards can help you build a positive payment history, but you could also hurt your credit score if you don't use them responsibly.
It's important to note that sometimes stores partner with major credit card issuers to offer a card, such as the Sam's Club Mastercard. These are slightly different because you can use the card not just at the store the card is branded with but also anywhere the issuer's cards are accepted. These tend to work more like other major credit cards but sometimes come with special perks at the store the card is branded for.
What info do I need to apply for my first credit card?
There can be minor differences between credit card applications from different card issuers. But in general, you'll need to provide the following information:
Full name
Date of birth
Social Security number or individual taxpayer identification number (ITIN)
Email address and phone number
Mailing address
Source of income
Annual gross income (in some cases, you may need to provide proof of income)
Housing status and monthly payment
Having all of this information before you apply can speed up the process and make it easier for you to get a response to your application faster.
How to use credit cards responsibly
No matter what type of card you get, it's imperative you use your card in a responsible way. This means that you'll need to:
Pay your bill on time. Late payments can be devastating to your credit score, as payment history is one of the most important components in determining your score. Commit to responsible use and set up automatic payments so you never miss a due date.
Pay in full. Whenever possible, avoid carrying a balance on a card; interest charges are high and you could end up paying a lot more than you planned to — which can be devastating to your bank account. To avoid this, pay off your card in full each billing cycle.
Avoid maxing out your credit cards by knowing your credit limit. Another important factor in determining your credit score is your credit utilization ratio. Your credit utilization ratio is calculated by dividing the amount of credit used by the amount of credit available to you.
For instance, if you have $100 in total available credit and have used $30, divide $30 by $100 to get a 30% utilization ratio. To maintain a good credit score, it's usually advisable to keep your utilization below 30%.
Don't open too many cards at one time. Opening new cards requires a hard credit inquiry, which means the lender checks your credit and a notation is placed on your report. Too many inquiries in too short a time frame can hurt your score. Opening new credit also affects the average length of your credit history, which is another factor in calculating your credit score. A longer length of credit history will earn you a better score, while opening a new card reduces the average time your accounts have been opened and can lower your score.
It's important you commit to practicing these responsible borrowing behaviors before opening your first credit card. Otherwise, you could find yourself deep in debt or be hit with a low credit score that affects future borrowing opportunities.
What to do if you're denied for your first credit card
If you're denied credit, try to determine why. If the card issuer made a decision based on your credit score, the card issuer should send you an adverse action notice. This will explain your rights, including the right to access your credit report for free.
You can check your credit report for any mistakes or inaccurate info that may have lowered your score. If you find errors, you can dispute your credit report to have the mistakes corrected.
If your score is low for a legitimate reason, work on improving your score. This may mean applying for a card with less strict qualifying standards, such as a secured credit card. First Progress Platinum Prestige Mastercard® Secured Credit Card is one such card that does not require a credit check to apply.
Alternatively, you could potentially get a cosigner to apply for credit with you. A cosigner shares legal responsibility for the debt, so if you find a cosigner with higher credit, creditors may be more willing to lend to you.
If you do things to make yourself a more attractive borrower, such as paying down existing debt, boosting your credit score, or improving your income, reapply for the card you want after a bit of time has passed. Once you can show the lender you're likely to pay back what you borrow, you should hopefully be able to get approved.
FAQs
What is the best credit card to start with?
There's no single best credit card out there for everyone, so it's important to know what you qualify for and the type of rewards, perks, and other features that are most important to you.
Keep in mind that with your first credit card, you may be limited to options designed for people with limited or fair credit histories. Even then, you can still think about what you want to get out of your card to determine the best fit.
What is the best credit card for no credit
It can be tough to get approved for a credit card with no credit history, but you'll also have a hard time building a credit history without the use of credit. One option that's not on our above list is the Petal® 1 "No Annual Fee" Visa® Credit Card. Unlike other card issuers, Petal won't deny you just because you have no credit score. Instead, it has you link your bank account and creates a Cash Score based on your income and expenses to determine your overall financial responsibility.
How many credit cards should a beginner have?
Having multiple credit cards can be good for your credit history. But when you're just starting out, it's probably best to stick with one card. The more cards you have, the easier it could be to rack up debt, so you'll want to focus on developing good credit habits before you apply for more cards. Also, applying for multiple credit cards in a short period could have a negative impact on your credit score, so it's smart to space them out.
Bottom line
As you can see, you have many options when it comes to your first credit card. Take the time to research different types of cards to decide which one is right for you. And once you get your card, be sure to practice responsible borrowing behavior so you can earn a great credit score and have your choice of cards in the future.
Explore our lists of the best credit cards for fair credit and best credit cards for poor credit to find out more options. 
Methodology
To select the best credit card for first-time cardholders, we compared annual fees, APRs, rewards, welcome bonuses, other fees, accessibility, perks, and credit score requirements. We selected cards suitable for people with short credit histories, students, and people with poor credit. We did not include all cards available.
Great for Building Credit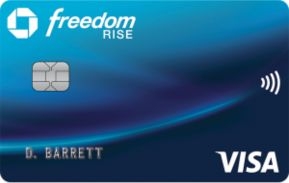 Chase Freedom Rise℠
Current Offer
$25 statement credit for enrolling in automatic payments within the first three months of account opening
Rewards Rate
1.5% cash back on all purchases