The first pandemic year, 2020, was many things, including the year we learned to love the inside of our homes. But the days of jigsaw puzzles and sourdough starters are behind us (we hope) as we finally go on our oft-postponed trips.
However, now that we're finally taking to the skies and the highways again, everything has gotten more expensive, including hotels. This has left many of us trying to figure out how to stop living paycheck to paycheck.
Here's how to get the best deals on lodging, then, in spite of the squeeze.
Join a hotel loyalty program
While many folks now work from home or travel less than they used to, there are still those among us who have to hop on planes and trains for work purposes. If that's you, one of the best ways to save on hotels is to join a hotel loyalty program that fits your needs, whether that's having a simple place to crash for a night or living away from home for a week.
But hotel loyalty programs aren't just for frequent travelers. Even if your family takes only one vacation a year, there are benefits you can enjoy.
Decide which chain you like or has convenient hotels, sign up, and get rewards every time you stay. Perks include points that can be used for free nights and upgrades to swankier suites for the price of a regular room. Or join all of them so you have flexibility.
Use a hotel rewards credit card
Chances are that you're hip to the best credit cards to save on gas in an era when gas prices are giving everyone higher blood pressure levels. But are you aware of the best travel credit cards that can get you discounts on your hotel stays? If not, here's the scoop.
Many hotels partner with credit card companies to offer you points on your purchases that you can redeem for free stays at your favorite hotel chain. Just be sure to pay off your balance every month so you don't cancel out the benefits — and keep your eye on the annual fee.
Check AAA and AARP for discounts
Are you a member of either AAA or AARP? If so, then you probably get the mailings (either postal or via email) that tell you all about their life insurance partners and the like. There's a good chance you may be able to score discounts at hotels with these memberships, too.
Pro-tip: You don't have to be over a certain age to join AARP, so check to see if the membership fee is worth it. This is also a good way to take advantage of AAA even if your car isn't prone to giving you trouble.
Use an aggregator website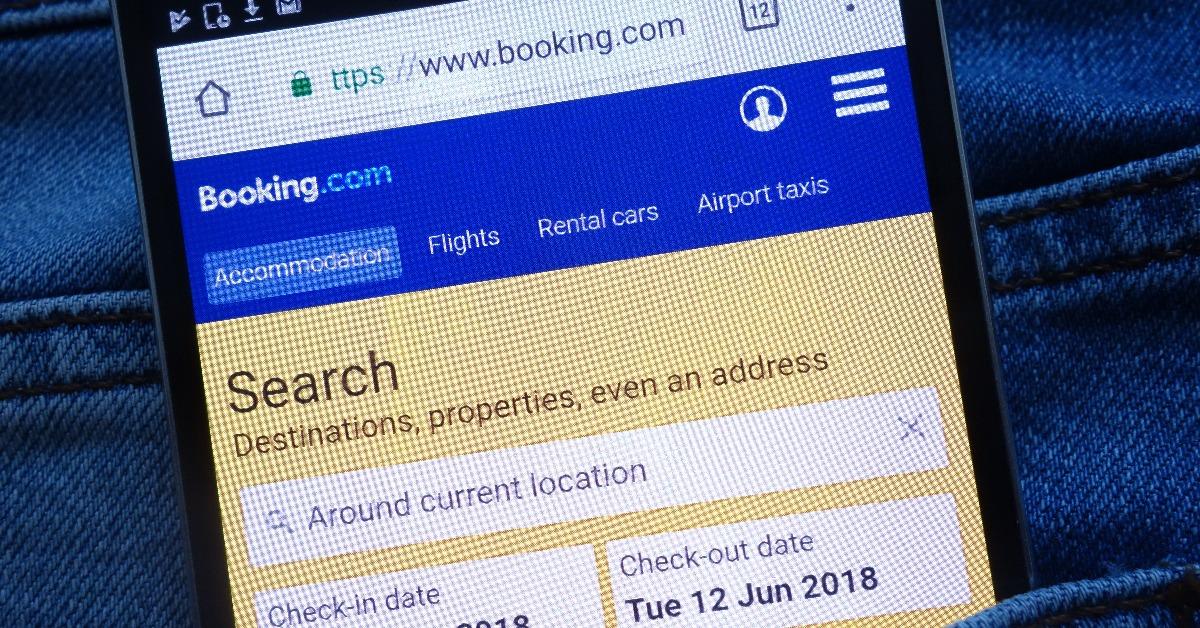 Fans of aggregator websites know you can use Kayak to find budget hotels and save on your next stay away from home. But Kayak isn't the only aggregator website out there, as Booking.com, Expedia, Priceline, and others help you compare prices and get the best rate a hotel is willing to offer.
Many of these sites also have membership or loyalty programs that will give you free nights after you use them enough, which is another perk. Also, if you're a bit flexible, sites like Hotwire give you additional discounts for blind booking.
Compare prices with hotel directly
Aggregator websites lead us to our next tip, which is to negotiate with the hotel directly and see if they will offer you a better rate. Occasionally the hotel's website will have a lower price.
Or if you book directly with a hotel, they might throw in extra perks, such as complimentary breakfast, free parking, or an upgrade to a fancier room than the one you've booked. It all adds up in the end!
Bundle your stay
If you're going to need a flight, a rental car, and a hotel room, then bundling your stay can be a great way to save money on all three — including your hotel. A bundle is when all three businesses agree on a discounted rate when you book them together, which translates into better savings for you.
Just make sure that you're flexible on the hotel, airline, and rental car, as you likely can't get your three faves in one. And if you don't want to do the legwork to figure out which ones provide the best deal, Costco Travel offers bundles already arranged or you can build your own.
Book with the non-refundable vs. refundable rate
If you're absolutely certain you will be staying at a hotel for a set period of time — and aren't at the mercy of an unreliable airline or work demands — then booking the non-refundable rate at a hotel is a straightforward way to save some cash.
Even if you do have to rely on a flight or other factors, scoring this rate can be worth it if there's minimal risk. Just be aware that you may lose your money if you can't make it .
Use deal websites
If you do have a non-refundable booking that you can't use, all is not lost. Roomertravel.com may buy it from you. For travelers who have flexibility, Roomertravel.com is a good way to save on a hotel room. You can get a discounted room for specific days that someone else can't use.
And don't forget Groupon. Remember when Groupon had all the hot deals? They still offer deals that can help you save money when on hotel stays. This is especially the case when bundled with spa deals or specific beach vacay days.
Be flexible with dates or book a longer stay
Many times when people go on vacation, it has to be during specific days that they can take off of work. If you're not bound by dates, though, you can potentially score cheaper hotel rates. For one, you can travel during non-peak times, like winter in New York or when it's the rainy season in Costa Rica. You can also go on weekdays instead of weekends.
You also might get a discount if you stay longer, as some hotels will decrease the rate a bit if you're there for a week or two. That's less work for them in the form of maintenance.
Consider options like Airbnb
Perhaps the best way to save money on hotels is to look into alternate options like Airbnb, VRBO, and other apps that people use to rent out their space. Depending on the accommodations you want, you can get some pretty serious discounts.
Of course, some options on these sites are super luxurious and may not be any cheaper than a hotel, but there are also simple lodgings like a room in someone's house. It all depends on your comfort level with strangers. Be sure to read the reviews before booking.
Bottom line
Travel is back, but every aspect seems to be more expensive than ever. To that end, it's wise to look into all of the ways you can save money and eliminate your financial stress so you can truly take a break.
Don't forget, too, that you're not bound to only one discount option — you can mix and match to see which gets the lowest hotel rate possible. That will leave you with more cash to spend on your adventure while you're visiting a new place.
Easy-to-Earn Unlimited Rewards
Earn 25,000 online bonus points after you make at least $1,000 in purchases in the first 90 days of account opening - that can be a $250 statement credit toward travel purchases
Earn 1.5 points per $1 spent on all purchases
Longer intro APR on qualifying purchases and balance transfers
No foreign transaction fees
Earn unlimited 1.5 points per $1 spent on all purchases, with no annual fee and no foreign transaction fees and your points don't expire.
25,000 online bonus points after you make at least $1,000 in purchases in the first 90 days of account opening - that can be a $250 statement credit toward travel purchases.
Use your card to book your trip how and where you want - you're not limited to specific websites with blackout dates or restrictions.
Redeem points for a statement credit to pay for travel or dining purchases, such as flights, hotel stays, car and vacation rentals, baggage fees, and also at restaurants including takeout.
0% Introductory APR for 15 billing cycles for purchases, and for any balance transfers made in the first 60 days. After the intro APR offer ends, 18.24% - 28.24% Variable APR will apply. A 3% fee applies to all balance transfers.
If you're a Preferred Rewards member, you can earn 25%-75% more points on every purchase. That means instead of earning an unlimited 1.5 points for every $1, you could earn 1.87-2.62 points for every $1 you spend on purchases.
Contactless Cards - The security of a chip card, with the convenience of a tap.
This online only offer may not be available if you leave this page or if you visit a Bank of America financial center. You can take advantage of this offer when you apply now.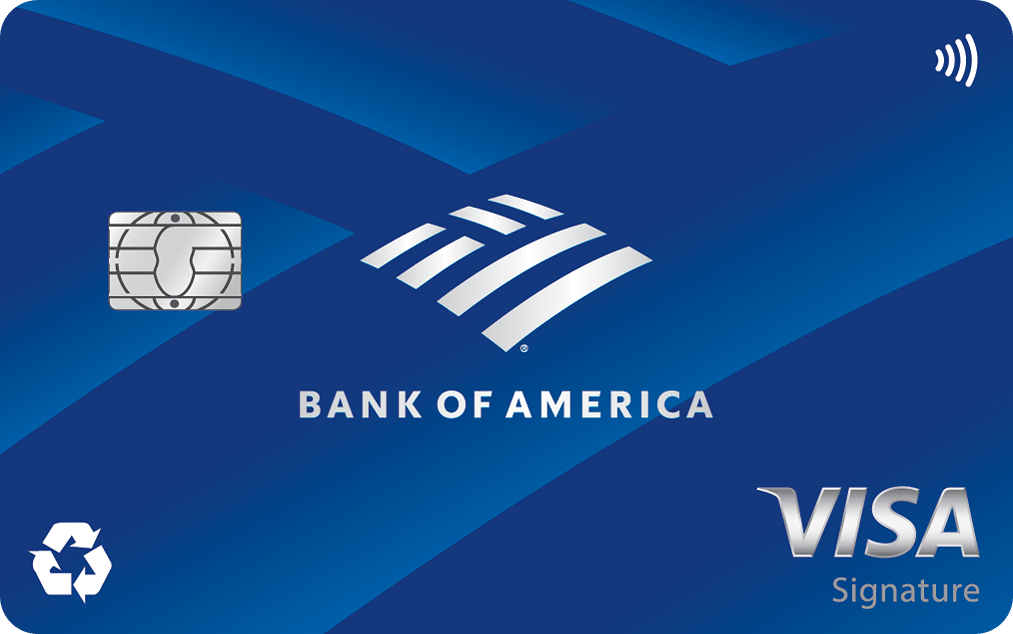 4.1
FinanceBuzz writers and editors score cards based on a number of objective features as well as our expert editorial assessment. Our partners do not influence how we rate products.
Apply Now
on Bank of America's secure website
Read Card Review
Intro Offer
Earn 25,000 online bonus points after you make at least $1,000 in purchases in the first 90 days of account opening - that can be a $250 statement credit toward travel purchases