According to Annuity.org, Americans surveyed expected that they could enjoy a comfortable retirement with $1.04 million in savings in 2021. That's a 10% increase in estimated savings from 2020, and it's not hard to imagine that number increasing with each passing year. For some, the hope of retiring with $1 million in savings is starting to look like a myth.
Here's what you should consider when deciding how much money you'll need to retire the way you want.
Factors to consider
Where you live
The location(s) you decide to call home in retirement will typically play a huge role in determining how long your savings might last. If you compare living in New York or San Francisco to living in Tulsa, Oklahoma, you'll see a big difference in everyday expenses. These include rent or mortgage, groceries, gas, public transportation, eating out, utilities, and more.
Your lifestyle
What are your typical spending habits? If you're used to a lifestyle of freely spending money on things such as shopping trips, entertainment, and vacations, you might need more retirement savings than a more frugal individual. With a little creativity, you could make your retirement savings last a bit longer.
Your health
It's common to have increasing health issues as you age, which means you'll need money set aside to pay for health care during retirement. According to Fidelity, the average retired couple aged 65 in 2021 needs about $300,000 after taxes to cover increased health care costs.
Retirement income
What income are you expecting to receive in retirement? If you aren't planning to work but still want to live comfortably, $1 million might not be enough to get by, even with Social Security benefits. Today, there are many ways to earn money in retirement, including getting a part-time job or picking up a side hustle.
Your investments
Investing is inherently risky. That includes any retirement investments you may have. However, some investments are considered more risky than others. Consider adjusting your investments as you approach retirement age to help reduce your overall risk and ensure you have the money you need.
On the other hand, this strategy could reduce your investments' potential to make more money, and shorten how long your savings last during retirement. Finding a balance between risk and reward with your investments is key to having the money you need.
Inflation
One million dollars today isn't likely to have the same value as $1 million next year. In fact, it's probably going to be worth less. This is due to inflation, or the general upward trend of the cost of goods and services over time. As inflation rises, the $1 million you thought might be enough for retirement might not actually stretch as far as you hoped.
How to determine how much you need to retire
When saving for retirement, consider your unique situation and circumstances by asking yourself these questions:
What income will I have in retirement? Calculate any income you're likely to receive from Social Security, pensions, and other sources.
What will my everyday expenses be? If you currently track your expenses on a monthly basis, you can get an idea of how much you spend on daily expenses. This includes all expenses you can reasonably assume will be ongoing, such as buying groceries, paying for gas, traveling, car repairs, and eating out.
What will my other expenses be? Consider the costs of health care, buying a second home, and other one-off expenses that wouldn't fit into the everyday category.
What returns will I see on my investments? Investment returns aren't always predictable, but you can take an estimated guess at how your investments will do in retirement if you've seen how they've performed for years.
What's the inflation rate? The rate of inflation might change, but it's common to plan for about an annual 3% inflation rate for retirement. This means you should include enough money in your savings to cover this rate for each year of retirement.
How to build $1 million in savings
Apart from winning the lottery or receiving a windfall from a distant relative, you're likely not going to just end up with $1 million in savings unless you learn how to invest money. Using a traditional savings account, while a tool for saving money, isn't a big money generator.
Many retirement plans are created using a combination of saving and investing to help reduce overall risk. It could also make sense to use multiple types of investments. Here are a few popular retirement savings strategies to consider:
401(k)
A 401(k) is a tax-advantaged retirement plan offered to employees. The traditional 401(k) plan is tax-deferred. That means you can contribute a portion of your wages before taxes are taken out which will lower your taxable income. You can then choose how you want your savings invested. Any withdrawal you make from a 401(k) is typically taxed.
Apart from the tax benefits, a 401(k) could make sense if your employer offers matching contributions. If you contribute 3% of each paycheck to your 401(k) and your employer matches with a 3% contribution, you'll double the money going into your account.
Annuity
An annuity is a contract with an insurance company that lets you convert the lump sum of your premiums into a future source of income. Annuities are typically tax-deferred, so you wouldn't pay any taxes on investment gains until you withdraw the money.
One of the main benefits of an annuity is having a source of income during retirement when you might no longer be working. Since annuity funds can usually be invested, the hope is that your annuity will grow enough by the time you retire that you have the money you need.
IRAs
An IRA is a tax-advantaged retirement account that most people can open. There are different types of IRAs, including traditional and Roth IRAs.
Similar to other retirement accounts, you make contributions to an IRA and then choose how you want to invest your funds. With a traditional IRA, your contributions might be tax deductible, while contributions to a Roth IRA usually aren't. However, you might not have to pay taxes on qualified distributions or eligible withdrawals from a Roth IRA.
Bottom line
A million bucks might seem like a lot of money and potentially far out of your reach. But when you have compound interest on your side, as well as years of time before retirement, it becomes an achievable goal.
If you want to help pad your retirement savings, consider ways to earn more income or cut spending right now. This can give you opportunities to put more money into your savings and help reach your financial goals.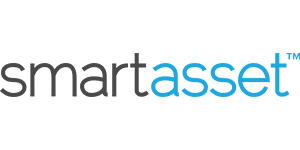 Smart Asset Benefits
Get matched with fiduciary financial advisors
Advisors are vetted and certified fiduciaries
Take the mystery out of retirement planning
Their matching tool is free
FinanceBuzz doesn't invest its money with this provider, but they are our referral partner. We get paid by them only if you click to them from our website and take a qualifying action (for example, opening an account.)