Leasing may be a good option for those who are in the market for a new car. You don't have to worry about a down payment, extra maintenance as a car ages, or selling it when you're ready to move on.
Tip: You don't need to wait to buy or lease a new car to save on car insurance.
But before you rush off to a dealership to sign a car lease, there are some things you might want to take into consideration. By avoiding these 10 mistakes, you may be able to find a deal that makes sense for you.
Not negotiating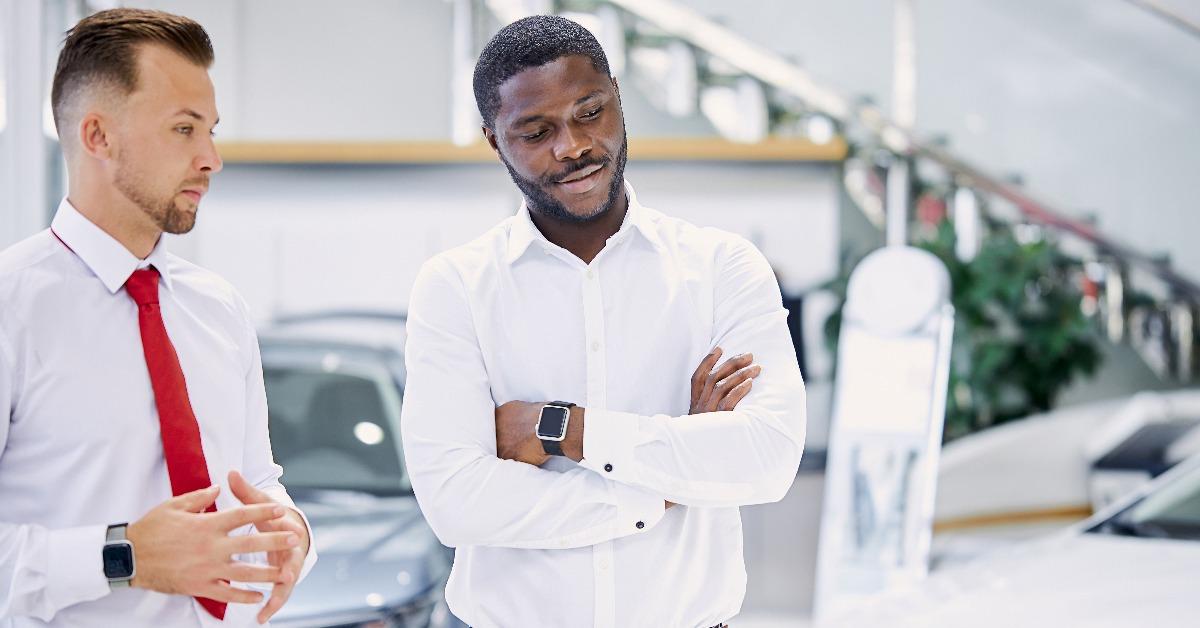 Negotiating isn't only for car purchases. When you're looking to lease a vehicle, ask the dealer if there's some room for negotiation on the price before you sign the lease. You might want to discuss adjusting your monthly lease payments or how much money is due at signing.
You can also talk about other factors like the value of your trade-in vehicle, any potential add-ons, or changing your mileage limits before finalizing a lease agreement.
Not understanding the terms
You don't want to sign an agreement only to be surprised by terms and conditions you weren't expecting. One of the newer trends in the leasing market is to offer leases for four or five years instead of the traditional three years. That could mean a lower monthly payment for you, but you also may be responsible for additional maintenance that a lessee with a three-year contract might not have to worry about.
Also make sure you know the interest rate that you'll be charged for your lease, which may vary according to your credit score.
Underestimating your mileage
Lease agreements often have mileage limits, which could cost you if you don't accurately account for your potential miles. Leases usually have limits of 10,000, 12,000, or 15,000 miles per year. Getting your mileage estimate wrong could mean either paying too much for miles you don't use or paying too little and being charged an overage penalty.
Before you lease a car, keep an eye on the miles you currently drive, which should help you calculate your allocation for a new lease. And factor in any changes that could affect your mileage such as switching to a remote job that may not require a commute or moving to an area that's more walkable.
Forgetting about your credit score
Things like credit cards, debts, or large purchases could affect your credit score, which may cause issues with a lease. Keep that in mind when you're trying to calculate how much a new car lease may cost you. Depending on your score, you might not get the steal that a dealership is advertising for their leases as those deals usually go to buyers with great credit.
Not maintaining the vehicle
Leasing a car, like owning a car, comes with the usual maintenance responsibilities. Make sure you stay on top of regular oil changes and fluid checks. Get your tires rotated as recommended by the manufacturer. Do all the regular care and maintenance you would do if you owned the car so you don't incur any penalties when you turn in your leased car. If you're unsure about what service is needed, your owner's manual may have a checklist, or you can ask the dealership that you leased the car from.
Pro tip: See if the dealer might offer you free oil changes or extra warranty coverage as part of your lease negotiation.
Shopping with one dealer
You wouldn't buy a car from the one and only dealer you talked to, and you shouldn't lease a car that way either. Some places may have different vehicles available depending on what they have in stock. Different dealerships may be offering different lease deals. So shop around before you commit to a contract.
Not calculating the cost
The monthly cost of one vehicle versus another may seem small, but you should calculate that cost over the lifetime of the lease. A few dollars could add up, especially if you sign a four- or five-year lease.
Also remember to account for non-lease expenses, such as gas, maintenance, parking fees, or insurance. Often the lessor may require you to have more coverage than the state-required minimum, which may make your policy more expensive.
Not getting gap insurance
Another item to consider when it comes to car insurance is gap insurance. This type of insurance may help cover your lease if your car is totaled or stolen, for example. Compare the best car insurance deals available, and see if gap insurance may be a good thing to add to your plan. In some cases, it may be required by the lender.
Not worrying about lease termination
Your lease agreement is a contract you're signing that says you will pay the lease amount every month over the term of the lease. But things can change during those years, such as losing a job or needing that lease money for an unforeseen expense.
Check the contract before you sign it to find out what the early termination fee would be, whether you would be liable for the remainder of the lease payments, and any other penalties you might incur. If you are suddenly facing financial hardship, ask the lessor if there's any flexibility in the terms of the lease if you're having trouble paying.
Ignoring the option to purchase
Is leasing a car better than buying? Not always. On the positive side, it means you may be able to switch out your car for a new one at the end of the lease. You also may not have to take on the extra maintenance costs that arise as a car ages.
On the negative side, if you're driving a lot, it may not be a good idea to have a leased car with mileage restrictions. You also can't customize a leased car with aftermarket upgrades like you can with one you own. And when you own a car, you have something to sell when you want a new car. With a car lease, you pay for it each month and then return it to the dealer.
Bottom line
Leasing a car could end up being a bad idea if you don't avoid mistakes before signing the contract. Just as when you buy a car, take into account the terms of your contract, the maintenance costs, and other variables. If you don't already have a budget, you should make one to find out how a lease will fit into your monthly costs. And remember to look into whether you can lower your car insurance payments.