With all the different credit card types, card issuers, and promotions available, it can feel overwhelming to compare credit card offers yourself. But there are online tools that can do the heavy lifting for you in a few minutes or less.
One tool that has gained popularity among avid credit card users is CardMatch. Here's what you need to know about CardMatch before shopping around for your next card.
What is CardMatch?
CardMatch is an online credit card matching tool. After you submit your information, it scans through its financial partners, such as Chase and American Express, to see whether they have cards that could be a good fit for you.
In less than 60 seconds, it generates a list of general matches, along with pre-approved and targeted credit card offers, if you qualify.
Should you use CardMatch?
Although the tool helps you narrow down your search across the slew of credit card options, it's not perfect. There are benefits and disadvantages to using it.
Pros
Potentially better deals: Not all CardMatch offers are available to the general public. Sometimes you'll receive targeted or pre-approved credit card offers that are specific to you, including special offers for sign-up bonuses.
Save time comparing cards: The tool partners with large financial institutions whose credit cards you'd likely want to check out, saving you time and effort.
User-friendly: CardMatch is straightforward and displays each card's key information in a way that's easy to read and compare.
Cons
Limited search results: Since CardMatch exclusively searches through its partner offers, you won't get the full picture of every offer available to you.
Doesn't know which cards you have: The tool doesn't know which credit cards you had in the past or currently have active. Your results might show a card you already use.
No guarantee you'll get special offers: Uncovering pre-approved or targeted credit card offers are a perk of using the tool, but not everyone gets them. And even if you were pre-approved or received a special bonus offer once before, there's no guarantee you'll get another one next time.
CardMatch has its advantages, but also consider its disadvantages when searching for the best credit card for you.
Does CardMatch affect your credit?
The short answer? No.
You'll see two types of credit checks when shopping around for a credit card: a soft credit inquiry and a hard credit inquiry.
Soft inquiries can occur when you check your own credit or if a company checks your credit to offer you a pre-approved card. CardMatch only performs soft credit inquiries, which don't adversely affect your credit.
A hard credit inquiry, however, can temporarily affect your credit. This usually happens after submitting a formal credit card application.
How to use the CardMatch tool
Using the CardMatch tool is simple, and it sticks to its promise of providing credit card matches in less than a minute. Here's how to use the CardMatch tool.
Step 1: Enter your basic information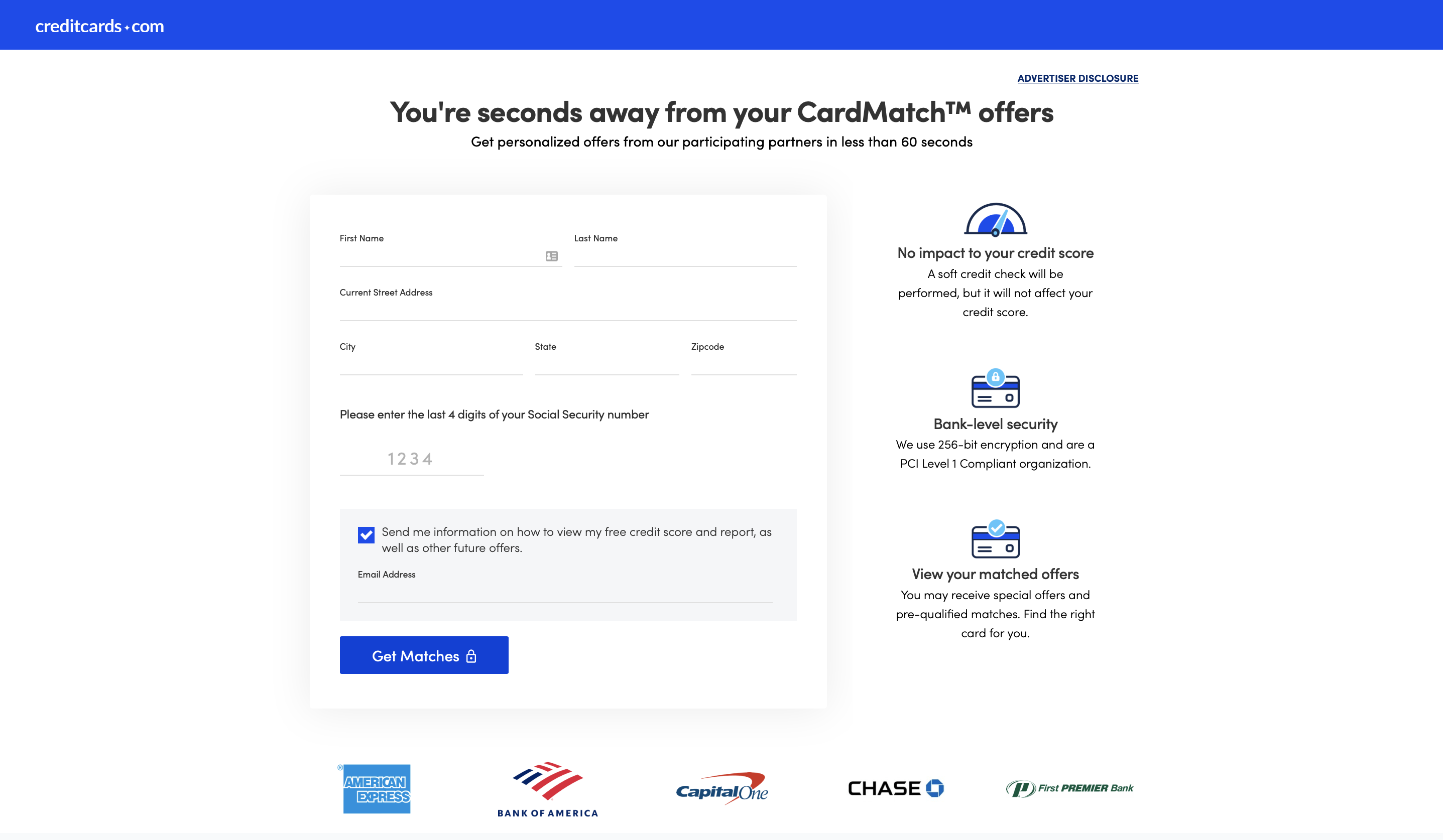 You'll need to type the following into the appropriate fields:
First and last name
Address
Last four digits of your Social Security number
If you're interested in receiving additional marketing emails about your credit score, credit report, and future offers, you can opt in by providing your email address. However, this isn't required to use the tool.
When you're ready, click "Get Matches."
Step 2: Accept the terms and conditions
A pop-up box will appear on the screen with CardMatch's terms and conditions. Read through the fine print.
If you agree, click the checkbox to confirm that you accept the tool's terms of use, and then click "Submit".
Step 3: Review your card matches
You'll receive a list of credit cards you've matched with. Each card profile provides important information, including:
Introductory APR (Annual Percentage Rate)
Balance transfer intro APR
Regular APR
Annual fee
You'll also see helpful bulleted information about bonus promotions, program features, and card details. Compare the cards listed to other credit card offers you've come across. If you find a CardMatch offer that works for you, you can pursue it by clicking on "Apply Now."
Finding the best credit card offers for you
CreditMatch is a helpful resource if you need help whittling down your choices, and it could possibly uncover targeted offers you might not find elsewhere.
For a more comprehensive list of potential credit card options, consider looking at additional resources before making a final decision. Card issuers often provide on-site comparison tools to help you easily review its different card products side by side. You can also check out our credit card comparison page to find the right card for you.
Lucrative, Flat-Rate Cash Rewards
Current Offer
$200 cash rewards bonus after spending $500 in purchases in the first 3 months
Rewards Rate
Earn 2% cash rewards on purchases