You've probably thought about going on the open highway in an RV or you've seen Instagram photos that make you excited at the prospect. You wouldn't be alone. In fact, more than 11 million households in the United States own an RV.
But there are plenty of ways RV life is nothing like Instagram, so don't be fooled. There are also plenty of costly mistakes that first-time RV owners can easily make if they're not aware.
Before you hit the open road, check out some factors that may cause a bumpy ride on your first RV trip.
Not reserving your spot
Campgrounds can be a great place to park for the night. They might have amenities like electric and water hook-ups, bathrooms with hot showers, level parking spots, or laundry facilities. But that's what also makes them popular — especially on summer holidays or school breaks. You can't pull up to just any campsite for Fourth of July and expect a spot to be open.
Instead, make sure your pre-trip planning process for an RV trip includes reserving a campsite or other place with RV amenities to park for the night.
Pro tip: As you look into reservations for where to go next, check out some of the ways to save money at RV parks to help you stay within your travel budget.
Not watching your speed
Driving an RV is not like driving a car. You may think you can just drive an RV at the same speed as your sedan or SUV, but that's not the case. A comfortable and safe speed for driving your RV may be slower than you're used to.
As a result, you'll need to plan some extra time into your estimated travel schedule.
Going too far
While you might be enticed to hit a bunch of destinations on your first trip, you don't want to overreach. You don't want to be rolling into a campsite late at night after miles of driving only to have to figure out how to set up your new RV by yourself and in the dark. And you don't want to get only a little sleep before doing it all over again the next day.
Pad your estimated travel time to account for what you plan to do when you set up at your destination and how long that set up will take.
Skipping driving classes
If you've never driven an RV before, look into classes with instructors who can give you hands-on learning, maybe even using your own newly purchased RV. Learn how to drive the RV, park it, and perhaps get out of tight spots.
And for those drivers who have experience behind the RV wheel, you can look into refresher safety courses or other classes to get the most of your RV safely.
RV School and Escapees are two companies that offer RV driving classes. Escapees also offers courses on how to maintain your RV.
Not researching licensing laws
You may be in for a surprise when you find out what kind of licensing is required to drive an RV. While it is rare, there are a few states that make owners get additional licensing credentials if they are going to be driving a particularly large RV.
Check with your state and see what the licensing requirements are and what you need to do to achieve those additional credentials.
Forgetting size matters
You don't want to regret your RV purchase by getting the wrong size for your needs. A big RV may have all the amenities you want, but it also may have too many other things or be really stressful to drive. Or perhaps you think a smaller RV is the perfect size to travel in style only to realize that it's not a good fit for your kids and pets.
Do some research ahead or time about what size is best for your particular needs. Consider renting a few RVs first to do test runs on what size you enjoy driving and camping in. While renting isn't inexpensive, it could save you a lot in the long run if it prevents you from purchasing the wrong RV.
Not using a travel rewards credit card
You're loving traveling all over the place enjoying the RV life — until you get your credit card bill. Campsite reservations can add up, and RVs can suck up a lot of fuel. Any attractions you visit while on your travels could quickly add up as well.
When planning your trips, remember to also plan your budget and consider using some of the best travel credit cards . These could earn you rewards on your campground reservations or help you get cash back on your fuel purchases.
Skipping a site check
It might be nice to have everything you need right inside your RV, but remember there are things outside of it as well. Before you leave a campsite for the open road, do a walk around of your RV to make sure everything is ready.
You don't want to be driving around with your steps still down or your compartment doors open. And don't forget to check for things like sewer hoses so they're not dragging behind you on the highway. It might sound silly, but it's a thing that really happens.
Rude behavior
Hitting the road and driving away from everyday life for a vacation doesn't mean you can leave your manners behind. Campsites are little communities you're sharing with other people who also want a little rest and relaxation on the road.
Try not to be the campsite neighbor who watches loud movies late at night on your outdoor TV or who doesn't pick up after your dog. Also remember not to walk through other RV sites, even if they're not occupied. Be courteous to your fellow campers while still enjoying the RV life.
Ignoring route issues
An RV trip isn't as simple as entering your destination into a GPS and putting your vehicle in drive. There are things you need to consider as an RV owner that car owners don't have to worry about.
Make sure your chosen route includes roads that don't restrict big vehicles, and think about whether your RV can get through tight streets or residential areas. If you don't like your route, iit can be tough to just turn around in a parking lot or go back the way you came from.
Instead, pay attention to the details before you head out for a day of driving and as you navigate your course. Consider using an app like RV Trip Wizard that can help you avoid roads with tunnels and other obstacles.
Bottom line
These costly mistakes may have you a little worried, but RV life could be a great option if you just go in prepared and willing to learn. If you're not ready to commit to buying an RV just yet, you can still test out the lifestyle. Look into some things to know before renting an RV to see if RV life is right for you.
Easy-to-Earn Unlimited Rewards
Earn 25,000 online bonus points after you make at least $1,000 in purchases in the first 90 days of account opening - that can be a $250 statement credit toward travel purchases
Earn 1.5 points per $1 spent on all purchases
Longer intro APR on qualifying purchases and balance transfers
No foreign transaction fees
Earn unlimited 1.5 points per $1 spent on all purchases, with no annual fee and no foreign transaction fees and your points don't expire.
25,000 online bonus points after you make at least $1,000 in purchases in the first 90 days of account opening - that can be a $250 statement credit toward travel purchases.
Use your card to book your trip how and where you want - you're not limited to specific websites with blackout dates or restrictions.
Redeem points for a statement credit to pay for travel or dining purchases, such as flights, hotel stays, car and vacation rentals, baggage fees, and also at restaurants including takeout.
0% Introductory APR for 18 billing cycles for purchases, and for any balance transfers made in the first 60 days. After the intro APR offer ends, 17.99% - 27.99% Variable APR will apply. A 3% fee applies to all balance transfers.
If you're a Preferred Rewards member, you can earn 25%-75% more points on every purchase. That means instead of earning an unlimited 1.5 points for every $1, you could earn 1.87-2.62 points for every $1 you spend on purchases.
Contactless Cards - The security of a chip card, with the convenience of a tap.
This online only offer may not be available if you leave this page or if you visit a Bank of America financial center. You can take advantage of this offer when you apply now.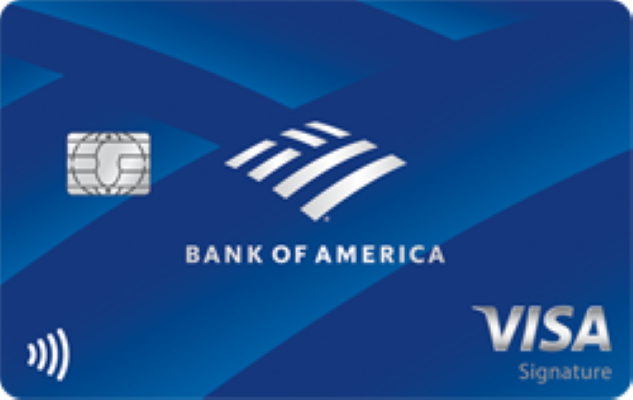 Apply Now
on Bank of America's secure website
Read Card Review
Intro Offer
Earn 25,000 online bonus points after you make at least $1,000 in purchases in the first 90 days of account opening - that can be a $250 statement credit toward travel purchases