Coronavirus, or COVID-19, is on everyone's mind lately, and if you have travel plans, you may be wondering what you should do about your upcoming trip.
I'm not a medical professional, and I think there are several different ways of looking at the situation. But here's how the coronavirus has affected my travel, as well as some things you should keep in mind as you decide what to do with your upcoming plans — whether you're traveling to Europe or anywhere else in the world.
How coronavirus is affecting my travel plans
Late last year, I found an incredible deal on a business-class flight to Vienna, Austria. Between various points and miles programs, I was able to plan the eight-day trip for under $400.
Roughly a week before my departure date, though, the coronavirus outbreak began in Europe, starting in Italy. At that point, there were no cases in Austria — and as of March 12, a couple of weeks later, there are 302 confirmed cases.
But out of an abundance of caution, which I'll explain in a bit, I decided to cancel the trip a week before the European travel restrictions were announced in the U.S. It cost $150 to cancel my flight and get the miles redeposited into my account, and my $53 roundtrip train ticket between Vienna and Salzburg was non-refundable. But other than that, there were no other cancellation charges.
I spent several days trying to decide if canceling my Vienna trip was the right decision. I knew my chances of getting the virus were next to nothing, and the death rate from the virus for someone in my age group is a minuscule 0.2%. And while I was initially afraid of contracting it and passing it onto my kids back home, the death rate for children under 10 is zero.
So why did I cancel? A few reasons:
Outbreak status: When I decided to cancel my trip, neither the U.S. nor Austria had any COVID-19 cases. But the epicenter for the outbreak in Europe was in Italy, and there was no telling if and how quickly it could spread to neighboring countries. As a planner, I realize that there's never any real certainty that nothing will go wrong. But at that time, I saw my chances of getting infected to be greater in Europe than at home.
Potential for quarantine: The idea of an extended stay in one of the most beautiful cities on Earth sounds incredible, right? But I have two children and a custody schedule. Not only am I not interested in being away from my kids for an extended period, but it also wouldn't be fair to their mom if I couldn't stick to our custody schedule. Again, the chances of getting quarantined are super low, but I decided that it wasn't worth it for me.
Likelihood of transmission: If I were to contract the coronavirus, I'd likely be fine. But the odds of spreading the disease are high — according to a German study, peak concentrations of coronavirus in infected patients are 1000 times higher than peak concentrations of SARS in infected patients during the 2002-2003 outbreak. My grandpa is 89 years old and has some underlying health conditions, and the idea of unknowingly spreading the virus to him or anyone else in that age group, for which the death rate is almost 15%, was far too risky for me.

Flexibility: As a freelance writer, I get to determine my schedule. I never have to ask for time off, and I can and often do work while I'm traveling. I was bummed about canceling my Vienna trip, but I know that I'll be able to go another time.
Keep in mind that my decision-making process is for me and me alone. And while I canceled this trip, I have other trips to Texas and Colorado in April that I'm not planning to change.
Whether or not you agree with my approach, it's important for you to consider all of the facts and come to your own conclusions. There's no right answer because it's personal.
In fact, James Lowery, author of the blog Rethink the Rat Race, and his wife considered all of the facts and decided not to change their plans. The nomadic travelers have been throughout Europe, including France, London, Budapest, and Cyprus since the outbreak began and plan to continue their travels without interruption.
"Luckily, we are young, healthy, and active and don't believe the coronavirus will affect us too much," says Lowery. "If we do catch it at some point, we will evaluate our future plans to ensure we aren't a risk to others who may be more susceptible to larger issues related to the virus."
While sticking to their schedule, the couple is working to mitigate the risk. "We are traveling to less crowded destinations with no known cases, washing our hands frequently, avoiding touching our faces and exercising daily," Lowery adds.
5 things to keep in mind as you evaluate your own travel plans
Whether you're trying to decide what to do with your current plans or you're considering booking a trip in the near future, here are some things to consider.
Insurance plans may not cover pandemics
Travel insurance can provide you with some peace of mind when booking a trip, and it's arguably a must-have if you're heading overseas. The problem is that not all insurance companies allow you to cancel or interrupt a trip for any reason.
The following travel insurance companies have agreed to offer "cancel for any reason" coverage to travelers who are concerned about COVID-19:
Allianz
Berkshire
Crum & Forster
Nationwide
Starr Indemnity
Zurich
So if you're thinking about planning a trip, don't rely on the coverage from any of your credit cards to protect you. Go through one of these insurers to purchase coverage, and even then, read the fine print to make sure you're covered.
Airline cancellation and change fee policies are fluid
Most U.S.-based airlines charge a fee to change or cancel your ticket (shoutout to Southwest Airlines for being the only major airline that doesn't. They also have one of the best travel credit cards for redeeming points.). But in light of the coronavirus pandemic, many airlines are relaxing their policies and waiving these fees on certain reservations.
Here's the catch, though: no airline is offering a blanket fee waiver on all tickets (again, except for Southwest). Instead, each airline provides some criteria that your ticket must meet to be able to qualify for a waiver, and in most cases, you're getting a credit you must use on a future flight within the next six to 12 months.
These policies are fluid right now and can change daily, so it's important to keep an eye out for the ones that apply to your situation.
Your flight may be canceled anyway
Even if you want to stay the course with your travel plans, several airlines are canceling flights on their own volition to relieve financial pressures. So make sure you have a backup plan and the right insurance coverage in case you need to cancel your trip.
Travel restrictions could interfere with your trip
On March 11, the Trump administration announced that they will be restricting travel from European countries. The restrictions, which take effect on Friday, 3/13, at 11:59 PM ET, will impose a 30-day ban on foreign visitors entering the U.S. from 26 European countries. U.S. citizens, legal residents, and their families are exempt from the ban at this time.
The recent restrictions are a sobering reminder of how policy changes beyond your control can have a big impact on your travel plans. If you have an upcoming trip planned, make sure to prepare for potential delays, cancellations, and additional screening at airports.
Check your sources
One of the reasons traveling amid a pandemic can feel so risky is because there's simply a lot we don't know about the situation, and viruses can be extremely unpredictable.
As a result, it's vital that you get your information about COVID-19 from the right sources. For the most part, it's best to stick to information from the Centers for Disease Control and Prevention and the World Health Organization.
There are some upsides
As the coronavirus outbreak has evolved into a pandemic, it has sparked fear and, in some cases, hysteria. But there are some potential benefits that you may be able to take advantage of if you decide to continue with your travel plans.
Here are some upsides to consider:
More flight availability: Whether you're booking a flight with cash or miles, expect to have no problems finding a good seat. According to United Airlines, domestic bookings dropped by a staggering 70% over just a few days in March.
Lower prices: Airlines have been slashing prices in an attempt to encourage people to fly, and the result is that my email inbox has been inundated with flight deals over the past couple of weeks. I've even been surprised at how many I've seen from my home airport in Salt Lake City to destinations that aren't anywhere near outbreak epicenters. If you have some flexibility with your travel dates and destination, take a look at your options.
Relaxed airline policies for new bookings: While change and cancellation fee waivers can be hit or miss with reservations you've made in the past, you may have more luck catching a break on a flight you're booking right now.
Fewer crowds: In addition to lighter airplanes, you can also expect fewer crowds wherever you're planning to visit. That means you'll not only have a better experience but also a lower risk of getting infected with fewer people around.
"To us, the risks rarely outweigh the benefits," says Lowery. "Lower prices on airfare, accommodation, and cruises might persuade us to change our plans to include more travel in the short term."
The final word
COVID-19 has sent shockwaves across the world and the travel industry, and it's a good idea to exercise a little caution as you decide how to respond — especially in light of recent travel restrictions. Look at the facts and your situation, and carefully weigh both the benefits and risks of traveling during a pandemic.
And remember, your decision whether or not to travel right now is personal, the situation is fluid and the important thing is that you make the right decision for you.
Easy-to-Earn Unlimited Rewards
Earn 25,000 online bonus points after you make at least $1,000 in purchases in the first 90 days of account opening - that can be a $250 statement credit toward travel purchases
Earn 1.5 points per $1 spent on all purchases
Longer intro APR on qualifying purchases and balance transfers
No foreign transaction fees
Earn unlimited 1.5 points per $1 spent on all purchases, with no annual fee and no foreign transaction fees and your points don't expire.
25,000 online bonus points after you make at least $1,000 in purchases in the first 90 days of account opening - that can be a $250 statement credit toward travel purchases.
Use your card to book your trip how and where you want - you're not limited to specific websites with blackout dates or restrictions.
Redeem points for a statement credit to pay for travel or dining purchases, such as flights, hotel stays, car and vacation rentals, baggage fees, and also at restaurants including takeout.
0% Introductory APR for 15 billing cycles for purchases, and for any balance transfers made in the first 60 days. After the intro APR offer ends, 18.24% - 28.24% Variable APR will apply. A 3% fee applies to all balance transfers.
If you're a Preferred Rewards member, you can earn 25%-75% more points on every purchase. That means instead of earning an unlimited 1.5 points for every $1, you could earn 1.87-2.62 points for every $1 you spend on purchases.
Contactless Cards - The security of a chip card, with the convenience of a tap.
This online only offer may not be available if you leave this page or if you visit a Bank of America financial center. You can take advantage of this offer when you apply now.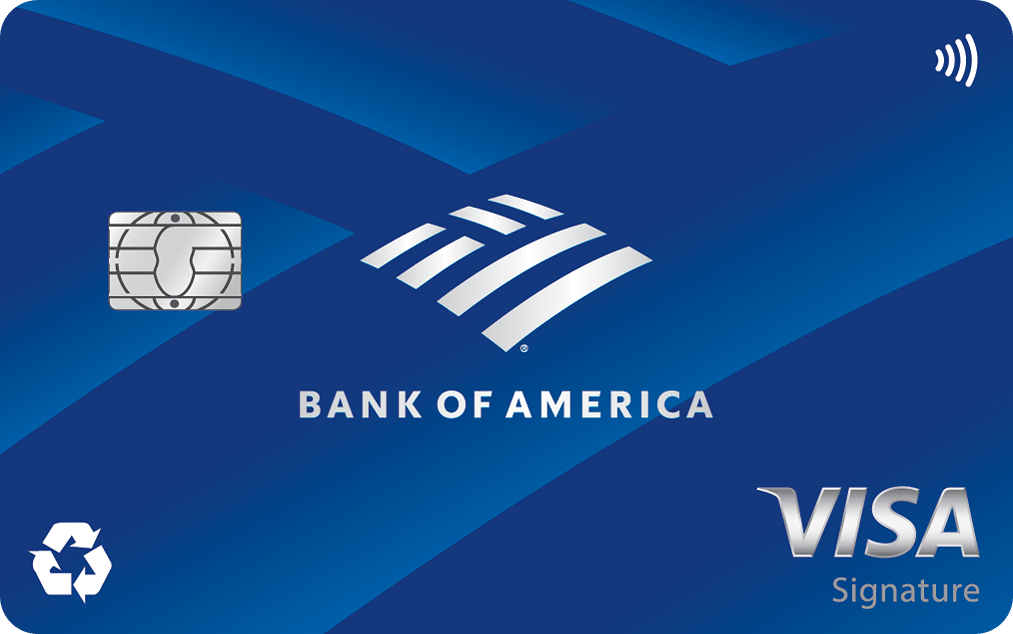 Apply Now
on Bank of America's secure website
Read Card Review
Intro Offer
Earn 25,000 online bonus points after you make at least $1,000 in purchases in the first 90 days of account opening - that can be a $250 statement credit toward travel purchases