Going on vacation can be a great experience — but a big expense. While you may not mind shelling out the cash to go on a great trip, you don't want to be out a ton of money if something goes wrong and your vacation can't continue as planned. You also don't want to face a whole bunch of surprise expenses if problems develop while you're away.
The good news is that travel insurance can protect you from financial loss if problems happen.
What is travel insurance, exactly? It's insurance that reimburses you for loss and damage if various catastrophes happen in connection with a trip. There are actually different kinds of coverage you could buy depending on your situation — and sometimes, you may already have coverage through one of your credit cards.
To get the protection you need, check out this guide to what travel insurance covers, what kinds of policies you may need, and where to get the coverage that's right for you.
What is travel insurance?
Travel insurance is insurance coverage that provides protection in case of problems connected with vacations or trips. You can buy policies from insurance companies, or you may get travel insurance through your credit card.
There isn't just one kind of travel insurance, as many different things could go wrong in the time leading up to your trip or after you depart. Some of the different types of travel insurance available include:
Trip cancellation insurance
Trip interruption insurance
Travel health insurance
Medical evacuation insurance
Lost or delayed baggage insurance
Accidental death insurance
Flight accident insurance
Buying this coverage is often advisable to make sure you don't lose a lot of money if you book non-refundable airfare, hotels, or tours; if your luggage is lost or delayed while you're traveling; or if something happens to you while you're away. You can buy a package, such as a vacation plan, that includes multiple kinds of coverage or buy individual policies.
What does travel insurance cover?
Different kinds of travel insurance will kick in to provide financial help or other assistance depending on what goes wrong. For example:
Trip cancellation insurance can reimburse you for non-refundable costs if you have to cancel your trip for covered reasons. These types of policies could pay you back for the costs of flights, hotels, cruises, or tours you booked if you or a family member gets sick or some other event out of your control happens that makes it impossible for you to go on a planned vacation.
Trip interruption insurance covers losses if something goes wrong after you've left on a trip. When you cannot continue the trip as planned for a covered reason, trip interruption insurance reimburses you for prepaid flights, hotels, tours, or other bookings you can't use due to cutting the trip short. Most policies repay your costs if you have to end your trip early because of injury or illness, a terrorist attack at your destination, one of your tour operators declares bankruptcy, or travel is interrupted because of a labor dispute.
Travel health insurance provides payment for medical services you need while away from home. Many standard health insurance policies don't cover you when you're out of the country. Travel health insurance protects you against incurring thousands of dollars in bills for health-care services you may unexpectedly need while abroad.
Medical evacuation insurance protects you in situations where you get sick or hurt in a location where the medical care you need isn't available to you. If you need to be transported somewhere to get care, medical evacuation coverage can pay for the costs. This could be especially important if you're going on a cruise and will be at sea or if you're visiting a location without advanced medical services.
Lost or delayed baggage insurance reimburses you for losses if something happens to your possessions. Delayed baggage insurance policies pay for you to buy toiletries, clothing, or other incidentals if your bags are delayed. Lost luggage insurance gives you money to replace your possessions if your luggage never shows up at all.
Accidental death insurance is similar to standard life insurance, but it pays out to your beneficiary only if you die while on your trip. Many policies actually provide coverage in case of both accidental death or dismemberment.
Flight accident insurance covers you if you're injured or killed while traveling on an airplane.
Annual trip insurance policies and group insurance policies
Many people travel only once or twice per year, so getting covered separately for each trip makes sense. But if you travel frequently, buying the necessary policies each time you go away may become expensive.
The good news is that annual trip insurance policies are available. These typically include most or all of the most common types of protection you'd want when you travel, including coverage for medical care, accident insurance, and luggage problems. However, cancellation or interruption insurance is often excluded, as this type of policy needs to be priced based on the specific cost of a planned trip.
Annual policies are often very affordable, and they're convenient because they remain in effect for 12 months, meaning you don't need to buy coverage separately for every trip you take. They also typically cover longer trips, while some travel insurance policies only provide protection for trips of short durations.
There are also convenient package options for people who travel together with family members and friends. When a large group is traveling together, group travel insurance can provide the same benefits as individual coverage but at a discounted rate. These policies typically require that every covered person has the same start and end date for their travel, as well as the same policy conditions, including the deductible and policy maximum. And those covered by the policy must be a part of a legitimate group — people traveling to different places can't buy group coverage just to save money on insurance.
How much does travel insurance cost?
The cost of travel insurance will vary depending on:
The kinds of coverage you buy
The cost of your trip
The risks you present based on factors such as your age
In general, comprehensive policies typically cost around 4% to 10% of the value of the trip that you're taking. However, you don't have to buy a policy that covers everything. You can buy protection for the specific types of losses you're most concerned about, often at a much lower rate. For example, you could get plans covering only lost or delayed luggage for less than $30 for round-trip flights to most destinations.
Who should buy travel insurance?
Purchasing travel insurance is an added expense, so you'll need to carefully weigh the pros and cons of buying coverage. One of the biggest things you should consider is the risk that something could potentially go wrong. The greater the likelihood of a problem developing, the more sense it makes to get covered.
For example, you may decide buying travel coverage is a very good idea if:
You or one of your family members is prone to health issues, and you fear you may not be able to go on the trip or complete the trip due to medical problems arising.
You're traveling to a dangerous area or an area where weather, terrorism, or other problems could easily occur and prevent the trip from going forward.
Your trip is very expensive, and you can't afford to lose the money if something happens that prevents you from going on vacation as planned.
You're traveling to a remote area where medical care might not be available, and you want to make sure you can be transported to a skilled health-care facility if something goes wrong.
If you're just going on a short trip that's relatively inexpensive, on the other hand, you probably don't need coverage. And if you're pretty healthy and are traveling within the United States and close to home, it may not be worth buying a policy either, as less could go wrong.
How do you choose the right travel insurance?
When you're buying travel insurance coverage, you can't assume every policy is created equal. It's important to look for affordable coverage that provides comprehensive protection. You don't want to shop based on price alone; instead, you want to make sure the policy overall is a good deal that will protect you against the losses you're most likely to incur.
As you shop for coverage:
Consider whether you want a comprehensive policy or a la carte coverage: It's much cheaper to just buy basic coverage for specific losses if you only want to protect against a few potential problems, such as misplaced bags. But if you want multiple types of coverage, getting a comprehensive plan can be better than a bunch of small individual policies.
Check what losses are actually covered: A policy saying it covers "trip cancellation," for example, isn't enough. You also need to know what types of events would trigger coverage if the trip is canceled. For example, does the policy cover cancellation due to terrorism or a war breaking out? Or does it only cover you if the trip is canceled because you get sick? Always look at the fine print to see when your policy protections apply.
Policy exclusions: On the flip side, look to see what situations the policy excludes. For example, some policies specify that if you have a preexisting condition or are pregnant, the trip cancellation or interruption insurance wouldn't apply if you can't go on the trip because of your existing medical condition or pregnancy complications.
Coverage caps: Is there a limit on how much will be reimbursed for lost luggage or canceled flights? Always check the amount of coverage you have so you can make sure you're fully protected.
Deductibles: Do you have to pay something out of pocket before the insurance begins to cover losses?
You'll want to tailor the coverage to each trip, buying a more comprehensive policy if the risk of something going wrong is greater.
Where do you buy travel insurance?
Travel insurance can be purchased through a travel agent, or you can buy a policy independently from one of many travel insurance providers.
Many companies that offer travel insurance sell policies online. You can use the internet to compare quotes and check out reviews of insurers you're considering to make sure they provide good customer service and pay claims promptly if things go wrong.
When is it too late to buy travel insurance?
It's usually a good idea to buy travel insurance coverage when you book your trip or soon after to make sure you have coverage in place. Many insurers have specific cut-off dates after which you can no longer purchase a policy — but those cut-off dates can vary from one insurer to another as well as based on the coverage you buy.
For example, if you buy a policy less than seven to 21 days before your departure, you're less likely to be able to get coverage for trip cancellation due to terrorist incidents, medical issues, or bankruptcy of any of your tour operators. And once your trip begins, you usually won't be able to get any further coverage at all.
What if my credit card comes with travel insurance?
If you have a credit card, there's a chance you'll have at least some travel insurance provided as a cardmember benefit. This is especially true if you have one of the best travel credit cards, as these cards often provide travel insurance as a perk. If you rely on your card's coverage, this could help you save money on vacation costs. However, you shouldn't just assume your card's coverage will be sufficient.  

Some cards offer only limited coverage, such as providing lost luggage benefits but no other perks. Others have major exclusions, such as restrictions that specify you won't be covered if a war breaks out or terrorism occurs. Still others provide only secondary coverage, requiring you to make claims on other insurance policies first, or they have small limits and cap reimbursement at less than what most trips or lost bags actually cost you.
Before you decide that you can rely on your card, make sure you understand all the coverage details, including the types of protections your card provides, the limits on that coverage, what events are covered, and what exclusions apply.
If your card provides sufficient coverage, you'll also need to be sure you pay for the trip with this specific card, as doing so is often required to benefit from the protections available to you as a cardmember.
Credit cards that offer travel insurance
Many different credit cards provide travel insurance, but some of the cards with the best coverage for travelers include the following:
Chase Sapphire Preferred® Card: This card provides trip cancellation and interruption insurance that reimburses you for up to $10,000 per person and $20,000 per trip. You also get baggage delay insurance, trip delay reimbursement, and travel and emergency assistance services. The card has a $95 annual fee but also offers triple points on dining and double points on travel purchases.
Citi Prestige (no longer available for applications): Cardmembers benefit from medical evacuation coverage, trip cancellation and interruption coverage, trip delay protection, lost and delayed baggage protection, worldwide travel accident insurance, and travel and emergency assistance. Although the card has a $495 annual fee, it provides plenty of perks, including five times the points on air travel and restaurants, triple points on hotels and cruises, and one point per dollar spent on other purchases. You can also get up to $250 in travel credit each year you're a cardmember.
Chase Sapphire Reserve®: With this card, you get trip cancellation and interruption insurance, lost or delayed luggage coverage, trip delay reimbursement, and emergency evacuation and transportation coverage. The annual fee of $550 can be offset by the $300 annual travel credit, 3X points on other travel and dining, and a 50% bonus on rewards points redeemed for travel through Chase Ultimate Rewards. This card also comes with DoorDash and Lyft perks that can more than help the right cardholder make up for the annual fee.
Often, the cards with the best travel insurance protection have high annual fees. However, it may be less expensive to get a card that offers comprehensive coverage and other perks than to buy a travel insurance policy from an insurance agency for every trip you take.
Making smart choices about travel insurance coverage
Knowing how travel insurance works — and what the limitations are — is important before you book any trip. You should always weigh the pros and cons of getting covered so you can decide if buying insurance is a good idea when you're going on vacation.
Also, don't forget to check if you're covered by your credit card before purchasing travel insurance — and to always read the fine print on any policy — as you don't want to spend money unnecessarily on coverage you don't need or waste money on coverage that doesn't provide the protection you're looking for.
Easy-to-Earn Unlimited Rewards
Earn 25,000 online bonus points after you make at least $1,000 in purchases in the first 90 days of account opening - that can be a $250 statement credit toward travel purchases
Earn 1.5 points per $1 spent on all purchases
Longer intro APR on qualifying purchases and balance transfers
No foreign transaction fees
Earn unlimited 1.5 points per $1 spent on all purchases, with no annual fee and no foreign transaction fees and your points don't expire.
25,000 online bonus points after you make at least $1,000 in purchases in the first 90 days of account opening - that can be a $250 statement credit toward travel purchases.
Use your card to book your trip how and where you want - you're not limited to specific websites with blackout dates or restrictions.
Redeem points for a statement credit to pay for travel or dining purchases, such as flights, hotel stays, car and vacation rentals, baggage fees, and also at restaurants including takeout.
0% Introductory APR for 15 billing cycles for purchases, and for any balance transfers made in the first 60 days. After the intro APR offer ends, 18.24% - 28.24% Variable APR will apply. A 3% fee applies to all balance transfers.
If you're a Preferred Rewards member, you can earn 25%-75% more points on every purchase. That means instead of earning an unlimited 1.5 points for every $1, you could earn 1.87-2.62 points for every $1 you spend on purchases.
Contactless Cards - The security of a chip card, with the convenience of a tap.
This online only offer may not be available if you leave this page or if you visit a Bank of America financial center. You can take advantage of this offer when you apply now.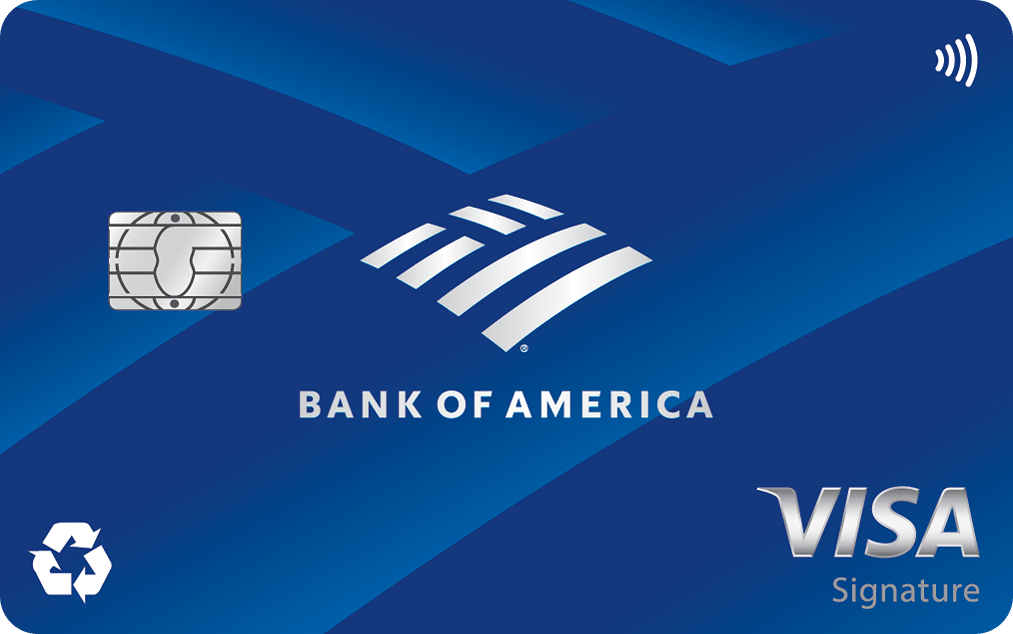 4.1
FinanceBuzz writers and editors score cards based on a number of objective features as well as our expert editorial assessment. Our partners do not influence how we rate products.
Apply Now
on Bank of America's secure website
Read Card Review
Intro Offer
Earn 25,000 online bonus points after you make at least $1,000 in purchases in the first 90 days of account opening - that can be a $250 statement credit toward travel purchases