You may think Costco and buying food in bulk is only suitable for families or big households, but some items make sense to get at the wholesaler even if you live on your own.
Check out these Costco finds that are perfect for people who live alone, and consider paying for your purchases with one of these top Costco credit cards to help your dollar go even further.
Kirkland Signature Farmed Atlantic Salmon
Costco has some great products under its Kirkland Signature line, including its Kirkland Signature Farmed Atlantic Salmon.
Each salmon filet is individually wrapped, so you don't have to worry about going through the pack quickly to avoid freezer burn. 
Just pick up a three-pound bag for $38.60 from your local store and take one or two out at a time for a tasty, budget-friendly meal.
Bounty Advanced Paper Towels
Everyone can use paper towels, and with Costco, you can buy them in bulk and have an ample supply on hand whenever you need them.
The warehouse retailer has several options, including the Bounty Advanced 2-Ply Paper Towels, which come in a 12-pack for $28.65 at your local Costco.
Prescription drugs
Costco's excellent prescription drug program can help you save money when you head to the retailer to pick up your prescriptions. In addition, your membership card can get you good deals on many popular medications.
And if you can't make it to Costco to pick up your prescriptions all the time, the retailer can also ship them to you and allow you to auto-refill medications without going into the store.
Blue Buffalo Dog Food
Don't forget about your furry friends. Costco also offers excellent deals on many popular pet foods and supplies.
Consider the Blue Buffalo Life Protection Formula Chicken and Brown Rice Recipe Dog Food, which comes in a whopping 38-pound bag for $74.87 to feed your favorite canine.
Rotisserie Chicken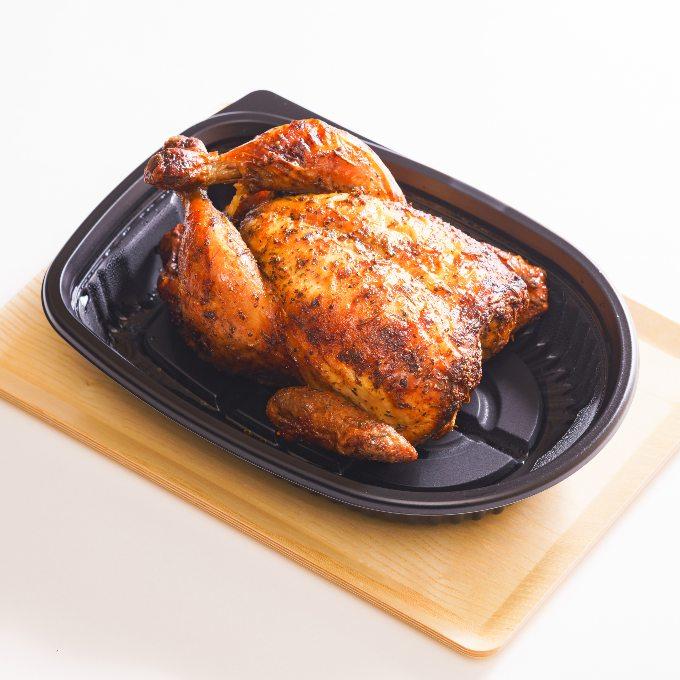 One of the many items Costco is known for is its rotisserie chickens, which you can pick up for $5.84 the next time you shop at the retailer.
If you live alone, the rotisserie chicken is perfect for meals, or you can use it as an ingredient for different recipes that you can store for later or as part of a meal-prep plan. 
Earn 2% cash rewards at grocery stores and Costco
The Wells Fargo Active Cash® Card(Rates and fees) is a powerful rewards card that allows you to earn unlimited 2% cash rewards on purchases — including on groceries, even at warehouse stores like Costco.

New cardholders can also earn a one-time cash rewards bonus — $200 cash rewards bonus after spending $500 in purchases in the first 3 months!
If you're looking for a powerful rewards card that offers an extended intro APR period, look no further, the Wells Fargo Active Cash® Card checks that box too!
This card also offers an intro APR of 0% for 15 months from account opening on purchases and qualifying balance transfers (then 20.24%, 25.24%, or 29.99% variable). Which is great for someone who wants a break from high interest rates, while still earning rewards.
The best part? There's no annual fee.
Click here to apply for the Wells Fargo Active Cash® Card now.
Kirkland Signature Trail Mix
Costco has some fantastic snacks to pack your pantry, and its Kirkland Signature Trail Mix is a perfect example. The Costco box comes with 28 individual snack packs you can grab whenever you need a quick bite or take on the go.
The trail mix includes nuts, raisins, and M&Ms, and you can get it at Costco for $18.71.
Hawkins Leather Power Recliner
Costco is also an excellent place to save money on furniture, so pick up the Hawkins Leather Power Recliner for any room in your home.
The recliner, which sells for $899.99 at Costco, comes in gray, blue, or red leather and can be delivered directly to your place when you order it from the retailer.
Samsung Television
Get a new television for your space with Costco's deal on a Samsung 55-inch television. 
The television is a smart TV with access to different streaming services, and you can get free access to Showtime and Paramount+ or Peacock streaming services for a limited time with your new TV.
You can get one from Costco for $1,599.99 with up to five years of warranty coverage.
Elevated Garden Planter
If you don't have much outdoor space for gardening, grab a Self-water Elevated Garden Planter from Costco to grow your own vegetables, flowers, and other plants.
The planter, which retails for $159.99 at Costco, features a self-watering reservoir system, so you don't have to constantly worry about watering it outside.
Kirkland Signature Breakfast Blend Organic K-Cup Pods
One-cup coffee makers can be a convenient option when you live alone, but it may be challenging to find coffee that fits into your one-cup machine.
Costco has you covered with the Kirkland Signature Breakfast Blend Organic K-Cup Pods, which come in a pack of 120 K-cups. Grab a box for $43.28, so you'll always have one around.
See if your groceries could be making you money
Everything's more expensive now. Coffee. Gas. Groceries.
And if these sharp price spikes have been hurting your bank account, you're probably looking for any chance to save … or at least cut back.
Here's a little trick to help: Download Acorns, and you could start saving and investing for the long run with every morning coffee, gas station fill-up, or grocery store run.
With Acorns and the Round-Ups® feature, your daily purchases get rounded up to the next dollar. The "spare change" difference gets invested in expert-built investment portfolios1 … 100% on autopilot. Just shop like normal, and you can start saving and investing.
BONUS: Set up Recurring Investments and Acorns will give you a $20 bonus after you make your first successful Recurring Investment (minimum $5).
Paid Non-Client Promotion
Kirkland Signature Canned Chicken Breast
Want to add some chicken to a dish but don't feel like cooking a whole chicken breast for yourself? Try Kirkland Signature's Canned Chicken Breast as an easy solution.
The pack of six cans of chicken breakfast, each with 12.5 ounces, will cost you $14.96 at your local Costco.
Kirkland Signature Three Berry Blend
You may have an excellent blender that is the perfect size for a smoothie just for you each morning.
Treat yourself to the Kirkland Signature Three Berry Blend for $17.54 at Costco. The blend includes raspberries, blueberries, and blackberries and can easily be stored in your freezer until you're ready to use it.
Healthy Choice Organic Fudge Bars
If you have a sweet tooth, Costco offers plenty of tasty treats to stock in your freezer.
The Healthy Choice Organic Fudge Bars come in a pack of 18 low-fat bars to satisfy your sweet tooth. Be sure to add a box to your Costco cart for $14.61.
Flowers
There's no rule that says you can't buy flowers for yourself, so brighten up your space with flowers from Costco.
One of the best deals may be Costco's Premium Floral Bouquet, which includes a good variety of different flowers for $19.88 from your local Costco.
Crest 3D White Advanced Toothpaste
Even living alone, your bathroom should still be stocked with the essentials. For example, you should keep an ample supply of hand soap and toothpaste in your cabinets, such as the Crest 3D White Advanced Toothpaste.
The toothpaste comes in a pack of five tubes for $18.71, so you won't have to worry about buying more toothpaste for a while.
Nabisco Ritz Crackers
Another tasty snack to have on hand is Nabisco Ritz Crackers. Costco offers a box that includes sleeves of 18 crackers, so feel free to enjoy them on your own or bring them out during your next party.
Bottom line
Costco is a great place to shop if you're looking to save money on groceries. From pantry staples to home furnishings, the retailer has a little bit of everything — even if you live alone.
Since many of their items are sold in bulk, check your pantry and freezer before heading to the store. This way, you'll know exactly what you do (and do not) have room for, which can help you avoid overspending.
Lucrative, Flat-Rate Cash Rewards
Current Offer
$200 cash rewards bonus after spending $500 in purchases in the first 3 months
Rewards Rate
Earn 2% cash rewards on purchases