There are plenty of ways to show off your status as a Costco superfan who loves to save money shopping, such as a Kirkland Signature hoodie or sweatpants.
But now you have a new way to show off your love for Costco with the Costco Monopoly game. Monopoly fans can also get excited about getting a different edition of the board game that combines their love of Monopoly with their favorite warehouse retailer.
What can you expect from the new Costco board game? Here are a few things to keep an eye out for when you get your own Costco Monopoly game.
Get a protection plan on all your appliances
Did you know if your air conditioner stops working, your homeowner's insurance won't cover it? Same with plumbing, electrical issues, appliances, and more.
Whether or not you're a new homeowner, a home warranty from Choice Home Warranty could pick up the slack where insurance falls short and protect you against surprise expenses. If a covered system in your home breaks, you can call their hotline 24/7 to get it repaired.
For a limited time, you can get your first month free with a Single Payment home warranty plan.
SPONSORED
You can buy Costco Monopoly at Costco
Costco Monopoly is the perfect item to check for the next time you go to your local Costco, especially if you're starting holiday shopping now for your favorite Costco fan.
But don't worry if you can't find it on a Costco shelf. You can also order the board game from Costco's website for $44.99, although it may be cheaper in-store.
Costco token pieces
Forget the car, top hat, or wheelbarrow. Costco has its own unique Monopoly pieces for you to choose from.
Grab a pizza slice, shopping cart, pallet jack, Costco employee badge, or a mini version of Costco's iconic big bear to make your way around the board. The tokens also feature Costco's signature hot dog and a drink you can pick up at the food court for only $1.50.
Oversized board
The standard Monopoly board is a square 20 inches by 20 inches. But just like its stores, Costco decided to go bigger with its Monopoly board.
Make sure you have extra room on your gaming table for the Costco version, which comes in at 22 inches by 22 inches to give you and your fellow Costco fans extra room to play.
---
SPONSORED
Stop overpaying when you shop online
Shopping online has its perks. It's super convenient, but it can be time consuming to find the best deals. Instead of hunting for coupon codes (that don't always work!) and opening tons of browser tabs comparing prices, you can try Capital One Shopping.
Capital One Shopping makes saving money effortless. Just add the browser extension and when you check out, it'll scour the internet for coupon codes to help you save cash. And before you check out at 25+ major retailers, Capital One Shopping will notify you with a friendly pop-up if the item you're buying is available cheaper somewhere else.
Capital One Shopping is free to use and won't show you ads. Add it today and stop overpaying! 1
Costco locations from around the world
Instead of picking up property like Pennsylvania Avenue to Park Place, each property box is an illustration of a city with a Costco location.
Check out the spots for places like Stockholm, Seoul, San Diego, and Seattle near Costco's company headquarters in Washington state.
Costco pieces for building
You may be used to the typical Monopoly board that allows you to build houses and hotels on your properties to earn more money. But Costco isn't a houses and hotels kind of company.
Instead, you can put little red picnic tables on your properties to start collecting rent from your opponents, or you can upgrade to blue warehouses and collect even more cash.
Chance cards that look like Costco cards
Chance cards can give you a good or bad break when you're playing a regular Monopoly game.
But in Costco Monopoly, those basic cards are replaced by cards that look like Costco's Gold Star membership and Executive membership cards. They also sit on the game board in cute mini pallets shaped like the cards.
Well-researched artwork
Chuck Dillon, who did the art for the Costco Monopoly board, said he researched different Costco locations to make sure he got them right for the art on the board.
Dillon took more than a year to complete the project for the Costco board, with plenty of research and drawing before the final product was ready for Costco fans.
Over 200 characters in the center of the board
One of the things Dillon worked hard on was the illustration in the center of the board that shows off all kinds of people shopping at Costco.
There are more than 200 characters in that center square you can check out while you're playing. Find your favorite shopper or spot the family eating at the iconic red picnic tables in the food court.
Red and blue dice
Costco decided to swap the basic black and white dice for something much more colorful to make it look even more like a Costco board game.
The boring dice have been replaced by blue and red dice that perfectly match Costco's logo. It's a little detail that super fans are sure to enjoy.
---
SPONSORED
Earn 2% cash rewards at grocery stores and Costco
The Wells Fargo Active Cash ® Card (Rates and fees) is a powerful rewards card that allows you to earn unlimited 2% cash rewards on purchases — including on groceries, even at warehouse stores like Costco.

New cardholders can also earn a one-time cash rewards bonus — $200 cash rewards bonus after spending $500 in purchases in the first 3 months!
If you're looking for a powerful rewards card that offers an extended intro APR period, look no further, the Wells Fargo Active Cash ® Card checks that box too!
This card also offers an intro APR of 0% for 15 months from account opening on purchases and qualifying balance transfers (then 20.24%, 25.24%, or 29.99% Variable). Which is great for someone who wants a break from high interest rates, while still earning rewards.
The best part? There's no annual fee .
Click here to apply for the Wells Fargo Active Cash ® Card now.
Fans love it
Some fans already have their hands on the new board game and said great things about it.
"This is an oversized board with the most amazing details that include every Costco staple, big and small," declared one fan on Instagram.
And fans on X, formerly known as Twitter, declared, "I definitely want it," and "Oh, Costco, just take my money!"
Bottom line
There are plenty of great Costco hacks that can save you money, including a few you might pick up while playing Costco Monopoly.
It's a good idea to check your wallet and ensure you have the best rewards credit cards to earn extra perks and points on your next Costco trip.
Lucrative, Flat-Rate Cash Rewards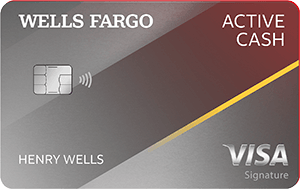 5.0
FinanceBuzz writers and editors score cards based on a number of objective features as well as our expert editorial assessment. Our partners do not influence how we rate products.
Current Offer
$200 cash rewards bonus after spending $500 in purchases in the first 3 months
Rewards Rate
Earn 2% cash rewards on purchases