It's a new year and COVID-19 is in the air, as well as the news. Upticks in recent COVID-19 cases continue to snarl travel plans, with airlines canceling flights left and right, largely due to a lack of crew members.
What might have been previously seen as an unsurprising holiday surge in flight cancellations (thousands of flights were canceled worldwide on Christmas Eve and Christmas) has continued into 2022 as more than just a seasonal event. And who's to blame? Omicron — the latest coronavirus variant sweeping the nation and the entire world.
But how exactly has Omicron impacted people's travel plans? FinanceBuzz surveyed 1,000 U.S. adults to find out and compare the travel impact of Omicron vs. Delta.
Key Findings
More U.S. adults canceled plans during the initial outbreak of COVID-19 (43% in May 2021) and the Delta variant (35% in Aug. 2021) than have canceled during Omicron (31% in Jan. 2022).
Over half of the survey respondents (51%) have already canceled or changed plans because of the Omicron variant.
People are less likely to consider a potential travel destination's masking rules when planning travel now (63%) than during the Delta surge (69%).
31% of respondents say they would be "much less likely" to fly if airlines stopped requiring masks on flights, an 8% increase since August.
Travelers' biggest worry with international travel is getting the coronavirus while abroad and having to quarantine in another country. 41% of survey respondents cited this concern.
Omicron's impact on travel plans
The Omicron variant has seen similar numbers to the Delta variant when it comes to changing or canceling travel plans. Over half of the respondents (51%) say they have already canceled or changed plans because of Omicron, which is near the numbers (57%) of Delta. But the original outbreak still shows the highest percentage (43%) of completely canceled travel plans.
Of those who indicated they'd already canceled or changed travel plans (or expected to), close to 1 in 3 have canceled a road trip (34%), canceled a hotel reservation (32%), and/or changed their travel destination (31%).
As travel remains unpredictable, travelers are taking precautions. This includes booking refundable options (39%), waiting longer to book travel (35%), and being more likely to buy travel insurance (25%).

At the beginning of the pandemic, there were few travel insurance policies that covered coronavirus-related situations, such as quarantines and other issues. Now, you can get travel insurance that includes COVID-19 coverage (it might be labeled "epidemic coverage" or something similar).
Attitudes about flying and masking during Omicron
A federal mask mandate requires air travelers to wear masks in airports and on airplanes. This hasn't gone over well with everyone. The number of unruly passengers fighting against masks has risen dramatically.
Yet, nearly half of travelers (47%) said they'd be less likely to fly if mask mandates ended, including 31% of respondents who would be "much less likely" to fly. That's an 8 point increase in those "much less likely" to fly versus the 23% response we received in Aug. 2021 when we asked people the same question.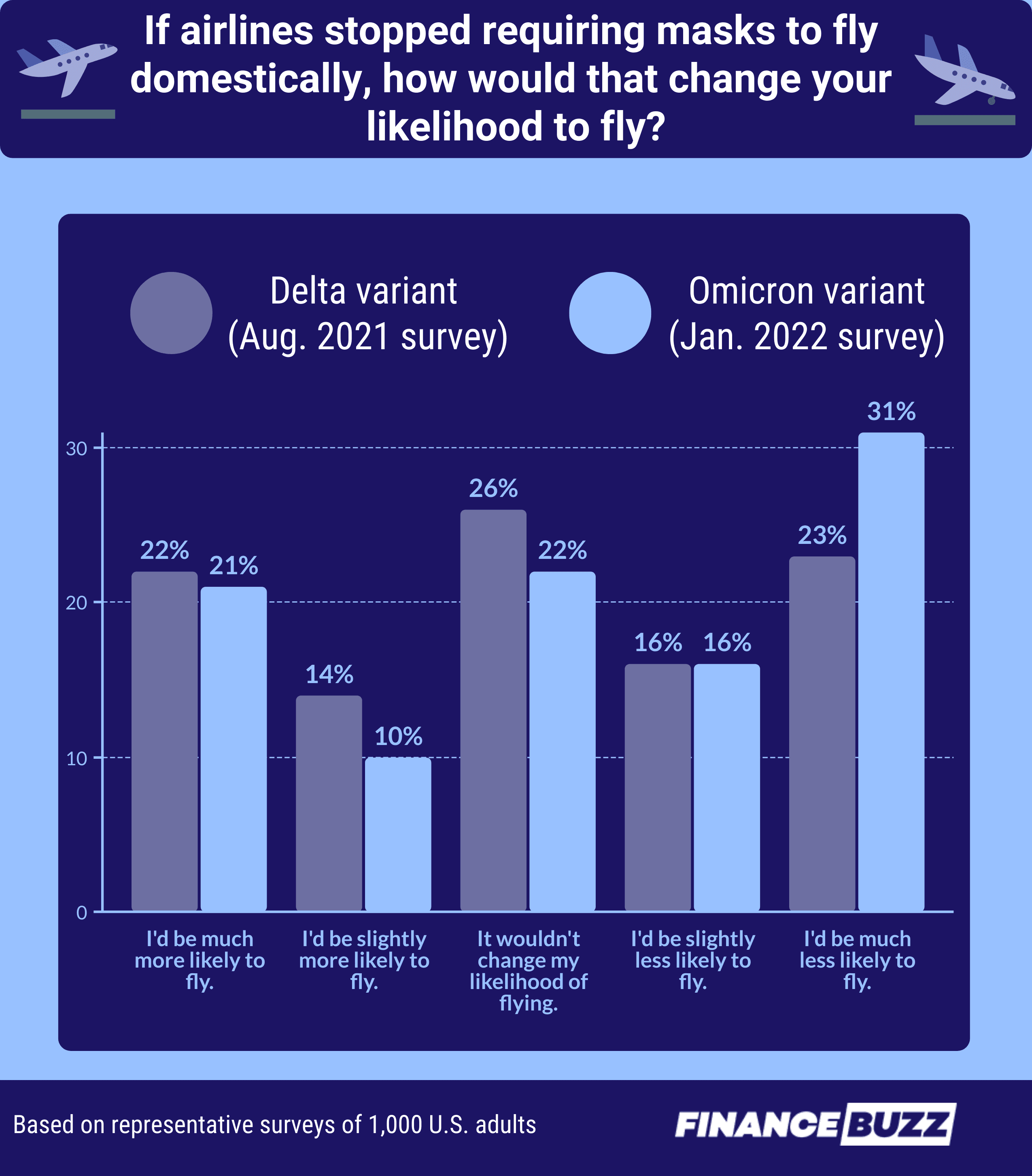 We also asked travelers whether they considered the masking rules of a particular area when choosing vacation destinations. While 63% said yes, that's a decrease from the 69% who said the same during the Delta surge.

Feelings about international travel during Omicron
Having concerns about domestic travel during the coronavirus pandemic is one thing, but what about international travel? Depending on your destination, you potentially have to worry about changing restrictions within the country you want to visit and restrictions upon returning to the United States. Case in point, the U.S. recently changed its requirements for travelers entering the country.
While changing COVID-19 restrictions are a big concern for many international travelers (33%), the biggest pandemic-related concern is getting COVID-19 while abroad and needing to quarantine (41%). To help alleviate this concern, some hotels are offering free quarantines and assistance if you get the virus while visiting.
If a guest tests positive for COVID-19 during their stay, Baha Mar in the Bahamas provides them with courtesy accommodations and a daily in-room dining credit (up to $150 per person per day) for up to 14 days or until the guest receives a negative COVID-19 test result. If a guest at the resort needs to leave the Bahamas earlier, Baha Mar will provide private air travel back to the U.S. for the guest and their immediate family (up to four additional people staying in the same room).
Other international travel concerns include getting COVID-19 while abroad and needing medical care (34%) and the possibility of flight cancellations that could ruin your travel plans (34%).
How to help protect your travel plans
Nobody wants a vacation ruined by the coronavirus. Some extra planning could help. Here are a few tips to keep in mind to help protect your travel plans:
Book refundable options: One of the easiest ways to get your money back if you have to cancel any part of your trip is to book refundable options. These options might cost more, but paying the increased cost is likely better than losing everything you've already paid if you have to cancel.
Book using points and miles: Many of the best travel credit cards offer ways to use points and miles for award bookings. Award flights and hotel stays are often flexible (though not always), sometimes allowing free cancellations or the opportunity to make changes for a fee.
Be flexible with where and when: With constantly changing COVID-19 requirements worldwide and frequent flight cancellations, your best bet for traveling might rely on your flexibility. It could make sense to have one specific country or destination you'd like to visit, then have a backup option, and then a backup option for your backup option. Having a few different options for when you can travel wouldn't hurt either.
Use travel credit cards that offer insurance: Apart from offering valuable rewards, many travel credit cards also provide different types of insurance. This coverage could include trip cancellation and interruption insurance, car rental insurance, and trip delay reimbursement. Credit card insurance doesn't typically cover COVID-19-related situations, but credit cards with travel insurance could still prove useful for common travel mishaps.
Purchase travel insurance that covers pandemics: If you want coverage for COVID-19-related events while traveling, you likely need a specific travel insurance policy. These policies have become more common since the onset of the global pandemic in 2020, which makes it easier for travelers to find a policy they're comfortable with.
Methodology
FinanceBuzz surveyed between 1,000-1,500 U.S. adults ages 18 or older, who comprise a nationally representative sample of Americans, on May 12, 2020 (during the original COVID-19 outbreak), August 5, 2021 (while the Delta variant was the dominant strain), and January 12, 2022 (while the Omicron variant was the dominant strain).