A credit card chargeback is the reversal of a credit card transaction. A consumer typically requests these for a variety of reasons, which could include an unauthorized charge. But you could see plenty of other situations where a chargeback might be a reasonable course of action.
To help you learn more about credit card chargebacks, we've outlined what they are, when you might request one, and how the process works. This can help you know what to do if you're ever in a position where it might make sense to request a chargeback.
What is a credit card chargeback?
Chargebacks can occur for both debit cards and credit cards. A cardholder or a card issuer, such as Chase or American Express, can dispute credit card account transactions for different reasons. Disputing a transaction starts the process to see whether the transaction will be reversed.
With credit cards, a chargeback would typically occur after a successful dispute about a charge on your card. Here are a few common types of chargeback reasons:
Credit card fraud or unauthorized usage: Someone uses your credit card without your prior authorization to make purchases. This could involve cases of identity theft.
Missing goods or services: You buy a product or service and never receive what you paid for.
Incorrect goods or services: You buy a product or service and receive something different than what you paid for.
Incorrect charge amount: You're charged the incorrect amount for goods or services. This could include being charged twice for a purchase.
Missing return credit: You return goods or cancel a service and are supposed to receive a refund according to a merchant's refund policy but don't receive anything.
When should you request a chargeback?
Credit card chargebacks are typically contained to the above examples, but you might see some interpretation on what "incorrect goods or services" means. For example, a merchant or retailer might think they've provided what you've paid for, but you could disagree. In this case, you might consider requesting a chargeback if you can't come to a resolution with the merchant.
But retailers are often willing to resolve any issues if the request is reasonable. They should typically be your first point of contact when seeking a solution rather than immediately requesting a chargeback. The process could be quicker than working with your credit card company. Merchants can typically issue a refund or provide you with a replacement product in less time than a chargeback takes.
With fraud or unauthorized charges, you should typically report these issues to your credit card company and then request a chargeback. According to the Fair Credit Billing Act and for consumer protection, your responsibility for unauthorized charges is limited to $50. But most credit card issuers have zero liability rules, where you aren't responsible for any unauthorized charges, in place for their cardholders.
For billing errors, you might want to first contact the merchant about an incorrect charge. If it doesn't seem like the merchant is willing to help or is dragging its feet, it would likely make sense to dispute the charge with your card issuer and accelerate the process.
How to request a chargeback
The steps for starting a chargeback request will depend on the card issuer, but they're typically very similar. You can either contact your credit card company to see what you need to do or search online for the answer.
You can follow this same method for any major bank or card issuer, and the steps for disputing a charge will be nearly identical. For example, Chase recommends these steps:
Review your charge details: To err on the side of caution, it's often best to review your credit card statement to make sure the charge is actually incorrect. If it is, move on to the next step.
Contact the merchant: You don't have to take this step, but it's not a bad idea to contact the merchant about your incorrect charge. It could take a while to resolve a credit card dispute through Chase, while a merchant might provide a quicker solution.
Dispute the charge with Chase: If you've gone through the first two steps without any resolution, it's time to dispute the charge with Chase. You'll have to sign in to your account and find the specific transaction to submit your dispute. The process for disputed charges could take as long as 60 days.
FAQs
Does a chargeback hurt your credit?
A chargeback should not affect your credit, whether positive or negative. You might have a notation about a dispute on your credit report, but this would typically be for informational purposes only.
How long does it take a chargeback to work?
The length of time varies by card issuer or card network, such as Mastercard, Visa, or Discover, but it's not uncommon for a chargeback request to take up to 60 days to process. If you want to potentially avoid this lengthy time frame, consider contacting a merchant or retailer directly about your transaction issue.
This could result in a quicker resolution for the charge you want to dispute. Be aware, issuing banks could also have time limits on how long after a transaction you're able to dispute a charge.
How does a chargeback work on a credit card?
A credit card chargeback reverses a specific transaction on a card after a successful dispute process and chargeback request. You might request a chargeback for a variety of reasons, including unauthorized charges or incorrect charges on your card. Or you might start a dispute if you never received goods or services that were paid for or you received incorrect goods or services.
It often makes sense to contact a merchant directly to help resolve these issues because you might find a quicker solution than filing a dispute with your credit card company.
Bottom line
Credit card chargebacks could be a valuable tool if you're in a situation where you might want to dispute a card transaction. However, this doesn't mean you can or should request a chargeback for anything you're dissatisfied with. Filing a chargeback dispute should be reserved for legitimate instances where something is incorrect, whether a billing error, an unauthorized charge, or something similar.
Otherwise, it could be considered what's referred to as "friendly fraud," where a small business might be taken advantage of by consumers requesting chargebacks without a legitimate reason. For example, they might be feeling buyer's remorse. Businesses, including e-commerce businesses, typically have to pay chargeback processing fees when chargebacks occur. These chargeback fees can hurt small businesses that might already be operating with limited cash flow.
If you aren't happy with a product for a reason that wouldn't apply to chargebacks, consider an alternative course of action. Many credit cards offer robust insurance and protection policies, from purchase protection to return protection and more. With the right card in your wallet, you can help stay secure with your purchases. For more information, check out our page where you can compare credit cards.
Lucrative, Flat-Rate Cash Rewards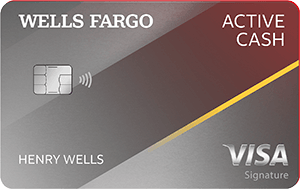 5.0
FinanceBuzz writers and editors score cards based on a number of objective features as well as our expert editorial assessment. Our partners do not influence how we rate products.
Current Offer
$200 cash rewards bonus after spending $500 in purchases in the first 3 months
Rewards Rate
Earn 2% cash rewards on purchases