Credit cards offer simple and convenient ways to make purchases in stores or online. Plus, you can typically track your spending from apps or online accounts. But do you know about all the other benefits associated with different credit cards?
If not, you're not alone. Besides being a convenient payment method, credit cards offer many other benefits, including different types of insurance and protections that could come in handy for traveling or shopping. Let's take a look at some of these benefits so you can see which ones you may not be taking advantage of.
Cell phone protection
Your cell phone could have all your contacts, photos, apps, and other important information — and it might cost upward of $1,000 Needless to say, cell phones are expensive and essential tools for many of us, which means it pays to keep them safe.
There are certain credit cards with cell phone protection that will typically reimburse you for eligible claims if your phone is lost, stolen, or damaged. You may have to pay your cell phone bill with your applicable card to receive this coverage.
Concierge services
Many of the best rewards cards offer concierge services to their cardholders, which typically means you have 24/7 access to personalized assistance for different situations. This could include getting help with travel plans, making dinner reservations, or securing tickets to a popular sporting or entertainment event.
You might be surprised where these services could come in handy. If you have a card that offers these services, it could make sense to make a quick phone call to see if you can get a table at a popular restaurant or tickets to a sold-out concert.
Experiences
If you compare credit cards, it's common for many major card issuers to offer exclusive opportunities and experiences to their card members. For example, you might have access to popular sporting events, including Wimbledon packages or tickets to an NBA game.
If you're a foodie, you might be interested in different dining experiences. Or if you're a film enthusiast, it could be fun to go to the Sundance Film Festival. Wherever your interests lie, it could make sense to see what your card has to offer.
Extended warranty protection
For many cards, extended warranty protection is often a built-in perk. This benefit typically extends an item's original warranty by a year and applies to eligible purchases made with your card.
This could be helpful when an item becomes defective right after the original warranty runs out. With this protection in place, you get coverage for more time, which could ultimately save you money.
No foreign transaction fees
Do you like to travel? If so, you might be familiar with pesky foreign transaction fees that are charged when making purchases abroad. These fees apply to many credit cards, but you can often avoid them by using travel credit cards.
There's nothing you need to do to activate this benefit as most credit cards will either charge these fees or not. It could make sense to have a travel card handy if you travel often or plan to travel in the future. If your card doesn't have this benefit, you might be paying around 3% extra for each foreign transaction you make — and that could quickly increase the cost of your travels.
Purchase protection
For the everyday shopper, purchase protection is often a handy benefit to have. Depending on your card, this benefit covers eligible new purchases for a certain number of days against damage or theft. For example, if you buy a new cell phone and it gets damaged two weeks later, you might be able to submit a purchase protection claim and get some money back.
Many of the best cashback credit cards offer this protection, which could be helpful if you like earning cash back and want extra protection for your eligible purchases.
Rental car insurance
Many rental cars often come with additional costs in the form of insurance coverages. These aren't necessarily bad protections to pay for, but they can definitely increase your overall rental price.
In certain situations, having a credit card that offers rental car insurance could save you money. This type of insurance typically covers theft and collision damage to your rental vehicle, so you likely wouldn't have to pay for this coverage from the rental agency. You typically have to decline the agency's collision insurance and charge the entire rental to your applicable card.
It's also worth checking to see if your credit card offers primary or secondary rental coverage and which countries this coverage works in.
Reward transfers
If you have a rewards card, you've likely redeemed your rewards for flights, hotel stays, cash back, or something similar. But with certain cards, you might have the additional option to transfer your rewards to a travel partner, such as the loyalty program of an airline or hotel.
This could be helpful if you find a particular flight or hotel redemption that works for your travel plans. Using this strategy might also make sense if you already have rewards with another program, but you need a bit more to complete an award booking. With many credit card rewards programs, the transfer process to travel partners is typically quick and straightforward.
ShopRunner
ShopRunner is a program that offers free delivery and free return shipping at over 100 online stores. In some cases, your delivery could be as quick as two days. ShopRunner typically has a subscription cost, but eligible American Express credit cards and certain other cards offer a membership for free.
Online stores that participate with ShopRunner include Under Armour, Coach, Neiman Marcus, Lenovo, Tommy Hilfiger, and more.
Trip insurance
Travel credit cards often provide different types of trip insurance.. This could include travel cancellation or interruption insurance, baggage delay insurance, and trip delay reimbursement coverage.
These types of coverage often apply if you meet certain criteria, such as your baggage being delayed for over six hours, your trip being canceled or interrupted for covered situations, or your travel being delayed by over 12 hours. The actual terms depend on your card, but having these protections in place could save travelers a lot of money.
Bottom line
Apart from being powerful tools for building a healthy credit history, credit cards can often provide loads of value from their perks and benefits. It's worth it to know the benefits your cards offer. Take a look at your card benefits to see if there are additional opportunities for you to save money.
If you want to maximize your efforts to earn rewards and keep money in your pocket, consider using credit cards for specific purposes. This could include using specific cards on everyday purchases where you'll earn the most rewards. To get started, check out our list of the best credit cards for gas.
Easy-to-Earn Unlimited Rewards
Earn 25,000 online bonus points after you make at least $1,000 in purchases in the first 90 days of account opening - that can be a $250 statement credit toward travel purchases
Earn 1.5 points per $1 spent on all purchases
Longer intro APR on qualifying purchases and balance transfers
No foreign transaction fees
Earn unlimited 1.5 points per $1 spent on all purchases, with no annual fee and no foreign transaction fees and your points don't expire.
25,000 online bonus points after you make at least $1,000 in purchases in the first 90 days of account opening - that can be a $250 statement credit toward travel purchases.
Use your card to book your trip how and where you want - you're not limited to specific websites with blackout dates or restrictions.
Redeem points for a statement credit to pay for travel or dining purchases, such as flights, hotel stays, car and vacation rentals, baggage fees, and also at restaurants including takeout.
0% Introductory APR for 18 billing cycles for purchases, and for any balance transfers made in the first 60 days. After the intro APR offer ends, 17.74% - 27.74% Variable APR will apply. A 3% fee applies to all balance transfers.
If you're a Preferred Rewards member, you can earn 25%-75% more points on every purchase. That means instead of earning an unlimited 1.5 points for every $1, you could earn 1.87-2.62 points for every $1 you spend on purchases.
Contactless Cards - The security of a chip card, with the convenience of a tap.
This online only offer may not be available if you leave this page or if you visit a Bank of America financial center. You can take advantage of this offer when you apply now.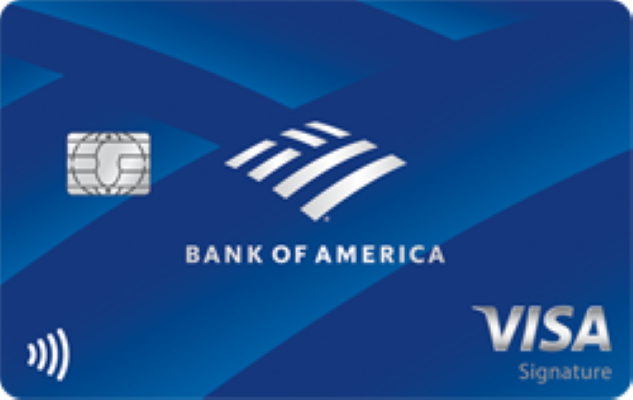 Apply Now
on Bank of America's secure website
Read Card Review
Intro Offer
Earn 25,000 online bonus points after you make at least $1,000 in purchases in the first 90 days of account opening - that can be a $250 statement credit toward travel purchases