If you've traveled recently, you know what a headache airports can be. You have to squish your luggage into a tiny carry-on to avoid checked-bag fees. You have to scramble to find an outlet so your tablet doesn't die mid-flight. And airport food is overpriced — and often just plain gross.
But the worst part of flying is probably dealing with airport security. There's a reason even the best airports advise you to show up at least two hours before a domestic flight — it can sometimes take that long to make it through the security checkpoint and to your gate.
To avoid having to show up hours before your flight and stand in line, consider signing up for TSA PreCheck. If you fly often, signing up for TSA PreCheck is an excellent investment. And thanks to special offers from some credit cards, you can take advantage of this program for free.
Here is everything you need to know about TSA PreCheck, including its benefits, how to sign up, and how you can score a free membership.
What is TSA PreCheck?
In 2011, the Transportation Security Administration (TSA) launched TSA PreCheck. It's a program that pre-screens passengers and determines whether or not they're a security risk. If they are approved for the program, TSA PreCheck members can speed through security checkpoints at select airports.
You can save a lot of time and stress by joining TSA PreCheck. According to the TSA, 92% of TSA Precheck passengers waited less than five minutes to get through security in June of 2019.
The benefits of TSA PreCheck
As a TSA PreCheck member, you still need to go through airport security. However, the process is much simpler than the one the general population faces.
The biggest perk of TSA PreCheck is access to a designated security lane so you can avoid long lines. As a TSA PreCheck member, you also don't have to worry about removing your shoes or belt, and your laptop and liquids can stay in your carry-on.
Where can you use TSA PreCheck?
As of June 2019, TSA PreCheck is available at more than 200 airports with 67 participating airlines in the United States.
You should know that not all airlines participate in TSA PreCheck. TSA works with airlines to establish security checkpoints and operate TSA PreCheck. To take advantage of TSA PreCheck expedited screenings, you have to travel on an airline that has entered into a partnership with the TSA.
To find out if your local airport offers TSA PreCheck and to see if your favorite airline is a partner, visit the TSA PreCheck interactive website.
Who is eligible for TSA PreCheck?
TSA PreCheck is available to U.S. citizens and lawful permanent residents. There is no age restriction to join. However, children 12 years old or younger who are traveling with an adult who is a TSA PreCheck member can also participate in expedited screening, even if they aren't TSA PreCheck members themselves.
What are they looking for when they consider your application?
When you apply for TSA PreCheck, the TSA will review your application and perform a background check. If you've been convicted or pled guilty to certain crimes, you can be temporarily or permanently banned from joining TSA PreCheck. For example, if you committed espionage, treason, or a federal act of terrorism, you will never be allowed to join TSA PreCheck.
If you were convicted, pled guilty, or found not guilty by reason of insanity within the past seven years of unlawful possession of a firearm, extortion, or assault, you are banned from the program as well.
TSA may also decide you're ineligible for other reasons, including:
Interpol and other international information deems you a threat.
You're on a terrorist watchlist or appear in a government database.
You have been adjudicated as lacking mental capacity or have been involuntarily committed to a mental health facility.
If you have been subjected to repeated delays or extra security screenings at the airport, or have been told your name appears in a government database that causes your TSA PreCheck application to be denied, you may want to educate yourself about the DHS Travel Redress Inquiry Program (DHS TRIP).  By finding out what a Redress number is and how it can help you, you may be able to resolve why you're being held back at the airport and join those moving swiftly through toward their planes.
How do you get TSA PreCheck?
You can apply for TSA PreCheck online. According to the TSA, the process only takes five minutes to complete. It costs $78 and is payable via credit card, money order, company check, or certified/cashier's check.
Once you complete the application, you need to schedule an in-person appointment with TSA personnel. The meeting will include a background check and fingerprinting at an enrollment center. There are over 350 TSA PreCheck application locations nationwide, so chances are there's one conveniently nearby. You can find an enrollment center online by entering your zip code or airport code in the search field.
When it's time for your in-person appointment, you need to bring some documentation with you, such as:
Current U.S. passport
Current U.S. driver's license
Permanent Resident card
Current U.S. military ID card
Birth certificate
You can find a complete list of necessary documents on the TSA website.
While at the enrollment center, the staff will take your picture. It's used to verify your identity at TSA PreCheck checkpoints equipped with facial-recognition technology.
You'll receive a written notification from the TSA that details whether or not you were approved within two to three weeks of your in-person appointment. However, some people are approved in just a few days, so you may also want to check your status online. If approved, you'll receive a Known Traveler Number that you'll use when you make your flight reservations.
You may be able to get TSA PreCheck for free
While TSA PreCheck can be insanely useful, some travelers are put off by its fee. If that's the case for you, there's good news: you may be able to get a TSA PreCheck membership for free by signing up for a travel rewards card. Or you may already have a card that covers this fee and just not know it.
A number of the best travel credit cards offer a statement credit for the TSA PreCheck membership fee, as well as other valuable travel perks:
Capital One Venture Rewards Credit Card: The Capital One Venture Rewards Card will reimburse you up to $100 to pay for TSA PreCheck or Global Entry fees every four years. You'll also earn 2 miles per dollar on every purchase, every day and 5 miles per dollar on hotels and rental cars booked through Capital One Travel. You can also get travel benefits, like travel accident insurance, auto rental damage collision waiver (secondary coverage), and 24-hour travel assistance services.
Chase Sapphire Reserve®: Not only will you get up to $100 to reimburse you for TSA PreCheck or Global Entry every four years, but you'll also get a $300 annual travel credit. You'll also earn 5X points on flights and 10X points on hotels and car rentals when you purchase travel through Chase Ultimate Rewards® immediately after the first $300 is spent on travel purchases annually; 3X points on other travel and dining & 1X points per dollar on all other purchases. The card also offers benefits like complimentary airport lounge access, lost luggage reimbursement, and trip delay reimbursement.
United℠ Explorer Card: If you are part of United Airlines' loyalty program, the United Explorer card may be right for you. You'll get up to $100 every four years to reimburse you for your TSA PreCheck or Global Entry fees. You'll also get your first checked bag free and be able to earn 2X miles on dining (including eligible delivery services), hotel stays (when booked with the hotel), and United Airlines purchases and 1X miles on everything else. You can even use your rewards to score first-class travel.
To qualify for the credit card statement credit for your TSA PreCheck enrollment fee, use your card to pay for your TSA PreCheck application. Once your TSA PreCheck fee is charged to your account, the credit card company will issue you a statement credit. It can take up to four weeks for the credit to be issued.
How do you use TSA PreCheck once you have it?
When you're approved for TSA PreCheck, you don't receive a membership card. Instead, you'll receive a Known Traveler Number. To use TSA PreCheck, you must enter the traveler number onto your reservation when you book your flight. If you are part of an airline loyalty program, you can add your TSA PreCheck number to your account so it will be automatically entered whenever you book a flight.
When it's time to head to the airport, your boarding pass will note your TSA PreCheck status. When TSA scans your pass at the security checkpoint, staff will direct you to the designated TSA PreCheck line.
In most cases, you can leave on your shoes and belt when you go through security. If you're wearing a light jacket, there's no need to take it off. And, if you have electronics or liquids, you can leave them in your carry-on.
How do you renew your TSA PreCheck?
When you sign up for TSA PreCheck, your membership is good for five years. After that, you'll have to renew your membership to take advantage of its perks.
When your TSA PreCheck membership's expiration date approaches, TSA will send you a renewal notification via email or over the phone. You can also check your membership status and see your expiration date online.
You can renew your membership up to six months before the expiration date; the renewal process can be completed online. To renew, you need to enter your name, date of birth, and Known Traveler Number. You'll also have to pay another $78 (or $70 for online renewal).
Some people will need to renew their membership by visiting an enrollment center in person. For example, if the fingerprints on file are low quality or if your name has changed, you may have to go to an enrollment center a second time.
This process can take up to three weeks to complete, so it's a good idea to renew well in advance of any planned trips.
Is TSA PreCheck worth it for you?
TSA PreCheck is perfect for frequent travelers or business travelers. Parents of young children may find it invaluable, too. When you're traveling with young children, you're likely juggling several bags and holding hands. Not having to take out your liquids and take off your shoes can make travel less stressful. And, if your credit card will reimburse you for the enrollment fee, there's literally no downside to joining TSA PreCheck.
The $78 fee covers five years of membership, so if you take at least a couple flights a year, joining TSA PreCheck can save you a great deal of time and frustration.
TSA PreCheck also works well in combination with other security expediting services such as CLEAR. CLEAR can help you speed up the document verification process and CLEAR kiosks are often located close to TSA PreCheck lines. CLEAR is a private company and not a government program, yet it can be worth it to see how TSA PreCheck vs. CLEAR work together to get you through the airport lines more quickly and efficiently.
If you only fly very occasionally and travel light, you may find that TSA PreCheck isn't necessary. But most people will enjoy the more streamlined experience that TSA PreCheck offers.
How to maximize your travel rewards
The right travel card for you is the one that matches your interests and spending habits, allowing you to earn valuable rewards and travel the way you like — for less. Learn more about these top cards and choose the one that's best for you:
A final note: TSA PreCheck vs. Global Entry
TSA PreCheck is actually just one available program that expedites security checkpoints. Another option to consider is Global Entry, a program that many credit cards will also reimburse you for joining.
Global Entry gives you TSA PreCheck access through expedited screenings. But it also offers expedited U.S. customs screening for international air travelers entering the United States. Global Entry is more expensive than TSA PreCheck; it's $100 instead of $78.
One thing to keep in mind is that Global Entry does not allow young children to accompany you as they can with TSA PreCheck. Instead, each person needs to have their own Global Entry membership to qualify for expedited screenings.
If you travel internationally, signing up for Global Entry makes more sense than TSA PreCheck.
Easy-to-Earn Unlimited Rewards
Earn 25,000 online bonus points after you make at least $1,000 in purchases in the first 90 days of account opening - that can be a $250 statement credit toward travel purchases
Earn 1.5 points per $1 spent on all purchases
Longer intro APR on qualifying purchases and balance transfers
No foreign transaction fees
Earn unlimited 1.5 points per $1 spent on all purchases, with no annual fee and no foreign transaction fees and your points don't expire.
25,000 online bonus points after you make at least $1,000 in purchases in the first 90 days of account opening - that can be a $250 statement credit toward travel purchases.
Use your card to book your trip how and where you want - you're not limited to specific websites with blackout dates or restrictions.
Redeem points for a statement credit to pay for travel or dining purchases, such as flights, hotel stays, car and vacation rentals, baggage fees, and also at restaurants including takeout.
If you're a Preferred Rewards member, you can earn 25%-75% more points on every purchase. That means instead of earning an unlimited 1.5 points for every $1, you could earn 1.87-2.62 points for every $1 you spend on purchases.
Contactless Cards - The security of a chip card, with the convenience of a tap.
This online only offer may not be available if you leave this page or if you visit a Bank of America financial center. You can take advantage of this offer when you apply now.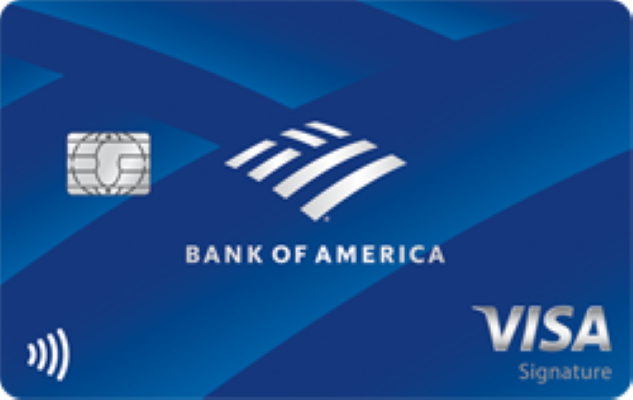 Apply Now
on Bank of America's secure website
Read Card Review
Intro Offer
Earn 25,000 online bonus points after you make at least $1,000 in purchases in the first 90 days of account opening - that can be a $250 statement credit toward travel purchases