Cruises are often thought of as the pinnacle of luxury travel. You've got excitement, relaxation, and exploration right at your fingertips. However, vacations at sea are easy to mess up if you're not careful.
To make sure you avoid wasting money on a cruise, chart a course for smoother sailing by steering clear of these 15 mistakes.
Packing too much
A dead giveaway you're a cruise-ship rookie is overstuffing your suitcase.
Yes, you'll be out at sea for several days, but it's not like you're moving into the lost city of Atlantis. Pack just what you need, and leave room for souvenirs.
If you later realize that you forgot something, you can likely buy it on the ship.
Packing all the wrong things
Another amateur move? Filling your luggage with everything you don't need and none of what you do.
Before you go, check the cruise line's dress code and bring any required finery. Then, let your destinations guide the rest of your packing. You'll want to consider the climates and cultures of your ports of call, as well as any activities you have planned.
Arriving too close to your sail date
If you're traveling to your port of departure, the last thing you want to do is get into town the day you set sail. All it would take is a long line at baggage claim or a spot of bad traffic, and you could miss the boat.
Give yourself a time buffer, and arrive at your departure port at least a day or two beforehand. That way, you won't have to rush the day your cruise embarks.
Not booking your own shore excursions
At every port of call, you'll have opportunities to take guided tours, go on adventures, and get a taste of the local lifestyle. Don't limit yourself to just what the cruise ship offers, though.
Do some research on your own, and see what's available in each city. You'll likely find a wider variety of tourist activities, possibly at a better price and often more suited to your personal interests.
Thinking you don't need reservations
Cruise liners are as luxurious as they are enormous, with Michelin-star restaurants, live entertainment, and lavish spas. You'll have no shortage of amenities to indulge in — as long as you plan ahead.
Reservations are a must on cruises. Popular or limited-space venues and events sell out quickly, and you might miss out if you don't save a seat before departure.
Not researching COVID-19 protocols
Cruise ships have to be particularly careful when it comes to COVID-19 restrictions. Under the wrong conditions, they can become floating Petri dishes.
Before you book your cruise, check what health documentation you'll need at each leg of your journey. Without proof of vaccination or a negative test result, you may not be allowed to disembark at some ports of call. In fact, the cruise ship may not let you board in the first place.
Booking your cruise during the wrong season
With cruises, timing is everything. When you go is just as important as where you go, so account for seasonal weather and travel patterns in your planning.
If you're set on whale-watching in Alaska, take an August cruise. To avoid hurricanes and large crowds, visit the Caribbean in the winter months. 
Rather than choosing dates at random, try to schedule your cruise intentionally so you can make the most of your time at each destination.
Booking at the last minute
There's nothing quite like a spontaneous vacation. But as far as cruises go, unplanned equals uneconomical.
Some cruises accept reservations a year or two in advance. The longer you wait to book, the less likely you are to snag a good deal. 
And since excursions, restaurant seating, and cabins go quickly, you could be stuck with what's left over rather than getting first dibs on what you want.
Foregoing travel insurance
Assuming you don't need travel insurance might be one of the riskiest cruise mistakes. Not only can cruise travel insurance reimburse you for canceled flights or lost luggage, it can also cover medical expenses — including medical evacuation — during your cruise.
If you're concerned about upfront costs, shop around for affordable travel insurance policies. Should the unexpected happen, you'll be glad you bought a backup plan in advance.
Choosing the wrong cruise line
Not all cruise lines are created equal. Each one caters to a different type of audience and has a different ambiance. The cruise line you pick can make or break your vacation, so choose wisely.
A Disney cruise might be perfect if your little ones are tagging along. But if you're celebrating your first kid-free vacation in nine years, something like Royal Caribbean's 80s-themed cruise might be more your jam.
Pro tip: Many people dream of taking a cruise, but the trip can turn into a nightmare if it leaves your credit cards maxed out. So, try to crush your debts before booking a cruise. That way, you will have a clean slate prior to your travels.
Choosing the wrong cabin
Cruise ship accommodations are about as varied as the cruise liners themselves. To make the most of your cruise, consider not only what amenities you hope to have, but also where you prefer to be. 
A claustrophobic passenger may want to avoid booking a windowless cabin, for example, while a traveler with limited mobility may prefer a room closer to the elevators.
Staying in your comfort zone
Going on a cruise and not embracing adventure is like wearing a wetsuit to a water park: It's just not that satisfying. We're not saying you have to race through a treetop zipline at breakneck speeds, but you should make a point to try something new. 
Explore an unfamiliar cuisine or hit the dance floor with reckless abandon. You'll be pleasantly surprised at the memories you'll make on the other side of comfortability.
Overindulging on board
While we absolutely recommend making the most of your cruise, it's equally important that you respect your limits. Eating or drinking too much, too often can leave you feeling groggy or nauseous — two surefire ways to ruin a cruise.
You'll also want to leave breathing room in your itinerary. Commit to a few must-see attractions, but resist the urge to plan every minute of your trip. Give yourself permission to relax and go with the flow so you can truly unwind.
Misunderstanding what's included
Your cruise fare grants you access to a plethora of ship amenities. It's not, however, an all-expenses-paid pass. Some restaurants, activities, and excursions come with additional fees, and you need to budget for those ahead of time.
If you don't, you'll run into one of two problems: Either you'll miss out on all the fun, or you'll overextend your finances and have to do damage control when you return.
Never disconnecting
Your cruise is the perfect opportunity for a phone fast. This is not the time to check work emails or stay in touch with your social media followers.
Not only will this water down your experience, but you could also rack up some serious roaming charges. Besides, you didn't board a ship and sail into the ocean just to scroll Facebook at sea. Put that phone in airplane mode, and enjoy your vacation.
Bottom line
Whether you're a first-time cruiser or a seasoned sailor, avoiding these mistakes is imperative. Some, such as overpacking, may only present a minor inconvenience. Others — like forgetting your vaccine card at home — could jeopardize your voyage.
To reduce the odds that you commit a grievous cruise ship faux pas, keep a running to-do list for your trip and mark important dates on your calendar.
If you're organizing a large travel party, consider sharing this information in a viewable (but not editable) electronic document. That way, you can minimize any back and forth with your fellow cruise-goers while still making sure everyone is prepared to set sail.
Finally, consider using one of the best travel credit cards when booking your trip so you can take advantage of the special perks these cards often carry.
Easy-to-Earn Unlimited Rewards
Earn 25,000 online bonus points after you make at least $1,000 in purchases in the first 90 days of account opening - that can be a $250 statement credit toward travel purchases
Earn 1.5 points per $1 spent on all purchases
Longer intro APR on qualifying purchases and balance transfers
No foreign transaction fees
Earn unlimited 1.5 points per $1 spent on all purchases, with no annual fee and no foreign transaction fees and your points don't expire.
25,000 online bonus points after you make at least $1,000 in purchases in the first 90 days of account opening - that can be a $250 statement credit toward travel purchases.
Use your card to book your trip how and where you want - you're not limited to specific websites with blackout dates or restrictions.
Redeem points for a statement credit to pay for travel or dining purchases, such as flights, hotel stays, car and vacation rentals, baggage fees, and also at restaurants including takeout.
0% Introductory APR for 15 billing cycles for purchases, and for any balance transfers made in the first 60 days. After the intro APR offer ends, 18.24% - 28.24% Variable APR will apply. A 3% fee applies to all balance transfers.
If you're a Preferred Rewards member, you can earn 25%-75% more points on every purchase. That means instead of earning an unlimited 1.5 points for every $1, you could earn 1.87-2.62 points for every $1 you spend on purchases.
Contactless Cards - The security of a chip card, with the convenience of a tap.
This online only offer may not be available if you leave this page or if you visit a Bank of America financial center. You can take advantage of this offer when you apply now.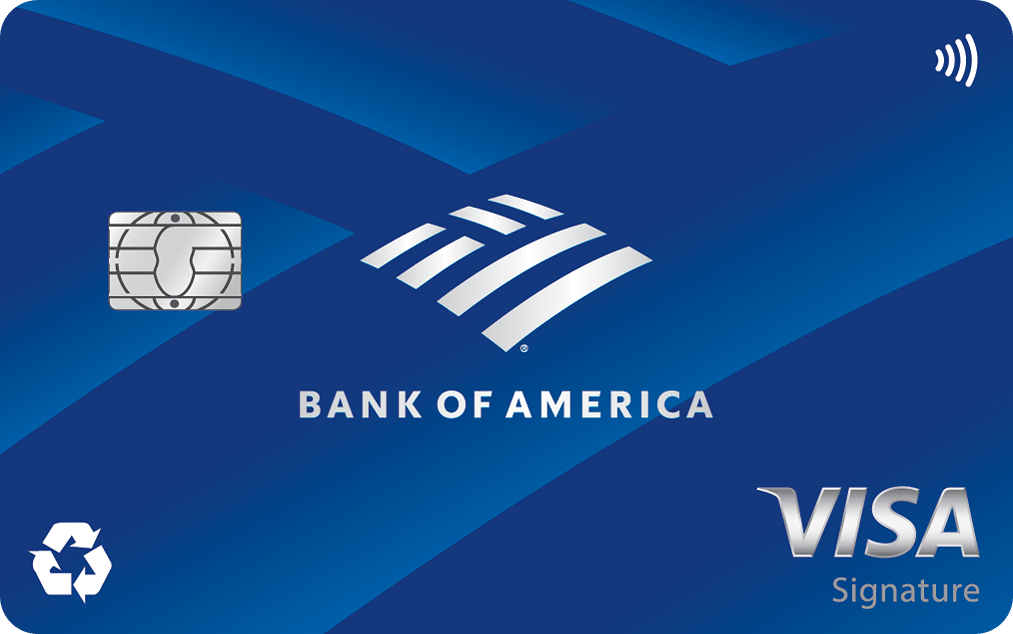 4.1
FinanceBuzz writers and editors score cards based on a number of objective features as well as our expert editorial assessment. Our partners do not influence how we rate products.
Apply Now
on Bank of America's secure website
Read Card Review
Intro Offer
Earn 25,000 online bonus points after you make at least $1,000 in purchases in the first 90 days of account opening - that can be a $250 statement credit toward travel purchases