Disney can feel like the most magical place on earth, but that magic puts some serious stress on the wallet. 
One day in Disney World can get pricey, and for families hoping to visit all four parks in Florida — Magic Kingdom, Epcot, Animal Kingdom, and Hollywood Studios — or both parks in California — Disneyland and Disney California Adventure Park — planning the trip can feel like a burden, both financially and logistically.
Fortunately, there are plenty of ways to both eliminate money stress and use specific services to your advantage to create the ultimate Disney dream vacation.
Pack the basics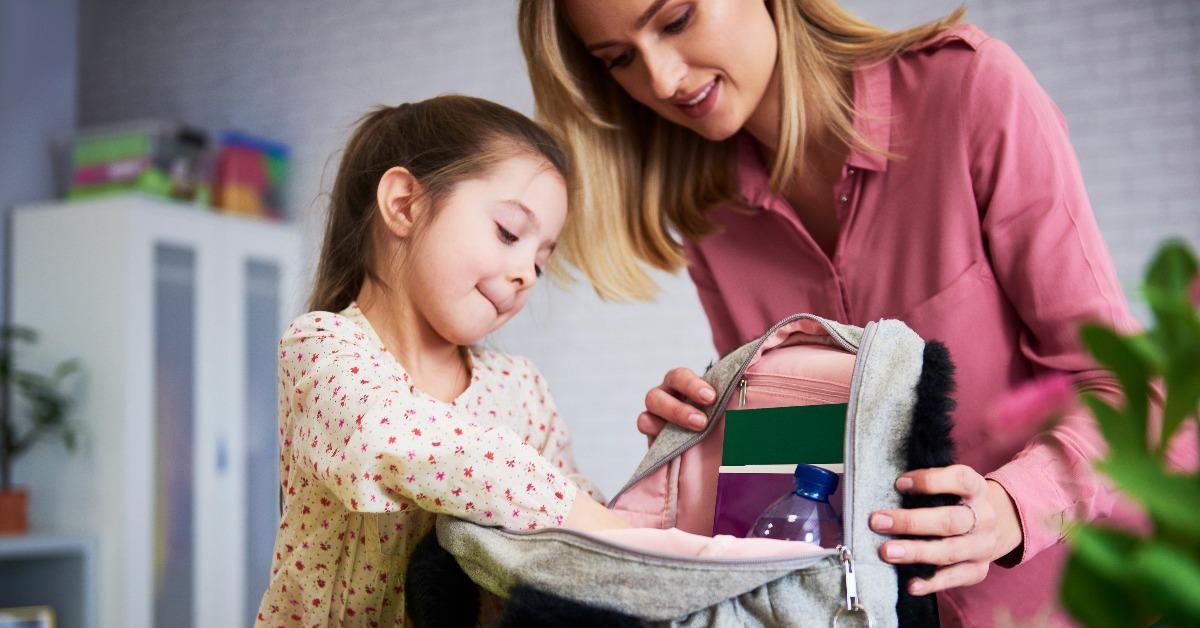 You're bound to need a few things if you plan to spend the whole day in Disney, especially if you're traveling with family. Arriving prepared — with a reusable water bottle, small snacks like granola bars or fruit, ponchos, and maybe even a change of socks — can save guests a lot of money.
Disney visitors are permitted to bring most types of nonalcoholic beverages and snack items into the parks.
Check if you have discounts
If you belong to certain organizations, you might be entitled to discounts on Disney-related purchases. People who have AAA may be able to get discounted rates at Disney hotels (and other hotels in the area) as well as vacation packages and complimentary services.
Also, look into whether you can use credit card rewards for purchases related to the vacation. Some of the best rewards credit cards also offer a lot of other perks.
Know where to find the freebies
Disney has a few spots where guests can get their hands on some freebies.
For example, in Epcot, Club Cool allows guests to try free samples of Coca-Cola products from around the world — a great option if you're feeling a little thirsty but don't want to splurge on a drink at one of the counter service spots or souvenir shops.
Consider other airports
Those traveling to Disney by plane may be able to save some money on the trip by crunching numbers at different airports. Orlando International Airport may be the closest to Disney World, but Orlando Sanford Airport is also nearby.
And if you are planning to explore other parts of Florida, you might want to fly into a city such as Tampa or Jacksonville if the fare is cheaper. Then, you can drive to Disney later.
Expanding your airport search could lead to hundreds in savings, especially if you live in an area where you have the option to fly out of a few different airports.
Purchase Disney gift cards
Paying for purchases with Disney gift cards is a great way to avoid carrying cash or whipping out your debit card a bunch of times while visiting the parks. Gift cards can be used in many places in the parks and can be purchased online or at certain retailers.
You may even be able to score an extra discount on the gift cards if you buy at a retailer like Target and pay with a store card.
Consider a Disney dining plan
Disney offers a few different dining plan options. Some include quick-service meals while others include sit-down table service or even dinner shows.
Getting a dining plan might be a cheaper option than paying for food throughout the day when visiting the parks. Guests also get an included drink with every meal and can take it to go.
Just note that for now, the dining plan is unavailable, although Disney has said it expects to bring it back soon.
Get free water from counter service spots
If you forget to bring a reusable water bottle, or simply can't fit it in your bag, there is another way to avoid paying for pricey water bottles. Most quick-service spots throughout the parks give away free cups of tap water.
It's also a great way to cut back on overall meal prices.
Plan around crowds
Disney parks are popular vacation destinations year-round, but there are certain times throughout the year when they are particularly popular — and crowded.
Periods when kids are out of school, like the summer or over Christmas or spring break, tend to get a lot of traffic. So, visitors who wish to avoid big crowds may want to schedule their trip for another time.
Disney also provides a calendar of events at the parks on its website so visitors can avoid things like festivals that may draw larger crowds.
Consider renting a stroller beforehand
If you're bringing young children who may need a stroller for long days in the parks, renting one before actually getting into Disney might save you some money.
There are other companies around Orlando that may offer cheaper rates on stroller rentals. You are also permitted to bring your own stroller into the parks, although there are limits on how big the strollers can be.
Order from the kids menu
Paying for meals throughout the day in the parks can get pricey fast, but options on the kids menus do tend to be a bit cheaper at Disney's restaurants.
So, if you don't have a huge appetite or don't want to get weighed down by eating a large meal during your Disney days, ordering from the kids menu is a great way to save a few bucks per meal.
Consider an annual pass
Those who visit Disney often may want to consider getting an annual pass. Some passes are only available to Florida residents or Disney Vacation Club members, but the Incredi-Pass is available to everyone and costs $1,299 plus tax for the year.
If you plan to visit the parks at least a dozen times throughout the year, the Incredi-Pass could be a great tool to help when budgeting for your Disney vacation, especially because the annual passes come with other benefits.
Pro tip: Disney vacations aren't cheap. If you're planning a trip but feeling the financial hit, check out these legit ways to earn extra cash to help cover the costs.
Use ride shares apps to get around
While Disney hotels — and many other hotels in the area — offer free shuttles to the parks, paying to get around to other spots in the area can get pricey for guests who don't bring cars with them on vacation.
Before asking your hotel to call a taxi for you, look into how much the ride would cost on rideshare apps like Uber or Lyft, as they may be significantly cheaper.
Bottom line
The best tips for making the most out of a Disney vacation really depend on your goals. If you're looking to book the most cost-effective trip possible, things like researching the best travel credit cards and avoiding big purchases while in the parks are important. Remember to consider ways to earn extra cash to offset the vacation costs. 
If you're hoping to avoid major crowds and long lines, planning a trip during a less popular time of year and taking advantage of Disney services — like the Disney Genie app, which can let you know wait times for rides, among many other things — should be a priority.
Easy-to-Earn Unlimited Rewards
Earn 25,000 online bonus points after you make at least $1,000 in purchases in the first 90 days of account opening - that can be a $250 statement credit toward travel purchases
Earn 1.5 points per $1 spent on all purchases
Longer intro APR on qualifying purchases and balance transfers
No foreign transaction fees
Earn unlimited 1.5 points per $1 spent on all purchases, with no annual fee and no foreign transaction fees and your points don't expire.
25,000 online bonus points after you make at least $1,000 in purchases in the first 90 days of account opening - that can be a $250 statement credit toward travel purchases.
Use your card to book your trip how and where you want - you're not limited to specific websites with blackout dates or restrictions.
Redeem points for a statement credit to pay for travel or dining purchases, such as flights, hotel stays, car and vacation rentals, baggage fees, and also at restaurants including takeout.
0% Introductory APR for 18 billing cycles for purchases, and for any balance transfers made in the first 60 days. After the intro APR offer ends, 17.99% - 27.99% Variable APR will apply. A 3% fee applies to all balance transfers.
If you're a Preferred Rewards member, you can earn 25%-75% more points on every purchase. That means instead of earning an unlimited 1.5 points for every $1, you could earn 1.87-2.62 points for every $1 you spend on purchases.
Contactless Cards - The security of a chip card, with the convenience of a tap.
This online only offer may not be available if you leave this page or if you visit a Bank of America financial center. You can take advantage of this offer when you apply now.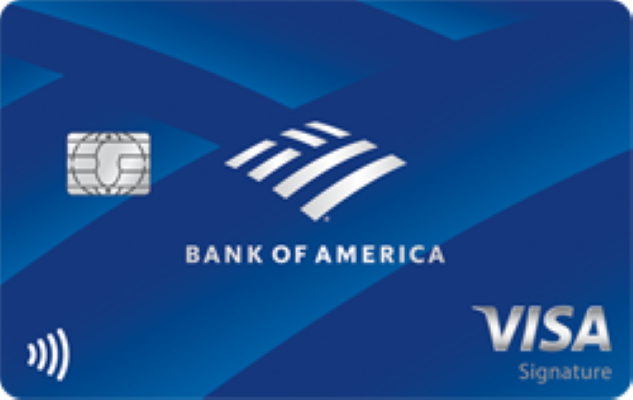 Apply Now
on Bank of America's secure website
Read Card Review
Intro Offer
Earn 25,000 online bonus points after you make at least $1,000 in purchases in the first 90 days of account opening - that can be a $250 statement credit toward travel purchases