When you're on a tight budget, it is crucial to find affordable groceries.
Clipping coupons helps, as does buying in bulk to cut your per-unit costs. Another great way to save on groceries is to shop for pantry items at your local dollar store.
Check out some of the following options at dollar stores that can help you save money.
Get a protection plan on all your appliances
Did you know if your air conditioner stops working, your homeowner's insurance won't cover it? Same with plumbing, electrical issues, appliances, and more. Not being able to make repairs could leave you in a bad situation — but a home warranty could protect you against surprise expenses.
Whether you're a brand-new homeowner or you've owned your home for years, a plan from Choice Home Warranty could pick up the slack where homeowner's insurance falls short.
If a covered system in your home breaks down, you can call their hotline 24/7 for assistance to get it repaired. They have a network of over 15,000 technicians that can assist you, making sure any issue can be taken care of swiftly — without breaking the bank.
Not sure if it's for you? Rest easy: they were named one of the "Best Home Warranty Companies" by US News 360 Reviews and were awarded Best Company's 2020 Consumer's Choice Award. For a limited time, you can get your first month free when you sign up for a Single Payment home warranty plan.
Baking mixes
Baking mixes for biscuits, cookies, cakes, and other items are great to stock away.
You can use them for dinners, desserts, or whenever you're in a pinch for a birthday or other celebration.
Pasta
Pasta is an easy-to-make dinner item. Grab some and toss it into boiling water on a busy night when the family is hungry.
Check out the different options at the dollar store that can help you make everything from pasta salads to casseroles and spaghetti dinners.
Coffee
Start your morning off right with coffee from your local dollar store. And remember to grab some coffee filters, which you can store in your pantry.
Stop overpaying when you shop online
Shopping online has its perks. It's super convenient, but it can be time consuming to find the best deals. Instead of hunting for coupon codes (that don't always work!) and opening tons of browser tabs comparing prices, you can try Capital One Shopping.
Capital One Shopping makes saving money effortless. Just add the browser extension and when you check out, it'll scour the internet for coupon codes to help you save cash. And before you check out at 25+ major retailers, Capital One Shopping will notify you with a friendly pop-up if the item you're buying is available cheaper somewhere else.
Capital One Shopping is free to use and won't show you ads. Add it today and stop overpaying!1
Condiments
Get your grill out and throw on some burgers and hot dogs to celebrate with friends and family. You can find condiments such as ketchup, mustard, pickle relish, and more.
Cereal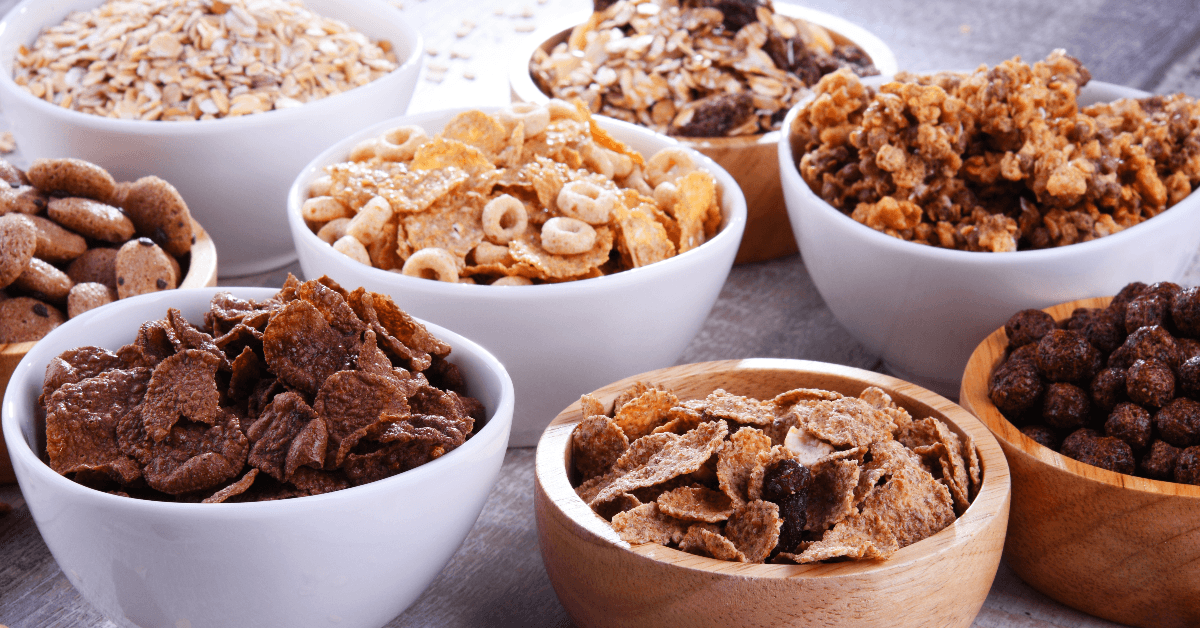 Most dollar stores also carry several types of cereal. And you might even find oatmeal that will give everyone a good start to the morning.
Pro tip: Shopping for groceries at a dollar store can help cut your costs. Take the money you save and use it to get out of debt so you get even further ahead financially.
Chip snack packs
It can be chaotic in the morning trying to pack lunch for you or snacks for the kids. But you can make things easier with snack packs of chips from your local dollar store.
The chips come in a variety of flavors that are sure to please everyone and are an easy grab-and-go snack when you're heading out the door.
Canned soup
Canned soup can be an easy option for lunch or after a long day at work. You can find plenty of options at your local dollar store.
You may also want to grab soups that you can use in other recipes and stock up on things like cans of chicken broth or cream of mushroom soup.
Ramen noodles
Another easy dinner option is ramen noodles, which require boiling water for a quick meal.
Mix the noodles with chicken, veggies, or other items to make a delicious and hearty stir-fry.
Rice
Rice can be a filling side dish or a good base for a new recipe with other ingredients mixed in or served on top.
See what kinds of rice options your local dollar store offers. It might have white or brown rice and flavored rice sides to add to dinner.
Earn 2% cash rewards at grocery stores and Costco
The Wells Fargo Active Cash® Card(Rates and fees) is a powerful rewards card that allows you to earn unlimited 2% cash rewards on purchases — including on groceries, even at warehouse stores like Costco.

New cardholders can also earn a one-time cash rewards bonus — $200 cash rewards bonus after spending $500 in purchases in the first 3 months!
If you're looking for a powerful rewards card that offers an extended intro APR period, look no further, the Wells Fargo Active Cash® Card checks that box too!
This card also offers an intro APR of 0% for 15 months from account opening on purchases and qualifying balance transfers (then 20.24%, 25.24%, or 29.99% variable). Which is great for someone who wants a break from high interest rates, while still earning rewards.
The best part? There's no annual fee.
Click here to apply for the Wells Fargo Active Cash® Card now.
Spices
Spices are a great way to give an extra kick to bland meals or foods.
Grab some oregano, paprika, garlic powder, pepper, salt, or other options at your local dollar store and step up your meals.
Candy
Satisfy your sweet tooth with plenty of candy choices at your local dollar store. Grab some gum, hard candy, chewy caramels, and more.
Pro tip: Need a special treat for someone else? Pick up a small candy jar from the dollar store. Then, decorate it and fill it with the gift recipient's favorite sweets.
Bread crumbs
Bread crumbs are a great ingredient for meatloaf dinners or to coat chicken before tossing it in the oven.
Look for regular or panko bread crumbs and add some spices to make them even tastier in different recipes.
Canned fruit
Canned fruit can stay on the shelf of your pantry for some time until you're ready to use it, making it a good option for a snack or a recipe.
Check out options such as pineapple, peaches, or fruit cocktail to pack your pantry.
Beans
Dollar stores often have plenty of options when it comes to beans. Stock up on dry beans for different recipes or grab some canned beans for a side dish.
Crackers
Pick up an easy snack at your local dollar stores by purchasing crackers.
Get some snack packs of crackers to toss into lunches or pick up fancy crackers to serve to guests with cheese or other add-ons.
Bottom line
Shopping at dollar stores offers a great way to save money on groceries. The items on this list are inexpensive and can sit in your pantry for a long time until you are ready to use them.
Lucrative, Flat-Rate Cash Rewards
Current Offer
$200 cash rewards bonus after spending $500 in purchases in the first 3 months
Rewards Rate
Earn 2% cash rewards on purchases