You may be stressing out a little bit with school starting soon. Perhaps you're thinking about the clothes you have to buy for your kids or the school supplies you need to stock up on.
But you may be able to find some unique and affordable dollar store hacks that can help you kick off the school year and keep more money in your pocket.
Here are a few to check out to get school started on the right foot without breaking the bank.
Get a protection plan on all your appliances
Did you know if your air conditioner stops working, your homeowner's insurance won't cover it? Same with plumbing, electrical issues, appliances, and more. Not being able to make repairs could leave you in a bad situation — but a home warranty could protect you against surprise expenses.
Whether you're a brand-new homeowner or you've owned your home for years, a plan from Choice Home Warranty could pick up the slack where homeowner's insurance falls short.
If a covered system in your home breaks down, you can call their hotline 24/7 for assistance to get it repaired. They have a network of over 15,000 technicians that can assist you, making sure any issue can be taken care of swiftly — without breaking the bank.
Not sure if it's for you? Rest easy: they were named one of the "Best Home Warranty Companies" by US News 360 Reviews and were awarded Best Company's 2020 Consumer's Choice Award. For a limited time, you can get your first month free when you sign up for a Single Payment home warranty plan.
Fidget toys
It can be challenging for kids to concentrate sometimes, and they might need to keep their hands busy with a fidget toy to focus. It will help your student while you stay on track to get ahead financially.
Grab a few Pop-It Fidget Bubble Toy Keychains from Dollar Tree for $1.25 to keep your kids busy in their homework nooks.
They come in a variety of shapes and can attach to a backpack if your children may need them at school as well as at home.
Dish rack
You may already be dreading all the papers coming home from school or folders that will be lost or disorganized.
So grab a dish rack from your local dollar store to get things in order. The Rubbermaid Dish Rack Drainer, which retails for $12 at Dollar General, can keep all your folders in place and paper organized.
Plastic caddy
There will be plenty of pens, pencils, and other school supplies sitting around that will need to be organized during the school year.
A plastic caddy like one that can be used in college dorm showers can also be helpful for your young kids by collecting all their art supplies in one spot.
For example, you can get a Divided 3-Compartment Plastic Caddy at Dollar Tree for only $1.25.
Stop overpaying when you shop online
Shopping online has its perks. It's super convenient, but it can be time consuming to find the best deals. Instead of hunting for coupon codes (that don't always work!) and opening tons of browser tabs comparing prices, you can try Capital One Shopping.
Capital One Shopping makes saving money effortless. Just add the browser extension and when you check out, it'll scour the internet for coupon codes to help you save cash. And before you check out at 25+ major retailers, Capital One Shopping will notify you with a friendly pop-up if the item you're buying is available cheaper somewhere else.
Capital One Shopping is free to use and won't show you ads. Add it today and stop overpaying!1
Basket for papers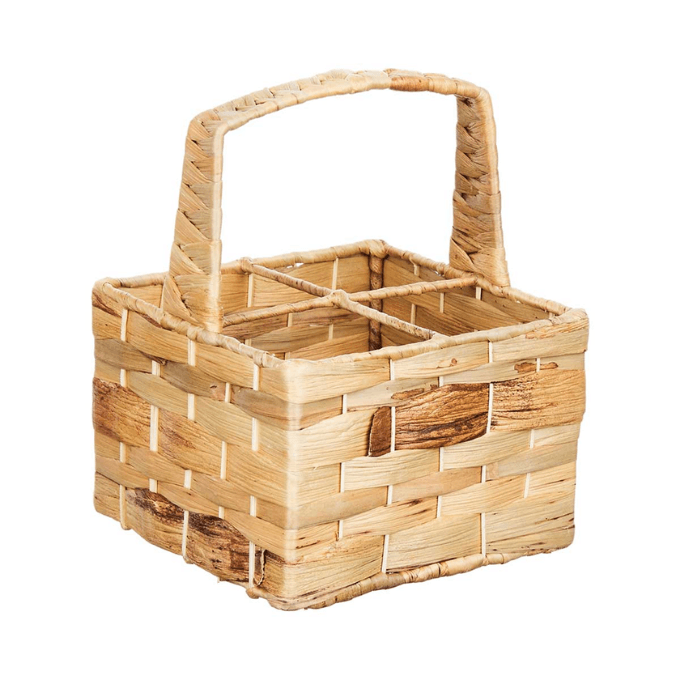 If you need another way to keep school supplies and papers together, pick up a decorative basket to help put things in one spot.
Dollar General's Hyacinth Caddy features a wood basket with dividers so you can easily separate papers from different kids or organize them by topic or importance.
Grab one for $5 at your local store.
Shoe organizer
Shoe organizers don't have to be used for shoes, especially if you need a good storage solution during the school year.
Pick up an 8-Pocket Hanging Shoe Organizer from Dollar Tree in either gray or navy blue for $1.25.
The organizer can hang over your child's door and help them keep track of school shoes as well as papers, pencils, glue, scissors, and plenty of other school supplies they need at home.
Sponges
Do your kids need their lunches to stay cold until it's time to eat? Grab some sponges.
You can get a two-pack of Scrub Buddies Cellulose Sponges for $1.25 at Dollar Tree. Wet the sponges and put them in zipped sandwich bags.
Then toss the wet sponge and baggie in your lunches. They'll act as ice packs to keep things cold, and the zipped bag will keep the water in as they thaw out at school.
Hooks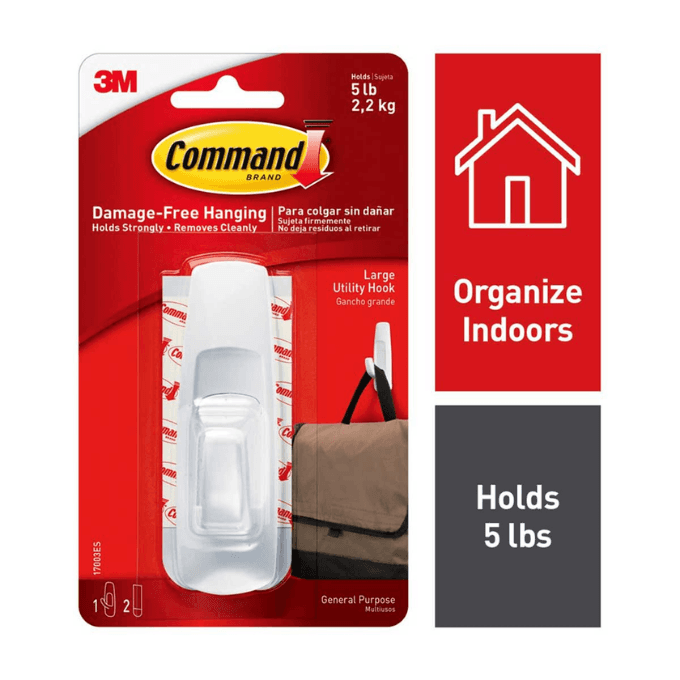 It may be outside, but it will get cold in the winter, and all those heavy coats need to go somewhere.
Pick up Command Hooks at Dollar General for just $3.50 each. They'll help you designate a specific space for winter gear, and you can use the hooks for other times for backpacks and school gear.
Sticky notes
It can be hard to keep track of everyone's schedule during the school year. Kids may have sports or activities, you need to worry about work meetings, and there's always a doctor's appointment somewhere.
Create a family calendar on your wall using Officehub Neon Sticky Notes from Dollar General.
You can make a grid with different days of the week, and the sticky notes come in a variety pack for $3.00, so each family member can get their own color.
Plastic tablecloth
A plastic tablecloth is a great way to set up a corner for your kids to get as messy as they want during the school year.
Grab a Plastic Table Cover at Dollar Tree for $1.25 to get your corner started. Depending on your space, you can choose from various colors or sizes to make it the perfect spot for projects and homework for the kids.
Earn 2% cash rewards at grocery stores and Costco
The Wells Fargo Active Cash® Card(Rates and fees) is a powerful rewards card that allows you to earn unlimited 2% cash rewards on purchases — including on groceries, even at warehouse stores like Costco.

New cardholders can also earn a one-time cash rewards bonus — $200 cash rewards bonus after spending $500 in purchases in the first 3 months!
If you're looking for a powerful rewards card that offers an extended intro APR period, look no further, the Wells Fargo Active Cash® Card checks that box too!
This card also offers an intro APR of 0% for 15 months from account opening on purchases and qualifying balance transfers (then 20.24%, 25.24%, or 29.99% variable). Which is great for someone who wants a break from high interest rates, while still earning rewards.
The best part? There's no annual fee.
Click here to apply for the Wells Fargo Active Cash® Card now.
Duct tape
There are plenty of everyday uses you can get out of duct tape for school, like taping a binder back together, but you can also use it for some creative school supply projects.
Grab a plastic zippered freezer bag and wrap it in some Tool Bench Hardware Colorful Reflective Duct Tape from Dollar Tree for $1.25.
The tape makes the bag more durable and perfect to use as a pencil pouch for school.
Wrapping paper
You don't have to be in the festive spirit to wrap up some fun to start the school year.
The Voila Solid-Color All-Occasion Wrapping Paper comes in various colors at Dollar Tree for $1.25. Use it to make book covers to protect your books or wrap up binders to protect them during the school year.
Craft box
You may have a kid who loves to bring home small sticks, rocks, pine cones, and other little treasures from the playground at school.
So give them a Crafter's Closet Color-In Wood Box for $5 from Dollar General.
It can be a good project but also a great treasure box that can contain all those treasures your kids pick up without spreading dirt all over your house.
Jars
Dollar General has Decorative Embossed Glass Jars in pint and quart sizes that can be the perfect store hack for school.
Buy a few pint jars for $1 or quart jars for $2, and let your kids decorate them and use them as storage for the school year.
Pint jars are perfect for paper clips or push pins, while the taller quart jars could be ideal for pens and pencils.
Carabiner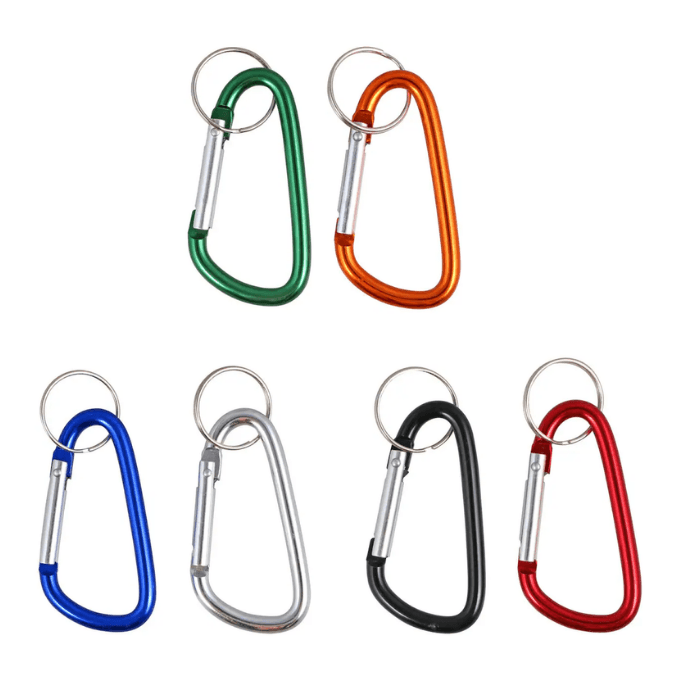 You can stop throwing money away on fancy organizers. A carabiner is a great way to quickly hook and unhook items you need for school each day.
You can stock up with a two-pack of Tool Bench Hardware Carabiner Clips with Key Rings at Dollar Tree for $1.25 for any number of uses.
Clip some hand sanitizer to your kid's backpack or use them on the back of the car seat to hold backpacks on the way to school to make it easy to grab when you get there.
Magnets
Older kids may want magnets for their lockers to hold papers or pictures.
Check out Dollar General for Artskills Crafter'S Closet Adhesive Magnets, which come in a pack of 18 magnets for $3.
They make the perfect base for all kinds of creative ideas your kids may come up with for their lockers.
Travel soap case
You may have plenty of flashcards in random spots around the house for multiplication tables or spelling words for each week.
A colorful Travel Soap Case from Dollar Tree is the perfect way to keep them contained in one place. You can pick from a variety of colors from the store for $1.25.
Pro tip: Doing a lot of your back-to-school shopping at the Dollar Store can help you stay on track to climb out of debt and get your finances right.
Bottom line
Dollar store hacks are a great way to save money while organizing supplies or finding a way to balance school life with home life.
Don't forget that you can stretch your money further by using a credit card that lets you earn cash back or offers other rewards.
So check out your local dollar store and take an open mind with you to find some unique possibilities to get organized for the new school year.
Lucrative, Flat-Rate Cash Rewards
Current Offer
$200 cash rewards bonus after spending $500 in purchases in the first 3 months
Rewards Rate
Earn 2% cash rewards on purchases