Positive emotions can help you feel motivated to improve your finances. However, negative feelings like shame or greed may lead to overspending, avoidance, or risky investments.

Awareness of your emotions and how they affect you may prevent them from dictating your decisions. This way, you can create a system to ensure you act responsibly when those feelings arise.
Here are 15 emotions you should watch out for so they don't sabotage your personal finances.
Resolve $10,000 or more of your debt
Credit card debt is suffocating. It constantly weighs on your mind and controls every choice you make. You can end up emotionally and even physically drained from it. And even though you make regular payments, it feels like you can never make any progress because of the interest.
National Debt Relief could help you resolve your credit card debt with an affordable plan that works for you. Just tell them your situation, then find out your debt relief options.
How to get National Debt Relief to help you resolve your debt: Sign up for a free debt assessment here. (Do not skip this step!) By signing up for a free assessment, National Debt Relief can assist you in settling your debt, but only if you schedule the assessment.
SPONSORED
Anxiety
If you're feeling anxious about money, you're not alone. However, anxiety may limit your financial progress.
It can prevent you from taking a necessary risk, like returning to school or investing. You might also avoid your finances, for example, not looking at your credit card balance.
Think about your most common worries — these may be the areas of your life that need the most attention. It's hard to get ahead financially if you ignore it.
Indifference
Feeling apathetic about your finances can also prove detrimental. Staying actively involved with your finances is essential to keeping on track with your goals.
Indifference toward budgeting and tracking expenses often leads to overspending and accumulating debt. A lack of organization may also result in missed payments, late fees, and interest charges.
Envy
It's completely normal to compare yourself to others. However, you should try to keep feelings of jealousy in check.
It can result in excessive debt in an attempt to keep up with other people's lifestyles and material possessions.
Strive to prioritize your long-term goals over immediate gratification. You may also try keeping a gratitude journal to remind yourself of everything good in your life.
Earn $200 cash rewards bonus with this incredible card
There's a credit card that's making waves with its amazing bonus and benefits. The Wells Fargo Active Cash® Card(Rates and fees) has no annual fee and you can earn $200 after spending $500 in purchases in the first 3 months.
The Active Cash Card puts cash back into your wallet. Cardholders can earn unlimited 2% cash rewards on purchases — easy! That's one of the best cash rewards options available.
This card also offers an intro APR of 0% for 15 months from account opening on purchases and qualifying balance transfers (then 20.24%, 25.24%, or 29.99% Variable). Which is great for someone who wants a break from high interest rates, while still earning rewards.
The best part? There's no annual fee.
Overconfidence
While confidence is generally a good thing, it is possible to be too confident regarding your finances.
You may fall into debt from purchases you think you can pay off later or make an unsafe investment without proper research.
Creating a budget may help prevent overspending. You can also consult a financial planner to point you toward safe investment options.
Shame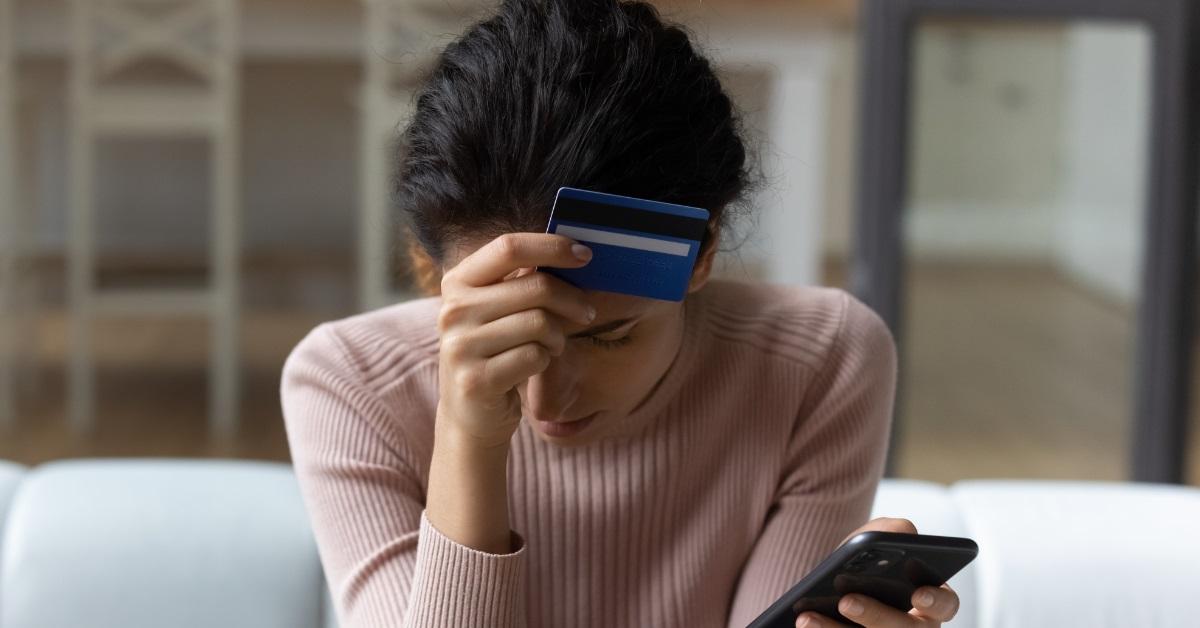 Many people feel ashamed about their financial situation; it may stem from credit card debt, low savings, or unemployment.
Feelings of shame make it challenging to confront your problems. It can result in avoidance or impulse buying to alleviate discomfort, leading to more shame.
Breaking this cycle by creating a budget and setting up a way to track your expenses (like a budgeting app) is essential.
Regret
Everyone has made financial decisions they regret, whether an ill-timed investment, past bankruptcy, or a forgotten bill.
However, don't let regret prevent you from taking the necessary steps to improve your current situation.
Instead of beating yourself up, look at past mistakes as learning experiences. They may help you make better decisions in the future.
Overexcitement
When overly excited, you may make hasty financial decisions without proper consideration.
For example, you could make a purchase or investment without researching all the details beforehand.
One way to counteract this is by writing a pro-con list and taking a few days before deciding if it still sounds like a good idea once the excitement has worn off.
Sadness
Shopping can boost your mood by releasing dopamine in your brain. Because of this, many people tend to shop when they feel sad.
It can lead to a habit of impulse buying, which may set you back from your financial goals.
When you feel sad, try to go for a walk, read a book, or seek help from a medical professional instead of shopping.
Embarrassment
Embarrassment can make you feel isolated and prevent you from seeking the help you need.
It's important to build up your self-esteem to overcome these feelings. Set small, realistic goals for yourself and celebrate when you accomplish them.
Everyone faces financial challenges at some point, so be kind to yourself and try to avoid comparing yourself to others.
Greed
Greed may stem from a desire to keep up with peers, a lack of security, or a search for fulfillment. Whatever the reason, greed can hurt your finances.
It may lead to making risky investments in the hope of higher returns. You might also go to extremes to hoard money and never spend it. Some people even resort to tax evasion or other unethical practices.
Denial
When you're in denial about your financial situation, you may neglect saving for emergencies, tackling debt, or making on-time payments.

The first step is to face reality and look honestly at your income, expenses, debt, and savings.
FOMO
The fear of missing out (FOMO) may lead to bad financial decisions, for example, going out with friends when you know you can't afford it.
You might also make a risky investment because it's gaining popularity, and you're afraid you'll miss the opportunity.
To counteract FOMO, set clear goals, stick to your budget, and limit social media use.
Overwhelm
With so many financial products and investment options, it can sometimes feel overwhelming. People tend not to take action when they have too many choices.
To avoid this, try to divide big projects into smaller projects. For instance, if you're shopping for a new bank, and there are 10 banks you're considering, try reviewing three at a time to make it less overwhelming.
Frustration
If you're living paycheck-to-paycheck or drowning in debt, it's easy to get frustrated. It can feel like your efforts to improve your situation are futile.
Remember to set clear goals and review them regularly to remind yourself what you're working toward.
You can also practice mindfulness through yoga and meditation. It may relieve stress and help you live in the present versus worrying about the past and future.
Panic
Panic makes it difficult to think clearly and logically, which is dangerous when making major decisions.
People in a panic may sell off investments prematurely, withdraw money from retirement accounts, or take on debt with unfavorable terms like a payday loan.
If you feel panic, it may be best to consult a financial advisor. They can look at your situation objectively and guide you toward the best path of financial fitness.
Bottom line
Being aware of your emotions and having a strategy for when certain feelings arise can prevent them from influencing your financial decisions.

You can also consult a financial therapist with a psychology and finance background. They may be able to help with the emotional aspects of personal finance, like feeling stress and trauma over money.
Try to limit your reaction to negative emotions and channel positive ones into helping you build long-term wealth.
National Debt Relief Benefits
No upfront fees
One-on-one evaluation with a debt counseling expert
For people with $7,500 in unsecured debts and up