Vodka doesn't get the respect it deserves. Many believe vodka is less sophisticated than spirit counterparts such as bourbon, but that's not true.
Instead, vodka is a palatable and versatile liquor that can be enjoyed in mixed drinks or sipped on its own, with or without rocks.
While they may not help you keep more money in your pocket, these high-end vodkas will give you an exceptional drinking experience, making them worth the splurge.
Get a protection plan on all your appliances
Did you know if your air conditioner stops working, your homeowner's insurance won't cover it? Same with plumbing, electrical issues, appliances, and more. Not being able to make repairs could leave you in a bad situation — but a home warranty could protect you against surprise expenses.
Whether you're a brand-new homeowner or you've owned your home for years, a plan from Choice Home Warranty could pick up the slack where homeowner's insurance falls short.
If a covered system in your home breaks down, you can call their hotline 24/7 for assistance to get it repaired. They have a network of over 15,000 technicians that can assist you, making sure any issue can be taken care of swiftly — without breaking the bank.
Not sure if it's for you? Rest easy: they were named one of the "Best Home Warranty Companies" by US News 360 Reviews and were awarded Best Company's 2020 Consumer's Choice Award. For a limited time, you can get your first month free when you sign up for a Single Payment home warranty plan.
Belvedere Organic Vodka
Hailing from Poland, Belvedere Organic Vodka is made from organic rye, which imparts a distinct character to the spirit.
Belvedere Organic Vodka has notes of vanilla, pepper, and a slight sweetness. It's clean and doesn't have the harsh burn that some cheaper vodkas do. Instead, the finish is smooth.
Belvedere's flavor profile makes it a good sipping vodka and an excellent base for cocktails. You can find a 750-milliliter bottle for $28.99, which puts this vodka's price on the lower end of this list.
Chopin Vodka Family Reserve
Also distilled in Poland, Chopin Vodka is a high-end vodka that spends two years in an oak barrel before it is packaged.
The spirit is made from young potatoes and has a smooth flavor profile. It has a subtle spiciness, with hints of cloves, ending with a warm finish that lingers pleasantly.
The Chopin Vodka Family Reserve is a true sipping vodka meant to be enjoyed slowly. While it also makes an excellent martini, at $129.99 a bottle, you might want to savor each sip.
Crystal Head Vodka — John Alexander
Crystal Head Vodka stands out not only for its quality but also for its presentation. Crafted in Canada, the limited-edition John Alexander bottle is an excellent pick from this distillery.
All Crystal Head Vodka is brewed from corn and blended with water from Newfoundland. The flavor of the John Alexander edition is citrus and vanilla forward, with subtle peach and cream notes.
The painted skull-shaped bottle makes the John Alexander edition a collector's item. Depending on the outlet, you'll pay $149.99 on the low end for a 750-milliliter bottle. From there, prices can soar into the hundreds of dollars.
Stop overpaying when you shop online
Shopping online has its perks. It's super convenient, but it can be time consuming to find the best deals. Instead of hunting for coupon codes (that don't always work!) and opening tons of browser tabs comparing prices, you can try Capital One Shopping.
Capital One Shopping makes saving money effortless. Just add the browser extension and when you check out, it'll scour the internet for coupon codes to help you save cash. And before you check out at 25+ major retailers, Capital One Shopping will notify you with a friendly pop-up if the item you're buying is available cheaper somewhere else.
Capital One Shopping is free to use and won't show you ads. Add it today and stop overpaying!1
Elit Andean
Regular Stolichnaya vodka is decent, but the Elit line of this company's vodka is genuinely luxe. In particular, the Elit Andean edition is made using water sourced from Colico Lake in Chile and freeze-filtrated.
Elit has a silky texture, hints of citrus, and a super-clean finish, making it an exceptionally smooth vodka. Some say you can barely detect the taste of alcohol.
If you want to splurge on this premium vodka, it will make you $3,000 poorer. You can console yourself with sips of some of the finest liquor available.
Grey Goose Vodka
Grey Goose Vodka is distilled in France from French wheat and fresh spring water. The result is a consistent vodka perfect for mixing fancy martinis.
Grey Goose has a creamy and well-rounded flavor profile. It's also super clean and has a bold finish.
Grey Goose is one of the more affordable vodkas on our list at $19.99 per bottle, but it rightfully belongs on the top shelf.
Hangar 1 Fog Point
Sourced from the San Francisco Bay Area, Hangar 1 Fog Point uses water harvested from the city's famous fog. The innovative and sustainable distillation process makes the spirit a worthwhile addition to any collection.
Hangar 1 is also made with two kinds of California grapes. It has a pleasant taste, with notes of citrus, pear, and a hint of floral sweetness.
With this much attention to detail, it's unsurprising that one bottle of Hangar 1 will run you at least $129.99.
JCB Vodka
Vodka can be made from many ingredients, including grapes. So it makes sense that winemaker Jean-Charles Boisset would try his hand at vodka made from the fruit. The result is JCB Vodka, which uses pinot noir and chardonnay grapes.
This vodka is aged in a barrel for six months, distilled seven times, and filtered four times. That explains the price tag of $100 per bottle. You can justify the price at least once for this fine sipping vodka.
Kástra Elión Vodka
Kástra Elión Vodka hails from the Nafpaktos region of Greece. It is made with hand-picked olives and fine grain, which impart a distinctive Mediterranean quality to the spirit.
Kástra Elión Vodka has a delicate briny flavor with a distinct olive note, complemented by a buttery finish. If ever there was a vodka perfect for a dirty martini, this is it.
A bottle of this unique Greek liquor will cost you $47.99, which may not be worth it if you only want sipping vodka. But for that aforementioned martini, it's a must-try.
Kors Vodka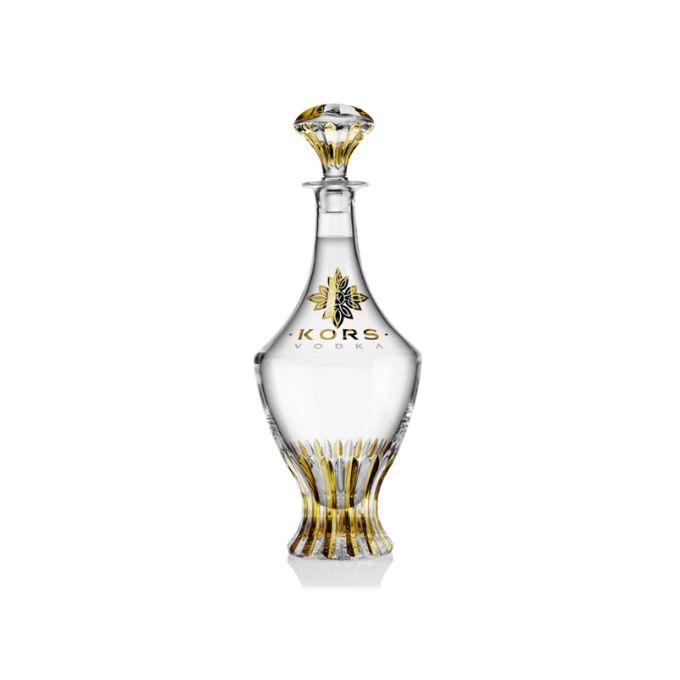 Kors Vodka pulls out all of the stops. Each crystal bottle is handmade in Russia, and all vodka is crafted in small batches. The bottles have detailing with actual gold or other precious metals.
The vodka recipes — created for Russian royalty — are carefully guarded and utilize a "diamond distillation" technique and tubes made of gold. Naturally, the taste is perfect — it has to be worthy of a tsar.
Not surprisingly, this exclusive spirit is the most expensive vodka, starting at $4,500 a bottle and going as high as $24,500. Enough said.
Earn 2% cash rewards at grocery stores and Costco
The Wells Fargo Active Cash® Card(Rates and fees) is a powerful rewards card that allows you to earn unlimited 2% cash rewards on purchases — including on groceries, even at warehouse stores like Costco.

New cardholders can also earn a one-time cash rewards bonus — $200 cash rewards bonus after spending $500 in purchases in the first 3 months!
If you're looking for a powerful rewards card that offers an extended intro APR period, look no further, the Wells Fargo Active Cash® Card checks that box too!
This card also offers an intro APR of 0% for 15 months from account opening on purchases and qualifying balance transfers (then 20.24%, 25.24%, or 29.99% variable). Which is great for someone who wants a break from high interest rates, while still earning rewards.
The best part? There's no annual fee.
Click here to apply for the Wells Fargo Active Cash® Card now.
Ocean Organic Vodka
Made from all-natural and organic ingredients — including organic sugar cane and water that originated in a glacier — Ocean Organic Vodka is distilled lovingly in Hawaii. The brand boasts that it has more than 70 minerals.
Thanks to the fine ingredients and unique distillation process, the flavor is slightly fruity and briny, complemented by a vibrant texture. It makes for an excellent martini.
Ocean Organic Vodka only costs $24.99 a bottle, a splurge by some standards, but its unique character and many accolades make the purchase worth it.
Bottom line
While there are countless vodka brands available, the options on this list truly stand out for their exceptional taste, quality, and ingredients.
While they may come with a higher price tag, the pleasure they provide makes them worthwhile investments for any vodka enthusiast. 
If you're going to splurge on one of these bottles, consider paying with a rewards credit card that lets you earn cash back or other perks.
Lucrative, Flat-Rate Cash Rewards
Current Offer
$200 cash rewards bonus after spending $500 in purchases in the first 3 months
Rewards Rate
Earn 2% cash rewards on purchases