With summer nearly here, many Americans are hoping to find new ways to enjoy the great outdoors. Some are opting to spend their time on hiking trails. 
Whether you plan to make it into a full camping trip or just make a day of it, hiking is a great way to enjoy nature and get some great exercise. Along with the fresh air, hiking can be light on your wallet and be one of the ways to eliminate money stress on vacation. 
The U.S. is stocked with incredible hiking options, from the Appalachian Trail to the Ozarks. We've compiled a list of beautiful hiking trails in all 50 states.
Alabama: The Pinhoti National Recreation Trail
The Pinhoti National Recreation Trail offers the opportunity to enjoy the beauty of the Southeast on this Appalachian Trail connector.
The trail is a total of 337.1 miles, with 170.7 miles in Alabama. It's broken up into several sections so hikers can opt for very difficult treks or moderate, family-friendly options.
Alaska: Savage River Loop Trail
An especially beautiful way to enjoy Alaska's Denali National Park is by taking a hike along the Savage River Loop Trail.
The loop travels along the side of the river, and at just 1.7 miles round trip, makes a great hike for families looking for a gorgeous, but minimally strenuous hike. The hike remains near the river for the most part, with little climbing as well.
Arizona: The Rim Trail (Grand Canyon)
The Grand Canyon is a must-see for anyone visiting Arizona, and while there are a slew of trails to choose from, the Rim Trail — which stretches from the South Kaibab Trailhead west to Hermits Rest — is a great option.
The trail is lengthy, at about 13 miles, but the majority of it is paved and it offers breathtaking views of the inner canyon. Hikers can also use shuttle buses to shorten the hike.
Arkansas: Ozark Highlands Trail
The Ozark Highlands Trail in Arkansas is a top destination for gorgeous winter hikes, with a peak season between fall and spring.
The trail offers 270 miles of terrain for hikers and backpackers. Families looking for a nice day hike or shorter nature walk can choose one of many stretches along the way.
California: The Bridge to Nowhere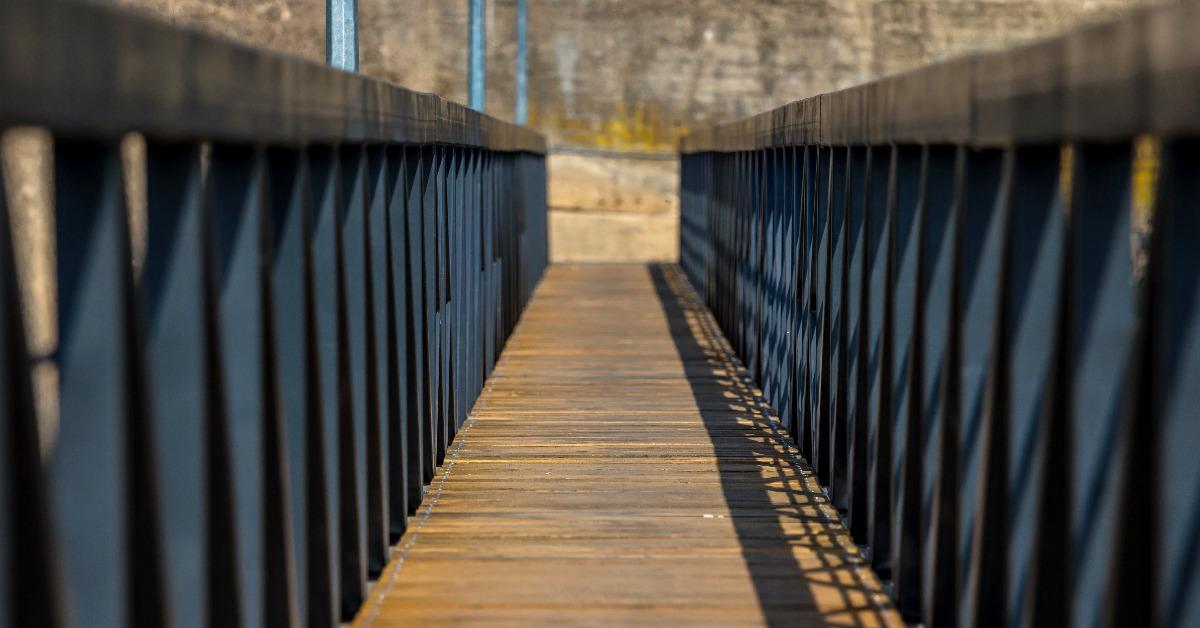 California has no shortage of incredible hikes, including the Bridge to Nowhere hike via the East Fork Trail.
The nearly 10-mile route near Mount Baldy in Southern California is popular year-round and takes hikers along beautiful river banks and wooded areas to a mysterious bridge built over the east fork — the so-called "Bridge to Nowhere."
Colorado: Flatirons Loop
The Flatirons Loop in Boulder is a rocky and relatively short hike near Chautauqua Park.
The scenic route — which is about a half-mile — takes you through ponderosa forest. The short and relatively simple hike is the perfect day outing for families, and is less difficult to navigate than other trails in the area.
Connecticut: Pine Mountain Trail
Pine Mountain Trail in Ridgefield has a lot to offer those seeking adventure, as it's close to Pine Mountain and two state parks, Wooster Mountain and Bennett's Pond. It is generally considered a simple route.
The trail is about 4.2 miles and takes hikers on a loop through peaceful woodlands and up to a beautiful overlook.
Delaware: Swamp Forest Trail
This trail in Lums Pond State Park can be used by hikers, bikers, and runners alike. It's a relatively easy route that takes visitors around Lums Pond in a loop that is just over 6.5 miles.
Those looking for a longer trail can connect to the Little Jersey Trail, which will take you on a bigger loop around the perimeter of the park.
Florida: Snake Bight Trail
This tropical trail in the Everglades is a popular destination for those visiting (or simply enjoying) the Sunshine State.
The 1.6-mile trail along Snake Bight Bay (part of the larger Florida Bay) is as relaxing as it is gorgeous. A less strenuous option, this trail is perfect for hikers of all ages.
Georgia: Unicoi Gap
The hike from Unicoi Gap to Rocky Mountain in Georgia is one of the most popular Appalachian Trail routes in the state.
While the route offers spectacular views, hikers will need to climb upward of 1,000 feet to reach the top during this 5-mile hike. If you can make the trek, the stunning views are certainly worth the effort.
Hawaii: Diamond Head (Le'ahi) Summit Trail
Diamond Head is a massively popular trail in Honolulu on the island of Oahu. At just 1.8 miles there and back, it's a short trek that promises incredible views of the city below as well as the sparkling Pacific Ocean.
The majority of the trail has hikers trekking up rocky terrain, although there are also a few stone staircases once you get near the top.
Idaho: Alice-Toxaway Loop
Alice-Toxaway Loop in southwestern Idaho is a great option for hikers looking to make an eco-friendly vacation out of their trek.
The 19-mile loop allows visitors the opportunity to hike, camp at lakes, and check out beautiful views along the way. Those looking for a shorter trek can also customize their trip, or simply hike out and set up camp by a lake for the night.
Illinois: Cedar Lake Trail System
The Cedar Lake Trail System offers a few different hikes to fit the needs of all who visit the Shawnee National Forest in Illinois. The trail system is 16 miles in total.
Those looking for a day-hike should consider Cove Hollow Trail (3.3 miles) or the Little Cedar Loop (4.3 miles). Both provide beautiful views of the lake and scenic overlooks, and are considered moderate in difficulty.
Indiana: Indiana Dunes National Park
Indiana Dunes National Park offers hikers more than 50 miles of trail systems, with a wide variety of lengths and difficulty levels — from simple, peaceful strolls to day-long treks.
Those looking for a simple trek may want to consider Calumet Dunes Trail, a half-mile hike near the Calumet Dunes ridge, which was the shore of Lake Michigan thousands of years ago.
Iowa: Wapsipinicon State Park
The 1.4-mile trek along the Wapsipinicon River Bank is known to locals as an incredible spring hike.
Wapsipinicon State Park, located just south of Anamosa, features small caves. The hike is easy enough to bring along the whole family.
Kansas: Castle Rock
This simple hike allows visitors to experience the incredible rock formations at Castle Rock. The trail is about 1.4 miles out and back.
Hikers say the trail itself is relatively easy, but more ambitious visitors can get off the beaten path for some elevation hiking and incredible photo ops.
Kentucky: Double Arch Trail
Double Arch Trail in Daniel Boone National Forest takes hikers on a beautiful trek through hemlock forests from the Auxier Ridge Trailhead.
The hike, which is just under 4.5 miles, leads up to an incredible overlook of Courthouse Rock. While it makes for a great day hike, visitors can also get a permit and set up camp in the area.
Louisiana: Kisatchie National Forest
Kisatchie, the only national forest in Louisiana, is located in the north central part of the state and offers hikers a handful of incredible options.
A fan favorite is the Caroline Dormon Trail, a 10.5-mile trek through mostly dirt on the way to the Kisatchie Bayou Recreation Complex, where travelers can set up camp if they choose to.
Maine: The Beehive Loop
Located in Maine's gorgeous Acadia National Park, the Beehive Loop is a difficult hike, but well worth the struggle, as visitors are rewarded with impeccable views of Sand Beach, Great Head, and Frenchman Bay.
The hike is just under 2 miles and may be a better option for families with older children, as some stretches can be challenging.
Maryland: Billy Goat Trail
The Billy Goat Trail in Chesapeake and Ohio Canal National Historical Park offers hikers the opportunity to enjoy the scenic and natural wonders near the District of Columbia area.
The Billy Goat Trail offers three hiking routes, all under 2 miles and differing in difficulty levels. Section A, which takes hikers on a 1.75-mile trek, is considered the most challenging of the three.
Massachusetts: Skyline Trail
Accessing Great Blue Hill via the Skyline Trail, near Milton, checks all the boxes for a great hike.
The 3-mile loop takes hikers on a moderately-difficult trek through the forests of the Blue Hill Reservation. It offers incredible views of downtown Boston's skyline. From Eliot Tower, hikers can look out at the entire Boston region.
Michigan: North Country National Scenic Trail
Part of the North Country National Scenic Trail — which eventually will span seven states — stretches through Michigan and offers hikers several opportunities for serene treks of varying difficulty levels.
Some popular routes include a hike between Cadillac and Manistee in the Manistee National Forest and along the shore of Lake Superior near Grand Marais.
Minnesota: Silver Creek Trail
Silver Creek Trail is one of the most popular hikes in the 50 miles of trails in Jay Cooke State Park.
The trail, a 3.5-mile loop, offers stunning views of the bedrock landscape along the St. Louis River. Hikers looking for a slightly longer trek can also connect to other trails in the park like the Summer Trail or the Lost Lake Trail.
Mississippi: Alligator Lake Nature Trail
The Alligator Lake Nature Trail in Tishomingo State Park is a simple and winding trek around a lake that gives hikers the opportunity to enjoy the area's natural beauty, while keeping difficulty to a minimum, at just 1.5 miles.
The park has several trails for hikers of different skill levels, and is located in the foothills of the Appalachian Mountains in Tishomingo Country.
Missouri: Bell Mountain Wilderness and Trail
Bell Mountain Wilderness and Trail, located in Mark Twain National Forest, is a long hike for ambitious families looking to make a day of it.
The trek stretches on for nearly 12 miles, and takes hikers up more than 1,700 feet to the summit. The trail is actually part of the Ozark Trail, which stretches from St. Louis to Arkansas.
Montana: Trail of the Cedars
For incredible hikes and unforgettable views in Montana, Glacier National Park is the place to be. The park offers many beautiful trails to choose from, but the Trail of the Cedars is one that should work for family members of all ages.
The 1-mile hike takes hikers through beautiful woodlands with western red cedars and western hemlocks. It's even accessible by wheelchair.
Nebraska: Pine Ridge Trail System
Nebraska has no shortage of incredible hiking trails. The Pine Ridge Trail System alone includes more than 80 miles of trails for hikers, bikers, and those on horseback.
Trails vary quite a bit in distance and difficulty level. One of the more family-friendly options is the 6-mile, incredibly scenic Spotted Tail Loop.
Nevada: Rainbow Vista Trail
This trail is part of the gorgeous Valley of Fire State Park near Overton. The route is relatively easy, at just 1.1 miles, and offers hikers stunning views and great photo ops as the surrounding rocks reflect many different colors.
If you're visiting in summer, prepare for dry desert heat that could get to over 100 degrees.
New Hampshire: Ammonoosuc Ravine Trail
The Ammonoosuc Ravine Trail takes hikers on a difficult trek up to the summit of Mount Washington.
The 8.2-mile hike is definitely more of a day trip than a casual walk through the woods, but the reward will be worth the hard work. Hikers can enjoy the Lake of the Clouds Hut on their way up to the summit.
New Jersey: Palisades Interstate Park
Palisades Interstate Park has more than 30 miles of trails that range in difficulty levels. Visitors can take a leisurely stroll along the Hudson River shores, or embark on more challenging treks that involve a bit of rock climbing.
There are also several picnic areas along the trail, and a separate roadway for cyclists.
New Mexico: Dripping Springs Natural Area
The Dripping Springs Natural Area in New Mexico offers low-key day-hikes along its 4 miles of trails, including the Dripping Springs Trail.
The hike features beautiful woodland views and is also a great spot to spot wildlife, particularly for those interested in watching birds.
New York: Popolopen Gorge/Queensboro Lake
The 6.5-mile look is one of many trails available for visitors to the vast and beautiful Bear Mountain in New York state.
The trail covers a large array of different terrains and passes by some beautiful lakeside, woodland, and mountain views.
North Carolina: Black Rock Trail
The Black Rock Trail at Grandfather Mountain is a scenic route that takes hikers on a 1-mile trek from the Black Rock Parking Area to the top of a rock outcropping.
Grandfather Mountain also offers several other trails and nature walks for hikers of all different skill and fitness levels.
North Dakota: Little Missouri State Park
Little Missouri State Park in North Dakota is the perfect spot to get away and enjoy some quiet time in the great outdoors.
The park has more than 45 miles of trails, so hikers can pick their favorite. The T Trail, a 3.5-mile trek, is a family friendly option that lets hikers enjoy all the beautiful sights and sounds the North Dakota Badlands have to offer.
Ohio: Mill Creek Park
Mill Creek Park in Youngstown, Ohio, has 14 hiking trails for visitors to choose from.
Families can walk a 2-mile loop that includes East Gorge Walk and West Gorge Trail. It is perfect for a low-key, scenic stroll. The trail is a mix of boardwalks and rugged terrain.
Oklahoma: Elk Mountain Trail
The 2.3-mile trek along Elk Mountain Trail allows hikers to enjoy all the beauty that the Wichita Mountains Wildlife Refuge has to offer, and provides great views of the valley below.
The hike is considered a relatively challenging route.
Oregon: Tillamook Head Traverse Hike
The Tillamook Head Traverse Hike is on the challenging side, taking travelers from the Tillamook trailhead to the north to the Indian Beach trailhead to the south on a 6.3-mile trek.
Expect gorgeous views of Oregon's coast along the way.
Pennsylvania: Bushkill Falls
Bushkill Falls in the Pocono Mountains offer a tranquil, yet easy-to-navigate hiking experience for families.
The Falls, often dubbed "The Niagara Falls of Pennsylvania," offer a few different hiking options. The Red Trail will give hikers full view of Bridal Veil Falls on a gorgeous 2-mile hike.
Rhode Island: Carr's Pond and Tarbox Pond
The trail between Carr's Pond and Tarbox Pond takes hikers on a 4-mile loop near Coventry.
Although the hike is a longer one, it's generally considered a fairly easy route and offers beautiful water views.
South Carolina: Jones Gap State Park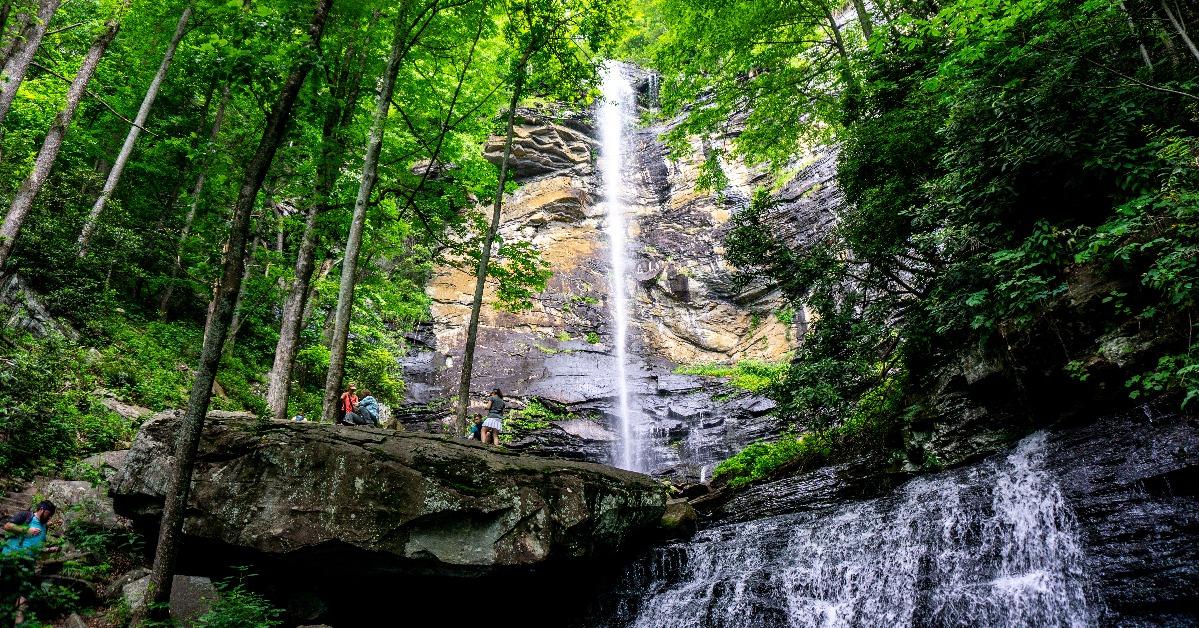 Jones Gap State Park offers a series of scenic trails. Families looking for a fun activity for a few hours may want to consider the Coldspring Branch hike (2.6 miles) or the Rainbow Falls Trail (2.2 miles).
South Dakota: Badlands National Park
Badlands National Park in South Dakota has a handful of different trail options to suit the needs of any hikers.
For families, we recommend the Notch Trail, a moderate 1.5-mile trek that takes hikers through a canyon and along a ledge to "the Notch" for a gorgeous view of White River Valley.
Tennessee: T.O. Fuller State Park
This park, located just outside of Memphis, has three different trail options for hikers of different skill sets.
The 4-mile Discover Trail is a solid option. It's a scenic route of moderate difficulty that lets hikers enjoy the beauty of the Wetlands as well as Chucalissa Native American Village.
Texas: Boquillas Canyon Trail
Boquillas Canyon Trail — a small part of more than 150 miles of trails in Big Bend National Park — is the ideal day hike. The 1.4-mile trek takes visitors to the top of a cliff overlooking the Rio Grande and then down along the river's edge into the canyon for a truly breathtaking experience.
Utah: Zion Canyon Overlook Trail
Zion National Park has many beautiful hikes to choose from. The Overlook Trail is a popular one for its relative simplicity, as well as the stunning views hikers get to enjoy.
The trail is about 1 mile round trip and it is mostly flat and well-traveled, making it a simple way to get an incredible view of all the beauty Zion has to offer.
Vermont: Stowe Pinnacle Trail
Vermont is known as a beautiful place to enjoy outdoor activities — from skiing to cycling and hiking.
The Stowe Pinnacle Trail in Putnam State Forest is a popular option. It is considered a challenging hike at 3.7 miles, and it does cover some difficult terrain. But those who've hiked it say the view from the top is well worth the struggle.
Virginia: Great Falls Loop
Great Falls Loop is a beautiful 4.6-mile hike that takes visitors through several connected trails.
The loop is part of Great Falls Park's 15 miles of trails that offer serenity in some places and challenge climbs in others.
Washington: Wallace Falls State Park
The 5.6-mile hike at Wallace Falls is a top destination for a reason. The Woody Trail offers beautiful views of the Wallace River as well as nine incredible falls.
For those worried about making it to the top (1,300 feet up), the overlook at the Middle Falls also offers spectacular views.
West Virginia: Long Point Trail
At just 1.6 miles, Long Point Trail is a simple trek that offers incredible panoramic views of the New River Gorge Bridge.
The hike, near Fayetteville, is the perfect early morning or afternoon adventure and provides many photo ops along the way as hikers trek through fields of wildflowers.
Wisconsin: East Bluff Trail
East Bluff Trail is a small part of 29 miles of trails in Devil's Lake State Park.
The trail is relatively short, at just 1.7 miles, and includes a trek up stone steps, beautiful views of Devil's Lake, and the opportunity to stop at Elephant "Cave."
Wyoming: Cascade Canyon Trail
When visiting Wyoming, Grand Teton National Park is a must-see stop.
Although there are many trails throughout the park, Cascade Canyon is a particularly rewarding one — both because it's a 9.1-mile trip there and back and because of the absolutely breathtaking views hikers will take in along the way
Bottom line
Whether you're looking for great hikes in your own state or hoping to bask in all nature's glory during your next family vacation, there are incredible treks of varying difficulty levels in every state in the U.S.
If traveling to trek is part of your plan, it may be worth looking into the best travel credit cards before you book. Even if you plan to backpack, camp, and travel by car, there are cards that offer rewards for other purchases associated with travel — such as dining, gas, and more.
Easy-to-Earn Unlimited Rewards
Earn 25,000 online bonus points after you make at least $1,000 in purchases in the first 90 days of account opening - that can be a $250 statement credit toward travel purchases
Earn 1.5 points per $1 spent on all purchases
Longer intro APR on qualifying purchases and balance transfers
No foreign transaction fees
Earn unlimited 1.5 points per $1 spent on all purchases, with no annual fee and no foreign transaction fees and your points don't expire.
25,000 online bonus points after you make at least $1,000 in purchases in the first 90 days of account opening - that can be a $250 statement credit toward travel purchases.
Use your card to book your trip how and where you want - you're not limited to specific websites with blackout dates or restrictions.
Redeem points for a statement credit to pay for travel or dining purchases, such as flights, hotel stays, car and vacation rentals, baggage fees, and also at restaurants including takeout.
0% Introductory APR for 15 billing cycles for purchases, and for any balance transfers made in the first 60 days. After the intro APR offer ends, 18.24% - 28.24% Variable APR will apply. A 3% fee applies to all balance transfers.
If you're a Preferred Rewards member, you can earn 25%-75% more points on every purchase. That means instead of earning an unlimited 1.5 points for every $1, you could earn 1.87-2.62 points for every $1 you spend on purchases.
Contactless Cards - The security of a chip card, with the convenience of a tap.
This online only offer may not be available if you leave this page or if you visit a Bank of America financial center. You can take advantage of this offer when you apply now.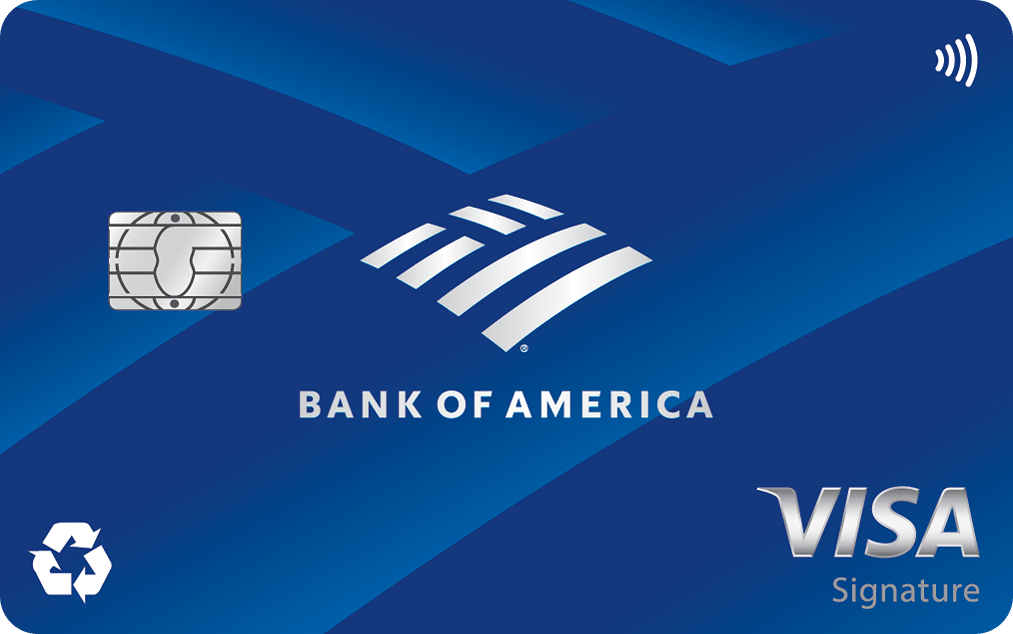 4.1
FinanceBuzz writers and editors score cards based on a number of objective features as well as our expert editorial assessment. Our partners do not influence how we rate products.
Apply Now
on Bank of America's secure website
Read Card Review
Intro Offer
Earn 25,000 online bonus points after you make at least $1,000 in purchases in the first 90 days of account opening - that can be a $250 statement credit toward travel purchases