Update: Our second FBZ Elite Summit is happening in Austin October 26, 2019! Attendees wanted even more learning and insider tips so making it happen! Don't miss the most epic travel event of your life. Claim your spot here.

After years of talking about a meet-up, we finally made it happen. In Vegas!
Over the first weekend of November 2018, we held our first FinanceBuzz Elite (FBZ Elite) Summit and the turnout was incredible. We knew our community was amazing but meeting in person for the first time took it to next level.
More than 80 attendees from FBZ Elite Travel & Points traveled from all over to connect with fellow group members to talk points and miles, credit cards, travel, and life in general.
"Meeting the people you spend so much time talking to online about travel is better than I could have imagined. Everyone was wonderful and so easy to talk to!" - Jennifer
Beyond the Points
Growing a diverse, inclusive community of people who genuinely care about each other outside of the hobby has always been a big goal for us, and this meetup far exceeded expectations.
But when we first announced the event, we weren't sure what to expect –
Would it be weird to meet friends from the internet? Would there be enough to talk about? Would people actually look like their profile pictures?
Turns out, there was absolutely nothing to worry about.
Weekend Kick-off in the FBZ Suite
As we kicked things off on Friday with a happy hour in the FinanceBuzz Suite at the ARIA Resort & Casino, we knew this was going to be an epic weekend. With a fully stocked bar and catering by FBZ Elite member, Joe at Bardaro Cuisine (thanks, Joe!), it was exciting to see people from all walks of life connecting through travel.
And for our group members who couldn't be there, we even live streamed it.

"Cheers to connecting with humans from around the world and making this little blue planet even smaller." - Greg
FBZ Elite member, Killian, also brought a special bottle of Louis XIII Cognac to share (thanks, Killian!). At a $150 per ounce, I'll spare you the details on the glass that spilled...the look of horror on Brandon Neth's face said it all.
"This weekend was like whoa!!!!!! A million sincere thank yous for this surreal, once in a lifetime, ultra glamorous crazy experience! This was my 12th time in Vegas but the very first time I've gotten to party like a rich kid!" - Mariel
VIP Soirée at HYDE Bellagio
Saturday night brought us all back together for more great conversation at the HYDE Bellagio Sunset Lounge for an exclusive VIP party, where we had front row seats overlooking the iconic Fountains of Bellagio.
"This group has brought many of us closer. FBZ Elite feels like family to me. I only log into FB just to visit FBZ these days." - Penn
"We had an amazing time with everyone. We didn't get to meet every single person but the ones we did meet, are now a special part of our lives! Looking forward to more future events." - Sara
"It was awesome meeting all of the moderators and members! Hope our FBZ family [keeps growing] and we're able to help more people travel the world!" - Victor
"This weekend was amazing! While I am not the only one that thinks this, I am so grateful to be in this amazing group and have met some of the most amazing people in the world. I can't wait for the next meetup!" - Steve
Stratosphere Tower
Later that night, we hit up the Stratosphere Tower and Observation Deck, thanks to FBZ Elite member, Scott, who was so generous to get tickets for us (thanks, Scott!). While some thrill seekers went on rides like Insanity, others hung around the Observation Deck to chitchat.

"I got the absolute pleasure to [spend] one on one time with Brandon Neth Saturday night while waiting for everyone to finish up at the Stratosphere Tower. [We] sat together 108 floors in the air with our backs to Las Vegas, watching Washington State (Go Cougs) score a last minute touchdown to beat Cal!" - Scott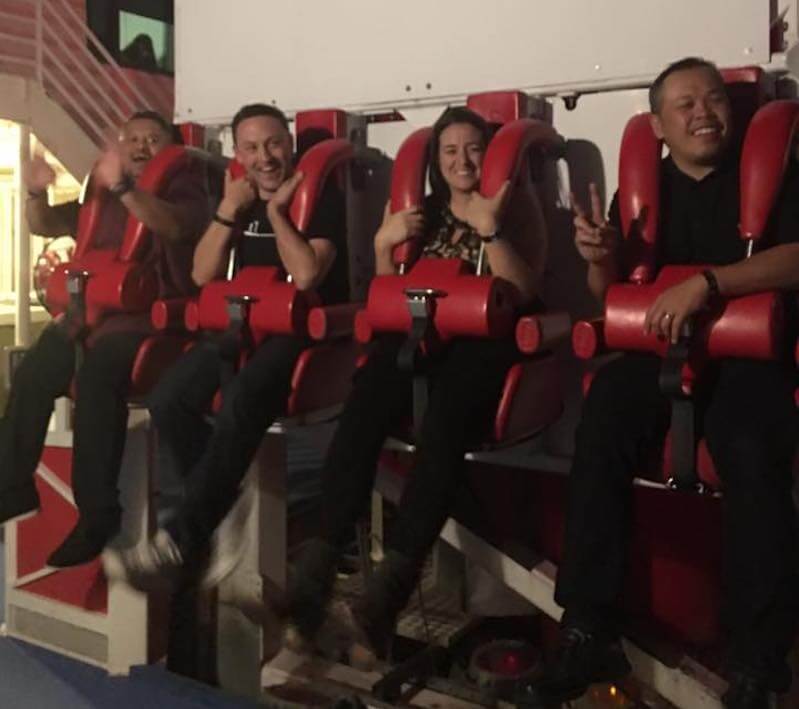 Bacchanal Buffet at Caesars Palace
Brunch at the Bacchanal Buffet the next day was...in a word, indulgent. With everything from endless prime rib, to chilled crab legs and oysters, to handmade dim sum, and world-class desserts, this famed $100 buffet delivered as one of the best things to do in Vegas. 
FBZ Elite: We Love You!
This group is full of some of the most caring, compassionate people on the planet and we're privileged to help foster it. A huge thank you to everyone who came out – we can't wait to see you at the next one!
"Before Friday, most of us only knew each other through the small window of Facebook. You brought together people from all over the country, different races, religions, orientations, economic levels, etc. We came to meet others who shared our "hobby" and discover the souls behind the cover we see on our profile pictures. We shook hands, we hugged, we laughed, we quickly developed bonds "Beyond the Points" and we genuinely took an interest in the person standing across from us. And while today, most of us will return home our daily grind, I hope we all take with us the memory that there is much more that unites us. Let's remember to look through the window and find the souls of our neighbors, our coworkers and our acquaintances. We have the power to change course of history and it takes just one little spark to do it. Let's be that spark. See you all next year." - Kyle
"I spent this past weekend meeting some of my internet travel buddies for the 1st time. They turned out not to be weird, but in fact were quite sweet and really good looking! What I enjoyed most was interacting with some of the people who've literally CHANGED MY LIFE these past 7 months with this hobby of using the best travel credit cards for points and miles. I'm able to take advantage of some SERIOUS travel deals b/c of the tools that I've learned from the amazing people (for FREE might I add)! As a single Mom, I don't have much disposable income and every cent counts. There's a big misconception that I have a lot of $$$ b/c I'm always traveling. NOT TRUE! I get so excited talking to people about my travel tribe and I'm so excited to continue to learn so much more!" - Quana
A big thanks to the following for helping us make this event a success: ARIA Resort & Casino, HYDE Bellagio Sunset Lounge, Sugarcane Raw Bar Grill, Shy McGrath and team, Stratosphere Tower, Badaro Cuisine Catering, and Total Wine & More