While some financial education takes place at school, parents often play the biggest role in shaping a child's relationship with money. With a multitude of tools (including newer tech tools) at their disposal, how do parents know what's effective for teaching financial education to their kids?
To get a sense of how modern parents approach the topic of money as it relates to their children, specifically around credit cards, the FinanceBuzz team surveyed 1,000 U.S. parents to find out what they think about credit and kids, financial education, and building good credit habits.
Key findings
On average, parents think the appropriate time to give a child a credit card is 13. 
39% have caught their kids abusing their credit card privileges.

73% of parents talk to their children about money or money management regularly.


Only 43% of parents think schools adequately teach financial literacy.
Budgeting or spending apps are the most effective way to teach kids money management, according to parents.
Parents say the appropriate age to give a child a credit card is 13 years old
Though most major credit cards aren't available to individuals under age 18, one workaround has been growing in popularity as a way to help build credit — adding a child as an authorized user to your credit card. Though it may seem irresponsible to give a child access to a line of credit, it actually helps them establish a credit history.
According to respondents, however, making a child an authorized user of a parent's credit card is actually one of the least effective methods of teaching financial literacy to kids. Only 37% of parents said they have made their child an authorized user of a credit card, and just 55% of those parents felt it was effective at teaching their child to be more financially literate.
Despite some negativity on the subject, on average, the parents we surveyed said that 13 was an appropriate age to make a child an authorized user on an existing card, while just 17% said a child should never be added.
Among parents who have made their child an authorized user before, financial education and literacy are the biggest motivations behind that decision. Sixty percent of parents who have given a credit card to their child said they did so in order to teach them financial responsibility, while 53% cited a desire to start building healthy financial habits within their child.
What parents intend their children to use credit cards for
While teaching financial literacy is the reason why parents give their children credit cards, that still leaves the question of what kids are allowed to use those cards for.
The top answer, chosen by nearly 40% of parents, is food. Thirty-eight percent of parents who have given their child a credit card say they did so to allow that child to buy themselves meals when away from the rest of the family. Only one other acceptable use was chosen by at least 30% of parents, and that is paying for expenses relating to the child's extracurricular activities.
Fact
46% of children that have been given a credit card have used it in a way they were not supposed to.
Just because parents have specific uses for these cards in mind does not mean those rules are always followed. Kids don't always follow rules or behave as responsibly as their parents would like, and, for many parents, those characteristics apply to their child's credit card usage.
Among parents who regularly check the spending of a child who has been given a credit card, 46% have caught their child using that card in a way they were not supposed to, driving home just how much work many parents still have to do when it comes to teaching their kids financial responsibility.
Financial literacy and money conversations with children
It's clear that parents think it's important to have conversations about money with their children. Nearly three out of four parents (73%) say they talk to their kids about finances.
These conversations start early for many families, with nearly 60% of parents with children ages 5 to 7 saying they are already having these kinds of chats with their youngsters. Understandably, parents put a greater emphasis on financial literacy as their children near adulthood, with four out of every five parents of a high-school-aged child saying they discuss money regularly, the highest rate of any age group.
One reason parents may be taking a hands-on approach to educating their children about money is the quality of financial education they feel kids receive at school. The majority of parents, 57%, feel that schools do not do a good enough job teaching financial literacy, a number that jumps to 65% among parents of children aged 15-18.
This level of negativity from parents is not surprising given the lack of emphasis that financial education receives in the United States. While 27 states require schools to offer personal finance courses, only 15 require students to actually take a personal finance course in order to graduate.
The most effective tools for teaching about money
With parents taking such an active role in the financial education of their children, our team wanted to know which tools parents have found most useful when it comes to teaching kids about money. Modern technology has proved particularly useful for many, as nearly 70% of parents who have used budgeting or spending apps to teach their kids about finances have found them to be useful and effective tools.
Only two other tools were given a seal of approval by more than 60% of parents. Those are debit cards designed to be used by kids and financial literacy games, both of which were deemed effective by 67% of parents who have used them in the past.
Bottom line
No matter where you or your family are in your financial literacy journey, there are resources to help you and your children establish good credit, good habits, and good savings. Here are a few tips on how:

Choose the right credit card. Comparing credit cards for rewards and perks is a great way to discover the right card for you. Whether your children have no credit yet, or you're teaching your teen about the best credit cards, there will be a card that fits your and your family's financial needs. Take a look at the best first credit cards if you're working on building credit for anyone in your family.
Learn what good credit looks like. Understanding some key credit score basics could help you understand your finances, improve your credit score, and reach your personal finance goals.
Find the best way to manage money for your lifestyle. Teaching your family about managing money doesn't have to be complicated. Help your children learn to manage their money early on to establish good personal finance habits.
Methodology
FinanceBuzz surveyed 1,000 U.S. adults in February 2023. Only people with at least one child were eligible to respond to the survey. 67% of respondents have a child who is currently between the ages of 5-18.
Lucrative, Flat-Rate Cash Rewards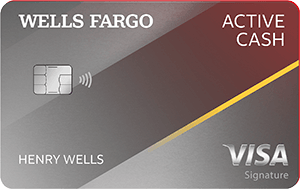 5.0
FinanceBuzz writers and editors score cards based on a number of objective features as well as our expert editorial assessment. Our partners do not influence how we rate products.
Current Offer
$200 cash rewards bonus after spending $500 in purchases in the first 3 months
Rewards Rate
Earn 2% cash rewards on purchases