It's safe to say that the only people who worry more than passengers about flying with noisy kids are their parents. As frustrating as it is to be trapped near a wailing baby or whining toddler, this can't compare to the stress a parent feels when their child is causing all the trouble.
From choosing the right airline to dealing with turbulence, traveling with kids is stressful. And while there's no way to guarantee that your journey will go smoothly, effective planning can help you prepare for the worst.
Below are some insider tips for flying with kids. Read them, remember them, and use them to make your next trip easier.
Choose a family-friendly carrier
Emma Major, founder of Major Traveler, recommends certain airlines for families because their policies are family-friendly.
"Through my various experiences booking vacations that involve children aged infant to high school, I would advise Alaska Airlines and JetBlue as the most accommodating airlines for small kiddos," she says. "That being said, no matter what airline you choose, it is imperative to make sure the airline allows you to check strollers at the gate free of charge."
You'll also want to explore airlines such as Southwest and Frontier that offer free companion fares, but keep in mind that perks such as choosing your seats may cost extra. Whichever airline you choose, be sure to book everyone in your family on the same reservation so you can print boarding passes or change your reservation more easily.
Consider travel credit cards with helpful benefits
Some of the best travel credit cards offer benefits to help you book flights, which can be a huge plus for families. Not only can you get free access to concierge lounges that offer snacks, drinks, comfortable seating, and television, you can also get perks such as free checked baggage — an essential when you're lugging a stroller and other necessities. Plus, you'll earn rewards that you can use for free or discounted travel.
"My top card right now is the Chase Sapphire Reserve," says Kathleen Porter Kristiansen, 39. Kristiansen, who splits time between London and Portland, Maine, runs the family travel site Triple Passport.
"The $450 [fee] comes with a $300 yearly travel credit [plus] a Priority Pass membership, primary rental car insurance, trip cancellation and delay coverage, lost luggage reimbursement, and no foreign currency exchange fees," she says. "And as a Visa, it is accepted everywhere without issue."
Time your flight right
We get it: Low fares are tempting. But think carefully before you book a flight at a time when most passengers will be sleeping, like a red-eye. Your child will likely be curious, awake, and possibly even afraid. Anticipate your child's schedule and book a flight when they're likely to be cheerful and relaxed — and when strict silence isn't the unspoken (but still followed) rule.
If you're taking advantage of free or reduced-price travel because you're redeeming rewards, your options may be limited, so do your best to choose a time when your child is most likely to be well-behaved.
Book early and choose seats strategically
Avoid sitting near business class, as those travelers have likely paid a premium for those seats and could be working. If you're concerned about turbulence, seats over the wing and near the front of the plane tend to be less bumpy. But if you have an infant, there are other options to consider.
Anne Griffith, a mom from Los Angeles and co-founder of TheWifeChoice.com, recommends booking as soon as you know you're going to travel, as well as reserving a bassinet and checking its weight capacity in advance to avoid unwelcome surprises on the day you're traveling.
Major also suggests choosing seats strategically.
"I have clients with a one-year-old lap infant and a three-year-old child who always book both aisles and the window seat, leaving the middle seat open. Chances are, the middle seat will be open and you'll be able to have your lap free, utilizing the open middle seat for your one-year-old," she says.
"If you're traveling internationally," she adds, "always try to get the bulkhead seat. Most airlines will offer a bassinet option for the bulkhead. This will give you and your baby the opportunity to sleep on a long flight."
Reconfirm reservations and get to the airport early
But, Major warns, read the fine print.
"Some airlines, such as Delta, require you to be the first at the gate in order to secure the bassinet seat," she says.
There are several advantages to getting to the airport early. Not only will you have more time to get through security — more on this below — but you'll also be able to grab a bite to eat, go to the bathroom, change diapers, and tire kids out before you board.
Get TSA PreCheck or Global Entry
People who travel frequently for business love TSA PreCheck and Global Entry because they get you through security and customs fast. They're not only for business travelers, though, so if you have a travel credit card, check its benefits to see if you can enroll for TSA PreCheck for free.
"TSA PreCheck is a membership that allows you to go through an expedited security check without having to remove your shoes, laptops, or liquids," shares Greg Mahnken, a credit industry analyst at Credit Card Insider.
Best of all, TSA PreCheck includes your children under the age of 12 and is available for free with certain credit cards, such as the Platinum Card from American Express, he adds.
If you're bringing belongings such as infant formula, print out the TSA list of acceptable carry-on items so you can refer to it when going through security. Accepted items are for all travelers, not only people enrolled in PreCheck.
For Global Entry, your kids will need their own passes, but the time you'll save moving through security at your destination is worth it.
Don't overlook the importance of allowing extra time at the airport. Insiders agree that arriving early is critical.
"Being patient and standing in queues in an orderly fashion at the airport is enough to make any parent nervous," says Guy Novik, CEO of Orlando Villa Holidays. "So, ensure you are prepared and remain calm. This will reflect well on your children. If you are late, unprepared and stressed, getting through security is probably going to be challenging."
Keep the right snacks ready to go
Multiple insiders recommended avoiding sugary snacks because of the resulting energy spikes. Avoiding sticky or messy snacks is wise, too. But perhaps the best advice comes from Corinne McDermott, founder of Have Baby Will Travel.
"Get your baby used to room temperature food and bottles," McDermott says. "This saves you the hassle of heating while you're en route. For travel days, try to have at least two more meals on hand than you think you'll need. A flight delay plus a hungry baby equals no fun for anyone."
McDermott also adds that large, wipeable bibs with pockets at the bottom make messes easier to clean and that ginger-flavored snacks and drinks can help settle upset stomachs.
"Never underestimate the power of a snack as a distraction," she adds.
Change diapers and jettison trash before boarding
Many airports have "family" bathrooms that have spaces for diaper changes, so take advantage before your board. Bring plenty of wipes, too.
"You can never have enough wipes," McDermott says.
Not only will you need them for diaper changes, but they're also handy for wiping down dirty hands, seatback trays, seatbelts, and anything else little fingers will be touching.
Choose your gear carefully
Caregivers know how hard it is to leave the house quickly with an infant or toddler in tow. Air travel is an even bigger deal because you'll need to bring the gear that will make your child as comfortable as possible while away from home. A car seat will be necessary on the plane, but consider checking your stroller. Not only do strollers take up valuable space in the overhead bins, but they're bulky and difficult to manage. Instead, use a baby carrier. Bonus: free hands.
If you're traveling with an infant who needs a car seat, Amanda Emmerling, travel agent and founder of Toddling Traveler, recommends the Go-Go Babyz Travelmate. "It makes getting through the airport a breeze," she says.
Boarding the plane
Insiders didn't always share the same views on when to board. While most recommended taking advantage of early boarding, seasoned traveler Amber Faust, seasoned traveler and founder of Faust Island, prefers the opposite approach.
"My favorite trick is to bring a small soccer ball, then when you arrive to your gate, play," she says. "Wear your child out. Don't board early when they let parents board — keep playing! Then your child will be happy and exhausted on the plane."
McDermott agrees. "If your airline offers this then try having one parent pre-board to get organized while the other partner tires out the kids until the last minute," she says.
Managing in-flight sickness or other problems
Packing just-in-case items like allergy medicine is a no-brainer. But what if your child gets nauseous or has popping ears?
Travel insiders recommend giving young children snacks and drinks during takeoff, ascent, and descent. That's because swallowing prevents the pain associated with changes in altitude; plus, as McDermott noted, it keeps them distracted.
If you're concerned about motion sickness, read medicine directions carefully and speak with your pediatrician. Some motion sickness remedies require a few hours to kick in, and other types of medicine might actually make your child hyperactive — the opposite of what you want.
Also, don't hesitate to ask the flight attendants for help.
"In the private jet world, most aircraft have a dedicated flight attendant who will cater to the children's needs," says Oliver Smith-Aichbichler, CEO of AlbaJet Charter. But even on commercial flights, airline stewards are ready to help, so don't hesitate to ask, many insiders said.
And if there's turbulence, remain calm.
"When I was younger I used to be scared of turbulence, mainly because I didn't understand it," Smith-Aichbichler says. "If kids are scared during a flight, it's great to reassure them that it's perfectly normal and that they are safe."
Packing your carry-on
Packing a carry-on with a change of clothes, extra diapers, snacks, and medicine is a smart move, but it's also a great time to let your kids play with things they may not normally be allowed to touch. For example, if your toddler longs to play with your phone and you normally limit screen time, consider packing a fully-charged tablet.
Download favorite games, movies, and television shows ahead of time so you don't have to rely on Wi-Fi. Bring headphones, too, so the noise won't annoy fellow passengers. Other great ideas include quiet toys such as sticker books that kids can play with on their own and regular books that you can read to them. Go with tried-and-true favorites that can calm nervousness.
"Bring noise-free and mess-free toys on board," recommends Emmerling.
Check identification requirements before you depart
Will you need a birth certificate or passport? If you're traveling internationally, will your child need a visa? And what are the requirements to return home to the U.S.?
Gather these documents ahead of time and keep them with your boarding passes in an easily accessible location. If you're traveling with more than one child, keep their documents together, and if you're traveling with another adult, put one person in charge of furnishing and holding the papers for everyone.
Bringing gifts for nearby passengers
We've all heard a story about the family who brought treats and apologies-in-advance notes for their fellow passengers. But in practice, it rarely happens. So, should you go the extra mile?
That depends. If you're taking a short, nonstop flight, you probably don't need to. But if you're especially worried or embarking on a long-haul flight, it couldn't hurt to bring a little something for the folks in the seats near your own. Earplugs are a good start, but feel free to buy them a glass of wine, too.
Managing flight cancellations
Check with your airline or travel credit card issuer if compensation is available for canceled or delayed flights — especially if you're traveling internationally.
"Passengers whose flight gets canceled or delayed by at least three hours can get up to 600 Euro in compensation," says Thomas Busson, Head of Communications at ClaimCompass. "As long as the child had a seat of their own, they are entitled to compensation, just like any other adult passenger."
That means a family of four traveling on British Airways to the U.K. would be entitled to 2,400 Euro if they arrive at their destination more than three hours late, according to Busson.
In conclusion — proper planning goes a long way
Long story short, there's no guarantee that your trip will proceed without a hitch. But by taking the time to prepare, you can prevent avoidable problems such as poor planning, lateness, hunger, and boredom.
Lastly, don't overlook tech accessories as a potential problem-solver — especially if your kids love electronics.
"Save yourself buying and packing three or four adapters to charge your devices [and] buy a multi-plug extension instead," says Will Hatton, the blogger known as The Broke Backpacker and owner of Hotel Jules. "This allows you to plug all your devices in without an adapter, with only the main plug needing an adapter. It really comes in handy when there are only minimum outlets available."
So if you're planning your next trip, do yourself, your kids and your fellow passengers a favor. Plan ahead and enjoy the ride.
Easy-to-Earn Unlimited Rewards
Earn 25,000 online bonus points after you make at least $1,000 in purchases in the first 90 days of account opening - that can be a $250 statement credit toward travel purchases
Earn 1.5 points per $1 spent on all purchases
Longer intro APR on qualifying purchases and balance transfers
No foreign transaction fees
Earn unlimited 1.5 points per $1 spent on all purchases, with no annual fee and no foreign transaction fees and your points don't expire as long as your account remains open.
25,000 online bonus points after you make at least $1,000 in purchases in the first 90 days of account opening - that can be a $250 statement credit toward travel purchases.
Use your card to book your trip how and where you want - you're not limited to specific websites with blackout dates or restrictions.
Redeem points for a statement credit to pay for travel or dining purchases, such as flights, hotel stays, car and vacation rentals, baggage fees, and also at restaurants including takeout.
0% Introductory APR for 15 billing cycles for purchases, and for any balance transfers made in the first 60 days. After the intro APR offer ends, 18.24% - 28.24% Variable APR will apply. A 3% fee applies to all balance transfers.
If you're a Bank of America Preferred Rewards® member, you can earn 25%-75% more points on every purchase. That means instead of earning an unlimited 1.5 points for every $1, you could earn 1.87-2.62 points for every $1 you spend on purchases.
Contactless Cards - The security of a chip card, with the convenience of a tap.
This online only offer may not be available if you leave this page or if you visit a Bank of America financial center. You can take advantage of this offer when you apply now.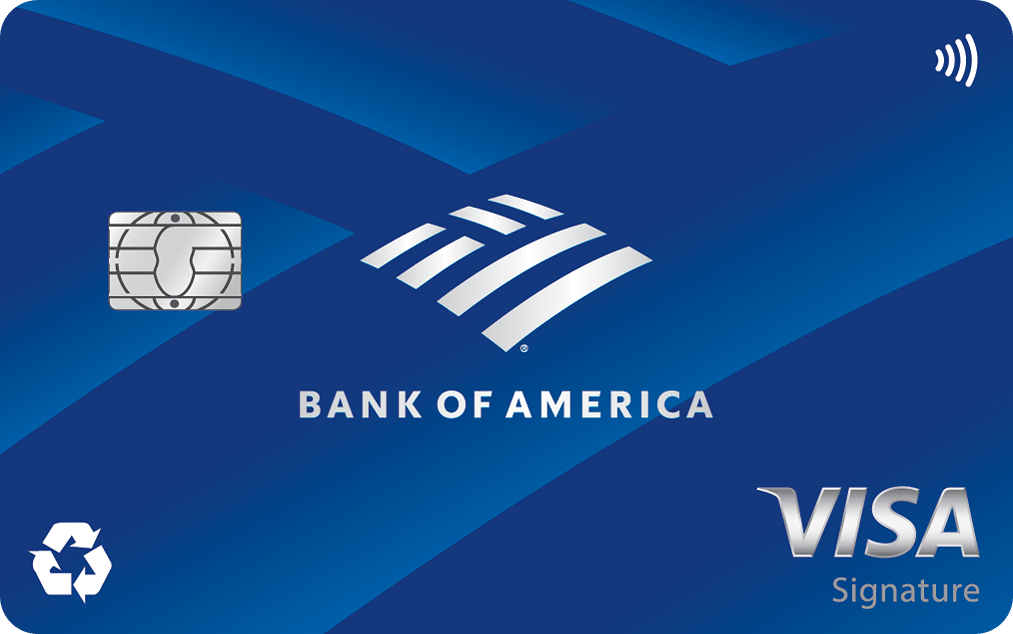 4.1
FinanceBuzz writers and editors score cards based on a number of objective features as well as our expert editorial assessment. Our partners do not influence how we rate products.
Apply Now
on Bank of America's secure website
Read Card Review
Intro Offer
Earn 25,000 online bonus points after you make at least $1,000 in purchases in the first 90 days of account opening - that can be a $250 statement credit toward travel purchases