Flying unprepared can be a disaster. Maybe you forgot to charge your phone, haven't eaten in hours, and keep nodding off onto the shoulder of the stranger next to you. Or maybe you're just bored, freezing, and annoyed with the loud child a few rows back.
We've all endured flights like this, but they're (mostly) avoidable if you pack the right things to keep you cozy and entertained.
If you're going to go through the trouble of finding the cheapest airfare or using points to fly for cheap, take the extra step to pack items that will ensure you'll have a comfortable flight. Taking it a step further, earn some rewards on your purchases with the right credit cards. Here are the top travel accessories that you'll want readily available in your carry-on bag.
25 things to add to your plane packing list
Antibacterial wipes
An airplane is a great place to pick up other people's germs, and a vacation or business trip is probably the worst time to get sick. Wipe down your tray table with some antibacterial wipes as soon as you board, and give your hands a swab before you pull out the snacks. We prefer the fresh lavender scent and the natural ingredients in these EO Hand Sanitizer Wipes to other brands.
A reusable water bottle
You can't bring a full water bottle through security, and the ones sold at airport vendors are always overpriced. Enter the reusable water bottle.
We love the Que water bottle because it's collapsible — which makes it perfect to pack in a carry-on — weighs next to nothing, and comes in a variety of cool colors so you can pick one that matches your luggage.
Hydration drops
Traveling for long hours can dehydrate you, so you'll want to make sure to drink plenty of fluids. Unfortunately, the caffeine and soda options offered to you on the plane aren't great for replacing your electrolytes, so keep some DripDrop on hand. It comes in small packets, so it's easy to add to your water when you're traveling, and it doesn't have a ton of sugar in it like most sports drinks.
Vitamin C
Since it's easy to pick up a bug while traveling, giving your immune system an extra boost is a good idea. Grab some Emergen-C and add it to your water bottle during your flight to keep illness at bay.
Compression socks
When you're forced to sit for a prolonged period, such as on an international flight, your risk of developing a blood clot increases. Since this can be life-threatening, you should do everything you can to minimize the risk, especially if you have conditions like being diabetic or overweight, which can make you more susceptible.
One possible solution is wearing compression socks. You're probably picturing hospital attire, but Vim & Vigr makes compression socks in a variety of sizes and designs that are actually stylish and comfortable.
Travel blanket
Cozy up to something soft and warm, and you're more likely to get that much-needed shut-eye. It's almost always too cold on airplanes, but you don't need to risk using the aircraft's questionable blankets. Cocoon has several travel blankets that are lightweight, warm, quick-drying, and packable.
Travel pillow
Without something to support your neck, it's nearly impossible to sleep sitting up for more than 10 seconds at a time. There are plenty of travel pillows out there — and many are inflatable if you need to preserve space — but we love the design and comfort of the Ostrichpillow GO. It offers ergonomic neck support and packs down to half its size.
Eye mask
If you need complete darkness to sleep, an eye mask is a necessary travel essential. The quality of the materials and comfort of the design are important in an eye mask, so do yourself a favor and grab a 100% mulberry silk eye mask from Slip. For a more affordable option, check out the Coyuchi Organic Sateen Eye Mask.
A warm sweater or hoodie
There's no need to dress up for your flight. Wear comfortable clothing that keeps you warm and cozy. You can find a comfy sweater at almost any apparel retailer, but we particularly love the softness of American Eagle Outfitters' loungewear. Check out the AE Super Soft Fleece Icon Hoodie for men or the Aerie Down-To-Earth Crew Sweatshirt for women.
Cozy pants
A tight pair of jeans or dress pants can really cramp your style on an airplane. Opt for a pair of sweatpants or leggings instead. American Apparel has you covered with the Cotton Spandex Jersey High-Waist Leggings for women and the California Fleece Slim Fit Jogger for men.
Slippers
If you can't get comfy with your shoes on, don't be the guy who airs his smelly feet on the plane. Instead, grab a pair of Acorn Packable Travel Moc Slippers. They fold down and come with a carrying pouch.
Earplugs
Need a way to drown out your neighbor's snoring while you get some sleep? You'll want a pair of earplugs that travel easily and stay clean in your carry-on bag.
Check out this Matador Travel Earplugs Kit, which are made of memory foam and come with a carrying case that can be attached to your key ring or backpack zipper.
An Amazon Fire tablet
An Amazon Prime membership is an easy way to get plenty of streaming content available to watch offline, but you'll need to use an Amazon device or smartphone to access it. Since everything looks better on a bigger screen, we recommend the Amazon Fire HD 10.
A power bank
You'll need to keep those devices charged while you're traveling, so pick up an external battery pack. Anker power banks consistently receive great reviews; we especially like the Anker PowerCore 10000 PD because it's lightweight and compact while delivering a whole lot of power.
Noise-cancelling headphones
Bose has long been considered the go-to brand for noise-canceling headphones, and you can even find Bose kiosks in some airports. The new Noise Cancelling Headphones 700 provide up to 20 hours of battery life and feature Bluetooth connectivity so you won't have to worry about wires.
An adult coloring book
When you get bored of watching movies and shows, try an activity that engages a different part of your brain. Amazon has a selection of coloring books designed for adults, and you can pick up some colored pencils there as well.
A travel journal
Why not use some of your free time on the plane to plan your next adventure? The Travel Journal by Wandrd has space for 12 different trips, maps, packing lists, and plenty of other tools to help you plan your itineraries and log your memories.
Lip balm
The next few items on the list are essential because it tends to be dry on an airplane — and that can cause some discomfort. Make sure you have an adequate lip balm with you for dry, chapped lips. We love the Kiehl's Lip Balm #1.
Eye drops
Nothing's more irritating than dry eyes. To prevent them, grab a small bottle of TheraTears to throw into your carry-on bag. You can even buy single-use vials if you don't want to pack a whole bottle.
Moisturizer
An exceptional moisturizer can help prevent dry, itchy skin. This Kopari Coconut Melt Mini is more than just a moisturizer. It's also a cleanser, make-up remover, and lip soother — a great product for those who prefer to pack minimally.
Facial sheet mask
Need more intense hydration for your face? With the right sheet mask, you'll forget you're not relaxing at a spa. For a no-mess facial, check out the Burt's Bees Hydrating Sheet Mask.
Nasal spray
Getting a stuffy nose in the dry cabin air isn't uncommon, so take a bottle of Xlear Nasal Spray on your next trip. It contains xylitol, which is naturally cleansing and moisturizing, and it won't cause dryness like some other brands.
Toothbrush
If you're taking a long trip, you'll probably want to brush your teeth on the plane. You'll get an especially clean feeling with the Quip electric toothbrush. It's perfect for travel because it doesn't require a charging station and has a convenient cover to keep it sanitary. It's even waterproof.
Medication
Flying on a plane is uncomfortable enough without adding minor aches or queasiness to the mix. Carry some basic meds such as ibuprofen, melatonin, dramamine, and Neosporin with you on the plane, along with any other medications you take regularly.
TSA-friendly snacks
Buying food at the airport can be pricey, and peanuts and pretzels likely aren't enough to tide you over on a long flight. Come prepared with your own snacks, but be careful not to include large portions of liquids (like salad dressing) or goopy foods (like peanut butter), lest they get taken by the TSA (Transportation Security Administration).
We love Larabars for their nutritional value, simplicity, and array of flavors. These Lotus Foods Rice Ramen Noodle Soup Cups are also super easy to pack. Just ask your flight attendant for some hot water to add.
Whether you're flying basic economy or first class, don't get caught unprepared on your next flight. You can't avoid the dry cabin air or rowdy travelers sitting beside you, but you can pack items that will make the entire experience more pleasant. You can even earn some extra points by using one of the best travel credit cards for your purchases. So put on your headphones, pull down your eye mask, and wrap up in your cozy sweater, then sit back and enjoy your flight!
Easy-to-Earn Unlimited Rewards
Earn 25,000 online bonus points after you make at least $1,000 in purchases in the first 90 days of account opening - that can be a $250 statement credit toward travel purchases
Earn 1.5 points per $1 spent on all purchases
Longer intro APR on qualifying purchases and balance transfers
No foreign transaction fees
Earn unlimited 1.5 points per $1 spent on all purchases, with no annual fee and no foreign transaction fees and your points don't expire.
25,000 online bonus points after you make at least $1,000 in purchases in the first 90 days of account opening - that can be a $250 statement credit toward travel purchases.
Use your card to book your trip how and where you want - you're not limited to specific websites with blackout dates or restrictions.
Redeem points for a statement credit to pay for travel or dining purchases, such as flights, hotel stays, car and vacation rentals, baggage fees, and also at restaurants including takeout.
0% Introductory APR for 15 billing cycles for purchases, and for any balance transfers made in the first 60 days. After the intro APR offer ends, 18.24% - 28.24% Variable APR will apply. A 3% fee applies to all balance transfers.
If you're a Preferred Rewards member, you can earn 25%-75% more points on every purchase. That means instead of earning an unlimited 1.5 points for every $1, you could earn 1.87-2.62 points for every $1 you spend on purchases.
Contactless Cards - The security of a chip card, with the convenience of a tap.
This online only offer may not be available if you leave this page or if you visit a Bank of America financial center. You can take advantage of this offer when you apply now.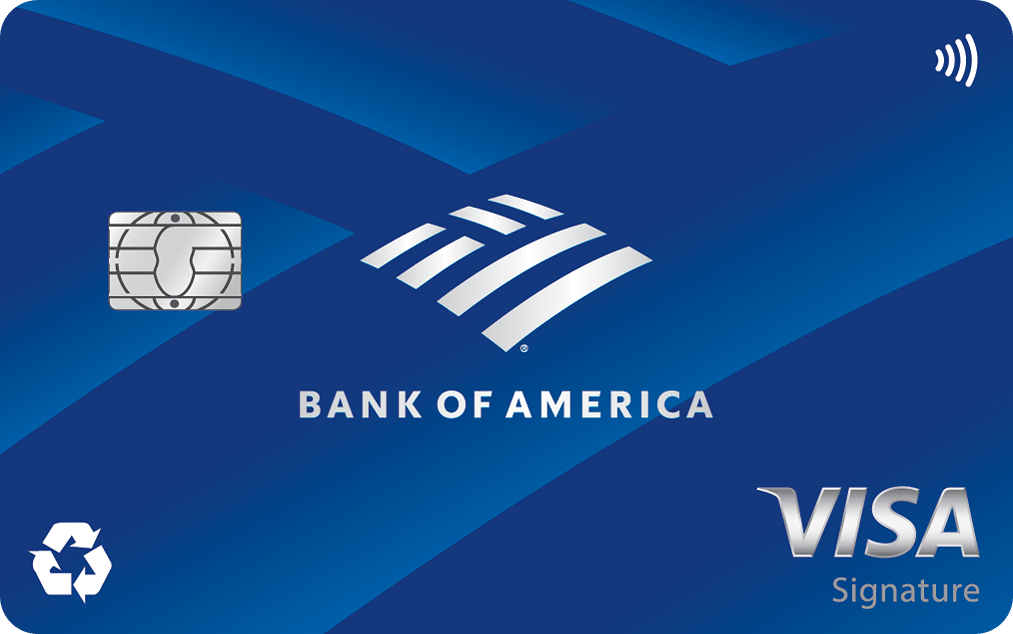 4.1
FinanceBuzz writers and editors score cards based on a number of objective features as well as our expert editorial assessment. Our partners do not influence how we rate products.
Apply Now
on Bank of America's secure website
Read Card Review
Intro Offer
Earn 25,000 online bonus points after you make at least $1,000 in purchases in the first 90 days of account opening - that can be a $250 statement credit toward travel purchases