When you visit the Haven Life Insurance website, the first thing you might notice is that the company promises insurance coverage that's "actually simple." It lives up to that promise by offering fast insurance quotes and options to buy as much as $3 million in term life insurance, or up to $1 million in coverage without a medical exam.
But although Haven Life Insurance is a great option to get coverage if you're under 59 and generally healthy, the agency isn't the right one if you don't fit within these parameters. You also need to know that Haven Life doesn't provide the insurance directly. The policy is actually issued by MassMutual, so Haven Life just assists with obtaining coverage.
If you want to purchase the best life insurance, check out this Haven Life Insurance review to find out whether this company right for you.
In this Haven Life Insurance review:
What is Haven Life Insurance?
Haven Life Insurance was started when one of its co-founders struggled to buy life insurance coverage when he and his wife were expecting a baby. The goal was to make buying life insurance coverage online faster and simpler.
Haven Life doesn't actually provide the life insurance it sells, though — that comes from Massachusetts Mutual Life Insurance (MassMutual), which has more than 160 years of experience and an A++ rating from AM Best. This rating indicates the insurer has significant financial strength so you don't have to worry about its ability to pay claims. In fact, it paid $5.3 billion in insurance and annuity benefits in 2018 alone.
MassMutual is not just a reliable company — it's also an ethical one. It received a score of 100 on the Human Rights Campaign Corporate Equality Index, and Ethisphere named it one of 2019's World's Most Ethical Companies.
How does Haven Life work?
Haven Life helps consumers buy up to $3 million in term life insurance coverage, or up to $1 million without having to receive a medical exam first. Term life insurance is insurance that covers you for a designated time period. Your death benefit is paid to your beneficiary only if you pass away during that time. Once the term ends, you don't get a death benefit payout.
With Haven Life Insurance, you can start by using the company's calculator to determine your coverage needs. Once you're ready to apply, click "Get your real rate." You'll be asked to provide some basic information such as details about your lifestyle and health status.
If you're under 59, looking to buy $1 million in coverage or less and are generally healthy, no medical exam is required and you'll get a decision in minutes. If you don't qualify for coverage without a medical exam, you'll also find that out within a few minutes of submitting your application.
You can then move forward in the process by scheduling a medical exam through Haven Life. A trained paramedic will visit your home or office to assess your health. The exam takes about 20 minutes and it's completely free. Once this step is complete, it can take up to two weeks to get a decision about coverage. If you're denied coverage entirely, you'll also be notified as soon as possible.
The fact that Haven Life offers two separate tracks for getting coverage — InstantTerm, which requires no medical exam, or the traditional application process with an exam — sets it apart from other insurers. A wide variety of people can get coverage with Haven Life, and some can get covered almost instantly without a full exam.
How to maximize your savings on life insurance
If you want to save as much money as possible when buying life insurance:
Buy term life insurance. Term life insurance is much cheaper than whole life insurance. Whole life insurance is a different kind of policy that has an investment component and doesn't have an expiration date after which your death benefit isn't paid out. Haven Life offers only term life insurance so you won't have to worry about being steered into a more expensive whole life policy.
Buy only the coverage you need. If you buy a policy with a large death benefit, the insurer is going to charge you more for it because it would have to pay out more if you die. The goal of life insurance is to help your family maintain their standard of living, not get rich. So don't buy more coverage than necessary.
Avoid smoking. If you smoke, life insurance is a lot more expensive.
Buy life insurance when you're as young as possible. If you do, there's less of a chance you'll have a preexisting health problem that makes insurance more costly. Insurers also view younger policyholders as presenting less risk, so they don't charge them as much.
Common questions about Haven Life Insurance
Is Haven Life Insurance a good company?
Haven Life Insurance is a trusted insurance agency that is wholly owned by MassMutual. MassMutual has 160 years in business and a top rating from AM Best so you don't have to worry about its reliability. It has also been recognized as a "World's Most Ethical Company" in 2019 by Ethisphere, an independent agency that measures corporate ethical standards.
How much does Haven life insurance cost?
The cost of a life insurance policy varies depending on your age, the length of your coverage term, your gender, and a variety of other factors. For example, a 42-year-old male non-smoker in excellent health could get $750,000 in insurance coverage for $112.76 per month; whereas a 32-year-old female non-smoker in excellent health would pay a monthly premium of $32.92 per month for $1 million in coverage. And for a 20-year-old seeking $250,000 in coverage, policies start as low as $14.99 per month.
Does Haven Life Insurance require a medical exam?
If you are under 59 and buying up to $1 million in coverage, you may be able to qualify for InstantTerm. This would allow you to get coverage without a medical exam.
What is a whole life insurance policy?
A whole life insurance policy has an investment component and remains in effect indefinitely as long as you pay premiums. It acquires a cash value. It is also much more expensive than a term life insurance policy.
How much coverage can I apply for with Haven Life?
You can apply for up to $1 million in coverage without a medical exam or up to $3 million in coverage if you're willing to take an exam.
How to sign up for Haven Life Insurance
When you're ready to sign up for Haven Life Insurance, start by clicking "Apply Now" on Haven Life's website.
Next, you'll read the basic eligibility requirements including:
Living in the U.S.
Being between 18 and 64
Not being an active duty military member
Not replacing a current policy
Not planning to use the policy for business purposes
Next, you'll have to pick your state of residence and click "Continue." Once you do that, you'll be able to continue with the application. You'll have to:
Choose your gender between male or female and input your birthday
Select "Yes" or "No" to whether you use nicotine products
Specify whether you consider your health to be average, good, or excellent
Choose the range of coverage you want ($100,000 to $3 million)
Select your term (10, 15, 20, or 30 years)
After answering these questions, you'll see an estimated rate for coverage. Here's an estimated monthly payment on 20-year term life insurance for a 37-year old female non-smoker who lives in Florida: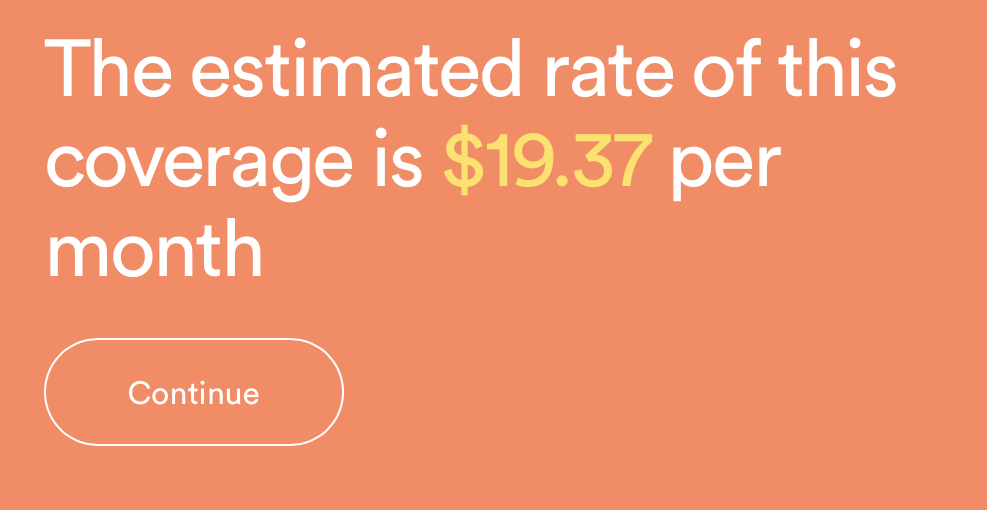 If you're happy with the rate and would like to move forward, create an account with Haven Life or sign up using Google or Facebook. You'll need to input your personal details, including your contact information and Social Security number. Haven Life's proprietary algorithm will check your records and determine whether you can qualify instantly, need a medical exam, or are denied coverage. You should get an answer quickly and can decide to move forward with buying coverage at the agreed-upon terms.
Bottom line
Haven Life Insurance makes it simple to apply for MassMutual insurance coverage, either with or without a medical exam. You can get a decision in minutes on whether you're able to get coverage and whether an exam is required. If you're healthy and want to get coverage quickly and easily from an insurer with 160-plus years of experience, Haven Life Insurance is likely right for you.
Haven Life Insurance Agency Benefits
Up to $3,000,000 in life insurance (subject to age limitations)
Apply for a policy in under 5 minutes
No medical exam required
Policies for every budget