Buying and owning a home has long been considered a major indicator of financial success and stability. Current and prospective homeowners are now facing unprecedented challenges in navigating the housing market.
Amid a topsy-turvy housing market and the potential for even higher interest rates looming, many Americans are wondering whether homeownership is even a realistic possibility for them. And many current (and recent) homeowners are wondering how to navigate the market with a potential market correction incoming.
To understand more about the sentiment surrounding current market conditions, our team at FinanceBuzz surveyed 1,000 prospective homebuyers and current homeowners and asked for their opinions on the housing market, interest rates, and their own homeownership futures. 
To get a wider picture of the market, we also looked at data from the Federal Housing Finance Agency to understand how the housing market has risen in the last year and which areas may be at larger risk for a correction. 
Key findings
86% of Americans think mortgage rates will continue to increase in the next year. 69% believe we are headed for a housing market crash.
Nearly 1 in 5 millennials (18%) doubt they'll ever be able to afford a home.
53% of qualified buyers regret not purchasing a home when they had the chance, while 15% of current renters haven't purchased a home yet due to concerns about market conditions
56% of homeowners have gotten unsolicited offers to sell their home in the last two years.
1 in 4 Americans (26%) believe it will take 2 or more years for the housing market to feel normal again — 18% believe it will never happen
Headed toward a crash? Sentiments towards the current housing market
Since 2020, the housing market in America has exploded, with prices skyrocketing due to high demand and a number of other factors. The rise in housing prices has continued into 2022, with the Federal Housing Finance Agency reporting that house prices have risen by at least 9% year-over-year in every single one of America's 100 largest metropolitan areas.
This kind of rapid, pronounced, and unpredictable increase in home prices has created a pessimistic consensus among Americans. 83% of survey respondents said that they feel the housing market will remain unpredictable for the foreseeable future, and 68% of people feel the housing market is headed towards a crash.
The survey also showed that while three-quarters of people think it is better to already be a homeowner than to rent a place to live in the current market, only 34% of people think it would be a good idea to buy a home right now. That market pessimism makes sense when considering that 86% of people said they believe that mortgage rates will continue to rise over the next year.
Non-homeowners' perspectives on market conditions
The state of the housing market is perhaps most of interest to those currently waiting to enter it. While most non-homeowners have yet to purchase a home due to financial constraints, our survey showed that 12% of renters (1 in 8) cited discouragement over current mortgage rates as a reason they have not entered the market yet. 
Additionally, 15% said they are worried about buying into the current market. Other common reasons for not being homeowners included lifestyle (22%) and a lack of credit sufficient to get a mortgage (21%).
In addition to asking why people do not currently own a house, we also wanted to know about non-homeowners' attitudes toward their own future in the housing markets. Among responses from different generations, one pattern became clear: Baby-boom and Generation X Americans are pessimistic about their ability ever to own a house and less likely to say that achieving home ownership is important to them or would improve their quality of life.
Millenials are an exception
Despite the pessimism, only 15% of millennials have given up hope of ever owning a home.
While a minority of baby boomers (13%) and Gen X (33%) said that becoming a homeowner was important to them, younger generations have a different attitude. More than half of Gen Z (57%) and half of millennial (50%) respondents said owning their own home one day is important to them.
We see inverse results when addressing this issue from a negative perspective, as non-homeowning Gen Xers are twice as likely as millennials and four times more likely than Gen Zers to have given up hope of ever owning a home.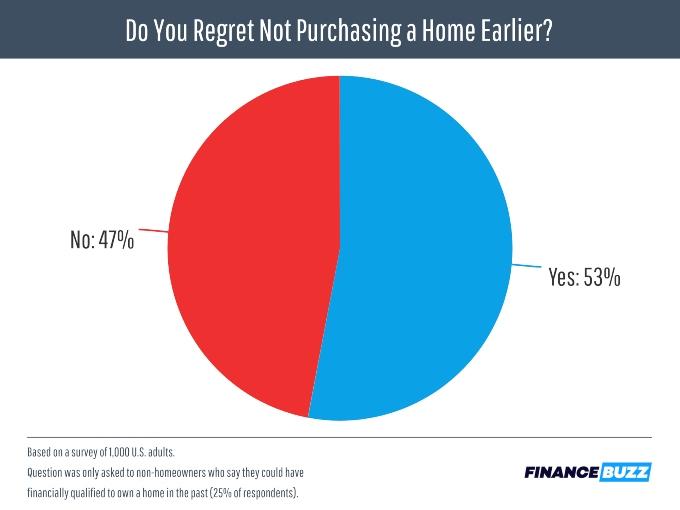 All in all, the results paint a story of increasingly lost hope the longer someone goes without owning a home.
While, in many cases, buying a house is never a possibility due to financial circumstances, plenty of people make a conscious decision not to buy a house despite having the money and credit available to do so. Our data reveals that the majority of people in this situation (53%) regret not buying a home earlier in their lives when they had a chance, a number that may rise if the housing market continues along its current path.
Current homeowners' perspectives on market conditions
For people who were already homeowners, the last two years have been a bit of a different story. The rise in housing prices was particularly beneficial for homeowners looking to sell.
Home prices in cities across the country have risen at double-digit rates, with houses routinely selling above even those increased asking prices thanks to increased demand from buyers.
As a result of that demand, some buyers turned anywhere they could, regardless of whether a "For Sale" sign was in the yard or not. In fact, an incredible 56% of homeowners surveyed reported they had received an unsolicited offer to buy their home in the last two years, illustrating just how strong demand for homes has been.
Despite such a seller-friendly market, nearly 80% of surveyed homeowners said they have no plans to sell their home in the next year. The most common reason for this is a simple one — just not wanting to move to a new house. 63% of homeowners cited not wanting to move as a reason why they do not plan to sell.
Additionally, 41% of homeowners feel that their current house meets all of their needs, which they could not guarantee if they sold it and had to find a new home.
Looking forward
Finally, respondents were asked how long they feel it will be before the housing market returns to a level that feels "normal" compared to the last two years. Over a quarter of people believe it will take more than two years for that to happen, while another 18% — nearly 1 in 5 Americans — believe it will never return to how it was before.
Will the market return to normal any time soon?
Just 24% of people believe the market is already normal or will become normal in the next year.
Tips for saving when buying a home
With mortgage rates rising quickly since the beginning of 2022 and asking prices on homes still sky high, anyone looking to buy a home soon should plan accordingly and look for ways to save money during the process. Some top tips include:
Find the right mortgage lender for you. Shopping around and making lenders compete with one another could result in a lower mortgage rate than would otherwise be possible. Be sure to check out all of the best mortgage lenders to compare your options.
Check your credit score. There are a number of different home loan options available to most people, with different rates and conditions tied to them that can either help or hurt your chances of getting the home of your dreams. A major factor impacting which loan options you can access is your credit score, so be sure to check if your credit score is high enough to buy a house before you start to schedule viewings.
See if you are eligible for tax breaks after moving in. There are a number of ways buying a house can impact your taxes, including multiple ways it could actually help. After buying a new home, be sure to explore how buying a house can give you a tax break.
Methodology
FinanceBuzz surveyed 1,000 U.S. adults ages 18 or older using a survey platform. Results were stratified across age and gender to create a nationally representative sample. Survey results were collected on July 11, 2022.
Fifty-six percent of respondents indicated they currently own their own home, and 44% indicated they rent, live with family, or have some other non-ownership living situation. Certain sections of the survey were only presented to those who currently own their own home, while other sections were only presented to those who are non-homeowners.
Curbio Benefits
Update your home so you can sell faster and for more
All-inclusive service means you don't have to lift a finger
Small repairs to whole-home renovations, Curbio can do it all
$0 due until the home sells with no interest charges