As a college student, you likely don't have a lot of money or an established credit history. That can make it difficult to qualify for a traditional credit card.
Fortunately, student credit cards can be an excellent solution. Designed for college students — who usually have low incomes and little-to-no credit history — they can be great tools you can use to build your credit and establish good credit habits.
Here's how to get a credit card as a student, and what to do if you're denied.
How to get a credit card as a student in 5 steps
When you're juggling a full-time class schedule, homework, and maybe even a part-time job, the last thing you want to worry about is a lengthy process to get a credit card. Luckily, you can find the perfect student credit card and apply in just a few easy steps.
1. Check your eligibility
To qualify for a student credit card, you typically need to meet the following criteria:
You must be a current college or university student; some credit card issuers will ask you to enter your school's information or your college email address on the application.
You must be at least 18 years old to apply for a card. If you're under the age of 21, you'll have to show that you have a steady source of income (a part-time job is usually fine), or you'll need a cosigner on the card.
You must be a U.S. citizen or permanent resident with a Social Security number.
2. Research student credit cards
When you're looking for one of the best credit cards for students, you should compare several different cards to ensure you're getting the best one for your needs. Some factors to consider include:
APR: The APR, or annual percentage rate, is essentially the interest rate you'll pay on purchases. The higher the number, the more you'll pay in interest charges. You can avoid paying interest altogether by paying off your balance in full each month.
Rewards: Some student credit cards offer rewards programs, allowing you to earn perks like cash back on your purchases. For example, the Discover it Student Cash Back card allows you to earn 5% cash back on select purchases each quarter in rotating categories, like grocery stores, gas stations, and even Amazon. Plus, you'll earn 1% cash back on all other purchases.
Sign-up bonuses: You can often get a sign-up bonus for making routine purchases, putting money in your wallet. For example, Discover will match all the cash back you earn at the end of your first year. That means if you earned $500 in cashback rewards, Discover would give you an additional $500.
The Bank of America Cash Rewards Credit Card for Students offers $200 in online cash rewards when you spend at least $1,000 within the first 90 days of opening your account. Use your card to pay for your textbooks or other necessities and you could quickly earn the bonus.
Credit limit: As a student, you'll likely qualify for a card with a low credit limit. However, some cards will give you a higher credit limit after you've proven that you can handle the payments. For example, the Chase Freedom Student Credit Card will increase your credit limit after you make five monthly payments on time within 10 months from the account opening.
Annual fee: Some credit cards have an annual fee, which you have to pay each year even if you don't use the card. If you're on a tight budget, consider a credit card that doesn't have an annual fee. The Discover it Student Cash Back Card, the Chase Freedom Student Credit Card, and the Bank of America Cash Rewards Credit Card for Students all have no annual fee.
Other benefits: Student credit cards usually don't offer robust benefits, but you may be able to score some added perks like extended warranty protection or purchase protection, which can give you coverage against loss or theft of new items. Some cards even offers special bonuses or promotions for good grades. With the Discover it Student Cash Back, you'll get a $20 statement credit for each school year that your GPA is 3.0 or higher, for up to five years.
3. Submit your application
Most credit card companies will allow you to apply for a student card online. However, some companies — such as Chase — require students to go to a branch in person to apply.
Either way, the application process is usually quick and easy. The company will typically prompt you to enter your name, address, phone number, and Social Security number. It may ask you to enter your school's name, what year you're in, whether you're a full-time or part-time student, and what you currently pay each month for housing. If you're currently employed even part time, you'll have to enter your income information.
Once you submit your application, the credit card company will do a hard credit pull, meaning it will review your credit report to determine whether or not to approve you for a card.
If you're approved, you'll usually get a notification right away. In some cases, the company may need additional information, such as proof that you're a student. If that happens, it will send you a notice asking you to submit documents; each company should give you a list of acceptable forms of proof.
If the company denies your application, you should receive a letter in the mail detailing the reason. For example, your credit score may be too low, or you may not have enough income.
4. Use your student credit card wisely
If you're approved for a student credit card, you're on your way to building a solid credit history.
However, it's important to follow some best practices to ensure you establish and maintain good credit:
Create a budget: A credit card gives you more spending power, but it's easy to go overboard. To prevent that from happening, create a budget that lists all of your regular expenses and income each month.
Only use your card for the essentials: While it may be tempting to use your card to pay for extras like clothes or vacations, that approach can be a costly mistake. Instead, only use your card for necessary expenses, such as textbooks, groceries, and gas.
Pay off your statement balance each month: You can avoid costly interest charges by paying off your statement balance in full each month.
Make all of your payments on time: Making all of your payments on time is the single biggest factor affecting your credit score. Set up automatic payments so you never have to worry about missing a payment.
There are also some things you should never do with a credit card, so make sure you understand the drawbacks before applying.
5. Can't get approved? Consider these alternatives
Unfortunately, not everyone will qualify for a student credit card. If you're no longer a student, don't have enough income, or have too low of a credit score, you may not be eligible.
But don't give up! There are other ways to get access to a credit card and build your credit history:
Become an authorized user: If you have a parent or relative with good credit, they could add you as an authorized user to their account. You'll be able to use the card like a traditional credit card, but your parent or relative will be responsible for the bill.
Get a secured card: With a secured credit card, you put down a deposit that acts like your credit limit. As you make payments, your activity is reported to the credit bureaus, boosting your credit and helping you qualify for traditional credit cards.
Bottom line
If you're a college student, you have a unique opportunity to build your credit history before you even graduate from school. Student credit cards are often more accessible than traditional cards, giving you an easy way to pay for purchases while improving your credit score.
Great for Building Credit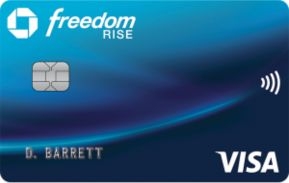 Chase Freedom Rise℠
Current Offer
$25 statement credit for enrolling in automatic payments within the first three months of account opening
Rewards Rate
1.5% cash back on all purchases