ITA Matrix is the advanced flight software behind well-known search aggregators like Google Flights, a fact that's unsurprising considering it was acquired by Google in 2010. Originally launched in the mid-1990's by a group of scientists from MIT, ITA Matrix is also used by a wide variety of travel companies, including airlines and sites like Kayak and Orbitz.
Here's how to leverage this powerful tool for yourself.
What is ITA Matrix?
ITA Matrix, which is one facet of a larger entity known as ITA Software, is used by both companies and consumers to find cheap flights. Airlines like American, Delta, and United (among others) all rely on ITA Matrix to deliver proprietary flight information to customers and keep them engaged throughout their booking experience.

But ITA Matrix isn't just a handy tool for airlines; it's also something being used by savvy travelers around the world to conduct advanced flight searches. Although sites like Google Flights make good use of the software, using it in its original form allows for even more search power and customization — meaning you can find exactly the flight you're looking for and spend less time doing it.
How to use ITA Matrix to find cheap flights
Finding cheap flights with ITA Matrix is easy. Just like other flight search tools, you'll start by entering your departure and destination cities followed by your dates of travel.
With ITA Matrix, you can search for roundtrip, one-way, and multi-city flights. The tool also allows you to customize your search based on additional criteria like your seat type (listed under "cabin") and the number of stops. You can further customize your query to see flight prices listed in the currency of your choice.
When entering your flight search query, you'll also be able to select either exact or approximate dates, allowing you to further filter results if you have some flexibility in your travel times. You can do this for either your outbound date, your return date, or both.
Search results display as you might expect, starting with the cheapest flights first (assuming that's the search criteria you entered). One really nice feature from these search results is the ability to see what other airlines are charging for the same flights. This makes it easier to decide if you want to pay for a cheaper flight in cash or if you have enough miles to afford a slightly more expensive flight from your airline loyalty program.
Another great feature of this tool is the ability to customize your search results even after they finish loading. Using the drop-down menus on the results page (starting with "price" and "airline"), you can filter your results based on criteria like specific departure and arrival times or even just see only those flights being offered by your preferred airlines.
And while the search results automatically take you to a "complete trips" overview (listed just above the from/to drop-down), it's also possible to select "individual flights" and customize each portion of your trip. Although this doesn't necessarily apply to simple itineraries like, say, a direct flight from San Francisco to Boston, this feature is incredibly valuable when trying to book more complicated trips that involve layovers or connecting flights.
How to book your flight
Once you've found a flight you're happy with, you can click on the price button to see more details about it. Although you can't book from ITA Matrix directly, the breakdown of pricing information on this page is pretty neat. Be sure to make a note of it so that you can book your flight elsewhere later on.
Not only will this price page show the exact itemized cost of what goes into the total cost of your ticket, but it also shows the number of miles you'll get out of the trip (see the gray box labeled "Mileage") as well as information on the airports involved in your itinerary.
One of the biggest downsides of ITA Matrix is that you can't book directly on their site. In fact, it won't even direct you to a different site for booking; this is something you'll have to do manually by heading to the airline website and using the flight information found on ITA Matrix to book. You'll especially want to note the airlines, flight numbers, and dates and times of travel to be sure you find the exact flight on the airline's website.
Fortunately, this opens up doors for other ways to book your flights — ways that might end up saving you money or earning more points towards future travel — but we'll get back to this later on.
Using codes to get even more out of ITA Matrix
Now that you understand the basics of finding flights with ITA Matrix, it's time to talk codes. For this, let's head back to the main page.
Under the departure and destination information, you may have noticed the option for "Advanced Controls." If you select this option, four more text fields will appear, where you can enter various codes. By clicking on the question marks to the right of these fields, you can start to get a sense of the sheer level of detail this tool allows you to dive into.
It looks like a lot at first, but if you take the time to learn even a few of codes, it will save you time messing around with the drop downs in search results later on. These codes can do things like choose or avoid certain airlines, search only for direct flights on certain airlines, or even exclude red-eye or overnight flights.
A basic rule of thumb when getting used to these is that airlines consist of two-letter codes while airports are noted with three-letter codes. If you really want to learn how to make these codes work to your advantage, the best resource is this page on Google Support, specifically the section called "Using the ITA Routing Codes."
Pros and cons of ITA Matrix
The best part about using ITA Matrix is the precise level of customization available at your fingertips. However, being able to conduct a query with this level of detail also comes with a price, and in this case, that price is time.
Although it's arguable that most people conduct multiple flight searches on multiple platforms to find the right travel itinerary, ITA Matrix has an undeniably longer wait time to load search results. The amount of time it takes to load the results of your query is incredibly slow by modern standards, something they acknowledge by prompting users to "try Google Flight Search for faster results" during load time.

The interface is also by no means an attractive one, and using ITA Matrix feels like a bizarre throwback to the days before websites were artfully designed. And while most airlines are included in the search results, not all of them are, which means it's possible there are flights that fit your criteria and will never surface in search results.
A final and pretty major con to searching with ITA Matrix is that you can't book flights directly through their site. This means that after you find the perfect travel itinerary, you'll have to note the flight information and then book directly with the airline or elsewhere.
How to use a credit card to maximize your ITA Matrix booking
To make the best use of this comprehensive search tool, use ITA Matrix to find flights and then book your trip directly in your credit card travel rewards portal. Since most booking sites affiliated with credit cards are notoriously clunky themselves, it can't hurt to find your flight information elsewhere before booking with your card to cash in on miles.
Using ITA Matrix to find flights and then booking them in your credit card rewards portal will also allow you to get the best of both worlds: finding the best cheap flights that work for your schedule while also reaping the benefits of credit rewards points.
If you have an eligible credit card from issuers such as Chase or American Express, you may even be able to transfer your points directly to an airline and use your rewards to book directly from an airline website. If you don't have enough points saved up on your cards to redeem them, then simply use your travel credit card to book the flight on the airline website — that way you can start earning points towards future travel.
If you don't happen to have one of the best travel credit cards, you might want to consider getting one of the best starter travel credit cards before putting your newfound ITA Matrix skills to the test.
Bottom line
Although it's not perfect, ITA Matrix is still a pretty awesome tool if you take the time to learn how to use it. It could be a great option to find cheap ways to fly to Europe, for example. It's not going to win any awards for user experience or good looks, but it can save you some time and frustration when trying to book a flight — especially if you know exactly what you want and are struggling to find it on mainstream search tools like Google Flights.
And while this level of detail might be overkill for some travelers, it also opens up new doors that allow you to book the exact flights you want, with even more transparency on the price of your ticket and how it compares to the competition. Overall, we'd say that's a win.
Easy-to-Earn Unlimited Rewards
Earn 25,000 online bonus points after you make at least $1,000 in purchases in the first 90 days of account opening - that can be a $250 statement credit toward travel purchases
Earn 1.5 points per $1 spent on all purchases
Longer intro APR on qualifying purchases and balance transfers
No foreign transaction fees
Earn unlimited 1.5 points per $1 spent on all purchases, with no annual fee and no foreign transaction fees and your points don't expire.
25,000 online bonus points after you make at least $1,000 in purchases in the first 90 days of account opening - that can be a $250 statement credit toward travel purchases.
Use your card to book your trip how and where you want - you're not limited to specific websites with blackout dates or restrictions.
Redeem points for a statement credit to pay for travel or dining purchases, such as flights, hotel stays, car and vacation rentals, baggage fees, and also at restaurants including takeout.
0% Introductory APR for 15 billing cycles for purchases, and for any balance transfers made in the first 60 days. After the intro APR offer ends, 18.24% - 28.24% Variable APR will apply. A 3% fee applies to all balance transfers.
If you're a Preferred Rewards member, you can earn 25%-75% more points on every purchase. That means instead of earning an unlimited 1.5 points for every $1, you could earn 1.87-2.62 points for every $1 you spend on purchases.
Contactless Cards - The security of a chip card, with the convenience of a tap.
This online only offer may not be available if you leave this page or if you visit a Bank of America financial center. You can take advantage of this offer when you apply now.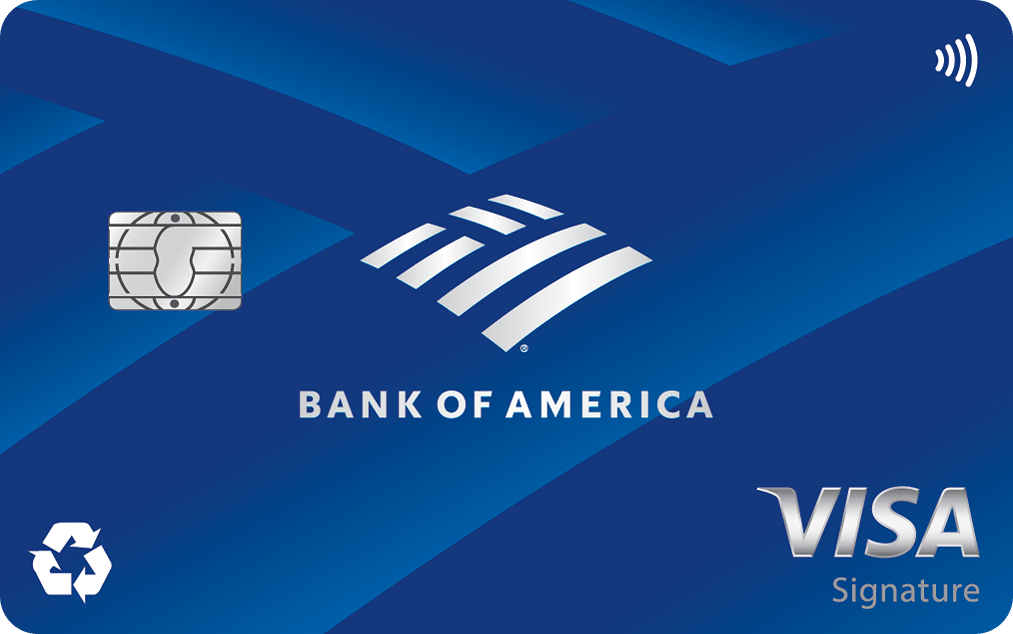 4.1
FinanceBuzz writers and editors score cards based on a number of objective features as well as our expert editorial assessment. Our partners do not influence how we rate products.
Apply Now
on Bank of America's secure website
Read Card Review
Intro Offer
Earn 25,000 online bonus points after you make at least $1,000 in purchases in the first 90 days of account opening - that can be a $250 statement credit toward travel purchases