It's exciting to see another part of the world, and Europe is full of history and culture that's well worth the long trip. But with high airfares compared to most domestic flights, Europe can often feel out of reach. Still, you shouldn't rule out Europe as a potential budget vacation since there are proven strategies you can use to find cheap flights.
In the past five years, I've booked three trips to Europe and paid less than $500 for round-trip airfare each time. It takes a bit of research, strategy, and patience, but I'm confident that you, too, can travel to Europe on the cheap. Here are the travel tactics I recommend, including using the best travel credit cards.
Key takeaways
Apps like Going, Google Flights, and Kayak can help you find the cheapest flights to Europe.
Online shopping extensions like Honey can help you save even more on your airfare.
Flexibility with dates and airports is critical to finding the cheapest flights to Europe.
How to find cheap flights to Europe
The first step to finding cheap flights is using the right tools. You can use flight aggregators to find the best flights, and some show you when the best time to book is and allow you to set price alerts.
Here are apps we recommend to make your search easier:
Going
Going, formerly known as Scott's Cheap Flights, allows you to choose departure airports. Set alerts for all the airports you have access to so you have the most price options to Europe.
Once you choose your airports, Going keeps an eye on airfare and lets you know when prices drop. Going has free and premium membership options, but the premium membership gives you the most value because you can access every deal, including error fares.
Visit Going | Read our Going review
Google Flights
Not surprisingly, Google Flights is a search engine for flights. It's free and relatively intuitive to use. You set your search parameters, then Google shows you the best flights, which are based on convenience, price, number of stops, and other factors.
You also see a calendar of flight prices so you can adjust your flight to when prices are lowest. Google also shows you whether the price for your flight is typical, high, or low. You can set alerts so you get emailed based on your search parameters.
If your plans are flexible (and they should be to find the best prices), you'll want to set up multiple alerts to various European destinations like Paris and Amsterdam and hop on the lowest prices.
Visit Google Flights | Read our guide to Google Flights
Dollar Flight Club
Dollar Flight Club is similar to Going. You choose one or more departure airports, and it sends you deals. Like Going, there are free and premium membership options, and the premium option gives you access to the most flight deals, including mistake fares.
Keep an eye out for Europe flight deals, and be sure to book them quickly.
Visit Dollar Flight Club | Read our Dollar Flight Club review
Hopper
Like Google Flights, Hopper shows you the best time to find the most affordable airline fares for a specific trip. So if you're interested in flying to France, for example, you'd look for flights from your preferred departure airport to Charles de Gaulle International Airport. Hopper will show you a calendar where you can find the least expensive flights.
Hopper is only available as a mobile app. You can book flights through the app, but users have had poor experiences with that, so it's best to use Hopper to find flights, then book directly with the airline.
Visit Hopper | Read our Hopper review
Skyscanner
Skyscanner is another aggregator that allows you to set price alerts. Like other apps, you can book flights directly through the app, but it's best to use it for research and book directly with the airline.
One notable feature is its "everywhere" search that allows you to input a destination and travel dates and see the best flight deals to a variety of destinations.
Kayak
Kayak is another aggregator, but what sets it apart is the info it shares around specific routes. For example, when searching for flights from New York JFK Airport to London Heathrow Airport, it gives tips on the average price, the best times to book, and whether morning or evening departures are cheaper.
It also gives tips about the airports, including where nursing suites are and where to exchange your currency.
Visit Kayak | Read our guide to Kayak
Honey
Honey is not a travel app. It's a discount app that could help you save money while you're shopping online, including for airfare. It has a mobile app and a browser extension, and it's free to use.
Visit Honey | Read our Honey review
Rakuten
Rakuten is another online shopping discount app. When you're getting ready to buy your plane tickets, download the Rakuten browser extension, use the Rakuten app, or start at Rakuten.com. When you click on the store you want to visit through the Rakuten website, you have the potential to get cash back.
Visit Rakuten | Read our Rakuten review
Capital One Shopping
Capital One Shopping1 is a free browser extension that could help you find lower prices on your purchases, potentially including airfare.
As you browse through online shops and look at products, Capital One Shopping compares the prices of those products to prices on other websites. If Capital One Shopping finds potential savings, it will display them to you — all within 10 to 15 seconds.
Visit Capital One Shopping | Read our Capital One Shopping review
Tips for booking cheap flights to Europe
Browse in incognito mode
Once you start searching for flights, the sites start to learn what you're looking for and potentially increase the prices on those routes. Consider searching using incognito mode on your browser, which doesn't save your cookies.
Book in advance
Prices tend to rise in the last three weeks before a departure date, so booking in advance is best, especially when traveling internationally. CheapAir's annual study of 917 million airfares revealed that the best time to buy a flight to Europe is 10 months in advance. But you can find deals throughout the prime booking window, which is between 6 weeks and 10 months ahead of time.
Book on Sunday
Skyscanner analyzed data and found that the cheapest time to buy an international flight is on a Sunday at six in the morning. But this isn't a hard-and-fast rule. I like to check the prices each day in the weeks before I plan to book, since you can sometimes see patterns in when the prices rise and fall for your destination.
Fly on Tuesday or Wednesday
CheapAir's annual study also found that Tuesday, followed closely by Wednesday, is the cheapest day to fly on average. You should still check flight prices using a tool such as Google's Flight Calendar to find the best price, since this is just a guideline, but know that it's generally going to be less expensive to fly in the middle of the week.
Travel during off-peak months
July is peak season for traveling to Europe, so you'll pay a premium if you choose to go in the middle of the summer. February is the cheapest month to travel to Europe but might not be the most desirable time to go, given weather conditions. You can also find great deals on flights to Europe in the fall and spring. Pay attention to festivals, sporting events, and other attractions that could drive up the price of a flight to your destination in certain months.
As an added bonus, if you travel during off-peak times, you won't be surrounded by crowds of tourists, and you'll find cheaper accommodations as well.
Choose less popular airports for arrival and departure
Some airports are more expensive on average than others. If you have a couple of choices of airports near you, be open to traveling a bit further to the smaller or less popular one, since you might find lower airfares.
You should also check multiple airports near your destination for the best deals. Just make sure you account for the added cost of train, bus, or rideshare transportation to your destination when determining the total price of your trip. When traveling to London, for example, you might find cheaper flights to Gatwick than Heathrow, and there are express trains from both airports that take you to the city.
Be flexible about arrival and departure times
Prices can vary greatly depending on the time of day you fly. To get the best price, be open to any departure and arrival times. Remember you can sleep on the plane no matter what time you're flying — just be sure to pack a cozy neck pillow in your carry-on bag.
Get comfy with layovers
While you might prefer a nonstop flight, you might find that a flight with a long layover is significantly cheaper than a direct flight. If you think saving several hundred dollars is worth several extra hours of your time, go for the layover option.
Then, to make your layover more pleasant, get a credit card with travel perks, such as airport lounge access. Plan to enjoy a meal at the airport, and bring entertainment or work with you if you'll have a lot of time on your hands.
Hop around Europe
While getting overseas is expensive, flying from one European country to the next is actually quite cheap; fares are frequently less than $50. It's a great strategy to find the cheapest flight to any European city and then hop on a plane to your dream destination.
Here's an example of how it works. Let's say you want to book a trip from Los Angeles to Rome in October. The cheapest round-trip flight we could find was $731. But a round-trip flight from Los Angeles to London cost just $395 for the same dates, and a round-trip flight from London to Rome within that time was as low as $66. That means you could save $270 on your trip to Rome just by stopping in London. The best part? You'd get to visit two incredible cities for less than the cost of one.
Consider flying into and out of different airports
You can also opt to book the cheapest one-way flights you can find to and from Europe and travel in between those cities. Depending on how long of a vacation you want to take, you may be able to knock several cities off your bucket list for one low cost.
Do flight searches on multiple search engines
Google Flights is a great place to start looking, since the calendar and map are handy tools to find the best deals. But you should also take a look at sites like Expedia and even European sites like eDreams to locate the best deals. You can check an airline's website directly, too. Just make sure you use a credit card with no foreign transaction fees if you're booking in a different currency.
Check baggage policies
Know what you'll need to bring with you and be sure to account for baggage costs in the total cost of your flight. While most international flights include carry-on baggage, checked bags are almost always extra. Review the policies and prices for your airline before booking.
Know your cancellation and change policies
Airlines are more flexible now, but it's still important to know your rights and any potential fees. Pay close attention to whether you're buying a refundable ticket, and keep in mind that if you change your plans, you may need to pay for any difference in your fares.
Also be aware that you have rights as a passenger, and that you may be eligible for compensation if your flight is cancelled or delayed when you're flying in or out of the European Union.
Use your points and miles
If you've racked up enough points on one of the best travel credit cards, you may even be able to book a free trip to Europe! And if you're a Chase Ultimate Rewards cardholder, you can use some sleuthing to stretch your Chase points even further.
Should you find a great deal on a travel website, you can often replicate it in the Chase Ultimate Rewards travel portal by inputting the same dates. And if you have a premium card, like the Chase Sapphire Preferred or Chase Sapphire Reserve, your points could be worth 25% or 50% more when you use the card to book a trip through the portal. The best part is that there are no blackout dates, and any flight available for cash via the portal can also be purchased with points.
FAQ
When is the cheapest time to fly to Europe?
In general, it's cheapest to fly to Europe in late fall and winter. Prices may spike in December for the holidays, however.
What are the cheapest European cities to fly into?
The cheapest European cities vary depending on where you live. They may include:
Reykjavik, Iceland
London, UK
Barcelona, Spain
Madrid, Spain
Dublin, Ireland
Lisbon, Portugal
Oslo, Norway
Helsinki, Finland
Frankfurt, Germany
Paris, France
Milan, Italy
Istanbul, Turkey
Warsaw, Poland
Budapest, Hungary
Will flights to Europe get cheaper?
Flight prices are difficult to predict and constantly fluctuating. The best way to find cheap flights is to be flexible with dates and destinations, travel in the off-season, and look for deals and promotions.
Bottom line
With some patience, planning, and flexibility, you can find some seriously cheap flights to Europe worth bragging about. And if you're not booking your travel with points, be sure to use your trusty travel rewards card to make your flight purchase so you can earn points toward your next trip!
Easy-to-Earn Unlimited Rewards
Earn 25,000 online bonus points after you make at least $1,000 in purchases in the first 90 days of account opening - that can be a $250 statement credit toward travel purchases
Earn 1.5 points per $1 spent on all purchases
Longer intro APR on qualifying purchases and balance transfers
No foreign transaction fees
Earn unlimited 1.5 points per $1 spent on all purchases, with no annual fee and no foreign transaction fees and your points don't expire.
25,000 online bonus points after you make at least $1,000 in purchases in the first 90 days of account opening - that can be a $250 statement credit toward travel purchases.
Use your card to book your trip how and where you want - you're not limited to specific websites with blackout dates or restrictions.
Redeem points for a statement credit to pay for travel or dining purchases, such as flights, hotel stays, car and vacation rentals, baggage fees, and also at restaurants including takeout.
0% Introductory APR for 15 billing cycles for purchases, and for any balance transfers made in the first 60 days. After the intro APR offer ends, 18.24% - 28.24% Variable APR will apply. A 3% fee applies to all balance transfers.
If you're a Preferred Rewards member, you can earn 25%-75% more points on every purchase. That means instead of earning an unlimited 1.5 points for every $1, you could earn 1.87-2.62 points for every $1 you spend on purchases.
Contactless Cards - The security of a chip card, with the convenience of a tap.
This online only offer may not be available if you leave this page or if you visit a Bank of America financial center. You can take advantage of this offer when you apply now.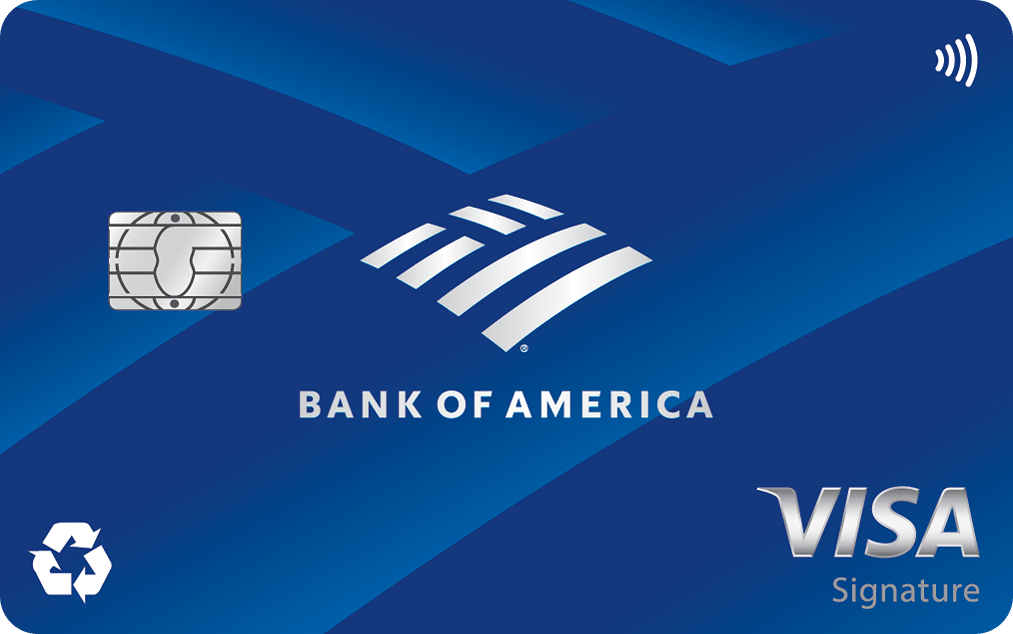 Apply Now
on Bank of America's secure website
Read Card Review
Intro Offer
Earn 25,000 online bonus points after you make at least $1,000 in purchases in the first 90 days of account opening - that can be a $250 statement credit toward travel purchases