Many shoppers turn to Costco for bulk items of their favorite snacks and to cut costs on groceries. But did you know that Costco also sells alcohol in many locations?
Kirkland Signature brand has even been noted for its alcohol selection that's often better than the name brands.
With summer in full gear, it's a good time to stock up on drinks perfect by themselves or for making cocktails, especially if you plan on throwing any parties.
Editor's note: Prices are based on our research are subject to change by day and location.
Get a protection plan on all your appliances
Did you know if your air conditioner stops working, your homeowner's insurance won't cover it? Same with plumbing, electrical issues, appliances, and more. Not being able to make repairs could leave you in a bad situation — but a home warranty could protect you against surprise expenses.
Whether you're a brand-new homeowner or you've owned your home for years, a plan from Choice Home Warranty could pick up the slack where homeowner's insurance falls short.
If a covered system in your home breaks down, you can call their hotline 24/7 for assistance to get it repaired. They have a network of over 15,000 technicians that can assist you, making sure any issue can be taken care of swiftly — without breaking the bank.
Not sure if it's for you? Rest easy: they were named one of the "Best Home Warranty Companies" by US News 360 Reviews and were awarded Best Company's 2020 Consumer's Choice Award. For a limited time, you can get your first month free when you sign up for a Single Payment home warranty plan.
2022 Kirkland Signature Côtes De Provence Rosé Wine
Price: $8.69
With the Kirkland brand of this rosé wine, not only will you be keeping more money in your wallet, but the taste has received many positive reviews.
This wine has notes of strawberry, pear, and tea roses as well as a palate of apricot, peach, and citrus. According to the bottle, it's produced in the "Cotes de Provence Appellation by Olivier Sumeire, an 8th-generation grape grower and vintner."
Kirkland Signature Irish Cream Liqueur
Price: $17.99
Costco's own Irish Cream Liqueur rivals the name brand in flavor but at one-third of the cost.
Its sweetness and creaminess make it a wonderful addition to other cocktails and coffees, or it can be served on its own. This particular liqueur has a notable caramel and chocolate taste, with many reviewers enjoying its dessert-like taste.
2021 Kirkland Signature Côtes Du Rhône Villages
Price: $6.99
This red wine has "fruit-forward notes of black plum and blackberry" according to its packaging, and its low price is impressive for this vintage wine.
Only one-fifth of the wine produced in this region is designated as superior, so you're getting quality from this bottle even without the name brand. If you like wine with notes of smooth chocolate and sweet earth, this vino may be worth trying.
Stop overpaying when you shop online
Shopping online has its perks. It's super convenient, but it can be time consuming to find the best deals. Instead of hunting for coupon codes (that don't always work!) and opening tons of browser tabs comparing prices, you can try Capital One Shopping.
Capital One Shopping makes saving money effortless. Just add the browser extension and when you check out, it'll scour the internet for coupon codes to help you save cash. And before you check out at 25+ major retailers, Capital One Shopping will notify you with a friendly pop-up if the item you're buying is available cheaper somewhere else.
Capital One Shopping is free to use and won't show you ads. Add it today and stop overpaying!1
Kirkland Signature London Dry Gin
Price: $16.99
Kirkland brand's London dry gin is 88-proof and five times distilled, lower in price than typical gins.
With flavors including juniper berries, coriander, lemon peel, rose, and cassia bark among others, this natural botanical drink has been noted as a "solid choice" by reviewers.
It can be mixed with a variety of drinks and cocktails or served with lime and club soda.
2021 Kirkland Signature Malbec
Price: $6.99
Here's another vintage that many say is better than name-brand wines.
Costco's malbec is aged for twelve months in French oak barrels, adding richness and spice.
With grapes grown thousands of feet below sea level, this wine is unique and intense in its flavor profiles and finish.
2020 Kirkland Signature Bordeaux Supérieur Grand Vin de Bourdeaux
Price: $6.99
Kirkland Signature's Bordeaux Superieur combines Cabernet Sauvignon and Merlot from Bordeaux, aged in French oak for a year.
The nose is "complex with black fruit, black currant, and woody notes" for an aroma and taste that many reviewers praise.
This wine is a Costco exclusive, with a price that may have you grabbing more than one bottle to take home.
Kirkland Signature French Vodka
Price: $20.99
Of all of the Costco brand vodka, this one is high on many people's lists. It's described as rich and premium with a smoothness, unlike other vodkas.
Quite a few reviewers have noted its similarity to Grey Goose thanks to the same spring water from Cognac being used in the formula.
You might enjoy this so much that you'll stop wasting money on the name brand. You won't know for sure, though, until you try it for yourself.
2021 Kirkland Signature Cabernet Sauvignon
Price: $14.69
This boxed wine is a convenient and affordable option, all without the dip in quality that other lower-cost wines suffer from.
Made in California with "juicy flavors of dark and red fruit with a soft finish" it offers notes of chocolate and oak that several wine aficionados appreciate.
This 2021 vintage boxed wine is one of many items you can add to your Costco list for get-togethers and parties.
2021 Kirkland Signature Pinot Noir - Russian River Valley
Price: $11.99
Made in the Russian River Valley in Sonoma County, these grapes cooled by the Pacific Coast's fog allow for full flavors and acidity.
This pinot noir is "spicy and floral with a core of dark plum, cherry, and pomegranate" for added richness and smoothness.
Reviewers have consistently given it high marks, and Costco's bargain may make it a must-have for your grocery list.
Earn 2% cash rewards at grocery stores and Costco
The Wells Fargo Active Cash® Card(Rates and fees) is a powerful rewards card that allows you to earn unlimited 2% cash rewards on purchases — including on groceries, even at warehouse stores like Costco.

New cardholders can also earn a one-time cash rewards bonus — $200 cash rewards bonus after spending $500 in purchases in the first 3 months!
If you're looking for a powerful rewards card that offers an extended intro APR period, look no further, the Wells Fargo Active Cash® Card checks that box too!
This card also offers an intro APR of 0% for 15 months from account opening on purchases and qualifying balance transfers (then 20.24%, 25.24%, or 29.99% variable). Which is great for someone who wants a break from high interest rates, while still earning rewards.
The best part? There's no annual fee.
Click here to apply for the Wells Fargo Active Cash® Card now.
Kirkland Signature Canadian Whisky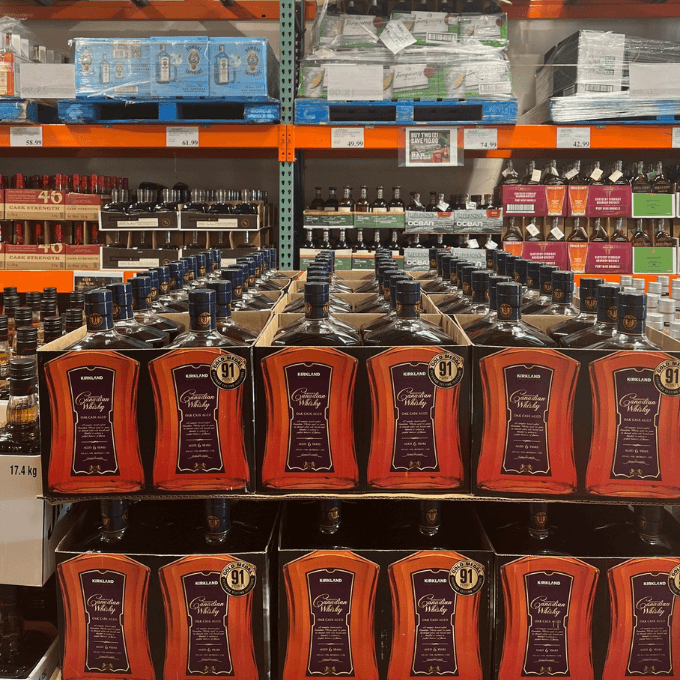 Price: $18.99
Though there are many whiskies to choose from at Costco, this Canadian whisky is consistently lauded for its price and quality.
Aged six years in charred white oak barrels, this is a great dupe for Crown Royal without the premium cost.
Its flavors include vanilla, honey, spice, and toasted oak with a creamy taste and spicy finish.
Non-Vintage Kirkland Signature Champagne Brut
Price: $20.99
Costco's own champagne brut is a combination of Chardonnay, Pinot Noir, and Pinot Meunier sparkling wine and is matured for at least fifteen months.
With notes of "gingerbread, oranges, and peaches" and a "bright citrus character" this champagne comes from the grand cru village of Verzenay in France.
This Costco exclusive has been highly rated and sought after by casual customers and bargain shoppers alike.
Kirkland Signature Tequila Blanco
Price: $29.99
Kirkland Signature's Tequila Blanco (or in some locations, Silver) has a smooth and slightly sweet agave flavor perfect for mixed drinks.
It's double-distilled and filtered to add that smooth finish with hints of spice, and it's made from 100% blue agave.
You may want to grab a bottle to make some classic summertime margaritas to enjoy in your backyard as you grab time with your loved ones.
Kirkland Signature Irish Whiskey Aged 4 Years
Price: $28.99
Similar to Jameson whiskey, this lower-priced alternative still has the smooth and rich taste you'd expect.
This Irish whiskey is triple-distilled and aged for four years in oak casks, making it great to mix with Irish coffees or cocktails inspired by the Emerald Isle. Its flavor profile includes caramel, toffee, and spicy notes.
2022 Kirkland Signature Marlborough Ti Point Sauvignon Blanc - New Zealand
Price: $7.59
Even if you can't afford a trip to New Zealand, bring a bit of the island to you with this affordable bottle of wine.
The bottle boasts its "tropical fruit flavors, vibrant lemon-lime citrus notes, and crisp acidity," and reviewers mention its good balance and acidity.
Since this is such a unique selection, it may be out of stock, so keep your eyes out for this sauvignon blanc on your next Costco trip.
Kirkland Signature Original Spiced Rum
Price: $13.99
This spiced rum has been compared to Captain Morgan, although many say it's even smoother.
With this bottle, you can make a Coke and rum, dark and stormy, or rum and ginger ale mixed drink with an added hint of vanilla.
Its bargain price makes it perfect for parties or get-togethers where your guests won't even notice it isn't a name brand!
Bottom line
All of these amazing drinks come at a much more affordable price, but many shoppers also utilize certain Costco shopping hacks to increase their savings even further.
Many Costco stores, depending on your state, have a wide selection of alcohol to choose from, and it's worth stopping by to see what's in stock.
Whether your own home bar or wine cellar could use a few more additions, or you're looking to throw a party for less, Costco has you covered.
Lucrative, Flat-Rate Cash Rewards
Current Offer
$200 cash rewards bonus after spending $500 in purchases in the first 3 months
Rewards Rate
Earn 2% cash rewards on purchases