Trying to find the perfect gift for a minimalist traveler can be baffling, to say the least. Trust me, I know as a minimalist traveler myself. And, even for me, every year around birthdays and holidays the question always pops up: What the heck do you buy someone who A) doesn't want anything, and B) is always on the go?
After years of shopping for minimalist travelers (and being one), I've learned a thing or two about what makes a good present. The answer? It has to be useful. That's right. No more trinkets and fridge magnets for these particular friends and family members. Instead, give them something they can use, and they'll be forever grateful.
So here it is, our list of the 13 absolute best small gifts for minimalist travelers — lightweight, portable, and oh-so-very packable.
Microfiber Towel
It might not seem like a glorious present, but like most things on this list, when you need it, you need it. Ever smell a cotton towel after its been used a few times without being washed? It's not a good look. Instead, gift your friend with one of these ultra quick-dry towels from PackTowl.
The towels can be used on the beach or after a shower, and they won't make a suitcase smell like feet — thanks to the anti-odor Polygiene treatment. They're also super thin and lightweight, come in a range of colors and designs, and fold up to a size that will barely take any space in your gift recipient's bag. Cost: $10-40
Click Here to to Buy the PackTowl for $10
Packing Cubes
If your friend is going on a long trip in multiple climates, or even if they're just packing for a weekend getaway with multiple wardrobe changes (wedding season, anyone?), packing cubes can be a life-saver. Not only will they allow your friend to pack way more clothing (condensed into a smaller space) but the cubes will also help them stay organized.
That's right! No more dumping out the whole bag to find one little thing. All they'll have to do is search a single packing cube. Check out these durable Gonex packing cubes from Amazon that come in a variety of colors and sizes. Cost: $35.99
Click Here to to Buy Gonex Packing Cubes for $35.99

International Adaptor
Your friend who frequently travels abroad will thank you for this thoughtful gift. It may not look like much, but if you've ever arrived in a new place after a long flight only to discover you don't have a way to recharge your stuff, well then you know exactly how annoying that is.
So, get your gift recipient this universal travel adapter from Epicka and they won't ever have to worry again. Not only does it work in over 150 countries, but it also has an incredible four USB ports, meaning your minimalist can probably give all their tech a steady charge at once. Cost: $21
Click Here to to Buy the Epicka Universal Travel Adapter for $21

Passport Holder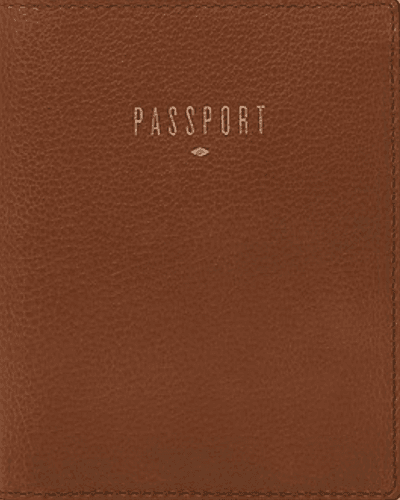 Speaking of going abroad, can you think of anything sweeter than your friend remembering your gift every time they wait in some awful line at the border? We can't. This present (which also comes with a few slots for their best travel credit cards) will be a hit with your minimalist friends, especially since these passport holders from Fossil are rugged enough to go the distance, and will probably look way better than the worn-out one they're currently using. Cost: $70

Click Here to Buy the Travel RFID Passport Case for $70
Foldable Day Pack
Anyone going on a long trip is going to need some sort of day pack, but chances are they don't want anything heavy that takes up space in their other bags. Enter the REI Flashpack. This 18-liter pack is just the right size to hold everything your friend needs for a day out — whether your friend is taking a budget trip to the trails or to the city. 
The backpack is as minimalist as they come, with a cinch-closure and small front zip pocket for a phone or keys. But the best part about this bag is that it really only weighs as much as the stuff you put into it, and folds down to nothing when packed in a suitcase. Cost: $40
Click Here to Buy the REI Flashpack for $40
Filtered Water Bottle
A good water bottle is a must, and if the minimalist traveler in your life doesn't have one of these yet — trust us when we say they'll want one. These leak-proof bottles come in a variety of colors and filter out 99.99% of water-borne bacteria and parasites — a must for any minimalist traveling abroad where the drinking water is less than optimal. 
But this water bottle won't just keep your adventurous friend parasite-free, it'll also guarantee that the water they drink actually tastes good by eliminating odors or that nasty chlorine flavor in treated water. Cost: $40
Click Here to Buy the LifeStraw Go Water Battle for $40
Handy Headlamp
Even if your friend isn't an avid hiker, having a good headlamp can come in handy. Whether they're trying to find their way around a power outage, grilling up some food at a campsite, or reading a book at night (because you haven't bought them that Kindle yet), a good headlamp is truly indispensable.
We like this Spot 325 headlamp from Black Diamond for its long battery life, comfortable headband, and waterproof capabilities. It also has a battery-life reader — meaning your friend won't ever have to get unexpectedly stuck in the dark again. Cost: $40
Click Here to Buy the Black Diamond Spot 325 Headlamp for $40
Packable Dress-Wear
No matter how much of a dirtbag your minimalist friend is (or isn't), having some packable dress-wear is important. You never know when you'll end up in a place where the bar has a dress code or a friendly host decides to host a swanky dinner party. Don't let your friend be the one who — to borrow an expression from past generations — looks like a ragamuffin.
These packable dresses from Athleta and this button-up shirt from L.L.Bean are two examples of dress wear that can be worn casually for outdoor activities (this shirt is actually meant for hiking!), but they can also get shoved in the bottom of a suitcase an infinity of times and still look nice when the occasion calls for it. Cost: $45-$98
Click Here to Buy the Athleta Packable Dress for $45-98 or Click Here to Buy the L.L.Bean Shirt for $45 
Flexible Tripod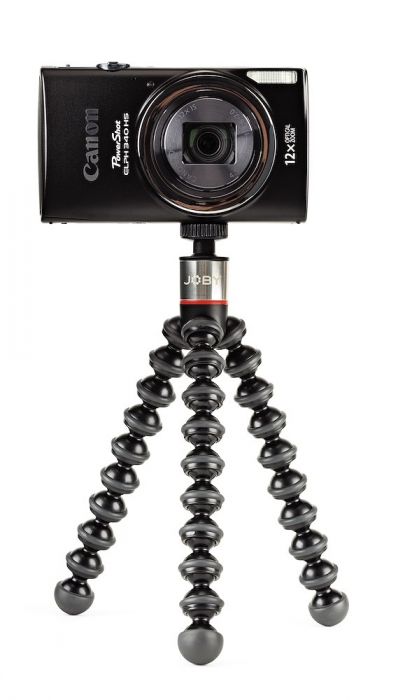 For the traveler always snapping photos, this flexible portable tripod is a must. Sturdy enough to support a camera or smartphone in the great outdoors and flexible enough to easily pack in your bag, the GorillaPod will make getting all those long-exposure starry night shots a cinch. It's also an inexpensive way to help them level up their Instagram. 
With a variety of models to choose from (including higher end video-tripods all the way down to simple smartphone models) you'll be sure to find something for any kind of photographer. Cost: $20-70
Click Here to Buy the GorillaPod for $20
Ultralight Hammock
This hammock might not be light enough for your ultralight backpacking friend who cuts off the ends of their toothbrushes, but for everyone else — it's definitely what we would consider to be light and pack-friendly.
Big enough for two people, but still rad for only one, this ultralight hammock from Eno comes in a variety of colors and folds up to about the size of a coconut. It's basically like giving the gift of relaxation, and if for some reason your friend doesn't like it, you should probably just keep it for yourself. Cost: $70
Click Here to Buy the Eno Ultralight Hammock for $70
Loungaroo
It's a pillow, it's a hoodie — it's both! The Loungaroo is your friend's new favorite tech hoodie, acting as a cozy outer layer that also comes with a large RFID-protected pocket to store phones, wallets, and travel credit cards. But the best part about this hoodie is that when your friend isn't wearing it, it actually folds up into a pillow. Translation? No more neck cramps on long plane rides. Cost: $80
Click Here to Buy the Loungaroo for $80
Waterproof E-Reader
If you're looking to spend a bit more on your favorite minimalist, consider upgrading their reading list with a Kindle Paperwhite. This e-reader is gentle on the eyes, with a glare-proof screen that gives the impression of reading from real paper. One battery charge can last weeks at a time, and the device stores thousands of books at once. The new ones are also waterproof, meaning your friend can read poolside, riverside, or in the tub, no problemo. Cost: $139.99
Click Here to Buy the Kindle Paperwhite for $139.99
The bottom line on gifts for the minimalist traveler
Your favorite minimalist may not want to carry around loads of stuff, but a useful gift like one of these is sure to be appreciated. Are you a minimalist traveler hoping to avoid accumulating more useless stuff this season? Give your friends and family the hint by sharing this list.
Easy-to-Earn Unlimited Rewards
Earn 25,000 online bonus points after you make at least $1,000 in purchases in the first 90 days of account opening - that can be a $250 statement credit toward travel purchases
Earn 1.5 points per $1 spent on all purchases
Longer intro APR on qualifying purchases and balance transfers
No foreign transaction fees
Earn unlimited 1.5 points per $1 spent on all purchases, with no annual fee and no foreign transaction fees and your points don't expire.
25,000 online bonus points after you make at least $1,000 in purchases in the first 90 days of account opening - that can be a $250 statement credit toward travel purchases.
Use your card to book your trip how and where you want - you're not limited to specific websites with blackout dates or restrictions.
Redeem points for a statement credit to pay for travel or dining purchases, such as flights, hotel stays, car and vacation rentals, baggage fees, and also at restaurants including takeout.
0% Introductory APR for 18 billing cycles for purchases, and for any balance transfers made in the first 60 days. After the intro APR offer ends, 17.99% - 27.99% Variable APR will apply. A 3% fee applies to all balance transfers.
If you're a Preferred Rewards member, you can earn 25%-75% more points on every purchase. That means instead of earning an unlimited 1.5 points for every $1, you could earn 1.87-2.62 points for every $1 you spend on purchases.
Contactless Cards - The security of a chip card, with the convenience of a tap.
This online only offer may not be available if you leave this page or if you visit a Bank of America financial center. You can take advantage of this offer when you apply now.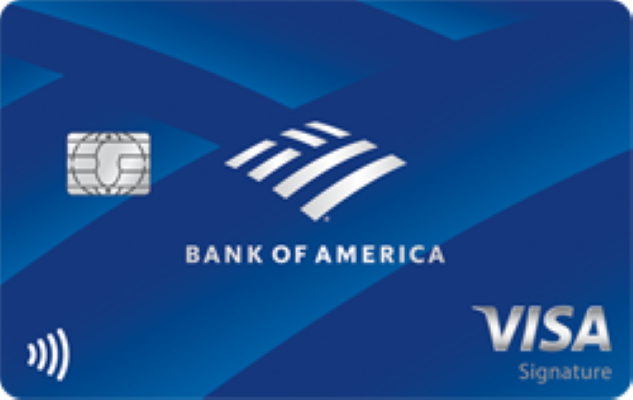 Apply Now
on Bank of America's secure website
Read Card Review
Intro Offer
Earn 25,000 online bonus points after you make at least $1,000 in purchases in the first 90 days of account opening - that can be a $250 statement credit toward travel purchases