No matter how well you plan a trip, you can still end up having to cancel for any number of reasons. There are smart ways to cancel that give you the most flexibility. Unfortunately, there are also simple mistakes that make it more difficult to cancel, or that give you fewer options.
Avoiding the following 11 easy mistakes when canceling trips can save you money, time, and energy, and can ease the disappointment of having to cancel in the first place.
Not documenting everything
Make sure you keep track of all numbers, receipts, and communications related to your trip. Take screenshots of electronic boarding passes. Tag and archive email communications so you can find them again.
Also, know your confirmation number or record locator code. That number travels with you through changes and cancellations.
Not going through the app or website
You can cancel in a few minutes on the app or website, or you can waste hours of your life on hold when calling an airline to talk to an agent.
Some travelers report having to wait for many hours on the phone when trying to reach a representative. If you're canceling because of an emergency or illness, you don't have time to wait.
Accepting airline credit
Airlines will often offer you credits or vouchers when you cancel a flight, but those lock you into flying with that airline again. If you find a cheaper deal or better flight on another airline, you'll have to pay for it out of pocket. The money in the credit or voucher does you no good.
If you have to cancel, escalate until you get a supervisor who can refund your money to the card you used to pay for the flight. That way, you can use the money to purchase a flight on any airline.
Also, remember that if the airline cancels your flight — or even simply makes major changes to the flight — it has to refund the money you paid for the booking if you decide not to travel.
Assuming COVID-19 cancellation rules are still in effect
During the height of the COVID-19 pandemic during 2020 and 2021, many airlines had liberal cancellation policies that allowed passengers to cancel flights with no penalty if travel plans changed.
Those rules may or may not still be in effect at your favorite airline. So, make sure you know what the cancelation policy is before you cancel, and preferably before you book your flight. The airline's cancellation policies should be posted on its website.
Not asking for more
If the airline, hotel, or other company you're canceling with doesn't give you a refund, you can escalate and ask to speak with someone who has more authority. The first person you talk to is paid to refuse requests, so ask to speak to a manager. Then, make your request for a bigger refund or credit, or whatever else would make you feel complete.
Or, you can go through the credit card you used to pay for the flight or stay and see if they can help you based on their policies for travel purchases. The best travel credit cards often offer trip cancellation and trip interruption coverage.
Not reading the fine print
Before you cancel a flight or a hotel booking, check the fine print on the company website to make sure you understand what the terms and conditions are, and what penalties you'll owe for canceling. If you don't know what you'll be charged for, you might end up with a horrible surprise.
Not understanding your travel insurance policy
If you have a travel insurance policy, your cancellation should be easier and you should pay fewer penalties for canceling. But not all travel insurance policies cover everything.
So, make sure you read the actual policy to know what's covered and what's not, and the steps you need to take to cancel with the fewest penalties.
Buying the wrong tickets
You can have a lot of headaches trying to cancel if you buy nonrefundable tickets when you book the flight.
On the other hand, if you spend a little more to buy tickets that are refundable or changeable, you'll still be able to get the entire value of your ticket if you need to cancel or change flights.
Failing to ask about changing dates
With airline prices rising, it is possible that paying the fee to change a flight might be less expensive than getting a refund on the flight and booking a whole new flight. That is especially true if you need to change airlines to book the new itinerary.
Check your options and do the math to make sure you aren't going to end up losing money by canceling instead of changing flights.
Canceling too early or too late
If you cancel your flight too early, you might owe penalties that you wouldn't have to pay if the airline cancels the flight. If a flight is repeatedly delayed, it can be tempting to cancel. But if you can wait until the delay turns into a cancellation by the airline, you'll get a full refund.
However, there are times when waiting too long to cancel also can cost you. Most hotel room reservations can be canceled up to a set period before the beginning of the stay, usually 24 to 48 hours. If you know you're unlikely to stay in that room, cancel while you still can, instead of waiting until the last minute.
Canceling at all
Canceling has become the default response when COVID-19 cases flare up and you want to stay healthy or keep others safe. However, examine your specific circumstances and the details of your trip to make sure canceling your hotel or airfare is the best move.
Could you simply modify details to stay just as safe without having to toss out the entire trip? For example:
Could you drive instead of flying?
Would you be willing to wear N95 masks the entire time you travel?
Are you willing to cook or bring in food instead of going into restaurants to eat?
Sometimes, a few changes to your itinerary can help you save the trip instead of canceling it.
Bottom line
You'll have a much easier time making the most of your money and canceling or modifying a trip if you purchase travel insurance. This coverage can pay off in other ways. For example, if you are injured or develop a travel illness, the insurance may pay to get you home more quickly and with medical assistance if you need it.
If you don't have such coverage, at least pay for refundable tickets and hotel bookings.
Easy-to-Earn Unlimited Rewards
Earn 25,000 online bonus points after you make at least $1,000 in purchases in the first 90 days of account opening - that can be a $250 statement credit toward travel purchases
Earn 1.5 points per $1 spent on all purchases
Longer intro APR on qualifying purchases and balance transfers
No foreign transaction fees
Earn unlimited 1.5 points per $1 spent on all purchases, with no annual fee and no foreign transaction fees and your points don't expire.
25,000 online bonus points after you make at least $1,000 in purchases in the first 90 days of account opening - that can be a $250 statement credit toward travel purchases.
Use your card to book your trip how and where you want - you're not limited to specific websites with blackout dates or restrictions.
Redeem points for a statement credit to pay for travel or dining purchases, such as flights, hotel stays, car and vacation rentals, baggage fees, and also at restaurants including takeout.
0% Introductory APR for 18 billing cycles for purchases, and for any balance transfers made in the first 60 days. After the intro APR offer ends, 17.99% - 27.99% Variable APR will apply. A 3% fee applies to all balance transfers.
If you're a Preferred Rewards member, you can earn 25%-75% more points on every purchase. That means instead of earning an unlimited 1.5 points for every $1, you could earn 1.87-2.62 points for every $1 you spend on purchases.
Contactless Cards - The security of a chip card, with the convenience of a tap.
This online only offer may not be available if you leave this page or if you visit a Bank of America financial center. You can take advantage of this offer when you apply now.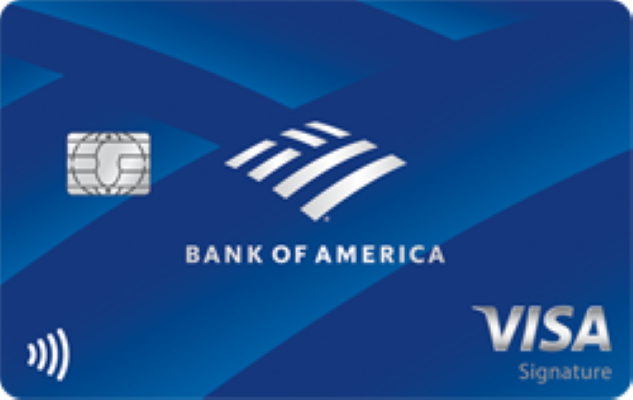 Apply Now
on Bank of America's secure website
Read Card Review
Intro Offer
Earn 25,000 online bonus points after you make at least $1,000 in purchases in the first 90 days of account opening - that can be a $250 statement credit toward travel purchases