They say life's about the journey, not the destination. But if you love traveling, your various destinations are an essential part of enjoying your journey — including the hotels you stay at.
And while a two-star motel can be a suitable home away from home while you travel the United States, you might as well live in a little luxury if you're doing well financially.
Start with the iconic hotels on our list below. These hotels soar over the others in their states, whether due to history, beauty, amenities, or all of the above.
Alabama: The Battle House Renaissance Hotel & Spa (Mobile)
The current Battle House Renaissance Hotel was built in Mobile in 1852. The impressive brick structure stands where the headquarters of General (and later, President) Andrew Jackson stood during the War of 1812.
When you're away from the historic hotel and its cozy spa, you can take in Mobile's other historic sites, from the USS Alabama to the 100,000-plus object collection at the History Museum of Mobile.
Alaska: Hotel Captain Cook (Anchorage)
Whether you visit Anchorage in the winter to view the northern lights or during the summer to hike Denali National Park, the area is stunningly beautiful.
If you don't want to miss a second of the view, a stay at the Hotel Captain Cook is a must. Each of the 546 rooms at the hotel offers sweeping views of either the Chugach Mountains, Cook Inlet, or downtown Anchorage.
With four restaurants in the hotel itself, you don't even have to leave the building to grab a cup of coffee for the road or a glass of wine to enjoy with dinner.
Arizona: Sanctuary Camelback Mountain (Scottsdale)
Ready to reset, relax, and recharge? The Sanctuary Camelback Mountain is home to a world-class spa, a gorgeous infinity pool, and several Southwestern-style villas and casitas scattered across several acres of the beautiful high desert.
You'll want to book your stay well in advance since accommodations are limited, and spots fill up fast.
Arkansas: Arlington Resort Hotel & Spa (Hot Springs)
Don't feel like camping on your next national park trip? The Arlington Resort Hotel is in the center of Hot Springs — both the city and national park.
Like the eight historic bathhouses across from the hotel, the Arlington was built to accommodate travelers wanting to bathe and unwind in the hot springs.
When you aren't busy enjoying the hotel's spa and thermal bathhouse, you can hike the park's 25-plus miles' worth of trails, visit a local museum, or stroll through the historic district to see how past visitors enjoyed the springs.
California: The Beverly Hills Hotel
Want to get the star treatment on your next trip to Los Angeles? Stay at The Beverly Hills Hotel on Sunset Boulevard.
Although the 1912 hotel predates the Golden Age of Hollywood and even the incorporation of Beverly Hills, it's now one of Greater LA's most iconic symbols. It offers its guest complimentary bikes so they can explore the historic hills.
Colorado: Stanley Hotel (Estes Park)
If you know anything about horror, you aren't surprised that the Stanley Hotel is considered Colorado's most iconic.
As the inspiration for the deadly hotel in Stephen King's novel "The Shining," you might think guests would be scrambling to avoid the hotel. 
But thanks to its prime location five miles from Rocky Mountain National Park, it's a popular destination for horror fans and outdoor lovers alike.
Connecticut: Mayflower Inn & Spa (Washington)
The Mayflower Inn is a cozy, cottage-style building on nearly 60 acres of lush New England countryside in Washington, Connecticut.
While roaming the idyllic grounds, you'd never guess the quiet, forested area is just two hours away from New York City by car.
Thanks to its excellent location, the inn makes the perfect base camp for travelers who prefer to experience Manhattan as a day trip while spending most of their northeastern adventure surrounded by the rivers, forests, and creeks of nearby nature preserves.
Delaware: Hotel du Pont (Wilmington)
Want to feel like you're visiting the French countryside without leaving the country?
The Hotel du Pont is a century-old retreat bedecked with imported chandeliers, a sweeping ballroom, and grand staircases. It's also home to a fantastic French-style eatery, Le Cavalier, which blends the best of classic and modern French cuisine.
The hotel is in the small city of Wilmington at the heart of Delaware's Brandywine Valley, a gorgeous stretch of rolling hills and Mid-Atlantic forest with city and state parks, bike trails, nature centers, and a small riverside zoo.
Florida: Fontainebleau Miami Beach
Vacationing in Miami is all about enjoying Florida's beautiful stretch of coastline, relaxing in the sun, and indulging in Miami's rich food scene. At the Fontainebleau Miami, you can do all three without leaving the hotel premises.
The 22-acre resort opened its doors in 1954, was shuttered in the early 2000s to undergo a billion-dollar restoration and renovation, and reopened in 2008 to global acclaim.
Georgia: The Georgian Terrace (Atlanta)
With its modern art scene, relatively temperate climate, and fascinating historical sites, Atlanta is a wonderful city to visit anytime. To fully immerse yourself in the city's culture, a stay in The Georgian Terrace Hotel is a must.
The building has been an essential element of Midtown Atlanta since 1911. It continues to give back to the community by hosting artwork from Savannah College of Art & Design (SCAD) students and offering discounts for SCAD students and their families.
Hawaii: The Royal Hawaiian (Honolulu)
Built in 1927 and located in the historic Honolulu neighborhood of Waikiki, The Royal Hawaiian's palatial pink entrance faces a pristine white-sand beach.
The hotel aims to give guests an authentic Hawaiian cultural experience by offering lei-making classes, storytelling sessions, and open-air hula lessons for kids. 
Visitors can stay in the hotel's historic wing or the 17-story Mailani Tower, where each condo has a sweeping ocean view.
If you get tired of the hotel's beaches, pools, and spa, Waikiki and the wider Honolulu area are full of boutiques, museums, and historic sites for visitors to explore.
Pro tip: If all of this makes you want to retire early and start traveling, take this quiz to see if it's possible.
Idaho: Sun Valley Resort
Is skiing your winter activity of choice? Put a visit to Idaho's 2,500-acre Sun Valley Resort on your bucket list.
The resort has multiple on-site accommodations, including the Sun Valley Lodge, Sun Valley Inn, and several standalone cottages, townhomes, and condos.
While skiing is the area's biggest draw, summertime activities include golfing, running, hiking, biking, fishing, horseback riding, and paddle boating on Sun Valley Lake.
Illinois: Palmer House (Chicago)
Like the city of Chicago itself, the Palmer House is incredibly resilient.
Even though the Great Chicago Fire of 1871 destroyed the building less than two weeks after it opened, the hotel was back in operation just two years later, and its doors have remained open ever since.
Chicago's Theater District — where the hotel is located — hosts touring Broadway shows and concerts. In between shows, you can tour the Chicago River by boat, swing by the American Writers Museum, and visit more of Chicago's historic sites.
Indiana: French Lick Springs Hotel
If the intriguing name alone isn't enough to inspire you to visit French Lick, Indiana, the many amenities at the 443-room French Lick Springs Hotel might be enough to persuade you.
The area's mineral springs have attracted health-conscious travelers for centuries, and the hotel's 28-room spa ensures you experience the same level of relaxation with no shortage of modern luxuries.
Iowa: Hotel Julien Dubuque (Dubuque)
The town of Dubuque, Iowa, stretches alongside the Mississippi River, meaning the area is steeped in history and outdoor adventure. To experience the best of both worlds, book a room at the Hotel Julien Dubuque.
A stay at this Old Main District hotel puts you as close as possible to attractions like the National Mississippi River Museum & Aquarium, the scenic Mississippi Riverwalk, and indoor entertainment like a riverside winery and nearby casino.
Kansas: Eldridge Hotel (Lawrence)
Lawrence, Kansas, is home to the University of Kansas, its history and art museums, and the historic Eldridge Hotel, which has been built and destroyed multiple times since 1855.
The hotel was most recently renovated in 2005 when university alumni and local investors purchased it and spent months refurbishing it. Today, visitors can enjoy 1920s-style elegance with modern amenities.
Kentucky: The Brown Hotel (Louisville)
Kentucky's Brown Hotel celebrates its 100th birthday this October, which makes now the perfect time to book your stay.
While many luxury hotels on our list have rooftop pools, the Brown Hotel is the only one to feature a rooftop garden, offering sweeping views of Loiusville's skyline.
And if you're interested in customizing your Kentucky experience, the hotel offers packages specific to bourbon enthusiasts, Kentucky Derby attendees, and more.
Louisiana: The Roosevelt New Orleans
This Astoria-Waldorf-owned hotel was founded in the late 1800s, and today's guests can enjoy activities unique to New Orleans both within the hotel's walls and just outside its doors.
For instance, any authentic tour of New Orleans has to start in the historic French Quarter just a block from The Roosevelt New Orleans.
The hotel's many bars and restaurants serve authentic New Orleans cuisine, while the recent Mardi Gras celebration featured the "Drag Me to the Roosevelt Drag Brunch."
Maine: Samoset Resort (Rockport)
In a state renowned for its beautiful coastline, Maine's 40-mile-long Penobscot Bay stands out. The area has islands, historic villages, and gorgeous hotels with bayside views, such as the Samoset Resort.
Founded in 1889, the resort occupies 230 acres, including a golf course, private rooms with seaside balconies, and multiple restaurants with food for every palate.
Samoset guests can book cottages, suites, condos, and individual rooms. The resort has multiple options for families, including large family suites with separate rooms and condos with different sitting areas.
Maryland: Inn at Perry Cabin (St. Michaels)
If your dream vacation is a cozy seaside retreat rather than a whirlwind tour of a big city, the Inn at Perry Cabin has you covered.
History lovers will enjoy browsing the nearby Chesapeake Bay Maritime Museum, which covers the area's history from its earliest indigenous residents to St. Michaels' 17th-century founding. 
The resort has multiple wings, some located adjacent to the hotel's private dock, some closer to the property's gardens. And anyone seeking solitude on the beaches along the bay will find the quiet they're looking for.
Massachusetts: Omni Parker House (Boston)
The Parker House isn't just the oldest hotel in Boston — it's also one of the oldest continuously operated hotels in the United States, hosting guests since the 1850s.
Luminaries like Ralph Waldo Emerson, Nathaniel Hawthorne, and Henry David Thoreau met in the hotel's club in its earliest days. 
Visitors can learn more about the hotel's (and the city's) rich history by enjoying a self-guided tour along the 2.5-mile Freedom Trail, which runs past the hotel.
Michigan: Grand Hotel (Mackinac Island)
Mackinac Island is a three-mile island on Lake Huron. Along with a historic fort, art museum, and state park, the island is home to Grand Hotel, a palatial estate complete with waterfront views, 13 restaurants and bars, and unique, colorful rooms.
The island offers a host of modern adventures, including golf courses and a rich nightlife, but it's perhaps best known for its Old World horse-drawn carriage rides and car-free streets.
Minnesota: The St. Paul Hotel
The site of the St. Paul Hotel has a long history of serving guests. The original hotel on the site, the Greenman House, was a once-private home converted into a towering 60-room hotel. 
Although it was devastated by a fire in 1878, the larger Windsor Hotel quickly went up in its place. In 1910, the Windsor was replaced with the luxurious St. Paul Hotel.
The modern hotel has more than 250 rooms, most featuring views of the downtown St. Paul cityscape or the lush, tree-lined Rice Park.
Mississippi: Monmouth Historic Inn & Gardens (Natchez)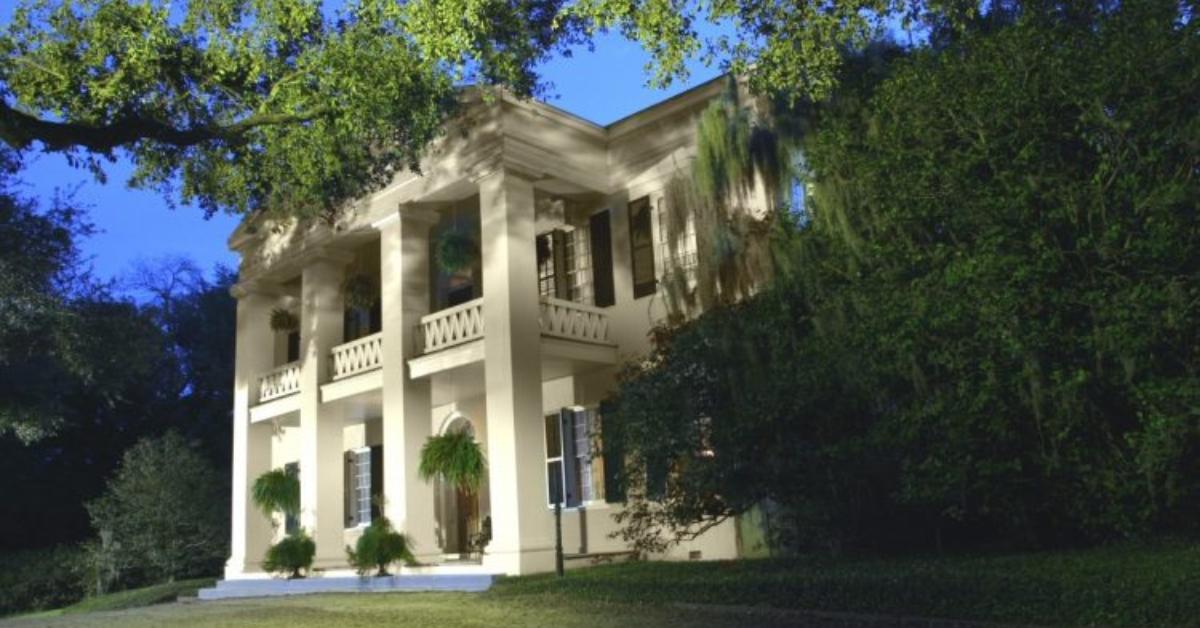 Looking for a taste of genuine Southern hospitality? The Monmouth Historic Inn's architecture, carefully cultivated gardens, and antique furnishings and art will make you feel like you've stepped back in time.
The historic hotel, built in 1818, consists of a main house and several outbuildings. As a registered historic site, the main house is featured in daily tours that explore the hotel's history.
Missouri: Chase Park Plaza (St. Louis)
St. Louis' unique sights include its zoo, art museum, state history museum, and botanical gardens — all located within three miles of the historic Chase Park Plaza, a Royal Sonesta property.
The Chase Park Plaza is the official union of two adjacent hotels built in the 1920s: the Hotel Chase, a broad nine stories of brick, and the Park Plaza, a 27-story tower. They became one in the mid-20th century.
When you aren't busy exploring St. Louis, you can relax in front of a film at the Chase's five-story movie theater or swim in its magnificent indoor pool. Diners can choose between three on-site restaurants, including The Tenderloin Room, a mainstay since the 1960s.
Montana: Many Glacier Hotel (Browning)
Glacier National Park, located along the Canadian border in Montana, is one of the most popular national parks in the U.S., especially during the summer. 
Located within the park boundaries, the Swiss-style Many Glacier Hotel was built in 1915 to accommodate sight seekers.
While the hotel has been updated multiple times, it retains its rustic charm (the rooms lack TVs and air conditioners). Along with standard hotel rooms, guests can stay in well-furnished family units or cozy lakeside cottages.
Much like the park itself, the park's hotel fills up during the summer, so book a room as soon as possible before your trip.
Nebraska: Magnolia Hotel Omaha
Omaha's Magnolia Hotel was built in the 1920s by an architect inspired by an Italian palace in Florence — which makes the Magnolia Hotel one of the most recognizable, one-of-a-kind landmarks in both Omaha and Nebraska.
During your visit, you'll enjoy easy access to downtown Omaha's main attractions, such as the Henry Dooly Zoo and Aquarium and the historic Old Market Entertainment District.
The Magnolia Hotel only has three ADA-compliant rooms, so you'll want to book well in advance to take advantage of the Magnolia Hotel's accessible areas.
Nevada: Bellagio Las Vegas
Call it cliche if you want to, but in the decades after Steven Soderbergh's "Ocean's 11" remake, no other Vegas hotel has come close to surpassing the Bellagio in terms of recognizability.
While the Bellagio's elegant fountains are worth visiting the city on their own, the resort drips with European elegance that transports you from the American Southwest to the Mediterranean coast.
The resort's pool, spa, salon, nighttime performances, multiple bars and lounges, and casino should ensure no shortage of activities.
New Hampshire: Omni Mount Washington Resort (Bretton Woods)
Most first-time visitors to New England aren't expecting to see a Spanish Renaissance-style manor flanked by New Hampshire's snow-capped mountains. Still, the Omni Mount Washington Resort has been astonishing tourists since the early 1900s.
In the summer, guests can take advantage of the hotel's golf course, which dates back to 1915. In the winter, hitting the slopes of Bretton Woods is a must, followed by an après-ski meal and relaxation session in the resort's spa.
New Jersey: Borgata Hotel Casino & Spa (Atlantic City)
The Borgata Hotel Casino & Spa comprises two gleaming gold-glass towers in Atlantic City. It is owned by MGM Resorts, which also owns and manages the Bellagio and other easily recognizable luxury resorts.
While its casino offers opportunities for nonstop entertainment, the Borgata's outdoor pool, theater space, steakhouse, and multiple bars give Atlantic City visitors a host of on-site activities.
New Mexico: La Fonda on the Plaza (Santa Fe)
Santa Fe's arts scene, restaurants, and historic sites rival anything found on the East Coast.
The La Fonda hotel, centrally located in downtown Santa Fe, ensures easy access to some of the best restaurants and museums in the area, including the Georgia O'Keeffe Museum, the state capitol building, and several city parks.
If you want a little extra luxury, consider staying at the Terrace Inn at La Fonda. Located on the east side of the main hotel, the Terrace Inn has just 15 rooms, each unique and bedecked with authentic New Mexican art.
New York: The Plaza Hotel (New York City)
The children's books centering on Eloise at the Plaza might have made the Plaza Hotel a household name for families starting in 1955, but the hotel has been bringing smiles to visitors' faces since 1907.
Its spacious rooms include the 4,500-square-foot, three-bedroom Royal Suite and the Tower Room with a 23-foot domed brick ceiling.
New York City is a major tourist hub, so if you have your sights set on a stay at the Plaza, make sure to book well in advance.
North Carolina: The Omni Grove Park Inn (Asheville)
Asheville is a prime destination for anyone hoping to see the beautiful Blue Mountains up close.
When you aren't busy taking in North Carolina's gorgeous mountain scenery, you can soak and swim at the Omni Grove Park Inn's subterranean spa. 
The underground relaxation destination takes up 43,000 square feet and features mineral pools, waterfalls, rock walls, steam rooms, saunas, and a lap pool lit with artificial starlight.
North Dakota: Hotel Donaldson (Fargo)
Fargo might not be North Dakota's capital, but it is the state's largest city, with a thriving nightlife and downtown area.
The Hotel Donaldson is more than a century old, includes its own on-site bar, and has just 17 suites, which makes it a cozy, one-of-a-kind North Dakotan experience. (Plus, the hotel is pet friendly.)
Ohio: Hilton Cincinnati Netherland Plaza
The original Netherland Plaza started life as the Carew Tower, a building its designer intended to be a "city within a city" that would include stores, restaurants, and hotels.
Even the stock market crash of 1929 couldn't deter the owners from finishing the building in 1931, and thanks to its unique Art Deco style and prominent placement, the hotel is still one of the most recognizable structures in Cincinnati.
Oklahoma: The Skirvin Hilton Oklahoma City
Like the Netherland Plaza, the Skirvin Hotel was designed in the Art Deco style popular in the early 1900s. The original Skirvin opened in 1911 and was fully restored in 2007, a year before it became a member of the Historic Hotels of America.
You can get a taste of the rest of Oklahoma City's rich history by exploring the National Cowboy & Western Heritage Museum, botanical gardens, or Oklahoma History Center during your stay.
Oregon: Timberline Lodge (Government Camp)
If staying the night on an active volcano is on your bucket list, the Timberline Lodge is the place to go.
Located on Mount Hood (with an elevation of more than 11,000 feet), the Timberline Lodge is particularly popular during the winter ski season.
If skiing isn't your scene, the Timberline Lodge is still more than worth a visit. In the spring, the mountain is covered in wildflowers; and biking, hiking, and river rafting are all popular activities before the winter snows roll in.
Pennsylvania: Hershey Lodge (Hershey)
In the first 40 years of its history, Hershey Lodge grew from a humble motor lodge to one of the biggest convention destinations in Pennsylvania.
Thanks to the hotel's luxurious rooms and many amenities, including an indoor and outdoor pool, on-site chocolate-themed spa, and falconry experience, visitors nationwide have just as much reason to visit the Hershey Lodge as companies and convention-goers.
Rhode Island: Ocean House (Watch Hill)
Many of the hotels on this list have earned a four-diamond rating from AAA, which puts them in the top 6.5% of all properties reviewed by AAA.
The Ocean House goes a step further: It's one of the 100 or so hotels in the Americas and the Caribbean to merit the highest five-diamond rating.
The hotel features a four-star restaurant and chef in residence. It was built on a bluff, which ensures all 49 rooms and 20 suites have fantastic views. 
Ocean House also owns several cozy cottages you can only reserve over the phone. The cottages have such limited availability that an online reservation system isn't sustainable.
South Carolina: The Charleston Place
At just under 40 years old, The Charleston Place was built much more recently than most of the hotels on our list — but that doesn't make it any less stately.
The building was designed to match the Charleston architectural style unique to the city. A stay in one of the hotel's 433 rooms includes access to the rooftop pool, which gives you a novel view of historic downtown Charleston.
South Dakota: Hotel Alex Johnson (Rapid City)
Hotel Alex Johnson came to life in the late 1920s as a brick Tudor-style building with Germanic influences (evident in the building's Swiss-cottage-style roof). 
It's part of the Hilton Hotel chain's Curio Collection, a group of some of the world's most exclusive, unique hotels.
The nearly century-old hotel also features handmade Lakota and Sioux crafts and artwork, giving guests a fascinating look into South Dakota's rich history.
Tennessee: The Peabody Memphis
The Peabody Memphis is a unique hotel for a few reasons. It first opened in 1869, is just a short walk from legendary locales like Beale Street and the Orpheum Theatre, and is home to several ducks who strut through the hotel doors twice a day.
The Peabody Memphis is presumably the only hotel in the world ever to employ a Duckmaster.
Pro tip: If you plan to visit any of these hotels, check if you can earn travel rewards by booking your stay with one of the top travel credit cards.
Texas: The Driskill (Austin)
Austin overflows with museums (including the must-see Museum of Ice Cream), outdoor adventures, authentic Texas barbecue, and bat and bird-watching opportunities.
But no matter what you're doing in Austin, The Driskill is the place to stay. Built by a cattle baron in 1886, the Hyatt-owned hotel has a bar, bakery, and grill, all with authentic Texas cuisine.
Along with typical king- and queen-sized rooms, the hotel's Texas-sized suites include the 1,230-square-foot Cattle Baron Suite, the Lyndon B. Johnson Suite (complete with a stained-glass decorated bathroom), and several 600-square-foot suites with balconies.
Utah: The Grand America Hotel (Salt Lake City)
The Grand America Hotel was built in the early 2000s to accommodate global guests visiting Utah for the 2002 Winter Olympics.
The hotel's 775 rooms are furnished with handmade, French-style furniture, featuring spacious, spa-like bathrooms made from Italian marble.
For an indulgent treat, reserve a spot at the Grand America's Afternoon Tea, which includes a fantastic spread of daily teas and pastries.
Vermont: Woodstock Inn & Resort
Looking for a rustic retreat where you don't have to rough it? The Woodstock Inn aims to connect visitors with Vermont's unique environment without the ruggedness.
The resort sources its food from the on-site farm-to-table establishment, Kelly Way Gardens. Visitors can also engage with Vermont's outdoors by signing up for one of the hotel's themed packages, including a fly-fishing excursion and beginner falconry class.
Virginia: The Jefferson Hotel (Richmond)
Richmond is home to the historic Virginia State Capitol building, which was designed by Thomas Jefferson and features a statue of George Washington that was sculpted during Washington's lifetime.
It's also home to the Jefferson Hotel, a five-star luxury spa and hotel located right down the street from the capitol building with more than 150 rooms.
The hotel's Colonial-style rooms and Champagne Sunday Brunches allow you to both stay and dine in style.
Washington: Fairmont Olympic Hotel (Seattle)
Thanks to its central location in downtown Seattle, the Fairmont Olympic is the perfect home base for visitors hoping to see all of Seattle's most iconic sites.
The Fairmont is a half-mile walk from Pike Place, the city's famous bustling market, where you can find anything from fresh fish to old movie posters and take-home magic tricks.
It's also a mile from Seattle's Chinatown district and only a five-minute drive from the famous Space Needle.
Pro tip: If a Pacific Northwest road trip is your idea of fun, be sure to cut your auto insurance costs before you set off.
West Virginia: The Greenbrier (White Sulphur Springs)
The Greenbrier occupies an astonishing 11,000 acres and has more than 700 rooms.
Its rich history began in 1778 — so booking a stay makes you one of the hundreds of thousands of people who have visited the springs over the last 250 years.
While the resort is beautiful, it pales compared to the surrounding Allegheny Mountains, part of the 480-million-year-old Appalachians full of dozens of national forests and wilderness areas.
Wisconsin: The Pfister Hotel (Milwaukee)
If your ideal travel destination blends luxury living with historical art, the Pfister was built for you.
The building is more than a century old, hosts the most extensive collection of Victorian art of any hotel in the world, and sponsors an artist in residence.
Guests can chat with the artist while watching them work in an open studio, view their work in the hotel's gallery, and take a self-guided tour of the museum's vast art collection.
Wyoming: The Wort Hotel (Jackson)
Visiting Jackson Hole for wintertime skiing or summer sunbathing? The Wort Hotel's Western-style suites are ideal for relaxing after a long day in the valley or the surrounding mountains.
The hotel, of course, is only a few minutes from Grand Teton National Park and just over an hour from Yellowstone National Park.
Bottom line
No matter where in the U.S. you travel, there's a luxurious hotel, cozy mountain cabin, or quirky, themed getaway you're guaranteed to enjoy.
Even better, earning travel rewards is possible by booking your stay with one of the top travel credit cards. Then you can invest those rewards into future adventures.
Easy-to-Earn Unlimited Rewards
Earn 25,000 online bonus points after you make at least $1,000 in purchases in the first 90 days of account opening - that can be a $250 statement credit toward travel purchases
Earn 1.5 points per $1 spent on all purchases
Longer intro APR on qualifying purchases and balance transfers
No foreign transaction fees
Earn unlimited 1.5 points per $1 spent on all purchases, with no annual fee and no foreign transaction fees and your points don't expire.
25,000 online bonus points after you make at least $1,000 in purchases in the first 90 days of account opening - that can be a $250 statement credit toward travel purchases.
Use your card to book your trip how and where you want - you're not limited to specific websites with blackout dates or restrictions.
Redeem points for a statement credit to pay for travel or dining purchases, such as flights, hotel stays, car and vacation rentals, baggage fees, and also at restaurants including takeout.
0% Introductory APR for 15 billing cycles for purchases, and for any balance transfers made in the first 60 days. After the intro APR offer ends, 18.24% - 28.24% Variable APR will apply. A 3% fee applies to all balance transfers.
If you're a Preferred Rewards member, you can earn 25%-75% more points on every purchase. That means instead of earning an unlimited 1.5 points for every $1, you could earn 1.87-2.62 points for every $1 you spend on purchases.
Contactless Cards - The security of a chip card, with the convenience of a tap.
This online only offer may not be available if you leave this page or if you visit a Bank of America financial center. You can take advantage of this offer when you apply now.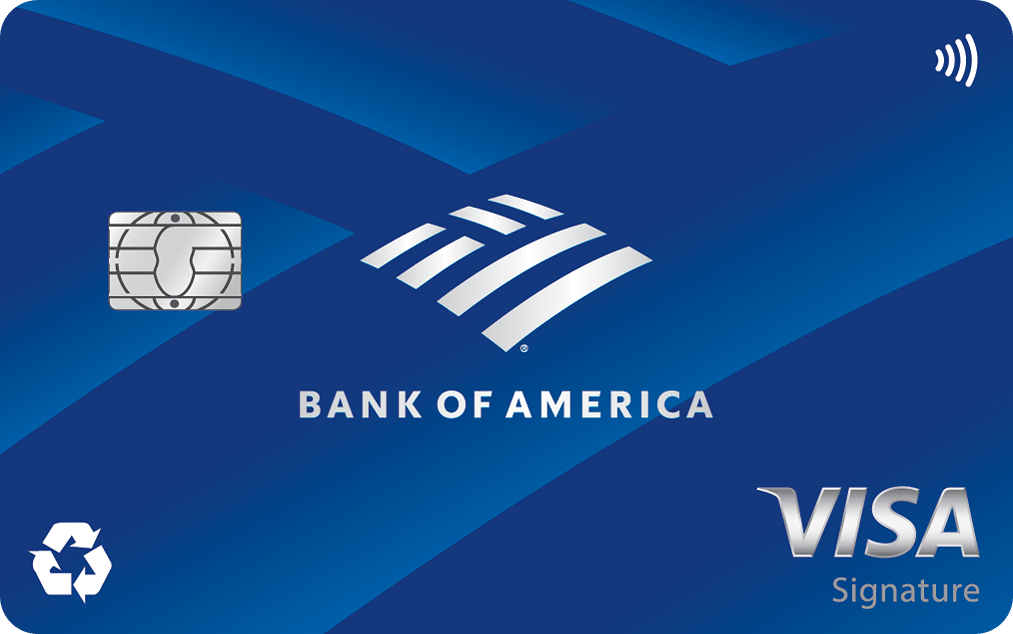 Apply Now
on Bank of America's secure website
Read Card Review
Intro Offer
Earn 25,000 online bonus points after you make at least $1,000 in purchases in the first 90 days of account opening - that can be a $250 statement credit toward travel purchases