Whether you are traveling the world or just cashing in some airline miles for a quick weekend trip, we all want to feel safe when our airplane takes off. That's why people who work for airlines — including pilots — have certain industry secrets that they keep to themselves.
Those secrets don't compromise safety, but some of the information those who work in the industry know might be shocking to the average traveler. For example, a 2021 documentary on luxury travel alleged that very good-looking people are more likely to get a chance at flying first class due to random upgrades.
Below, we've compiled a list of nine things pilots probably don't want you to know when you fly.
There's a secret spot for sleeping
Flying for more than 12 hours at a stretch is obviously going to lead to some exhaustion, but some travelers may be uncomfortable with the thought of their pilot taking a nap — which is why crew rest compartments (or CRCs) are often hidden away in airplanes.
These CRCs offer both pilots and flight attendants a small, compact spot to relax and get some rest on long flights. Many aircrafts will have one space for the crew and another for pilots to rest. Depending on the type of aircraft, these compartments may be located either above or below the passenger cabin and could feature small beds and curtains to keep out light and sound. On long-haul flights, more pilots are required to be on board, so they rest on rotation.
How often they use autopilot
Most travelers are aware that planes are on autopilot at least some of the time, especially on long-haul flights. But you may be surprised to learn just how much time autopilot is used during the typical flight.
Usually, autopilot is engaged shortly after takeoff and remains on until just before landing if everything about the flight goes smoothly. A retired airline captain told USA Today that he estimated that more than 90% of most flights are flown with autopilot.
Airplane mode may not be as crucial as you think
The general understanding at takeoff is that your phone must be switched into airplane mode so that it won't interfere with the plane's electronic system.
However, pilot Patrick Smith told the online magazine Mic that it's unlikely that cell communications will actually disrupt cockpit equipment because aircrafts are designed to avoid any sort of interference. Still, since it's technically possible, using airplane mode is still required until the FAA releases new regulations.
On the other hand, the flight crew's request for you to stow your laptop during takeoff has less to do with possible interference and more to do with the fact that it could slide off your table and into a fellow passenger's face.
They might exaggerate the landing time
Since flying depends on so many factors — like plane mechanics, weather, etc. — airlines may adjust their projected flight arrival times to avoid late landings.
If you're a seasoned traveler, you may have been on a few flights where the plane miraculously arrived early or just on time even after a long delay at takeoff. You may have thought excellent flying conditions or some magic the pilot worked shaved time off the trip. But this is more likely due to the airline adding a few extra minutes into the flight schedule so that their record of on-time arrivals is better.
Related: Best Travel Credit Cards
Being on time is a top priority
On a related note, a commercial pilot from North Carolina disclosed that the Department of Transportation puts such an emphasis on flights arriving on time that it's often considered more important than waiting for any passengers who may be running late.
Unfortunately, that often includes travelers arriving on a connecting flight that got delayed — even if there are many of them. The priority is placed on getting flights out and back on schedule, even if that means rescheduling a whole slew of travelers.
Pilots may need a snack break
Travelers may be uneasy about the thought of pilots taking breaks to enjoy a meal mid-flight. But because of autopilot and more staff on longer flights, pilots on long-haul flights often have time to grab some food while flying. Logically, you probably wouldn't want the person flying your plane to be fasting if you happen to be on the 18-hour flight from Singapore to New York City, right?
Some airlines will give pilots the choice of picking one of the entrees served on the plane, which means they get access to those first-class meals. But many also offer them the opportunity to bring their own food and have flight attendants heat it up on board. After all, eating the same airline food every shift could get old fast.
Some safety rules don't make a lot of sense
Pilots acknowledge that there are several safety rules aboard aircrafts that don't make a whole lot of sense, including exactly when the crew has to be seated with their belts on.
For example, when aircrafts are nearly 40,000 feet in the air and going 400 miles an hour, flight attendants are allowed to walk the aisles serving food and hot drinks, even when there's turbulence. However, they must be strapped in while the aircraft is on the ground rolling by at about five miles an hour.
They may be flying with low fuel
Since airlines are always looking to keep costs as low as possible, planes may have just enough fuel to get to a destination, since flying with extra weight burns fuel.
However, if something, like inclement weather, comes up, this could lead to an unplanned stop at a closer airport to refuel.
Bottom line
While everyone in the travel industry may be privy to their own insider information — from travel agent secrets to intel only flight crews know — this doesn't make air travel any less safe. No need to put off any future trips, especially if you've been working hard and need a little R&R.
In fact, one pilot told Reader's Digest that traveling by car is often way scarier than traveling by plane for him — especially in high-traffic areas like Los Angeles. Pilot secrets are often kept on the down-low because they simply don't want to cause travelers to needlessly worry about a potential lightning strike or a low fuel warning as the plane approaches its destination.
Easy-to-Earn Unlimited Rewards
Earn 25,000 online bonus points after you make at least $1,000 in purchases in the first 90 days of account opening - that can be a $250 statement credit toward travel purchases
Earn 1.5 points per $1 spent on all purchases
Longer intro APR on qualifying purchases and balance transfers
No foreign transaction fees
Earn unlimited 1.5 points per $1 spent on all purchases, with no annual fee and no foreign transaction fees and your points don't expire.
25,000 online bonus points after you make at least $1,000 in purchases in the first 90 days of account opening - that can be a $250 statement credit toward travel purchases.
Use your card to book your trip how and where you want - you're not limited to specific websites with blackout dates or restrictions.
Redeem points for a statement credit to pay for travel or dining purchases, such as flights, hotel stays, car and vacation rentals, baggage fees, and also at restaurants including takeout.
0% Introductory APR for 15 billing cycles for purchases, and for any balance transfers made in the first 60 days. After the intro APR offer ends, 18.24% - 28.24% Variable APR will apply. A 3% fee applies to all balance transfers.
If you're a Preferred Rewards member, you can earn 25%-75% more points on every purchase. That means instead of earning an unlimited 1.5 points for every $1, you could earn 1.87-2.62 points for every $1 you spend on purchases.
Contactless Cards - The security of a chip card, with the convenience of a tap.
This online only offer may not be available if you leave this page or if you visit a Bank of America financial center. You can take advantage of this offer when you apply now.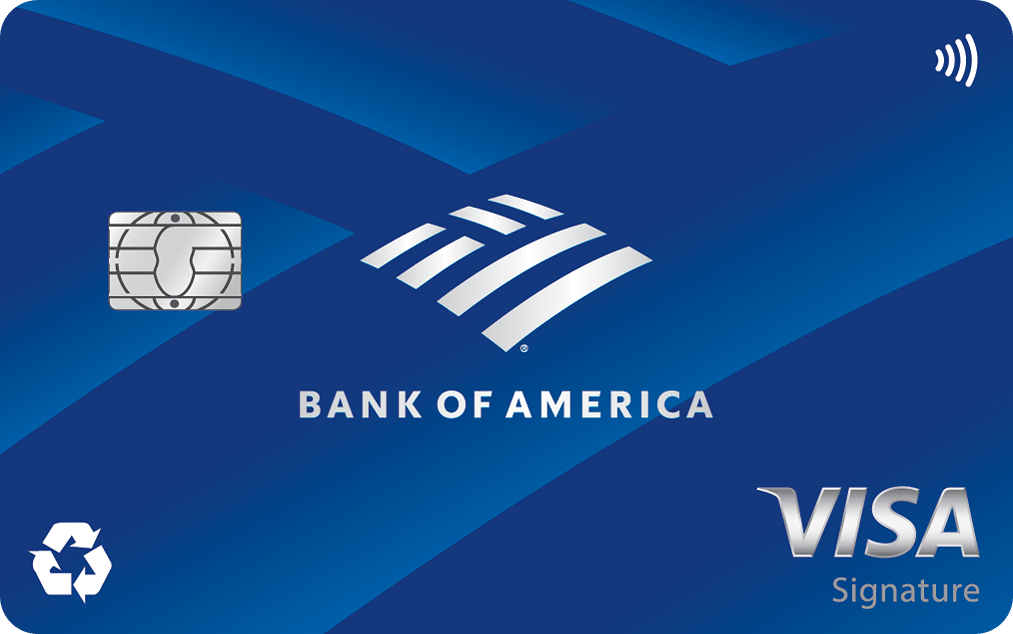 Apply Now
on Bank of America's secure website
Read Card Review
Intro Offer
Earn 25,000 online bonus points after you make at least $1,000 in purchases in the first 90 days of account opening - that can be a $250 statement credit toward travel purchases