If you're looking to get outside this year, consider a trip to view beautiful wildflowers in all their natural splendor. The U.S. has some of the most varied landscapes on the planet, which is ideal for seeing a wide range of wildflowers.
But you'll need to make sure you go at the right time to catch the flowers when they're blooming. Weather patterns and geographic location can affect the timing for viewing wildflowers, so it's important to plan ahead.
In this list, you'll learn the best times of the year to visit each destination and what flowers you can expect to see. Following the list, you'll find tips on how you can save money on your travels and pay for your dream trip while staying debt-free.
Anna Ruby Falls Trail, Georgia
When to go: March to June
What you'll see: Vasey's trillium, Jack in the pulpit, mayapple, bloodroot, false Solomon's seal, meadow rue, foam flower, and fire pink
The Anna Ruby Falls Trail is part of the Chattahoochee National Forest in northern Georgia. It's a 0.8-mile out-and-back paved trail that follows a stream to a twin waterfall viewing area. The relatively short hike, paved path, presence of water, and added beauty of wildflowers can make a visit to the area more than worthwhile, especially if you're doing a day trip from Atlanta.
To continue the adventure with a more strenuous hike and additional opportunities to see wildflowers, try the Smith Creek Trail that starts at the base of Anna Ruby Falls.
Antelope Valley Poppy Reserve, California
When to go: Mid-February to May
What you'll see: California poppy, California goldfields, Mojave suncup, California tickseed, California aster, filaree, shortpod mustard, two-color lupine, grape soda lupine, chia, and creamcups
Poppies can sometimes be yellow in color, but at the Antelope Valley California Poppy Reserve, they're typically a vibrant orange. This makes for a unique experience for visitors to view fields of orange poppies (and take plenty of photos!), which is something not often seen in nature.
This state park is located in Lancaster, California, just north of Los Angeles but still within Los Angeles County. If you time your visit right, you can enjoy wildflowers at the poppy reserve and have loads of fun at the annual California Poppy Festival in Lancaster. This festival typically has live music, kids' activities, and food.
Anza-Borrego Desert State Park, California
When to go: Mid-March to June
What you'll see: Desert lily, datura, sand verbena, desert apricot, phacelia, chicory, desert lavender, lupine, desert dandelion, and dune evening primrose
As with many areas of California, the Anza-Borrego Desert State Park often comes alive with wildflowers in the spring. The peak season for wildflower viewing doesn't last long, which means the park can get busy during March and April. However, if you don't mind seeing fewer flowers, you can still find them during the summer, especially if it has rained recently.
Borrego Springs, where the park is located, is northwest of San Diego and within driving distance for a day trip. If you want to visit two state parks in one trip, consider hitting Cuyamaca Rancho State Park along the way and trade the desert for some water and trees.
Columbia River Gorge, Oregon
When to go: March to June
What you'll see: Balsamroot, lupine, buckwheat, shooting stars, meconella, Columbia Frasera, yellow water lily, daisy, hawkweed, and buttercup
The Columbia River Gorge National Scenic Area is a popular scenic area close to Portland, Oregon, that straddles the Columbia River between Washington and Oregon. You have loads of trails to choose from to view wildflowers, many of them overlooking the river below.
But if you can only choose one route, consider the Rowena Crest Overlook. This viewpoint features horseshoe curves winding their way to the overlook, plus a trail through the Tom McCall Nature Preserve. The trail showcases a plateau that blooms with wildflowers during the spring, so you get both views of the flowers and the Columbia Gorge.
Cranberry Glades, West Virginia
When to go: March to July
What you'll see: Orchids, brookfoam, Canada lily, and mountain laurel
The Cranberry Glades Botanical Area is an area comprising four bogs in the Monongahela National Forest in West Virginia. The plants and wildlife found here are more typical in northern areas, which makes this a unique location for the region. Some plants found in Cranberry Glades include carnivorous plants, which are typically plants that eat insects.
Try to spot these plants, the area's wildlife, and beautiful wildflowers like orchids as you walk along the half-mile boardwalk. Having a boardwalk helps protect the Cranberry Glades ecosystem, but also makes it easily accessible for most visitors, including those in wheelchairs.
Crested Butte, Colorado
When to go: May to August
What you'll see: Sunflower, orchid, elephant's head, fireweed, glacier lily, lupine, paintbrushes, sego lily, shooting stars, and sky pilot

Colorado is already an ideal destination for enjoying the outdoors. You get fresh air, mountain peaks, and loads of hiking trails. Add in meadows of wildflowers and you've got something even more special. Different varieties of sunflowers are prevalent around Crested Butte if you like fields of yellow.
Crested Butte is a town in the Rocky Mountains that draws in crowds throughout the year for its outdoor attractions. This includes skiing, biking, fishing, horseback riding, and during the late spring and summer months, wildflower viewing. It can get busy, especially when the annual Crested Butte Wildflower Festival kicks off in July, but you have plenty of trails to choose from in the areas between Crested Butte, Gunnison, and beyond.
Glacier National Park, Montana
When to go: April to September
What you'll see: Beargrass, glacier lily, clematis, pinesap, Indian pipe, purple aster, butterwort, trillium, meadowrue, fireweed
Glacier National Park might be known for its abundant wildlife, including hundreds of grizzly bears, and views of massive mountain peaks, but its wildflower season is a spectacle not to be missed. The elevations throughout the park can vary, which means any given hike could have wildflowers between April and September, depending on the year's weather conditions.
Consider including a stop at Glacier National Park as part of an epic road trip of the national parks that fall close to Interstate 15, spanning from Los Angeles, California, all the way to the Canada border. Keep heading north into Canada if you want to visit Calgary and Banff National Park as well.
Glade Top Trail, Missouri
When to go: March to September
What you'll see: Arkansas calamint, aromatic aster, Barbara's buttons, Bush's skullcap, Gattinger's goldenrod, Missouri evening primrose, purple beardtongue, purple coneflower, rosinweed, and yellow coneflower
Glade Top Trail is the only National Forest Scenic Byway in Missouri and includes 23 miles of trail that cuts through the Mark Twain National Forest. This two-lane gravel road makes it easy to drive and look for wildflowers at your leisure, including along the seven overlooks where you can pull off and enjoy the views.
The closest major city is Springfield, Missouri, where you can enjoy family-fun activities like visiting the zoo, aquarium, or fairgrounds. Springfield is considered the Gateway to the Great Outdoors, so it's likely the perfect basecamp for starting a nature-based adventure.
Great Smoky Mountains National Park, Tennessee
When to go: February to September
What you'll see: Trillium, orchid, columbine, bleeding heart, violet, Turk's cap lily, black-eyed Susan, sunflower, pink turtlehead, goldenrod, mountain gentian, monk's hood, coneflower, and aster
The Great Smoky Mountains National Park has more kinds of flowering plants than any other national park in North America, which has given rise to the park's nickname, the "Wildflower National Park."
The park is already popular for its scenic hikes and sweeping views of the aptly-named mountains, having welcomed more than 12 million visitors each year in the past two years. But having a large part of the year to see different types of wildflowers is certainly a selling point as well.
Hill Country, Texas
When to go: March to May
What you'll see: Bluebonnets, Indian paintbrush, poppy, sunflower, firewheel, winecup, phlox, coneflower, spiderwort, prairie verbena, and daisy
Hill Country is a region in central and southern Texas close to San Antonio and Austin. This makes it easy to visit these major Texan cities while going slightly out of your way to catch fields of beautiful wildflowers. Bluebonnets, the Texas state flower, are particularly common, but that doesn't diminish their stunning aesthetic.
If you don't want to travel far from the city, visit the Lady Bird Johnson Wildflower Center in Austin for a closer look at many of the area's native wildflowers. Once you're done there, take your pick of some of the best barbecue in the land, with loads of barbecue restaurants to choose from.
Mount Rainier National Park, Washington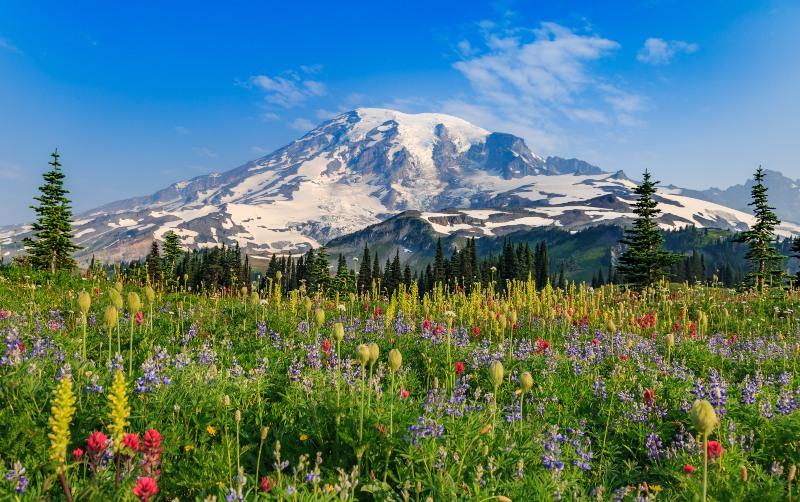 When to go: Mid-July to August
What you'll see: Aster, glacier lily, beargrass, bellflower, lousewort, bleeding heart, bog orchid, buckwheat, buttercup, butterwort, columbine, fireweed, goldenrod, Indian pipe, and lupine
Mount Rainier is more than 14,000 feet above sea level and an active volcano. If you want a unique destination for viewing wildflowers, this is one of those places.
The high elevation means wildflowers bloom later than other areas, mainly in the ending months of summer. If you're in the Seattle area, Mount Rainier National Park is a two-hour drive away, so about perfect for a day trip away from the city.
Juniper Springs, Florida
When to go: March to June
What you'll see: Trumpet vine, water hemlock, Carolina jasmine, spider lily, cardinal flower, fetterbush, wax myrtle, wild azalea, and atamasco lily
Wildflowers can grow in Florida throughout the year because of its climate, but you might catch the best views of blooms in the spring and summer months. If you're off to find wildflowers in The Sunshine State, consider a visit to Juniper Springs near Ocala.
This natural spring is surrounded by the Ocala National Forest and allows you to view the area's flora and fauna while floating down a seven-mile canoe run. Or you can walk along the boardwalk on the Juniper Creek Nature Trail and then cool off in the spring when you're ready.
Shenandoah National Park, Virginia
When to go: March to September
What you'll see: Hepatica, bloodroot, violet, trillium, pink lady's slipper, bluet, pink azalea, mountain laurel, columbine, milkweed, nodding onion, daisy, turk's cap lily, aster, and goldenrod
Shenandoah National Park is located along the Blue Ridge Mountains in Virginia, about 1.5 hours driving distance from Washington, D.C. The proximity to the U.S. Capitol makes it easy to get out and enjoy blooming wildflowers, whether it's spring, summer, or even fall. This doesn't mean you'll see the same flowers throughout the seasons, but you're sure to find something if you look hard enough.
Sugar Hill, New Hampshire
When to go: June to July
What you'll see: Lupine
You're likely to see additional wildflowers other than just lupines, but the lupines are what visitors to the small town of Sugar Hill come for. The annual Sugar Hill Lupine Festival is held here to celebrate the thousands of lupines that bloom across fields and throughout the surrounding area.
If you want to explore farther away from town, consider a visit to the nearby White Mountain National Forest and its seven wildflower viewing areas.
Wasatch-Cache National Forest, Utah
When to go: July to August
What you'll see: Lupine, Indian paintbrush, sunflower, fireweed, American bistort, columbine, Jacob's ladder, and penstemon
The area of the Wasatch-Cache National Forest in Utah's Salt Lake County includes various spots to view wildflowers during the summer months, including Albion Basin.
The Albion Basin wildflower viewing area can be found above the Snowbird and Alta ski resorts up Little Cottonwood Canyon. It's best to get on one of the trails early in the day before the crowds arrive because it can get busy. If you're around Salt Lake City, it's less than an hour's drive to get to Albion Basin.
How to save money on your wildflower adventure
If you're planning a trip to view wildflowers, consider incorporating some of these strategies for saving money on your travels:
Use credit cards. Credit cards are often one of the easiest ways to save money on everyday expenses, which don't stop even when you're on vacation. If you compare credit cards, you have one of the best gas credit cards that can help you save money when you fill up your tank, as well as using one of the best credit cards for groceries if you're trying to save money by not eating out for every meal.
Earn travel rewards. If you're renting a car, staying at hotels, or paying for other travel-related expenses, consider using one of the best travel credit cards for your purchases. These cards earn bonus rewards for travel purchases. Once you earn enough rewards, redeem them for more travel.
Pack what you need. Creating and sticking to a packing list is a creative, but simple way to save money. Road trip essentials such as a cooler and reusable water bottles can help you cut down on food and beverage purchases.
Bottom line
The U.S. is filled with places to see wildflowers, which is likely unsurprising considering how many state and national parks there are. And of course, the locations listed above are far from the only areas you can go to catch glimpses of beautiful flowers in nature. Wildflowers bloom all over the nation, though the timing will depend on weather conditions. However, spring and summer are good bets depending on the area.
As you plan for your wildflower-viewing adventure, remember to check any applicable guidelines and rules of the destinations you're hoping to visit. In addition, remember that making moves now with your finances can help you travel how you want down the road.
Easy-to-Earn Unlimited Rewards
Earn 25,000 online bonus points after you make at least $1,000 in purchases in the first 90 days of account opening - that can be a $250 statement credit toward travel purchases
Earn 1.5 points per $1 spent on all purchases
Longer intro APR on qualifying purchases and balance transfers
No foreign transaction fees
Earn unlimited 1.5 points per $1 spent on all purchases, with no annual fee and no foreign transaction fees and your points don't expire.
25,000 online bonus points after you make at least $1,000 in purchases in the first 90 days of account opening - that can be a $250 statement credit toward travel purchases.
Use your card to book your trip how and where you want - you're not limited to specific websites with blackout dates or restrictions.
Redeem points for a statement credit to pay for travel or dining purchases, such as flights, hotel stays, car and vacation rentals, baggage fees, and also at restaurants including takeout.
0% Introductory APR for 15 billing cycles for purchases, and for any balance transfers made in the first 60 days. After the intro APR offer ends, 18.24% - 28.24% Variable APR will apply. A 3% fee applies to all balance transfers.
If you're a Preferred Rewards member, you can earn 25%-75% more points on every purchase. That means instead of earning an unlimited 1.5 points for every $1, you could earn 1.87-2.62 points for every $1 you spend on purchases.
Contactless Cards - The security of a chip card, with the convenience of a tap.
This online only offer may not be available if you leave this page or if you visit a Bank of America financial center. You can take advantage of this offer when you apply now.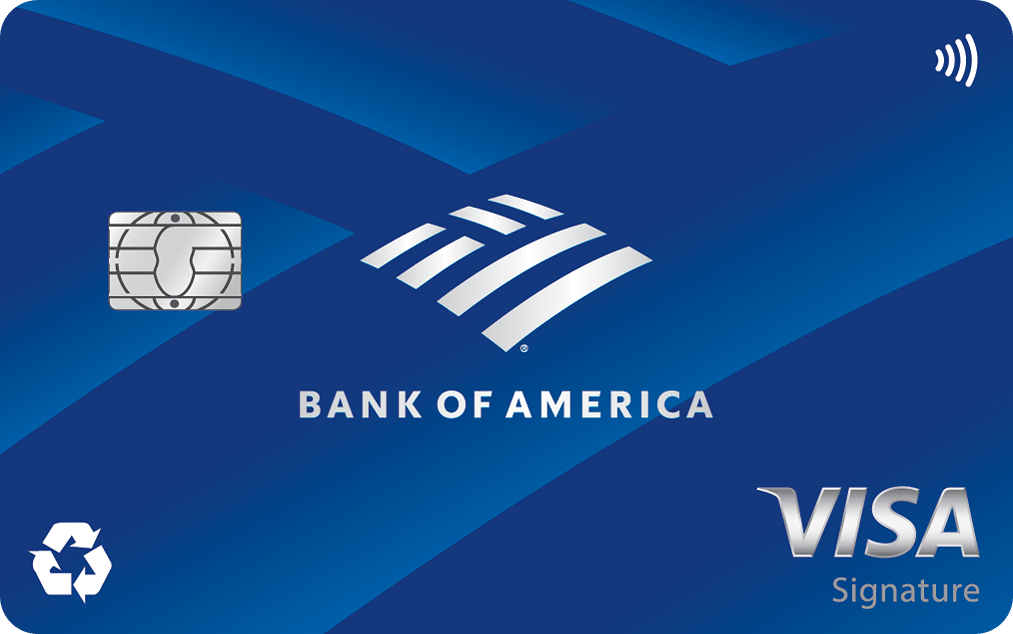 4.1
FinanceBuzz writers and editors score cards based on a number of objective features as well as our expert editorial assessment. Our partners do not influence how we rate products.
Apply Now
on Bank of America's secure website
Read Card Review
Intro Offer
Earn 25,000 online bonus points after you make at least $1,000 in purchases in the first 90 days of account opening - that can be a $250 statement credit toward travel purchases