This looks to be the year of the road trip. A recent FinanceBuzz survey revealed that COVID-19 has forced travelers to rethink their summer travel plans. And according to the survey, those who still intend to travel are more likely to be taking to the road instead of the air.
But if you aren't an experienced road-tripper, there are some essential things to know when it comes to what to pack. Packing for a road trip is more forgiving than the restrictions of packing for a flight, but you still need to plan ahead. All that extra room can go to waste if you're not sure what to bring, and you don't want to end up without some critical provisions.
A successful road trip starts with a packing list, so here's our road trip packing list to help you be prepared, stay safe, and have fun.
Related: 8 Clever Moves When You Have $1000 in Your Bank Account
13 road trip essentials to put on your packing list
1. Apps
Road-tripping in the modern age means you get to take advantage of the many useful apps that exist. From route planners to hotel finders to gas station locators, loading up your phone with the right apps will take your road trip experience to a new level.
Here are some of the helpful road-trip apps you might consider:
Waze: More than just a navigation app, Waze is a community of people that rely on each other for real-time notifications on traffic conditions such as accidents, road work, or a police presence. Not only do these notifications make driving safer but you're also kept up to date on the quickest routes to your destination. The Waze app is available for both iOS and Android.
GasBuddy: Instead of watching for road signs, you can use GasBuddy to see exactly where the nearest gas stations are, as well as their current prices and amenities. You can even save up to 25 cents per gallon when you use the GasBuddy card. The card connects right to your checking account and gives you immediate savings any time you fuel up. The GasBuddy card is accepted at most gas stations nationwide, except Exxon Mobil, BJs, Costco, Sam's Club, H-E-B, select Walmart stations, and select Arco stations. Some small gas stations might not accept the card either. The GasBuddy app is available for both iOS and Android.
HotelTonight: Some road trippers prefer not to plan ahead and just find a hotel when they feel like stopping. Or maybe you've stumbled upon a little town you want to explore more and need last-minute lodging. HotelTonight is a reliable service built around providing last-minute deals. Owned by Airbnb, the company partners with hotels to offer discounts on empty rooms, and it takes just a few seconds to book a room through the app. You can download the HotelsTonight app on either iOS or Android.
2. Road atlas
If you live in a suburban or urban area, you might be surprised how little cell signal there is out on the road. Or what if your phone charger happens to stop working at a time and place when you can't stop and replace it? It's important to be prepared with a back-up plan, and a simple road atlas will do the trick.
You can either buy a road atlas for each state you plan to drive through or you can purchase one that includes all the U.S. states. Plus, even if you plan to follow Waze the whole trip, flipping through the atlas pages might inspire you to visit somewhere new.
3. Your road trip plan
Your apps and atlas will help you get around, but having a plan for your trip will help you see everything you'd like to see. For example, you'd need to make a reservation to secure a campsite for your National Park road trip.
If you have a list of must-see stops, an itinerary can help make sure you have enough time to get to them all. You might keep an itinerary on your computer in a spreadsheet, or if you're trying to take a break from electronics, just go with a dedicated road-trip notebook.
And while you're formulating your plan, check out Roadtrippers. Just enter your starting location and destination, and then Roadtrippers populates off-the-beaten-path places along the way.
That said, part of the fun of a road trip is allowing yourself to wander a little too, so don't make your plan too restrictive. If you're a hardcore planner, then just slot out time for spontaneous adventures.
4. Extra food
A big money saver with road trips is being able to throw a cooler in the back and stock up on food. By no means are we telling you to avoid stopping at random food joints. There's something rewarding about discovering hidden gems that serve delicious food.
But packing extra snacks or quick meals prevents you from losing ground by having to pull off the road every few hours to refuel your body. Plus, unexpected closures or shifting restrictions might become the new norm for travel after COVID-19, and road-tripping while hungry just sounds like a bad idea.
5. Cleaning wipes and baby wipes
In the midst of COVID-19, carrying disinfectant wipes feels like a necessity. Part of a road trip entails making stops at gas stations, restaurants, and rest stops. If you're concerned about what you will touch in these places, it's probably a good idea to have some wipes in the car.
While you're at it, throw some baby wipes in too as an easy way to clean yourself. Even if you are just sitting in your car, if it's hot out or you've been enjoying rolling down the windows, it's easy to start feeling grimy after a while.
6. Extra masks
COVID-19 travel also means using a face mask. Depending on where you travel, you may still be required to wear a mask. But even if it's not a requirement, you might just think it's a good idea to cover up.
When packing for your road trip, don't limit yourself to one mask. A washable mask is great, but if you're not able to regularly wash it, it might not do you any good. For that reason, it's best to have a stock of masks on hand. We seem to no longer be in short supply of masks, so you shouldn't have trouble finding a case of disposable masks to keep in reserve.
7. Entertainment for the kids
Everybody will be happier if you have back-seat activities ready for the kids. Plus, if the kiddos are deep in a movie in the back, you'll have a chance to catch up on your podcasts or whatever you like to listen to while driving.
Don't limit your kids to just one form of entertainment. That will likely get old rather quickly. Instead, pack a bunch of different items and give them to the kids one at a time so there's always something new. (Pro tip: Also make sure to pack everyone their own set of headphones.)
Here are some easy, lightweight ideas to keep your kids entertained on a road trip:
Have a movie playlist ready on your tablet
Books or an e-reader
Workbooks
Mad Libs
Handheld gaming systems, such as the Nintendo Switch, Nintendo DS, or a smartphone with a wireless controller
Coloring books, colored pencils, and crayons
Dolls and action figures
Printable travel games (check out the license plate game and road sign bingo)
8. Chargers and cables for electronics
Nothing is more daunting than knowing your phone is going to die and not having a charger readily available to revive it, especially when you're relying on it to navigate (don't forget the road atlas). Instead of getting to that point, make sure you have a charger and that it works properly. And don't forget chargers for all the electronics for your other passengers and the kids.
Also, if any part of your trip has you outside the car and on the go, such as a long hike, a portable charger can be a life-saver as a backup battery. Portable chargers are tiny nowadays, so you don't have to worry about carrying some bulky piece of equipment around with you. Most you can fit right in your pocket.
9. First aid kit
Bug bites, scrapes, a slight headache from being in a car with the same people for an extended period of time — having a first-aid kit readily available is a must for a road trip. You can build your own if you prefer, or you can buy a prepackaged first-aid kit from most general merchandise stores or online from Amazon.
These kits typically come with everything you need to treat minor aches and injuries — from bandages and gauze to antibiotic ointment, burn cream, and ibuprofen. Hopefully you won't need any of it, but at least it's there if you do.
10. Water and water bottles
Staying hydrated while traveling is always important. With a reusable water bottle, you can refill for free at restaurants and rest stops and save yourself some money. But in case you end up without access to a water fountain, save room in your trunk to pack a case or two of water. Aside from drinking the water, you may want to brush your teeth or rinse off at some point during your travels. If you're bringing your dog, they're going to need some drinking water as well.
11. Toilet paper
There's no guarantee a rest stop or gas station will have fully stocked restrooms. And if you've ever been in a situation in which you needed toilet paper but didn't have any, you probably now go to any lengths to avoid being in that type of situation again. If you haven't had the luxury of such an experience, for your own sake, pack some toilet paper and/or flushable wipes.
12. Virtual private network (VPN)
A virtual private network (VPN) allows you to create a private, secure connection to another network. A VPN is a must-have for anyone who connects to public Wi-Fi, as it shields your browsing activity from prying eyes.
Whether you connect to a coffee shop's Wi-Fi when you stop for coffee in the morning or the public network in your hotel room, a VPN costs just a few bucks a month and will keep your online actions virtually untraceable no matter where your road trip takes you.
13. Emergency vehicle kit and roadside assistance
Although you should make sure your vehicle is ready for the road before you set out, it's important to have an emergency vehicle kit for any long drive.
Some essentials to include in your emergency vehicle kit are:
Jumper cables
Spare tire
Car jack and lug wrench
Flashlight and extra batteries
Reflective triangles to make your vehicle more visible
Fire extinguisher
For more serious issues, roadside assistance can save the day. This is something that may be included in your car insurance coverage, but you can also buy it separately through companies like AAA.
Cashback credit cards
Road trips can be a less expensive way to travel, but they come with their own specific costs. Depending on how long you're on the road, things such as gas, food, and souvenirs can quickly add up. But having the best travel credit card in your wallet can help you save money on these expenses. These credit cards are designed for earning rewards, whether that's cash back or points and miles for future travel.
For a road trip, a good place to start is with one of the best credit cards for gas purchases. Filling up is inevitable, and having the right credit card can pay off big each time you stop at the pump. If you're planning to stock up on food and snacks, then you might want to opt for a credit card that earns rewards on both gas and groceries.
Check out our Citi Double Cash Card review.
Bottom line
COVID-19 may be forcing people to turn to the open roads this summer for their travels, but that's not such a bad thing, is it? Road trips help you live in the moment and give you time to think. On a road trip, you're in charge. You get to decide your departure time, arrival time, and itinerary. And you never know what you'll stumble upon when you pursue your own unique experiences on the road.
Who knows what travel will look like after COVID-19, but traveling by car will always have a lot of unique benefits. If you're planning on hitting the road this summer, take some time to go over this checklist to make sure you have everything you need to make your road trip a memorable experience — in a good way, of course.
Easy-to-Earn Unlimited Rewards
Earn 25,000 online bonus points after you make at least $1,000 in purchases in the first 90 days of account opening - that can be a $250 statement credit toward travel purchases
Earn 1.5 points per $1 spent on all purchases
Longer intro APR on qualifying purchases and balance transfers
No foreign transaction fees
Earn unlimited 1.5 points per $1 spent on all purchases, with no annual fee and no foreign transaction fees and your points don't expire.
25,000 online bonus points after you make at least $1,000 in purchases in the first 90 days of account opening - that can be a $250 statement credit toward travel purchases.
Use your card to book your trip how and where you want - you're not limited to specific websites with blackout dates or restrictions.
Redeem points for a statement credit to pay for travel or dining purchases, such as flights, hotel stays, car and vacation rentals, baggage fees, and also at restaurants including takeout.
0% Introductory APR for 15 billing cycles for purchases, and for any balance transfers made in the first 60 days. After the intro APR offer ends, 18.24% - 28.24% Variable APR will apply. A 3% fee applies to all balance transfers.
If you're a Preferred Rewards member, you can earn 25%-75% more points on every purchase. That means instead of earning an unlimited 1.5 points for every $1, you could earn 1.87-2.62 points for every $1 you spend on purchases.
Contactless Cards - The security of a chip card, with the convenience of a tap.
This online only offer may not be available if you leave this page or if you visit a Bank of America financial center. You can take advantage of this offer when you apply now.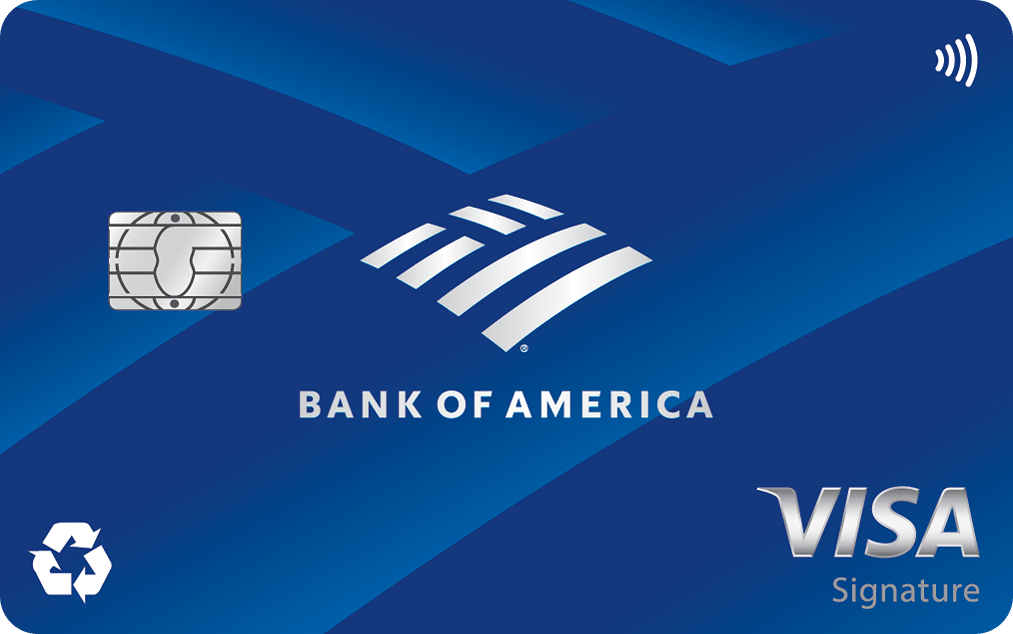 Apply Now
on Bank of America's secure website
Read Card Review
Intro Offer
Earn 25,000 online bonus points after you make at least $1,000 in purchases in the first 90 days of account opening - that can be a $250 statement credit toward travel purchases