Most of us have been stuck inside for more than a month now. We're getting bored of TV and tired of phone conversations that start with "What are you up to?" and end with "Oh, you know." Those of us who have children have been forced to get very creative with family activities while social distancing. And over the weeks, we've found that our pets, plants, mirrors, and virtual assistants are all excellent listeners. Yes, we're going a little nutty.
Getting used to this new normal has meant canceling our travel plans, finding new ways to be social, and substituting our itch to get outside with various indoor hobbies. Although cabin fever is certainly preferable to being exposed to COVID-19, it can be hard to deal with, especially for avid travelers.
If you feel like you just need to get away, we don't blame you. Here are 13 ways you can experience the world from the comfort and safety of your own home.
Attend a virtual music festival
Although you may not be able to push your way through a crowd of screaming fans to get closer to the stage, you can still don your festival wear, pour beer into a plastic cup, and set up to stream live music in your living room.
The best part? This sort of music festival won't set you back hundreds of dollars, and you'll still be able to see your favorite artists perform live. Plus, many of these events have a charitable component, so instead of spending on a ticket, you can donate to support causes you care about.
Choices range from the Metropolitan Opera to Nora Jones to Bob Moses. There's something for everyone, and NPR has a list of upcoming livestream concerts and festivals you can add to your calendar. You can also watch recorded live performances on the KEXP YouTube channel.
Recreate your last vacation
The growing wanderlust of quarantine has caused many of us to become nostalgic for our past trips, and some people are getting really creative on social media. One traveler invited others to recreate their favorite vacation photos from home. Waterfalls become showerheads, koala bears become house cats, and hilarity ensues.
If staging a photo shoot helps you feel like you're on vacation (and gives you a chance to show off your online shopping haul), we say go for it. This clever lady recreated her ideal flight to a tropical destination with a computer monitor, a toilet seat, and a glass of wine.
Stream a foreign radio station
There's something exotic yet familiar about hopping in the back of a taxi while traveling and hearing the local radio station. With the Radio Garden Project, you can pick any location in the world and stream the available local radio stations. Drop in for some French house, Korean pop, Italian folk music — you name it.
Tour a national park
Have you ever wanted to fly over an active volcano in Hawaii? How does diving into marine life at Channel Islands National Park sound? What about riding horseback through Bryce Canyon in Utah? Even if you couldn't fly planes, scuba dive, or ride horses in your pre-pandemic life, you can experience all these extraordinary sights virtually today. No hiking boots or scuba gear needed. Check out these free resources:
Watch a performance of Cirque du Soleil
This group started decades ago as street performers in Quebec, but have since become popular around the world and always put on quite an extravagant show. Although a typical ticket costs upward of $200, not to mention what it would cost you to travel to whatever city they are performing in, you can watch a 60-minute special performance from the circus troupe for free on YouTube.
Visit a museum, garden, or zoo
If you're an experienced museum-goer, you know a great visit depends on great timing. If you can beat the crowds, you'll have the time and space to really enjoy the exhibits. That's one of the benefits of taking an online tour. There's no peeking around a tall guy with a selfie stick to get a real look at that Monet or Picasso.
Google Arts and Culture offers virtual tours of thousands of museums, from staples like The Guggenheim in New York to artist-specific collections such as the Frida Kahlo Museum.
Other famous places you can visit virtually include:
Explore outer space
If you're hoping to travel to Mars one day, why not get a preview of what to expect right now? To explore virtual tours with NASA, including trips to the surface of Mars as captured by NASA rovers. You can also travel outside the solar system by viewing beautiful, interactive visualizations from the Exoplanet Travel Bureau.
Visit UNESCO World Heritage Sites
World Heritage Sites are places around the globe considered to provide "outstanding universal value to humanity" and therefore have the legal protection of international treaties. In short, these places are both beautiful and significant.
Many people use the list of heritage sites as a travel bucket list. But the shutdowns don't have to stop you from checking destinations off that list. Here are five virtual tours that won't disappoint:
Engage in unique activities with people around the globe
Meet a shark scientist in South Africa. Share sangria and secrets with drag queens in Portugal. Enjoy a guided meditation with sleepy sheep in the UK. Enhance your drawing skills with Japan's Manga University. These are just a few of the adventures available through Airbnb's new online experiences, which connect you with instructors and tour guides around the globe.
The average price for a class or session, which typically lasts one-to-two hours, is just $22. And you can make friends around the world while gaining a new skill or getting a glimpse of a different culture. It's kind of like finding a local to hang out with while traveling, but you can do it from your couch.
Go for a walk on the beach
The sight of palms blowing in the wind, the sound of crashing waves, the smell of the ocean breeze, the taste of the sea spray, and the feeling of sand under your feet — you can at least recreate two of the five senses by putting a beach livestream up on your TV. And might we suggest you put your feet in a bowl of flour while sipping an ocean-inspired cocktail? Ever had a dirty banana?
Here are seven live streams from some of the most beautiful beaches in the world for you can get your calm on:
Make a famous recipe
At this point, you're probably running out of recipe ideas. And as the ketchup shortage would indicate, you've had one too many hot dogs, hamburgers, and veggie burgers. Luckily, a few recipes have been revealed for some of our favorite travel-related foods.
Pick up a book that takes you away
Sometimes, you just need to live vicariously through someone else, like a character in a great novel. If you want to feel like you're on a vacation, pick a book that features someone who backpacks through Europe, studies in Japan, hikes from Siberia to Thailand — you get the idea.
Here are a few suggestions to get you started:
Plan your next trip
Research has shown that what makes travelers happiest is planning and anticipating their next trip. So although you may not travel for a while, it's totally OK to plan every detail well in advance. You'll derive a lot of satisfaction just from thinking ahead to your next adventure.
While you plan, dream, and wait, use one of the best travel credit cards for your everyday shopping so you can start racking up points toward free flights and hotel stays. Just be careful booking anything now, as even travel insurance through your credit cards may not cover you if you need to cancel due to COVID-19.  

The bottom line
We know how hard it is to stay inside and wait. We've got the itch to travel, too. But as the old saying goes, this too shall pass. Right now, it's most important that we protect the health and safety of our global community. Once we're in the clear, we can pack our bags again. Until then, do whatever you can to give yourself the experience of a vacation at home.
Easy-to-Earn Unlimited Rewards
Earn 25,000 online bonus points after you make at least $1,000 in purchases in the first 90 days of account opening - that can be a $250 statement credit toward travel purchases
Earn 1.5 points per $1 spent on all purchases
Longer intro APR on qualifying purchases and balance transfers
No foreign transaction fees
Earn unlimited 1.5 points per $1 spent on all purchases, with no annual fee and no foreign transaction fees and your points don't expire.
25,000 online bonus points after you make at least $1,000 in purchases in the first 90 days of account opening - that can be a $250 statement credit toward travel purchases.
Use your card to book your trip how and where you want - you're not limited to specific websites with blackout dates or restrictions.
Redeem points for a statement credit to pay for travel or dining purchases, such as flights, hotel stays, car and vacation rentals, baggage fees, and also at restaurants including takeout.
0% Introductory APR for 15 billing cycles for purchases, and for any balance transfers made in the first 60 days. After the intro APR offer ends, 18.24% - 28.24% Variable APR will apply. A 3% fee applies to all balance transfers.
If you're a Preferred Rewards member, you can earn 25%-75% more points on every purchase. That means instead of earning an unlimited 1.5 points for every $1, you could earn 1.87-2.62 points for every $1 you spend on purchases.
Contactless Cards - The security of a chip card, with the convenience of a tap.
This online only offer may not be available if you leave this page or if you visit a Bank of America financial center. You can take advantage of this offer when you apply now.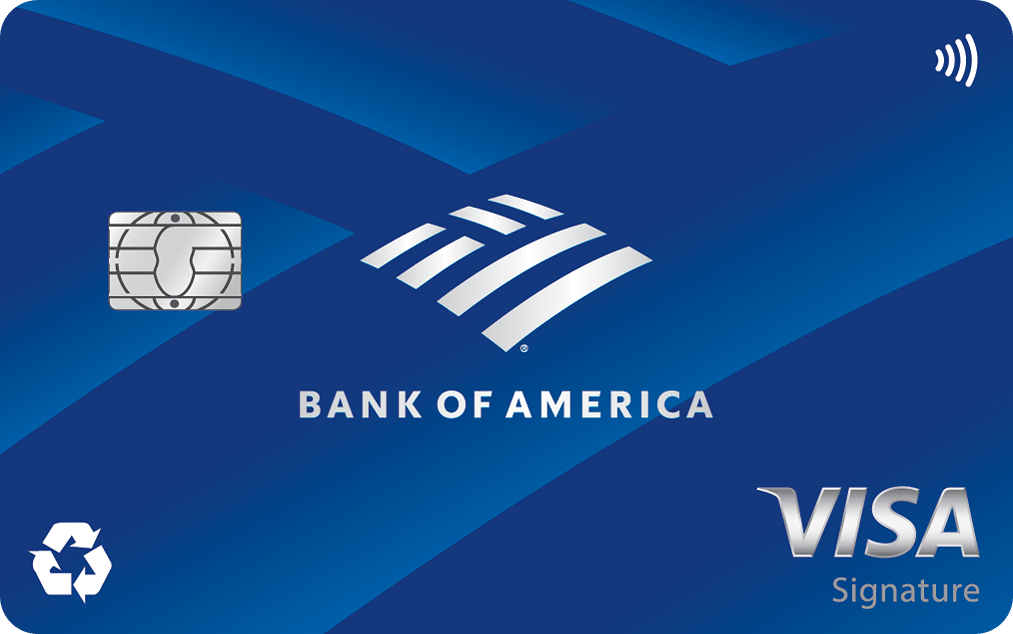 Apply Now
on Bank of America's secure website
Read Card Review
Intro Offer
Earn 25,000 online bonus points after you make at least $1,000 in purchases in the first 90 days of account opening - that can be a $250 statement credit toward travel purchases