It may be frustrating sometimes if you and your partner disagree about some of your retirement plans. But what happens when you add a big age gap into the mix? Things can get even more complicated. This can make it especially challenging to build wealth and avoid money problems.
Here are some retirement planning considerations if you have an age gap of 10 or more years.
Review your Social Security distributions
The first issue if there is an age gap is deciding when each of you should start taking Social Security benefits.
The Social Security Administration has a calculator on its website that can help you estimate how much you will receive each month depending on when you decide to start collecting it. 
If the older person starts benefits at age 70, they will be getting the highest possible monthly amount. The younger partner can then wait until their full retirement age or even until age 70, thus maximizing benefits for the couple.
Consider health care costs
Health care costs can eat up a good chunk of your retirement savings. You don't want to spend piles of cash on end-of-life care only to leave your partner with nothing.
Remember that one of you may get sick or have health issues before the other one, so it's important to factor in things like long-term care insurance or Medicare costs when setting your retirement goals. 
With health care costs projected to be $5,700 per year for those 65 and older, you will want to set aside money specifically for health care.
Look over your retirement savings
Setting realistic goals for your retirement savings should take into account your age gap.
You may want to consider waiting to diversify your portfolio into less risky holdings if one of you is still working. Or perhaps you should be looking to add money to your savings because one of you may live longer.
Take your pension into account
If you're lucky enough to have a pension, you should check the rules that affect distributions from the fund for both you and your partner.
If you're the older partner and dependents won't receive some of your pension when you're gone, you'll have to remember to save extra money for your younger partner to cover any loss in income. And make sure you have a clear understanding of how you can maximize your pension for both you and your partner.
Check out long-term care insurance
Another expensive cost that could eat away at your retirement savings is long-term care such as assisted living or a nursing home.
Think about getting long-term care insurance that can benefit both you and your partner regardless of your age difference. You'll also want to consider how your age gap can affect things like assisted living if one of you is older or one of you is still working.
Talk about your living situation
Retirement may be a good time to downsize to a smaller home to save money or move to a lower cost-of-living area.
But what happens if your partner is still commuting to work nearby? You'll want to factor in the costs related to staying in your home or being close to an office for a longer time, even if one of you has retired.
Think about your work lives
You may be ready to retire while your partner may still be in their prime earning years.
That can be a good thing depending on how your retirement portfolio looks. You may be able to add extra money to retirement funds or keep a little more risk in your investments. Having a working partner can be a positive and important piece of your retirement plan.
Get a will
It's important to have a will, and even more so if you're in a relationship with an age gap.
Talk to a lawyer or estate planning specialist about how to properly distribute things like real estate, savings, or retirement funds that can benefit the younger partner. If you do this while you're still healthy and newly retired, it can save a lot of heartache for your partner when you're gone.
Review your targeted retirement dates
You may want to retire soon while your younger partner may still enjoy working or earning income.
It's good to talk about what your expectations are if one of you is retired while the other one is still working. Vacations will still have to be planned around the employed partner's paid-time-off schedule. 
The retired partner may need to find something productive to do, such as volunteering or becoming active in your community, while their partner is at the office.
Make an estimated budget
Regardless of your ages, you will need to lay out all of your potential retirement income and expenses to see how much you can expect to have. Now consider if your age gap may affect those decisions about retirement.
Identify ways to avoid throwing away money or spots that can help you boost your bank account so you're in a better position for both of you to retire. You'll also be able to have the extra peace of mind knowing that your partner will still have money to continue living a good retired life when you're gone.
Bottom line
Retirement planning has to be suited to your particular needs, which may have more variables if you're in a relationship with a big age gap. But an age gap may also work in your favor when it comes to your finances. If you work together, you can find the best way for both of you to enjoy your retirement years.
When you create a retirement budget, consider different scenarios for yourselves. If one partner is still working, what will retirement look like for the other partner? Or maybe the younger partner can retire early and you can retire together and still make your plan work.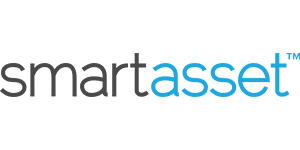 Smart Asset Benefits
Get matched with fiduciary financial advisors
Advisors are vetted and certified fiduciaries
Take the mystery out of retirement planning
Their matching tool is free
FinanceBuzz doesn't invest its money with this provider, but they are our referral partner. We get paid by them only if you click to them from our website and take a qualifying action (for example, opening an account.)