Sears used to be one of the behemoths of the department store world. It was the go-to place for everything from clothing to appliances, furniture, and more.
But times have changed. Today, you can get these items at any online retail sites and platforms, and you can often do so at savings that help you get ahead financially.
As a result, Sears stores have been closing down for some time now. That trend is continuing in 2023. If you're still a Sears loyalist, keep reading to see if your local store is closing this year.
Get a protection plan on all your appliances
Did you know if your air conditioner stops working, your homeowner's insurance won't cover it? Same with plumbing, electrical issues, appliances, and more. Not being able to make repairs could leave you in a bad situation — but a home warranty could protect you against surprise expenses.
Whether you're a brand-new homeowner or you've owned your home for years, a plan from Choice Home Warranty could pick up the slack where homeowner's insurance falls short.
If a covered system in your home breaks down, you can call their hotline 24/7 for assistance to get it repaired. They have a network of over 15,000 technicians that can assist you, making sure any issue can be taken care of swiftly — without breaking the bank.
Not sure if it's for you? Rest easy: they were named one of the "Best Home Warranty Companies" by US News 360 Reviews and were awarded Best Company's 2020 Consumer's Choice Award. For a limited time, you can get your first month free when you sign up for a Single Payment home warranty plan.
The history behind Sears closures
For those who often shopped at Sears during its peak years, watching the retailer slowly fade away can be shocking.
However, the rise of mega-stores such as Walmart and online retail options have quickly rendered Sears and similar department stores redundant.
In 2018, Sears filed for bankruptcy. At the time, the retailer had 687 remaining stores. This came after a staggering 53.8% drop in revenue over five years. At the end of 2022, more than 20 stores remained, and even fewer will be open by the end of 2023.
Here are some of the states where stores are closing this year.
North Carolina
Residents of North Carolina said goodbye to the state's final Sears store this year. The Greensboro location was the last one standing and went out with a huge closeout sale in the spring.
The store is now closed, and with it, a chapter of retail history in the state has ended. The location was another casualty of the company's financial struggles.
Pennsylvania
Pennsylvania also recently said farewell to the former powerhouse of the brick-and-mortar retail world.
The largest Sears in the state was located in Capital City Mall. In 2017, the full-line Sears closed only to open a new Sears Appliances & Mattresses immediately. But that location was slated for closure in 2023.
The last full-line Sears in Pennsylvania announced in 2022 that it would close its doors. Transformoco (which owns Sears) said it would redevelop the property at the Willow Grove Park shopping center in Montgomery County.
Stop overpaying when you shop online
Shopping online has its perks. It's super convenient, but it can be time consuming to find the best deals. Instead of hunting for coupon codes (that don't always work!) and opening tons of browser tabs comparing prices, you can try Capital One Shopping.
Capital One Shopping makes saving money effortless. Just add the browser extension and when you check out, it'll scour the internet for coupon codes to help you save cash. And before you check out at 25+ major retailers, Capital One Shopping will notify you with a friendly pop-up if the item you're buying is available cheaper somewhere else.
Capital One Shopping is free to use and won't show you ads. Add it today and stop overpaying!1
Colorado
Sears will soon be a distant memory in Colorado, as the final location shuttered its doors for good in June of this year. The Sears Appliance store was located in Fort Collins.
The location was open for over 50 years and announced its liquidation sale in mid-May, along with its June 18 closing date.
However, this is not the only department store to permanently shut its doors in the area this year. A Macy's in the same shopping mall also closed earlier in the spring.
Louisiana
2023 has not been a great year for Sears in Louisiana. Earlier in the year, locations in both DeRidder and Bogalusa shut their doors for good.
That left one last store operating in Lafayette. However, store closure signs were posted outside this final location in May of this year, putting Sears on the path to becoming just a memory in the Pelican State.
This Sears Home & Life store opened in 2019 and is still listed as open on the official Sears site. If you're a local, head over to say your goodbyes and pick up some heavily discounted merchandise.
States where Sears remains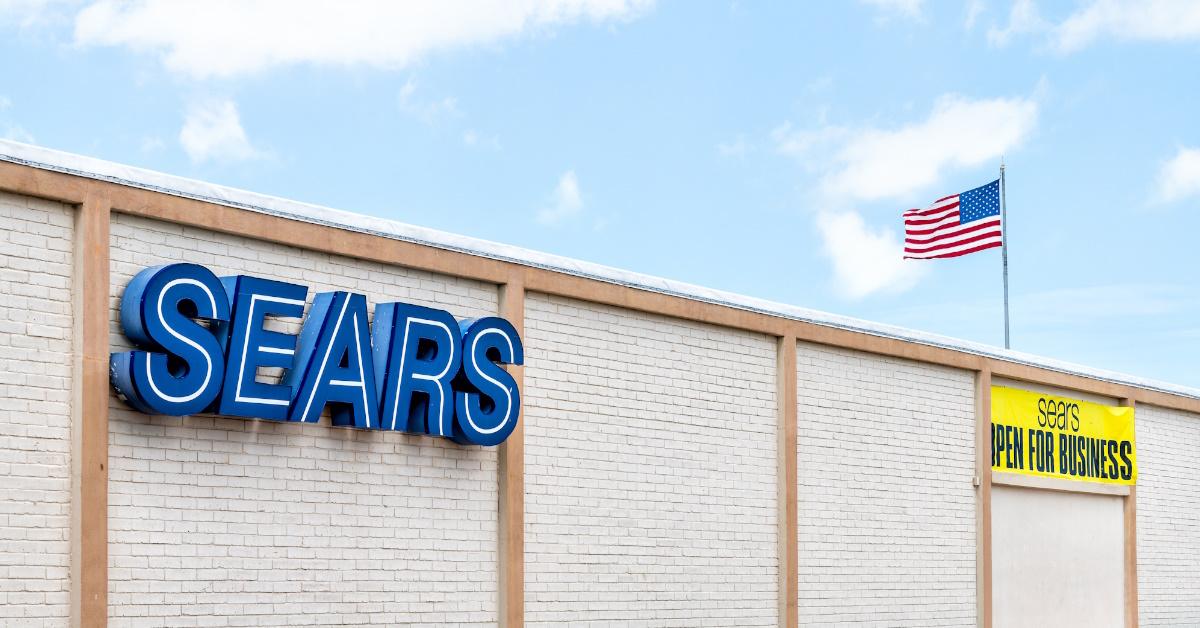 The former retail giant is now a rare commodity in the U.S., with around a dozen locations currently standing. Even then, not all of them are technically operational.
For example, there are four locations in California, including Concord, Stockton, Whittier, and Burbank. However, the Burbank location is listed as temporarily closed.
Nothing is listed on the Burbank store's Facebook page regarding whether this closure is permanent or just for regular maintenance or revamp purposes. California ties with Florida as having the most operational Sears locations, at just three each.
There are two stores still open in Texas and one each in Virginia, Kansas, New Jersey, and Puerto Rico.
Bottom line
The decline of major department stores such as Sears is a hard pill to swallow for people still dedicated to brick-and-mortar shopping experiences.
However, this reflects a more significant shift in shopping habits as a whole. With the advent of e-commerce monoliths such as Amazon, it's hard not to give in to their convenience, even at the cost of long-standing retail icons.
As you console yourself over the loss of Sears, remember that it's been replaced by other online and brick-and-mortar retailers that let you get what you need at a price that can boost your bank account.
Lucrative, Flat-Rate Cash Rewards
Current Offer
$200 cash rewards bonus after spending $500 in purchases in the first 3 months
Rewards Rate
Earn 2% cash rewards on purchases