Editor's note: Simple Bank is no longer in operation. BBVA purchased Simple Bank and transitioned all members to BBVA accounts in 2021. For alternatives that might suit your financial needs, check out our list of the best checking accounts.
What is it that you want in a checking account? If what you want is the convenience of an online bank, interest rates that help your money grow, and a bank that doesn't charge fees if you screw up (or at all, for that matter), then you might want to check out what Simple is doing to upend the traditional banking experience.
In this Simple bank review, two different types of accounts will be covered: the Simple Account and the Simple Protected Goals Account. We'll go over what it is about banking with Simple that's so appealing, where its services can be improved, and how you can easily get set up with an account to try it yourself.
In this Simple online bank review
Simple account basics
Simple Account
Simple Protected Goals Account
APY
0.00% as of Feb. 25, 2021
0.30% as of Feb. 25, 2021
Minimum balance for APY
None
None
Minimum deposit to open account
None
1 cent
Monthly maintenance fees
None
None
ATM access
Yes, up to $500 each day (24 hours) without fees. Note: Simple does not refund out-of-network ATM fees charged by the ATM owner. But if you're accidentally charged a fee from an ATM you found with the Simple ATM finder, Simple will refund you.
No, money must be transferred to your Simple Account before you can make an ATM withdrawal
Transactions per month
No limit to how many transactions you can make, but there are limits on what you can spend daily:

$6,000 daily limit on card transactions
$500 daily limit on ATM withdrawals
$5,000 daily limit on cash advances
$6,000 cumulative spend limit each day (card transactions, ATM withdrawals, and cash advances combined)
$2,000 instant transfer limit in the first 30 days of account opening
$2,000 daily limit ($10,000 per month) on instant transfers after 30 days

No limit to the number of transfers you make to or from your Protected Goals Account
FDIC insured
Yes
Yes
What we like about the Simple Account
Fee-free checking accounts: Really, no fees at all. Surprisingly, Simple doesn't promote its lack of fees that much, which is a major selling point for many online banks. But if you take a look at Simple's Schedule of Fees disclosure, you'll see it has no monthly service charge, free ATM access, no overdraft fees, no insufficient funds fee, no stop-payment fee, no returned item fees, and no incoming wire fee. This goes for both a Simple Checking Account and a Simple Protected Goals Account. The only thing to be aware of is that non-network ATMs might charge you a fee, even though Simple won't.
Safe-to-Spend: With your checking account, the Simple Account, you get access to a convenient budgeting tool known as Safe-to-Spend. Essentially, it's a measure of your available balance that updates in real time. It represents your total available money minus the amount you have reserved for savings goals and recurring bills. So instead of you having to keep track of how much you have left to spend, Safe-to-Spend calculates that for you.
Mobile banking: The Simple mobile banking app is available for both Android and Apple devices. All of the features of a Simple account are available on the app, such as Safe-to-Spend, instant transfers, and the ability to set financial goals. There's also in-app customer support, and you can block your card if it's lost or stolen right from your phone.
Interest-bearing checking account: The Simple Account earns just 0.00% APY (as of Feb. 25, 2021), but once you open a Simple Account, you can then also set up a high-yield checking account, known as the Protected Goals Account. All money in a Protected Goals Account earns 0.30% APY (as of Feb. 25, 2021). Even though it's meant for saving, a Protected Goals Account is actually a checking account. That means you aren't limited to six withdrawals a month as you are with a savings account.
Paper checks: They may feel antiquated, but paper checks are still frequently used. Unlike with many online banks, you can order paper checks to use with your Simple checking account. A book of 25 checks costs just $5.
Shared checking accounts: In addition to its individual checking accounts, Simple offers customers the option to open a joint account called the Simple Shared Account. This allows you to share finances with another person, and not all online banks support this.
CDs and personal loans: As of Feb. 25, 2021, Simple no longer offers these financial products.
What Simple could improve
No live chat support: This is in no way a deal-breaker, but live chat support is always nice to have. Currently, you can either call or send a secure message if you need to reach Simple regarding an issue.
Mobile app required to deposit checks: Although you can access most banking features with just the website, you will need the Simple mobile app to deposit paper checks. That said, this is the case for check deposits with most online and mobile banks.
International fee: If you use your Simple card abroad, you will be charged a 1% Visa International Service Assessment fee. Even though Simple doesn't charge this foreign transaction fee, it doesn't reimburse you for it either.
Compare earnings with Simple Protected Goals Account vs. traditional savings account
Simple's Protected Goals Account is a high-yield checking account that functions separately but alongside your Simple Account. You must first open a Simple Account (basic checking) before you can open a Protected Goals Account, which earns 0.30% APY (as of Feb. 25, 2021) no matter your balance. In contrast, many high-yield savings accounts have account balance requirements in order to earn their best interest rates.
Although the Protected Goals Account feels like a savings account because it comes with a built-in savings goal, this account has no limit to the number of transfers you can make. With a savings account, Federal Reserve Regulation D limits you to just six transfers each month which means you can't move your money around too much.
At 0.30% APY, Simple's high-yield checking account outperforms most online checking accounts. But how does it compare to a savings account? For comparison, we'll use an average interest rate found with many traditional brick-and-mortar savings accounts. We'll examine three time horizons — one year, three years, and 10 years — and we'll use a $5,000 starting balance. Simply put, you won't find many checking accounts paying this sort of interest rate.
Traditional Savings Account

0.04% APY

(as of Feb. 25, 2021)


Simple Protected Goals Account

0.30% APY

(as of Feb. 25, 2021)

Starting balance
$5,000
$5,000
After one year
$5,002
$5,015.02
After three years
$5,006
$5,045.20
After 10 years
$5,020.04
$5,152.27
How to open a Simple Account
The application process for opening an account with most online banks is usually pretty easy, and Simple is no different. Here is what you should be prepared for when applying for a Simple account:
You will need to create a username and password and then enter the usual personal information, such as your name, phone number, address, etc.
Simple will ask for your Social Security number and date of birth for identification purposes.
You will need to agree to Simple's terms and conditions before submitting your application.
Once your account application is approved, you will be redirected to your new account. You can then set up direct deposit or transfer money from another bank if you want to fund your account. You can also set up a Protected Goals Accounts, and start earning interest right away.
Just a heads up. Here's what your Simple account page will look like: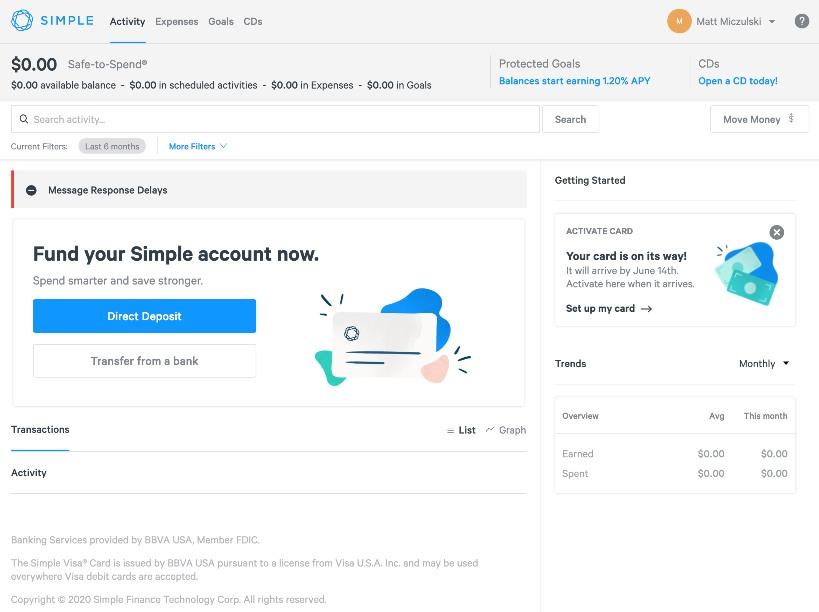 How to withdraw money from a Simple Account
You can withdraw money from your Simple Account in several ways.
When you open an account, you're issued a Simple Visa Debit card that you can use to receive cash back from any merchant that offers this service. Receiving cash back does count against your $6,000 daily card transaction limit.
You can also use your debit card to withdraw cash (up to $500 daily) free of charge at one of the free Allpoint ATMs in Simple's network. Simple doesn't charge a fee for non-network ATM use, but the ATM itself might. Simple won't reimburse this fee if you choose to use an ATM outside Simple's network.
If you need more cash than the $6,000 daily card transaction limit and the $500 daily ATM withdrawal limit, you can also show up in person and get a cash withdrawal from most major credit union and traditional bank branches. Call your local bank ahead of time to make sure they will do this, but, in general, you just need your debit card and a photo ID. You can get up to $5,000 per day this way.
Other Simple Account fees
| | |
| --- | --- |
| Overdraft fee | $0 |
| Stop payment fee | $0 |
| ACH transfers | $0 |
| Incoming wire | $0 |
| Outgoing wire | N/A |
Other financial products offered by Simple
Simple offers several financial products in addition to its checking accounts.
If you happen to share finances with someone, whether a spouse, significant other, or even a roommate, you can open a Simple Shared Account to manage this shared money. You can earn the 0.30% APY (as of Feb. 25, 2021) with a Shared Account as well.
Fixed-rate CDs and personal loans are no longer offered by Simple as of Feb. 25, 2021.
Simple customer service
Simple currently offers customer support by phone and secure message. Support via phone is available 9 a.m. to 7 p.m. ET Monday through Friday, and from 10 a.m. to 5 p.m. ET on Saturdays. Phone lines are closed on holidays and Sundays. Response times for secure messages vary.
Common questions about Simple Bank
Is Simple Bank safe?
Yes, Simple is safe. Simple offers a bank account provided by BBVA USA, which is insured by the FDIC. As an account holder at an FDIC-insured financial institution, you're protected for up to $250,000 against loss if the bank were to fail.
Additionally, Simple offers several security features to help protect your account. These include two-factor authentication, push notifications so you're aware of each transaction made on your account, and the ability to block your card if it's lost or stolen.
How does Simple Bank make money?
Simple makes money in two ways. First, Simple and its partner bank, BBVA USA, split the interest charges on personal loans issued. Second, each time you swipe your Visa debit card, the merchant pays a service fee to BBVA USA. BBVA USA then splits that fee with Simple.
Which bank is better: Simple or Ally?
Simple and Ally both offer online banking solutions that come with several benefits. In terms of interest rates, Simple's 0.30% APY for all balances in its high-yield checking outperforms Ally's interest checking, which is currently 0.10% APY for all balances less than $15,000 and 0.25% APY for balances $15,000 and above (all interest rates as of Feb. 25, 2021).
But if you're trying to save money, then you should know that Ally Bank's online savings account offers 0.50% APY (as of Feb. 25, 2021) on all balances. Though not by much, that is a little higher than what Simple offers. Aside from interest rates, Ally also offers a wider variety of financial products that Simple does not. Whether this makes Ally better for you will depend on what you're looking for in a bank and whether you want to earn your interest on a checking vs. a savings account.
Bottom line
With no fees, a convenient Safe-to-Spend budgeting tool, and a higher interest rate than most online checking accounts, Simple is an appealing option for an online banking service. Even its FAQ section is more wide-ranging than what most of the best banks offer. Transparency and thorough explanations of how to use its service and what customers can expect can go a long way.
If you're in the market for one of the best checking accounts and prefer the convenience of online and mobile banking without having to sacrifice some key account features, you might want to give Simple a try. Simple makes it easy to budget and plan for what's important in your life, not to mention it does much of the money-management legwork for you.
Disclaimer: All rates and fees are accurate as of Feb. 25, 2021.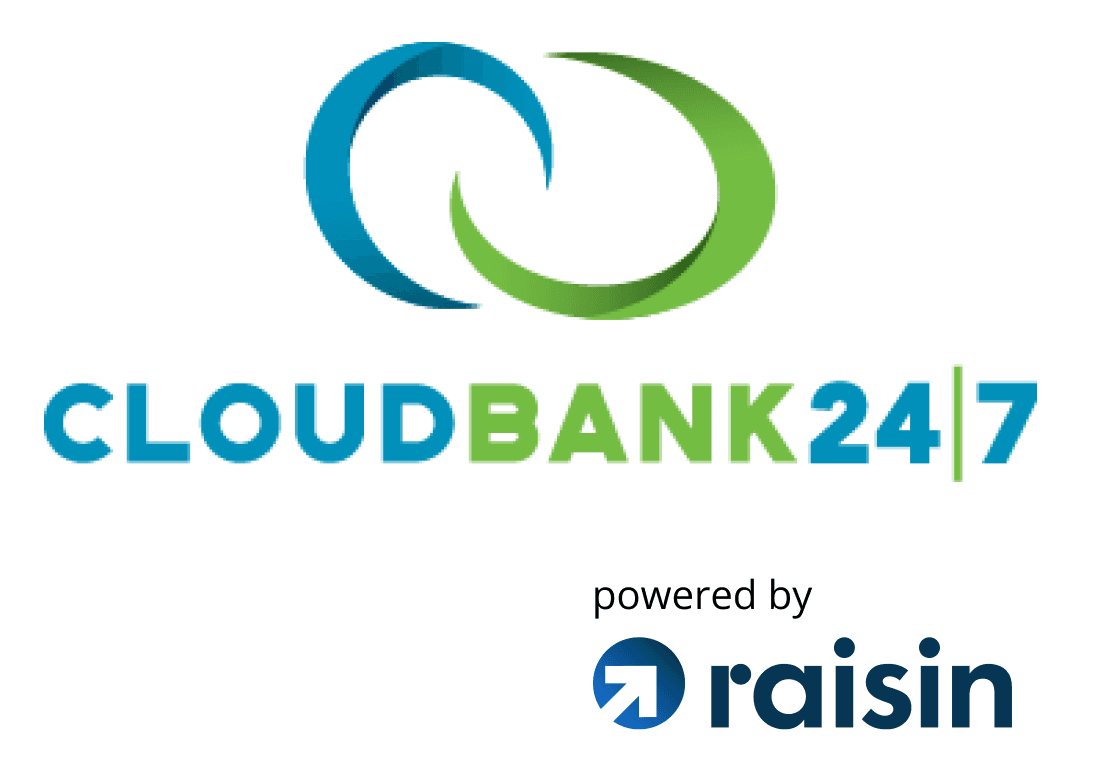 CloudBank 24/7 High Yield Savings Account Benefits
Incredible 5.26% APY1 to boost your savings
Interest is compounded daily and posted to your account monthly
Enjoy 24/7 online access to your account and funds
FDIC insured through Third Coast Bank SSB, no fees, $1 minimum deposit