Everyone understands the stress of tax season. There are a variety of outcomes that might unfold after you file a return.
The best scenario is probably when you attain financial feng shui and no money changes hands. You don't get a refund, but you also do not owe the government anything.
However, sometimes, you find yourself saddled with a tax bill. That bad outcome grows worse if you can't afford to pay.
Don't panic. Following are nine moves that can help you get out of debt.
Don't run away from the problem
Running from tax debt doesn't solve anything. In fact, it's a terrible idea. All kinds of awful things can happen if you try to skip out on paying the IRS.
Interest on what you owe kicks in from the due date of the return and compounds daily, according to the IRS. Then there is a failure-to-pay penalty that starts at 0.5% for each month until it maxes out at 25%.
So, your tax debt doesn't go away if you ignore it. It just gets worse. The IRS may take various steps to collect the debt, from filing a tax lien to seizing property.
File a return even if you can't pay
Even if you cannot pay your debt, you still should file a tax return. If your return is more than 60 days late, there is a minimum penalty of either $435 or 100% of what you owe in taxes, whichever is less, the IRS says.
If you are unable or unwilling to file before the deadline, ask for an extension. Just keep in mind that while an extension gives you more time to file the return itself, it does not extend the deadline for paying what you owe.
Get a short-term extension
If you need just a little bit more time to pay, the IRS might give you 180 days to deliver the full amount you owe, provided you owe less than $100,000 in combined tax, penalties, and interest.
Just note that interest and penalties continue to grow until your liability is paid in full. You can apply for an IRS payment plan online at the IRS website.
Request a hardship extension
If you're having a tough time paying the IRS what you owe, you're not alone. That's why the agency has a hardship extension.
The onus is on you to prove that paying your tax debt on deadline would cause you financial hardship. You will need to fill out Form 1127. In the instructions for this form, the IRS describes undue hardship as "more than an inconvenience."
You will still owe interest on any unpaid tax until you finally meet the obligation in full.
Get a long-term payment plan
If you need more than 180 days, the IRS offers a long-term installment plan.
The costs of the plan vary depending on your options. If you choose to pay monthly through automatic withdrawals, it is $31 to apply online, or $107 by phone, mail or in person. Fees may be waived for low-income applicants.
Fees are higher if you choose non-direct debit: It's $130 to apply, or $43 for low-income applicants (which may be refundable).
You will owe penalties and interest until the balance is paid out. And a long-term payment plan is only an option if you owe $50,000 or less in combined tax, penalties, and interest.
Get a loan from a family member or friend
Some people may have the option to get a loan from a family member or friend. This can allow you to pay the tax debt right away and keep the government off your back.
However, such loans often come with pitfalls, not the least of which is that you can put the relationship in jeopardy if you fail to pay back the loan in a timely manner.
Look at other kinds of financing
If you have a 401(k) retirement account, you might be able to use the account to loan yourself the money you need to pay off tax debt. The hitch here is that there are limits to how much you can borrow from the plan, and the money will have to be paid back.
Using a credit card is another option. However, you might pay a high interest rate on the debt. Carrying a high credit card balance also can negatively impact your credit score.
Pro tip: Looking for a new credit card? Shop for one of the top credit cards that offer rewards. That way, you will earn cash back or other perks when you make purchases. Just be aware that you'll likely have to pay a transaction fee if you use it to pay taxes.
Find ways to make more money to help pay the debt
If you find yourself unable to pay taxes, one of the best ways to fix the problem is to make extra money so you can eliminate your obligation.
Consider picking up part-time work or starting a side hustle, for example. Use the money you earn to pay down the tax debt as quickly as you can.
Look to an expert for help
Getting a professional opinion on tax matters is always a good idea.
A certified public accountant or financial planner might give you a better picture of your money situation and help you chart a course that leads you out of tax debt.
Bottom line
If you get hit with a tax bill you can't pay right away, remember that the options above can help you lower penalties and get the matter resolved. Following these tips can get the IRS off your back and help you keep more money in your bank account.
To prepare for the next tax filing season, revisit your W-4 and make sure your withholding — the amount your employer takes out of your paycheck to pay taxes in advance — is appropriate. Doing so might help you avoid another tax-debt surprise next year.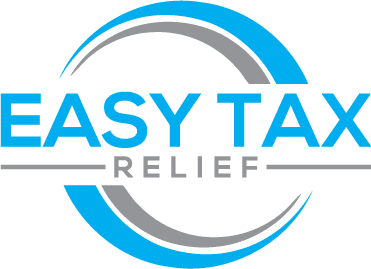 Easy Tax Relief Benefits
Eliminate your tax debt
Potentially reduce the amount you owe
Stop wage garnishments and bank levies
Communicates with the IRS on your behalf