As summer vacation draws nears and COVID-19 restrictions subside, many of us are making travel plans like we've never been past the city limits before. Which is to say, we're bursting with excitement — and feeling a little rusty about how to prepare for trips to our favorite travel destinations.
Enter TikTok, the video sharing app that has come to define the way so many of us laugh, cook, and learn. And when it comes to fun and valuable tips to help you save money on travel, TikTok is an absolute treasure chest of information.
Here are seven great travel hacks TikTok users recommend that can make travel easier and more enjoyable.
Use your pillow to avoid checking a bag
Most airlines have three ways they classify luggage:
A large bag that needs to be checked
A carry-on bag that is small enough to fit in the overhead bins
A personal item that travelers can keep with them on the flight, like laptop bags and purses.
But something not on that list — your travel pillow — is the source of a great hack that can lower your baggage fees. TikTok user nolimitua demonstrates how you can stuff extra items of clothing into your pillowcase, thereby helping you avoid fees for checking a bag or bringing a carry-on with you on the plane.
Don't waste your precious bag space on air
If airlines have lost your luggage one too many times for you to ever trust them again, TikTok user notsamanthafox has another travel hack to add to your collection. As long as you have access to a vacuum on both ends of your journey, you can avoid baggage claim by ridding your bag of all that unnecessary air space.
In the video, notsamanthafox puts items into a sealed bag before using a vacuum to suck out the excess air, which dramatically shrinks the bag. Don't forget that you'll need a vacuum and possibly fresh bags for the return journey as well.
Use Google Flights to score the best deals
Do you ever hear your co-workers' travel stories and privately wonder how on earth they were able to afford these vacations on what you know is a modest salary? TikTok user zacharyburrabel has the scoop.
Zacharyburrabel teaches viewers how to put the popular search engine's Google Flights function to work to compare flights based on date, price, and even destination.
While comparison shopping for our travel plans is something most of us feel we ought to do, sometimes it's just too much work. So the real hack zacharyburrabel offers followers is a shortcut: How to do research that usually takes hours in just a few clicks.
Take advantage of travel credit cards
Maybe you've heard your friends mention that they traveled across the country with airline miles they earned through their credit card purchases. And perhaps you are curious enough to try the same thing, but unsure how to do it without getting into serious debt.
TikTok user thenatashaibrahim shares secrets to making the most of the best travel credit cards. Thenatashairahim suggests using your travel credit card for all of your purchases and always paying it off at the end of the month.
Combine the points you rack up with the points you originally got as a sign-on bonus and you just might be able to earn free international travel like thenatashaibrhim did.
Ask for an upgrade and you just might receive one
This might be the most ingenious hack of all. Do you want to fly with all the amenities of first-class without paying for those luxuries? This travel hack offered by TikTok user nielsen_xo is gutsy, but if you have the stomach for it, you may find yourself with the extra legroom and a complimentary preflight drink simply because you asked for it.
That's right, as nielsen_xo demonstrates, merely asking for a seat upgrade at the gate may just get you one — no strings or extra fees attached.
Treat your flight attendants right and they'll thank you for it
TikTok user and former flight attendant katkamalani is full of insider secrets. Our favorite? Bring along a stash of treats for your flight attendants. Katkamalani suggests $5 Starbucks gift cards, but also says just about any thoughtful goodie will do.
This small kindness will likely win you big points with your flight attendants. And those points will earn you special treatment from the people who are in charge of your comfort for the duration of your flight. After all, who doesn't like a little special treatment?
Skip the motion sickness
Does flying make you nauseous? Or even worse, actively sick? Former flight attendant and TikTok user weariwandered has a few motion sickness hacks for that.
First, try sitting as close to the front of the plane as possible. The back of the plane generally experiences more turbulence than the front, which doesn't help when you have an upset stomach.
Second, weariwandered suggests chewing on ginger tablets throughout your flight. Ginger has nausea-reducing properties, which means a can of ginger ale is another great option.
Last, try an acupuncture wristband. You might be skeptical that a $12.50 bracelet can somehow help your stomach, but many travelers swear it's the cure.
Bottom line
The TikTok #travelhack page is a brilliant source of information for travelers. It helps that TikTok is full of travel experts, flight attendants, and hotel managers who have the best insider information and are willing to share ways you can save on your next trip.
So, whether you are trying to travel cheaper, lighter, or more comfortably, check out TikTok for hacks.
Easy-to-Earn Unlimited Rewards
Earn 25,000 online bonus points after you make at least $1,000 in purchases in the first 90 days of account opening - that can be a $250 statement credit toward travel purchases
Earn 1.5 points per $1 spent on all purchases
Longer intro APR on qualifying purchases and balance transfers
No foreign transaction fees
Earn unlimited 1.5 points per $1 spent on all purchases, with no annual fee and no foreign transaction fees and your points don't expire as long as your account remains open.
25,000 online bonus points after you make at least $1,000 in purchases in the first 90 days of account opening - that can be a $250 statement credit toward travel purchases.
Use your card to book your trip how and where you want - you're not limited to specific websites with blackout dates or restrictions.
Redeem points for a statement credit to pay for travel or dining purchases, such as flights, hotel stays, car and vacation rentals, baggage fees, and also at restaurants including takeout.
0% Introductory APR for 15 billing cycles for purchases, and for any balance transfers made in the first 60 days. After the intro APR offer ends, 18.24% - 28.24% Variable APR will apply. A 3% fee applies to all balance transfers.
If you're a Bank of America Preferred Rewards® member, you can earn 25%-75% more points on every purchase. That means instead of earning an unlimited 1.5 points for every $1, you could earn 1.87-2.62 points for every $1 you spend on purchases.
Contactless Cards - The security of a chip card, with the convenience of a tap.
This online only offer may not be available if you leave this page or if you visit a Bank of America financial center. You can take advantage of this offer when you apply now.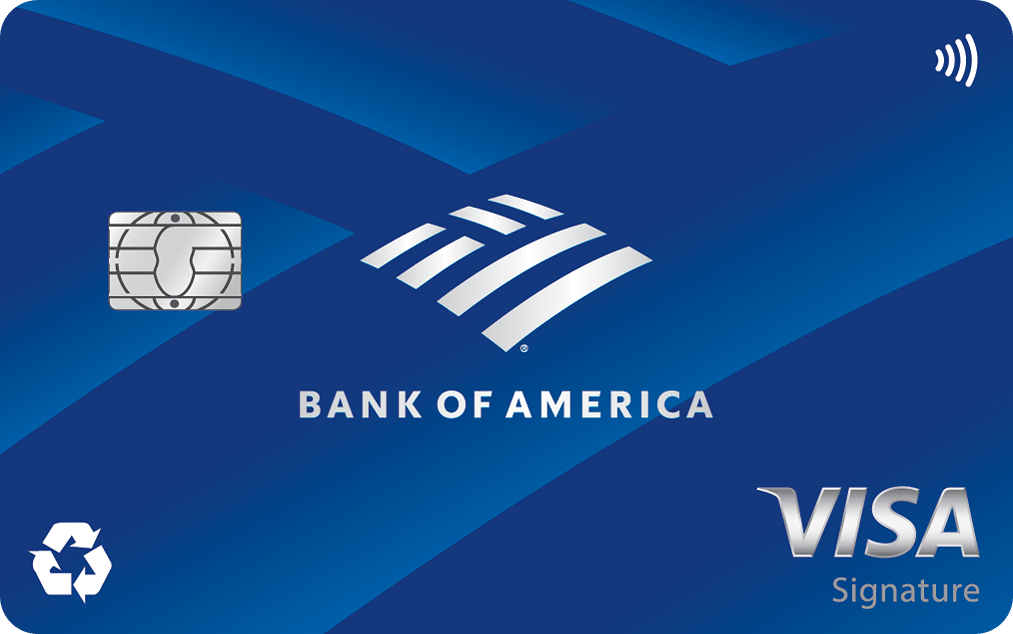 4.1
FinanceBuzz writers and editors score cards based on a number of objective features as well as our expert editorial assessment. Our partners do not influence how we rate products.
Apply Now
on Bank of America's secure website
Read Card Review
Intro Offer
Earn 25,000 online bonus points after you make at least $1,000 in purchases in the first 90 days of account opening - that can be a $250 statement credit toward travel purchases