As we approach the summer travel season, many of us are looking forward to spending vacations exploring new cities and ancient lands. But it's important to remember that one bad decision can turn these thrilling adventures into life-altering horror stories.
In fact, many Americans have actually found themselves behind bars in other countries simply because they didn't know better. Trying to navigate foreign judicial systems can be difficult for many reasons — not the least of which may be not speaking the language of your accusers.
Here are 8 of the most surprising offenses to avoid so you won't be fined or arrested in another country.
Chewing gum in Singapore
Yep, you read that right: A single stick of Juicy Fruit could get you in a whole lot of trouble if you're traveling to Singapore.
A crackdown on gum may sound arbitrary and a little absurd, but it was put in place because people seemed to be sticking their gum everywhere but the trash can. Technically, you can legally chew gum in Singapore. But if you do not dispose of it properly, the authorities are likely to fine you.
Swearing in Australia
Australians are known for being especially fond of expletives. Perhaps this is why the practice has been outlawed throughout the country.
Context appears to be everything in terms of whether or not this law is actually enforced. It seems that keeping it clean in front of children is of utmost importance when it comes to using colorful language Down Under.
Wearing a bikini in Barcelona
Many travelers planning seaside vacations likely have at least a few bikinis packed in their suitcases. While Spanish authorities won't take issue with this wardrobe choice if you keep it to the beach, you may find yourself swimming in hot water if you wear your two-piece on the streets of Barcelona.
This also applies to those who want to walk the streets in swim trunks or go bare-chested. In other words, keep the swimwear to the beach or visit Barcelona's naturist beaches for a really liberating experience. But if you're heading into the city for a snack, you might want to grab a T-shirt.
Smoking in public in Ukraine
Right now, safely visiting Ukraine is a challenge for any tourist. If you have a trip to Ukraine scheduled any time in the near future, you might want to make some calls to find out if your visit is covered by travel insurance.
But even in better times, smokers had to be careful in the country. Ukraine has a public smoking ban that applies to hospitals, restaurants, playgrounds, and even residential porches.
Wearing high heels in Greece
For many travelers, planning glamorous outfits for each day of your vacation is half the fun. But if you're visiting Greece on your next vacation, make sure you plan to wear flats for sightseeing excursions.
Officials have prohibited travelers from wearing heels to ancient sites, as the sharp-bottomed shoes can damage historical treasures.
Wearing tight, sleeveless mini-dresses in Saudi Arabia
Saudi Arabia is a Muslim country that adheres to Sharia law. Travelers from Western countries would do well to read up on the laws and customs of Muslim countries, as they are often very different and much more strictly enforced than they are in the West.
One such difference is the dress code. You will likely face penalties for wearing sleeveless tops, bottoms that expose your knees, and any outfit that is too form-fitting.
Collecting seashells in Italy
If you're traveling to the Italian seashore, bring your credit cards, because you are going to need to buy your souvenirs. Collecting seashells on the Italian coast is prohibited. Apparently, the reason for this law is that removing seashells would interfere with the natural ecosystem.
Possessing drugs in China
While it's hardly surprising to learn that other nations also prohibit the use and distribution of drugs, the penalty for breaking these laws varies from country to country. China has some of the harshest drug laws on the planet, including the death penalty.
This isn't an outdated law they have simply forgotten to remove from the books. Instead, they are likely to enforce these regulations, and they regularly test foreign nationals for drugs, as well as raiding nightclubs, bars, and private property.
Avoid creating your own travel horror story, by "just saying no" on your next trip to China. 

Bottom line
Different countries have their own laws and customs. Learning about these expectations before you travel overseas will go a long way to keeping you out of trouble.
If you are a U.S. citizen being detained by a foreign government or facing any crisis during your travels abroad, you can call the U.S. Department of State at 1-202-501-4444. But to avoid this fate, simply stay safe by remembering to behave yourself if you are traveling out of the country this year.
Easy-to-Earn Unlimited Rewards
Earn 25,000 online bonus points after you make at least $1,000 in purchases in the first 90 days of account opening - that can be a $250 statement credit toward travel purchases
Earn 1.5 points per $1 spent on all purchases
Longer intro APR on qualifying purchases and balance transfers
No foreign transaction fees
Earn unlimited 1.5 points per $1 spent on all purchases, with no annual fee and no foreign transaction fees and your points don't expire.
25,000 online bonus points after you make at least $1,000 in purchases in the first 90 days of account opening - that can be a $250 statement credit toward travel purchases.
Use your card to book your trip how and where you want - you're not limited to specific websites with blackout dates or restrictions.
Redeem points for a statement credit to pay for travel or dining purchases, such as flights, hotel stays, car and vacation rentals, baggage fees, and also at restaurants including takeout.
0% Introductory APR for 18 billing cycles for purchases, and for any balance transfers made in the first 60 days. After the intro APR offer ends, 17.74% - 27.74% Variable APR will apply. A 3% fee applies to all balance transfers.
If you're a Preferred Rewards member, you can earn 25%-75% more points on every purchase. That means instead of earning an unlimited 1.5 points for every $1, you could earn 1.87-2.62 points for every $1 you spend on purchases.
Contactless Cards - The security of a chip card, with the convenience of a tap.
This online only offer may not be available if you leave this page or if you visit a Bank of America financial center. You can take advantage of this offer when you apply now.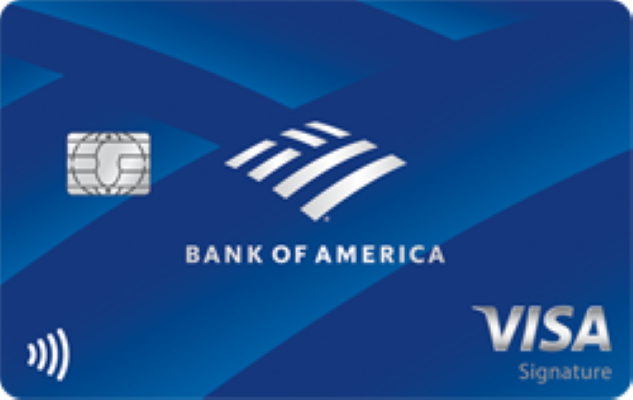 Apply Now
on Bank of America's secure website
Read Card Review
Intro Offer
Earn 25,000 online bonus points after you make at least $1,000 in purchases in the first 90 days of account opening - that can be a $250 statement credit toward travel purchases