Cabo. The Maldives. Marrakesh. Wherever you plan on going, you spent months saving money and researching accommodations and flights. After booking your dream vacation, you're excited to be on your way.
But as the COVID-19 pandemic showed us, even the most carefully planned itinerary can go awry. Companies often advertise travel insurance as an excellent way to protect yourself if things go wrong. Is travel insurance worth it? Learn what travel insurance covers — and what it doesn't — to help you make an informed decision.
What is travel insurance?
Travel insurance is a specific type of coverage for travel away from your home. Insurance companies design these policies to cover potential events or mishaps that could occur while traveling, such as trip delays or cancellations, baggage loss, and medical incidents.
Travel insurance is sold as a standalone policy through insurance companies, though some travel carriers, such as some major cruise lines, allow you to buy insurance through their platforms when you book your trip.
Standalone policies allow you to customize your coverage. You can adjust what the plan covers, increase the reimbursement amounts, or purchase additional benefits to ensure you have the coverage you want while traveling.
What does travel insurance cover?
When it comes to travel insurance, what your policy covers varies depending on the travel insurance company issuing the policy and the optional coverages you select. In general, travel insurance policies include the following:
Baggage loss/delay: Baggage loss/delay coverage may provide you with reimbursement for luggage lost or delayed during your trip. For example, if an airline loses your suitcase, baggage loss coverage will reimburse you for the cost of your items, up to a policy maximum. You may receive a per diem amount, such as $100 per day for up to five days, to cover the cost of purchasing new toiletries or clothes during your trip so you can still enjoy your vacation.
Cancel for any reason: With standard trip cancellation coverage, you typically only are reimbursed if your trip is canceled for a qualifying reason, such as the death of an immediate family member. With "cancel for any reason coverage," there are fewer limitations. You could cancel your trip for any reason and receive a portion of the money spent. Typically, it's limited to 50% to 75% of the cost. This option doesn't come with most travel insurance policies but can be added to some as an insurance endorsement for an additional cost.
Medical evacuation: If you become seriously ill or hurt while on your vacation, you may need an emergency evacuation to a healthcare facility. For example, if you're on a cruise ship at sea and need medical attention, a helicopter may take you to the nearest hospital. That's extraordinarily expensive; medical evacuations can cost $30,000 or more, and your regular health insurance policy likely won't cover it. If you have medical evacuation insurance, the policy may cover most of the cost.
Travel medical: Medical coverage is especially important for international travel, as even if you have health insurance, you may not have health care coverage when you travel outside the U.S. Travel medical insurance may cover your medical expenses if you become ill or injured while abroad. Many countries require proof of valid medical insurance before issuing you a visa, so travel medical coverage is essential.
Trip Interruption/cancellation/delay: If you are prevented from taking your trip due to an illness, death in the family, or other qualifying reason, trip cancellation/interruption/delay coverage will reimburse you for your non-refundable, prepaid expenses.
What isn't covered by travel insurance?
Although purchasing travel insurance could be helpful for your trip, it doesn't cover everything. Depending on the policy, the following exclusions may apply:
Civil unrest: If you are going to a country that has experienced terrorist events or riots in the past few months, you may not be covered for any losses.
Preexisting conditions: If you or someone in your traveling party needs to cancel the trip because of a preexisting medical condition such as mental illness, heart disease, or current injury, your travel insurance policy may not cover you for trip cancellations, delays, or interruptions. However, some companies offer preexisting condition riders. You could add the rider to your policy at an additional cost to ensure existing medical issues are covered.
Pregnancy and childbirth: Policies may exclude losses resulting from pregnancy or childbirth.
Pandemics: If your trip is disrupted by an illness that affects large portions of the population, your policy may not cover you. For example, many found their travel insurance didn't cover cancellations due to the coronavirus. To get coverage for COVID-related issues, you may need to purchase a policy with a specific pandemic or epidemic coverage endorsement.
High-risk activities: If you plan on participating in high-risk activities during your trip, such as bungee jumping or mountain climbing, your policy may not cover any injuries or losses that may result.
When is travel insurance worth it?
Compared to the cost of your vacation, travel insurance coverage could be quite affordable. It typically costs 4% to 8% of the trip's total, depending on the coverage and add-ons you choose. For a $3,000 trip, that means a travel insurance policy would cost between $120 and $240.
When deciding whether a travel insurance plan is worth the cost, consider the level of risk associated with your trip. You might need travel insurance in the following scenarios:
You're taking a cruise. If you have a medical emergency on a cruise ship, transport to a health care facility can cost thousands. Without travel insurance, you could be on the hook for the entire bill yourself.
You booked accommodations with strict cancellation policies. The best deals on hotels and flights often have strings attached. There may be a strict cancellation policy, which makes it hard to get a refund if an emergency pops up. Unless you have travel insurance, you could lose thousands of dollars.
You're traveling to an area that's prone to weather issues. If you book a trip to a place that's at risk of severe weather, such as hurricanes or blizzards, travel insurance can reimburse you for the money you'd lose if there was a travel delay or if your trip is canceled altogether.
Alternatives to travel insurance
You can buy travel insurance, but you may get sufficient coverage with a solid travel credit card, depending on your needs. Not all cards include travel insurance, but some do. Three of the best travel credit cards include:
Capital One Venture X Rewards Credit Card: Venture X cardholders are eligible for travel accident insurance, auto rental collision damage waivers, and more. Learn more in this Capital One Venture X review.
Chase Sapphire Preferred® Card: With the Chase Sapphire Preferred card, you could get trip cancellation/interruption coverage, rental car collision damage protection, baggage delay insurance, and trip delay reimbursement. Find out more in this Chase Sapphire Preferred review.
The Platinum Card® from American Express: If you have the Amex Platinum, you are eligible for trip cancellation insurance, trip delay insurance, and car rental loss or damage insurance. Learn more in this Amex Platinum review.3 1 2  
To qualify for travel insurance with your credit card, you must have paid for the fare or accommodations with that credit card.
Although credit card travel insurance is convenient — and included with your card at no added cost — there are some limitations.
The policies credit cards offer are fixed and can't be customized or adjusted. The coverage and reimbursement amounts may be too low to cover the cost of your trip, and not all policies cover medical evacuations or medical treatments.
Credit card travel insurance may also exclude coverage for pandemics or epidemics — with no option to add a rider for those issues — so COVID-19-related expenses may be excluded.
Coverage can vary widely depending on the card and issuer, so carefully compare credit cards and their terms. Review your credit card benefits guide and the insurance terms and conditions to make sure you have the coverage you need. If the included travel insurance isn't enough — or if it contains key exclusions — you may want to purchase a comprehensive travel insurance policy.
FAQs
Is it important to get travel insurance?
Traveling without insurance can be risky. Particularly with international trips, you run the risk of having to pay medical bills or repatriation costs on your own. And if your trip was a significant expense — and ineligible for a refund if you have to cancel because of an illness — you could lose a substantial amount of money if you don't have travel insurance.
What are the benefits of travel insurance?
The primary benefit of travel insurance is that it gives you peace of mind. If your trip is canceled or delayed because of an illness, injury, or death in the family, you could get reimbursed for the money you spent on eligible expenses.
It also gives you protection during your trip. If you become seriously ill or are injured in an accident, travel insurance could help you get medical care.
Travel insurance can be helpful even for more mundane issues such as losing your suitcase. If your bag is lost or stolen, travel insurance could help you enjoy your trip by reimbursing you for toiletries, clothes, and even a bathing suit so you can continue uninterrupted with your vacation.
Is travel insurance worth the cost?
Travel insurance is relatively inexpensive, costing 4% to 8% of your trip's cost. Travel insurance could be well worth the cost if you're traveling outside of the country, are taking a cruise, or have non-refundable bookings.
Bottom line
Is travel insurance worth it? For most people, the answer is yes. It can provide critical coverage for your trip, and it's fairly inexpensive compared to the total cost of your vacation.
Although you could purchase standalone policies, you could get free travel insurance by utilizing a credit card. If you don't have a card that offers travel benefits, check out our picks for the best credit cards with travel insurance.
Easy-to-Earn Unlimited Rewards
Earn 25,000 online bonus points after you make at least $1,000 in purchases in the first 90 days of account opening - that can be a $250 statement credit toward travel purchases
Earn 1.5 points per $1 spent on all purchases
Longer intro APR on qualifying purchases and balance transfers
No foreign transaction fees
Earn unlimited 1.5 points per $1 spent on all purchases, with no annual fee and no foreign transaction fees and your points don't expire as long as your account remains open.
25,000 online bonus points after you make at least $1,000 in purchases in the first 90 days of account opening - that can be a $250 statement credit toward travel purchases.
Use your card to book your trip how and where you want - you're not limited to specific websites with blackout dates or restrictions.
Redeem points for a statement credit to pay for travel or dining purchases, such as flights, hotel stays, car and vacation rentals, baggage fees, and also at restaurants including takeout.
0% Introductory APR for 15 billing cycles for purchases, and for any balance transfers made in the first 60 days. After the intro APR offer ends, 18.24% - 28.24% Variable APR will apply. A 3% fee applies to all balance transfers.
If you're a Bank of America Preferred Rewards® member, you can earn 25%-75% more points on every purchase. That means instead of earning an unlimited 1.5 points for every $1, you could earn 1.87-2.62 points for every $1 you spend on purchases.
Contactless Cards - The security of a chip card, with the convenience of a tap.
This online only offer may not be available if you leave this page or if you visit a Bank of America financial center. You can take advantage of this offer when you apply now.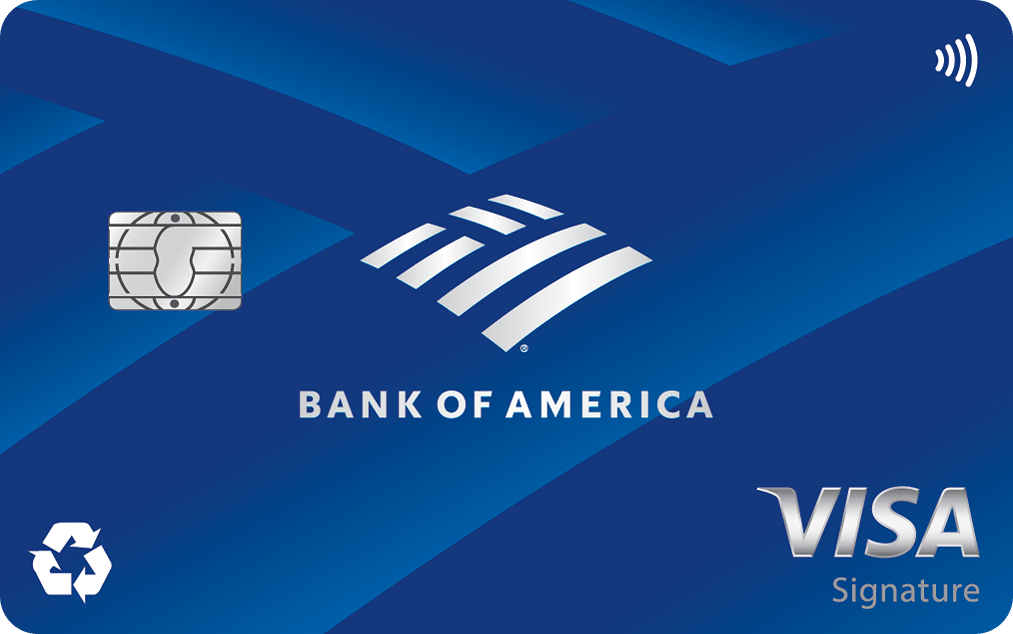 4.1
FinanceBuzz writers and editors score cards based on a number of objective features as well as our expert editorial assessment. Our partners do not influence how we rate products.
Apply Now
on Bank of America's secure website
Read Card Review
Intro Offer
Earn 25,000 online bonus points after you make at least $1,000 in purchases in the first 90 days of account opening - that can be a $250 statement credit toward travel purchases